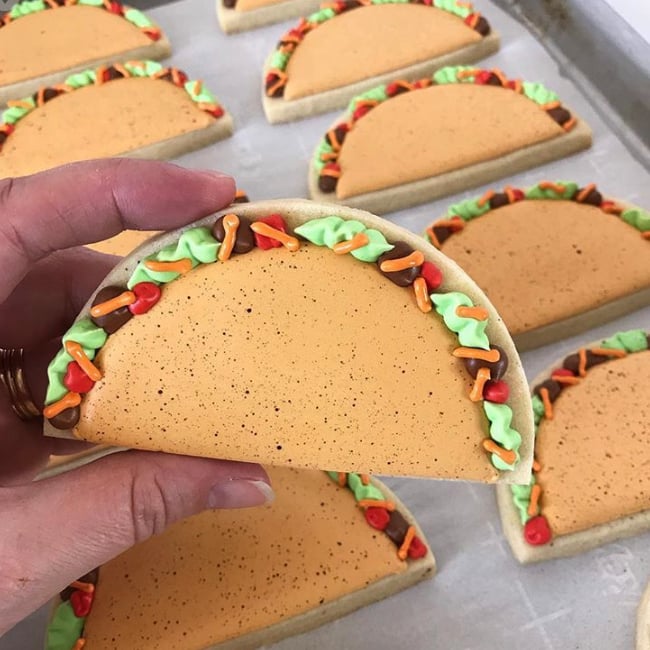 Is there anything more appealing than an adorably decorated cookie? Even if you're not in the mood for sweets, just looking at a cookie that's also beautifully and artfully designed can pretty much put a sugary spell on you. Personally, I'm always that person who goes to a café to buy nothing but a cup of coffee, only to also leave with a cookie shaped like a unicorn. If you can relate, you'll love this sweet list of 17 cookie decorating Instagram accounts that you need to follow.
These dessert-studded feeds are proof that a cookie is so much more than a tasty treat. In fact, a cookie is a canvas on which you can create the most mouthwatering art. Let the royal icing lead the way.
01
Inspired to Taste
Sugar artist Liz Joy brings things to life with her insanely beautiful creations. While she does everything from pies to cupcakes, it's her cookies that really shine. Just look at the detail on this Chanel perfume bottle cookie!
02
Kanani's Cookies
These adorable doughnut cookies are just the tip of the sugary iceberg when it comes to what Carolyn from Kanani's Cookies can do. Her feed is full of fun themed treats, including graduation cookies, nurse appreciation cookies, and margaritas!
03
Glorious Treats
If you can watch cookie decorating videos on loop, Glorious Treats is for you. From delicate detail to bright and bold colors, this account with draw you in for hours.
04
Arty McGoo
You have no idea just how detailed and artful a cookie can be until you've seen the work done by Arty McGoo. Take these beautifully designed Stranger Things-themed cookies, for example. Are you not blown away?
05
Flour Box Bakery
If you want to feel like a little kid again, look no further than the cookie decorations done by Flour Box Bakery. In fact, with thoughtful detail like this, they'll have you believing that unicorns are definitely real.
06
The Sweetest Mix
I bet you never thought Derek Shepherd from Grey's Anatomy could be captured on a cookie so well, did you? The Sweetest Mix is here to prove you wrong, because these cookies look so cool, we may just need a doctor.
07
Wildflour Cookie Co.
From inspiring messages about getting sh*t done to personal profession cookies, Wildflour Cookie Co. is frickin' awesome.
08
Dulcia Bakery NY
Are you not falling head over heals for these swirly heart decorations? Brimming with bright colors and tiny flowers, Dulcia Bakery in New York knows all about that cookie decorating life.
09
Lucie Bakes
The cookie decorations by Lucie Bakes take baking to a whole other level. The cookies seen here, for example, include edible images and stunning (and sugary) picture frames.
10
Jannica's Cookies
The cookies found on this feed will literally make you squeal with delight. Between teapots painted with roses and Disney-themed creations (how beautiful is this Beauty and the Beast rose cookie?!), Jannica's Cookies is a serious pro.
11
Sweetopia
The cookie decorating ideas found at Sweetopia will definitely give you a sweet tooth. What's cuter than cookies designed to look like a box of chocolates? Sign me up.
12
Roro's Cookies
If you're a fan of tiny, adorable little details in your cookie decorations, Roro's Cookies will be your favorite account of them all. Who wouldn't be impressed by these dreamy, diamond-shaped cookies?
13
Apron and Heels
If you're looking for bridal shower or birthday party inspiration, scroll through Apron and Heels right now. It's the perfect place to learn how to do those wedding date calendar cookies!
14
Taking Shape Cookie Shoppe
If you love cookies and nerd culture, you'll love Taking Shape Cookie Shoppe. Ranging from Harry Potter to Mario, this feed has it all.
15
Lisa's Cookie Kitchen
The cookie decorations at Lisa's Cookie Kitchen are filled with so much wonder, it'll make you feel nostalgic. Whether you're throwing a bridal shower or a graduation party, these designs will win everyone over.
16
J's Cookie Creations
Jessie Shinners of J's Cookie Creations lets her followers know just how much time and effort goes into her treats. This adorable Minnie Mouse cookie took 20 minutes to decorate, so just imagine how long a whole batch takes!
17
The Cookieholic
With fun cookie designs like popsicles and grilled burgers, Amanda Darrow from The Cookieholic will make you feel like it's always Summer — something we can definitely get on board with!