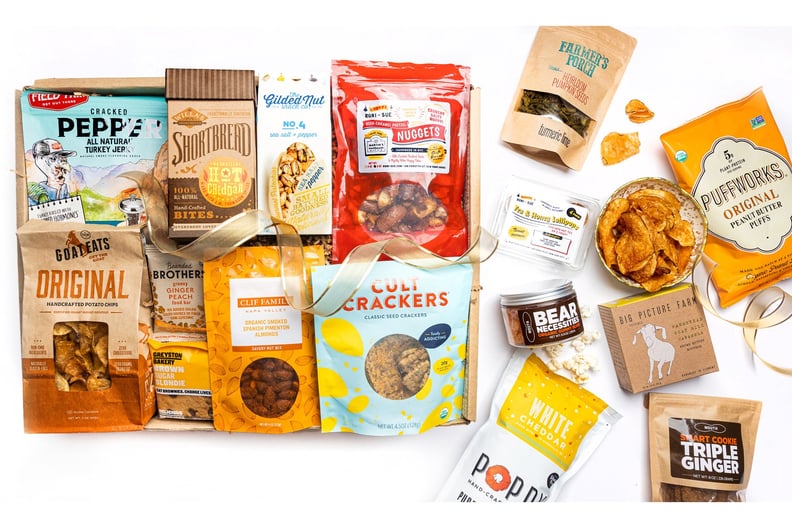 Mouth
As POPSUGAR editors, we independently select and write about stuff we love and think you'll like too. If you buy a product we have recommended, we may receive affiliate commission, which in turn supports our work.
The best way to a person's heart is through their stomach, and Mouth has got you covered for all your foodie needs this Valentine's Day. Mouth is an indie food destination that creates the most unique and curated food boxes perfect for gifting. From decadent chocolate to yummy cocktail DIY kits, and more, Mouth will make date night an experience you'll never forget. Your loved ones will appreciate the variety and comfort in these delicious Valentine's Day food gifts, whether they have a sweet tooth or know their way around a charcuterie board. We rounded up the best Valentine's Day gifts from Mouth ahead!
If their heart beats for jerky, the Meat Your Heart Out box is a must. Shopping for the ultimate pickle enthusiast? The Be Brine box will satisfy their cravings. From chocolate-covered treats to baked goods and even a box full of candy, there are plenty of options for those with a sweet tooth. Shop our top picks ahead.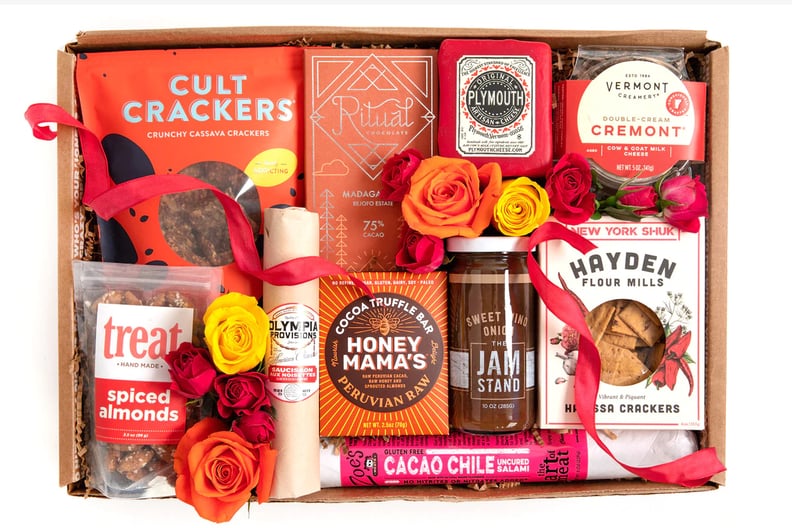 A Sweet and Savory Charcuterie Spread: Meat, Whey, Love
The charcuterie and cheese-board enthusiast who loves a little bit of sweet with savory will devour the Meat, Whey, Love ($81-$129) box. It comes in two different sizes. The small size comes with cassava crackers, cheddar cheese, saucisson aux noisettes salami, spiced candied almonds, sweet wino onion jam, and a Peruvian raw cocoa truffle bar. The large size comes with everything in the small box, plus uncured salami de cacao, Cremont double cream cheese, harissa crackers, and a Madagascar dark chocolate bar.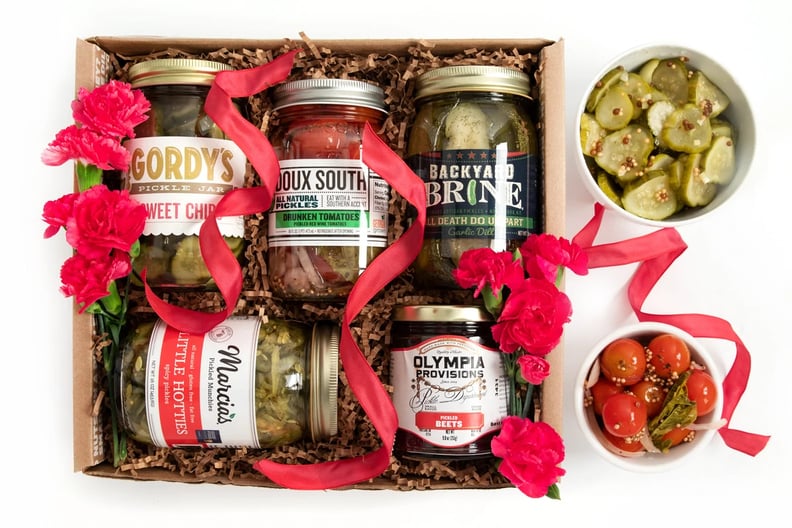 For Pickle-Lovers: Be Brine
If your loved one is obsessed with pickles, the Be Brine ($73) box is a match made in heaven. It comes with Little Hotties Spicy Pickle Chips made by Marcia's Pickled Munchies, pickled beets made by Olympia Provisions, garlic dill pickles made by Backyard Brine, sweet chip pickles made by Gordy's Pickle Jar, and pickled cherry tomatoes made by Doux South.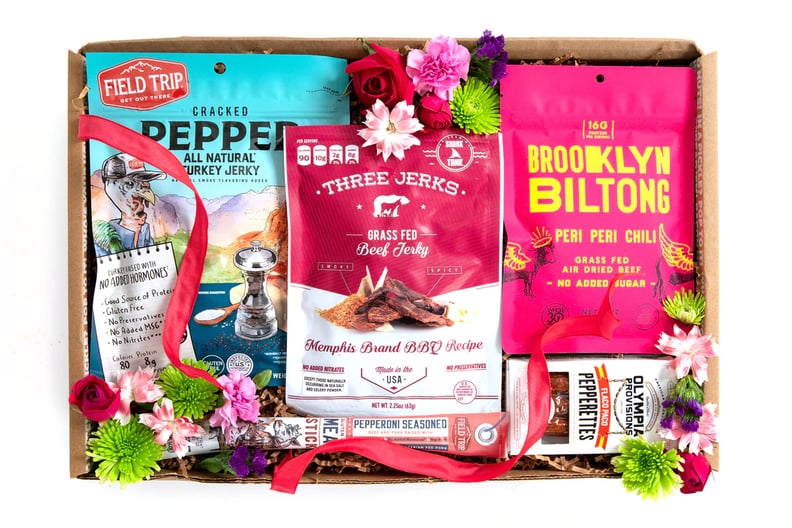 For Jerky Fans: Meat Your Heart Out
If you're shopping for the ultimate jerky lover, the Meat Your Heart Out ($47) is a box that will fulfill their cravings. It contains grass-fed Memphis BBQ jerky, a pepperoni stick, Peri Peri Biltong made by Brooklyn Biltong, cracked pepper turkey jerky, and smoked pepperettes.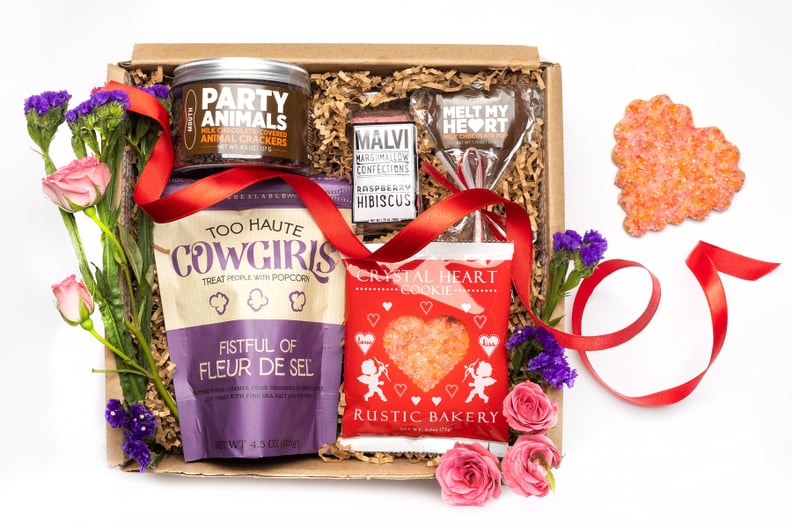 For the Sweet Tooth: My Little Valentine
The My Little Valentine ($49) gift box is the ultimate movie-marathon companion. It includes a heart cookie made by Rustic Bakery, salted chocolate and toffee popcorn made by Too Haute Cowgirls, a heart-shaped milk chocolate lollipop made by Mouth, raspberry and hibiscus marshmallow cookies made by Malvi, and a pack of Party Animals: chocolate-covered animal crackers.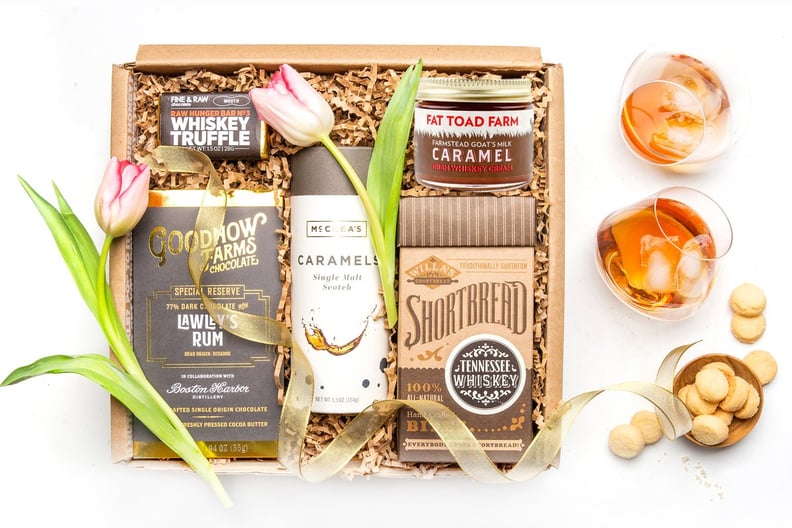 Alcohol-Infused Sweets: Boozy Sweets
If you love booze and have a sweet tooth, the Boozy Sweets ($82) box is a match made in heaven. It includes a variety of sweet treats all infused with alcohol, such as a whiskey infused truffle bar, single-malt Scotch infused caramels, dark chocolate infused with rum, caramel Irish whiskey cream, and more.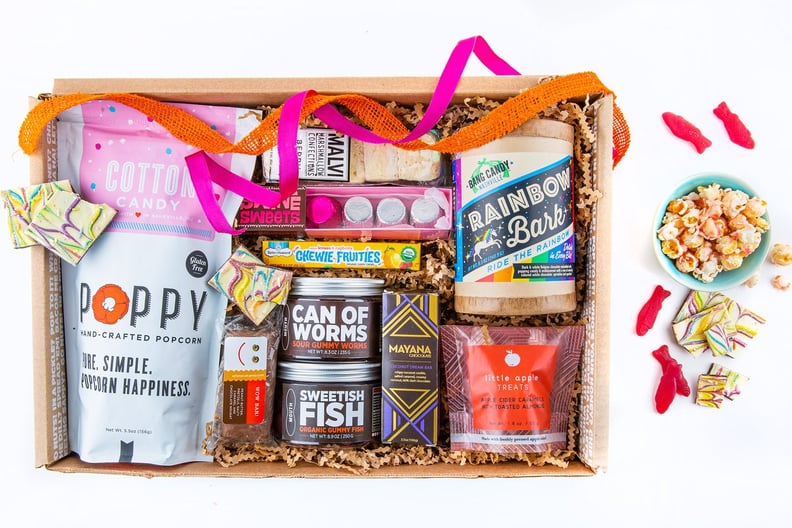 For Candy-Lovers: Candy Land
The Candy Land ($126) box will be your new Valentine. It includes a collection of artisanal sweet treats like a coconut and salted caramel bar, rainbow chocolate bark, maple bacon lollipops, salted caramel popcorn, Sweetish Fish, cotton candy marshmallows, and more.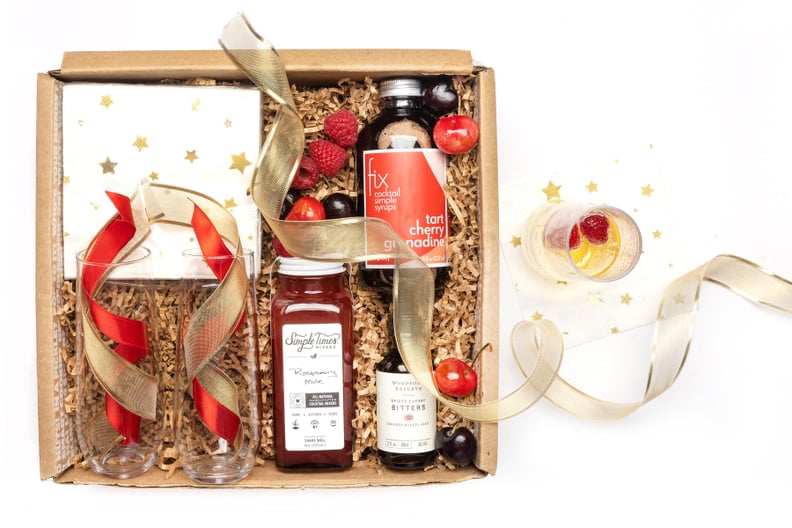 A Date Night Box: Just Add Champagne
Take date night to a whole new level with the Just Add Champagne ($84) box. Make a variety of Bellinis, Royals, and more for the perfect Champagne cocktail.
It comes with a Raspberry Mule Cocktail Mixer made by Simple Times, a Tart Cherry Grenadine made by Quince & Apple, Spiced Cherry Bitters made by Bourbon Barrel Foods, Bourbon Cocktail Cherries made by Jack Rudy Cocktail, Gold Star Cocktail Napkins made by Meri Meri, and Unbreakable Stemless Champagne Flutes made by Mouth.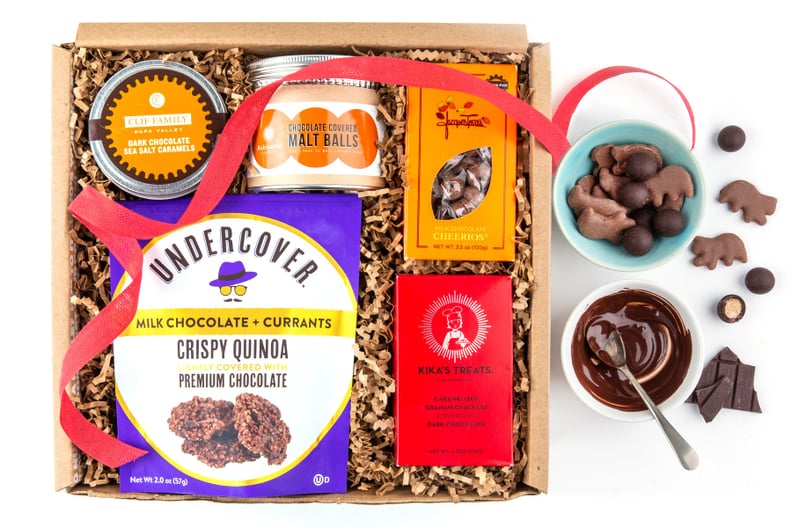 For Chocolate Enthusiasts: Chocolate-Covered Deliciousness
Everything tastes better when it's covered in chocolate and the Chocolate-Covered Deliciousness ($86) is an indulgent treat. It comes with chocolate-covered animal crackers, chocolate-covered Cheerios, chocolate peppermint pecans, dark chocolate covered malt balls, milk chocolate-covered quinoa and currants, and dark chocolate-covered caramelized graham crackers.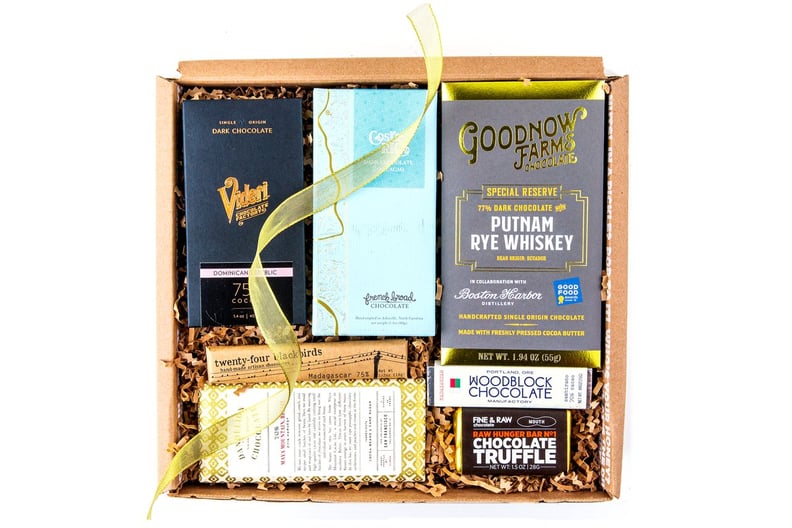 For Dark Chocolate Fans: Dark Chocolate Deliciousness
Dark chocolate is a decadent treat. If you have a dark chocolate-lover on your hands, the Dark Chocolate Deliciousness ($82) is something they will appreciate. It comes with Hacienda Azul 70 percent made by Dandelion Chocolate, Costa Rica 80 percent dark chocolate bar made by French Broad Chocolates, Dominican Republic 75 percent dark chocolate bar made by Videri, Madagascar Sambirano single origin chocolate bar made by Woodblock Chocolate, Madagascar 75 percent dark chocolate bar made by Twenty-Four Blackbird, Rum 77 percent dark chocolate bar made by Goodnow Farms, and a raw chocolate truffle bar made by Mouth.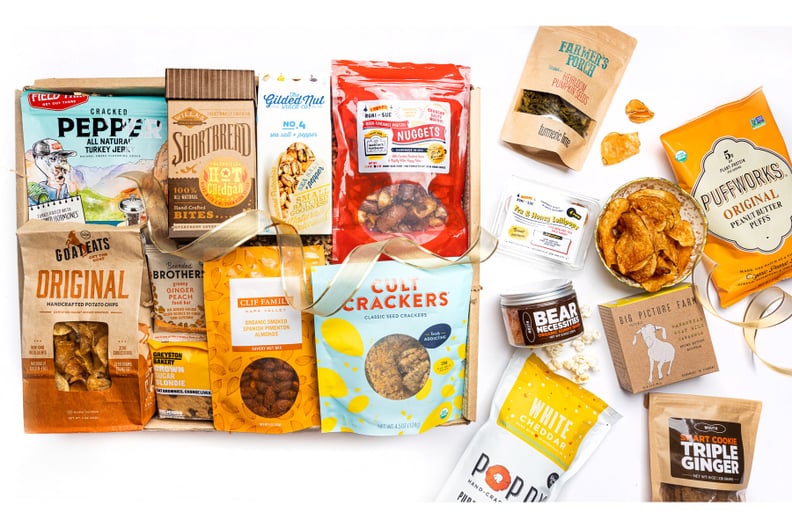 For the Ultimate Snacker: All the Snacks
All the Snacks ($153) is the ultimate food gift for the snacker, especially if they work from home! They'll have something to enjoy during Zoom meetings and conference calls. It comes with yummy snacks like firecracker caramelized pecans, spicy Mediterranean popcorn, beer and caramel pretzel nuggets, cracked pepper turkey jerky, and so much more.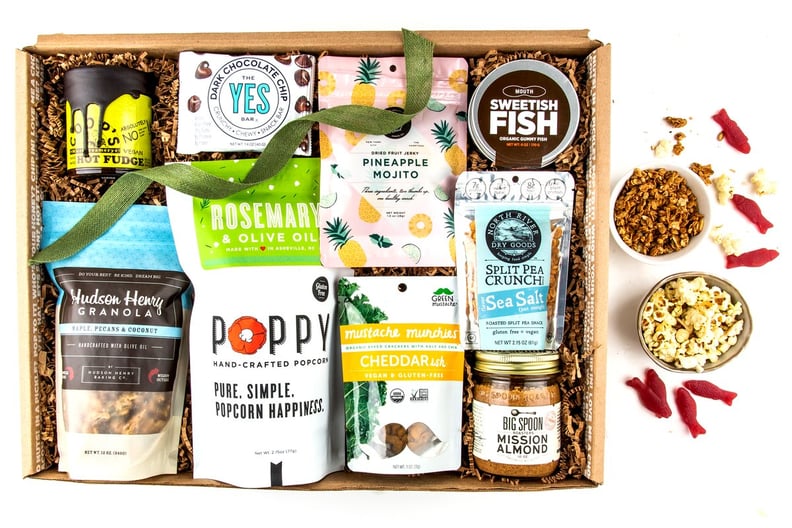 For Someone Vegan: Vegan Snack Box
Just because you're plant based doesn't mean you can't enjoy a few goodies. The Vegan Snack Box ($109) has got all your foodie needs covered. It has yummy treats like maple pecan and coconut granola, pineapple mojito dried fruit, vegan cheddar crackers, sun-popped popcorn, Fiji ginger almond butter, and more.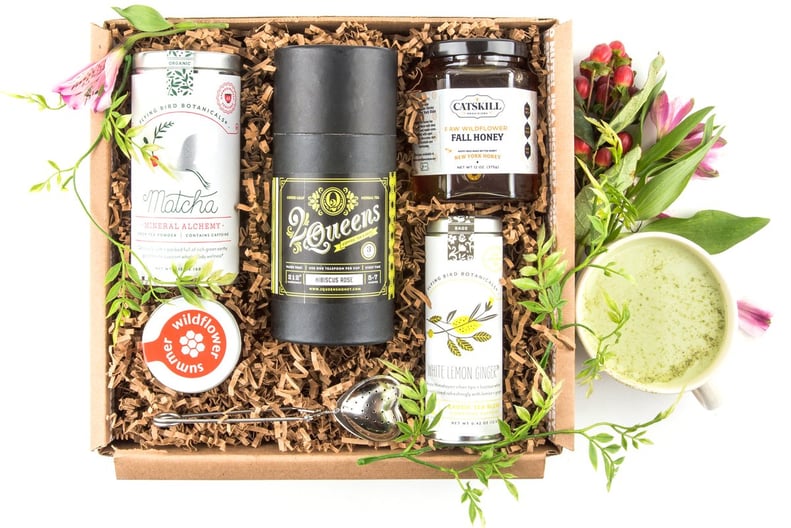 For Tea Connoisseurs: Positivi-tea Box
Tea lovers will appreciate the Positivi-tea Box ($97). It includes matcha, hibiscus rose tea, organic cedarwood black chai, and a variety of artisanal honeys.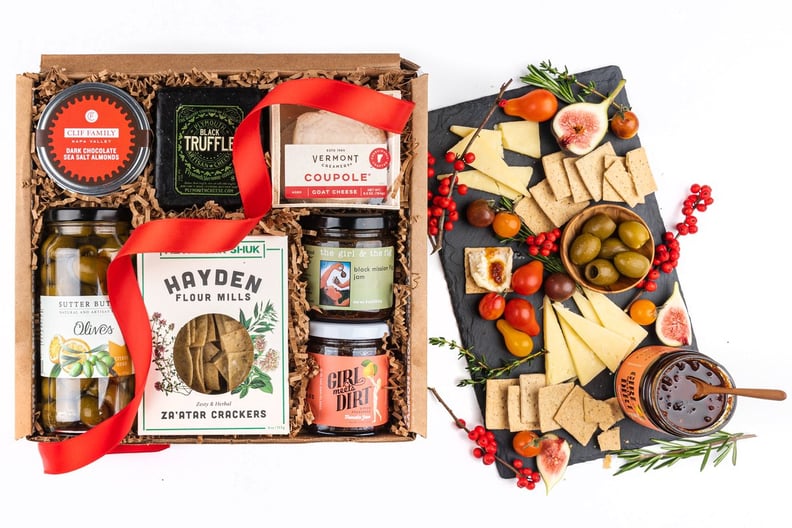 For Cheese-Lovers: Cheesy Gift Box
The Cheesy Gift Box ($85-$145) is perfect for the charcuterie board architect. It comes in two sizes that have artisanal crackers, cheeses, and fig jam. Cheeses include black truffle cheddar cheese and Coupole goat cheese.