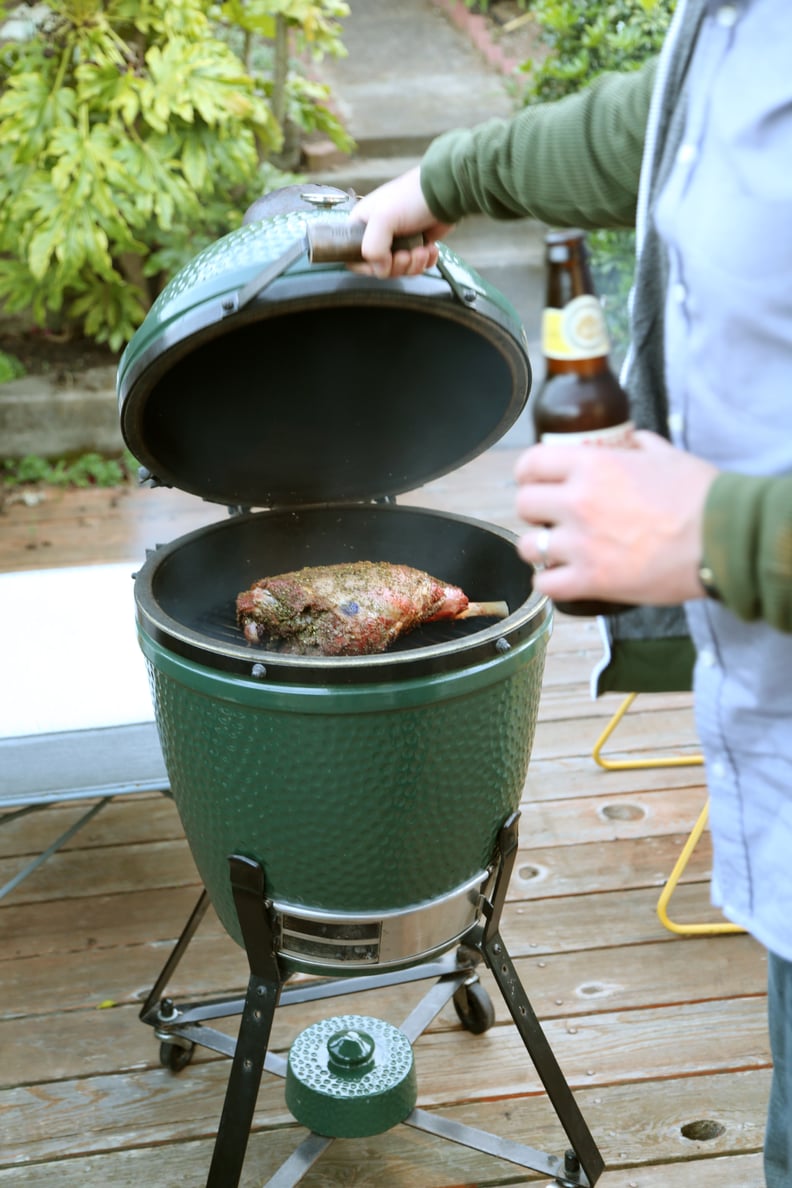 POPSUGAR Photography | Anna Monette Roberts
POPSUGAR Photography | Anna Monette Roberts
The Big Green Egg: no, it's not a Dr. Seuss book, it's a grill, and you're going to want to get your hands on one. For years, I've heard grilling enthusiasts gush about it and have even eaten at restaurants that boast the meat is Big Green Egg-grilled a few times. When I found out that my co-worker Bjorn is the proud owner of one, I nicely asked if I could invite myself over to check it out, and he graciously agreed.
When Bjorn stripped the egg of its protective nest covering, it was like a magician unveiling a trick. The Big Green Egg sparkled, and so did my eyes. He explained that beyond being completely in love with the grill, he's a big fan of the product's eggcessories, the fire starters and charcoal being two "egg-sentials." I was amazed how easy it was to build the fire, start it, and control the heat. One of my favorite features of the BGE (look at me, sounding all legitimate) is the thermometer on the grill, so you can constantly monitor the heat. Though the Big Green Egg can easily and quickly reach 700°F (and higher!), the temperature can just as easily come down using the sliding air flow controls located on the top of the bottom of the grill.
As we waited for the BGE to come to temperature, Bjorn schooled me on the features. That night, we used the BGE as a grill only, but it can also serve as a smoker and outdoor oven. According to another POPSUGAR employee, the baking stone eggcessory is a must as BGE pizza is just as good, if not better, than pizza from a wood-burning oven. After seeing the BGE in action, I can see how.
We roasted asparagus in a flash (less than a minute!!) and a whole lamb leg in under an hour. It turned out succulent and perfectly medium-rare on the inside while evenly caramelized on the outside. It was a true marvel how little fussing we had to do over the coals and the meat.
The BGE is like the Apple of the grilling world. It's exceptionally designed and constructed. It's so easy to use, you hardly need an instruction manual. You'll feel an immense boost of confidence in your ability to grill, even if you are a total newbie. Yet, even seasoned grillers will salivate over the BGE's immaculate features. So here's where things get a little disheartening: the price tag. While there are a bunch of different BGE sizes, the smallest one (the mini) is $699. Eeks! Here's to throwing your loose change in a piggy bank, because you will definitely want to save up for this grilling toy.