7 Things You Never Knew About Benihana
We love — seriously love — Benihana's fried rice, but how much do you know about the teppanyaki-style restaurant? I reached out to Benihana and consulted a repeat customer to find out savory tidbits to make your next visit more jaw-dropping than the last.
Benihana started out small, really small.
In 1964, Rocky Aoki — a Japanese-born American wrestler — opened the first Benihana on New York City's West 56th Street. It started as a small four-table restaurant. He wanted to showcase authentic Japanese cuisine to an American audience, "teppanyaki style, with theatrical effects performed by highly trained chefs," Benihana told me in an email. Interesting side fact: two of Rocky's children went on to be famous on their own right. His son, Steve Aoki, is a famous DJ and daughter Devon Aoki is a model!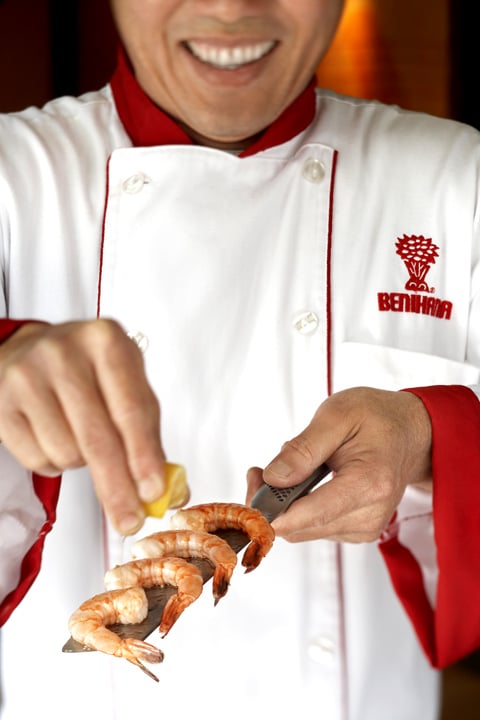 Training to be a teppanyaki chef is a serious undertaking.
Benihana has a "training process" for its aspiring chefs. "Trainers and trainees work together eight hours a day, five days a week for weeks," a contact told us. "Trainees learn how to cook fried rice, vegetables, fish and seafood, pastas, chicken, and beef on a teppanyaki grill. They are also taught how to entertain guests through the famous Benihana cooking tricks, including the egg trick, creating shapes with the fried rice, tossing shrimp tails into their hat, and the popular
onion volcano with fire," Benihana added.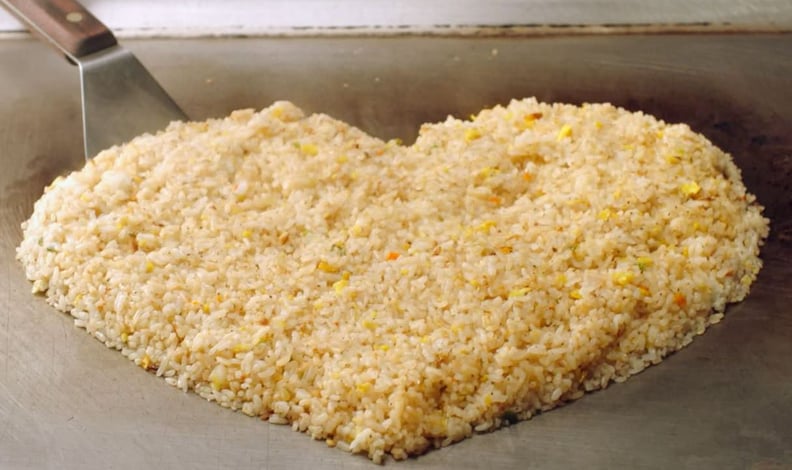 The most popular menu item is Rocky's Choice.
"Rocky's Choice" is a six-course menu item that features hibachi steak and chicken breast, onion soup, salad, a hibachi shrimp appetizer, hibachi veggies, dipping sauces, steamed rice, hot green tea, and ice cream or sherbet. Don't forget you can always upgrade your rice to the fried rice (hibachi chicken rice). Benihana also just came out with a new spicy chicken rice option as well.
Join The Chef's Table for a free birthday gift card.
If you register for Benihana's The Chef's Table and answer the survey, you'll receive a complimentary $30 birthday certificate to use during the month of your birthday. Score!
Go for lunch if you're on a budget.
A little known fact: lunch is the cheaper route, and you get the same food as you would for dinner. Also worth mentioning, Benihana is open Monday through Sunday for lunch.
Reserve a table for eight.
The hibachi tables are communal unless you have a party of eight. Dining with strangers can be a hit or miss experience, so you're better off having a private table if you can swing a large group.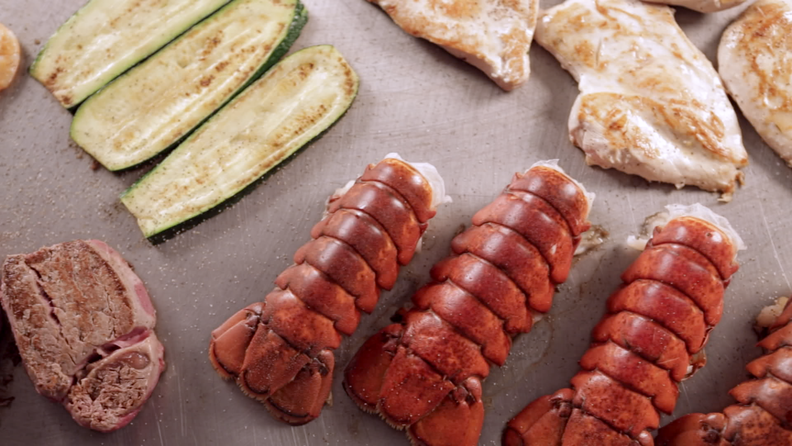 Splurge on the steak and lobster.
Have you ever splurged on the lobster at Benihana? No, me neither, but according to one of my coworkers (a repeat Benihana customer), you should. For dinner, you can get either two entire lobster tails or a filet mignon and lobster tail for around $45-ish dollars, which is a really good deal compared to other steakhouses. Yes, the hibachi-grilled lobster is absolutely, breathtakingly delicious. Pass the garlic butter, please.