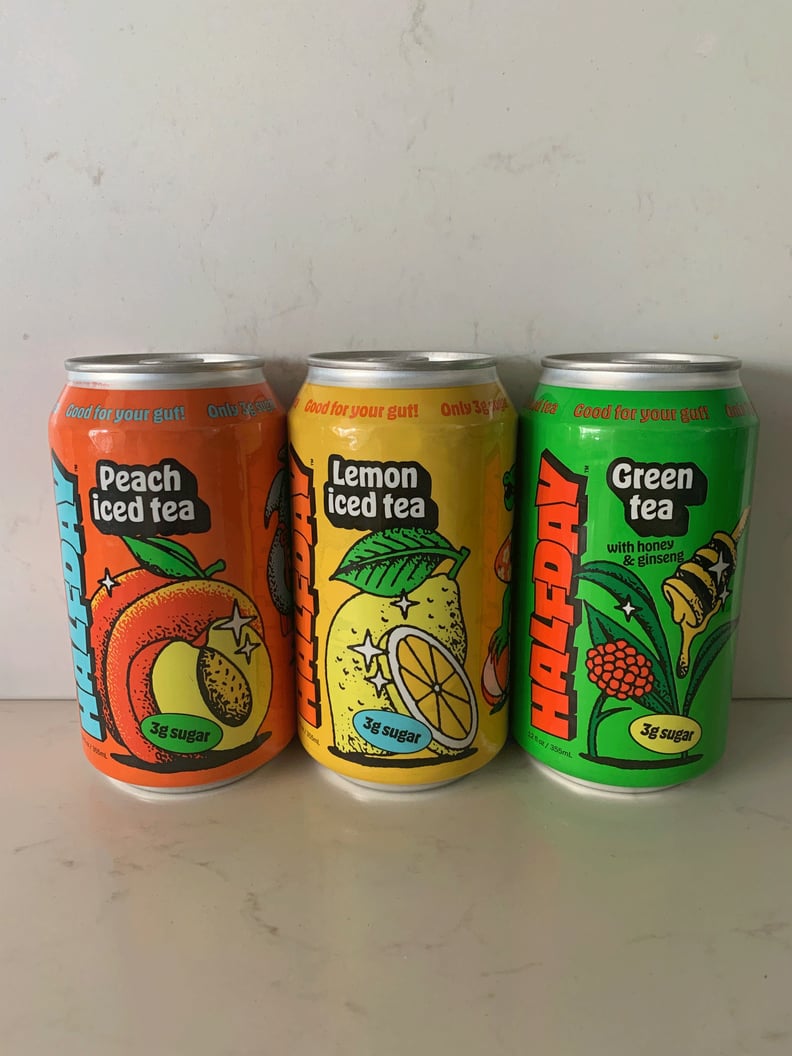 POPSUGAR Photography | Annalise Mantz
POPSUGAR Photography | Annalise Mantz
Every editorial product is independently selected by our editors. If you buy something through our links, we may earn commission.
I'm a self-described beverage girly. Plain old water is just not going to cut it for me — I need at least one other drink next to my usual water glass to feel satisfied. In the morning, that's coffee. In the afternoon, that's usually tea — iced tea in the warmer months, hot tea when the weather cools.
The problem is, I'm a little picky about iced tea. I'm not from the South, so sugared-up sweet tea is not my thing, nor do I want to be consuming that many grams of added sugar just because I'm bored with regular water. I don't always want completely plain, unsweetened tea either, though; my ideal beverage has just a touch of sweetness and plenty of flavor.
When I heard about Halfday's line of lightly sweetened iced teas, I was immediately intrigued. The three flavors — peach iced tea, green tea, and lemon iced tea — seemed tailor-made for my taste preferences with just three grams of sugar each. Plus, each beverage is filled with gut-friendly prebiotic plant fiber, which I consider an added bonus. Keep scrolling for my review of all three flavors.
Halfday Peach Iced Tea
Right away, I noticed the early '00s vibe on Halfday's packaging — and in the flavor options. The Peach Iced Tea ($36 for 12) is jam-packed with fresh fruit flavor and reminded me of the flavored iced teas I used to buy at the snack shack in middle school. Of course, that brand has much more added sugar than Halfday, but they taste nearly identical.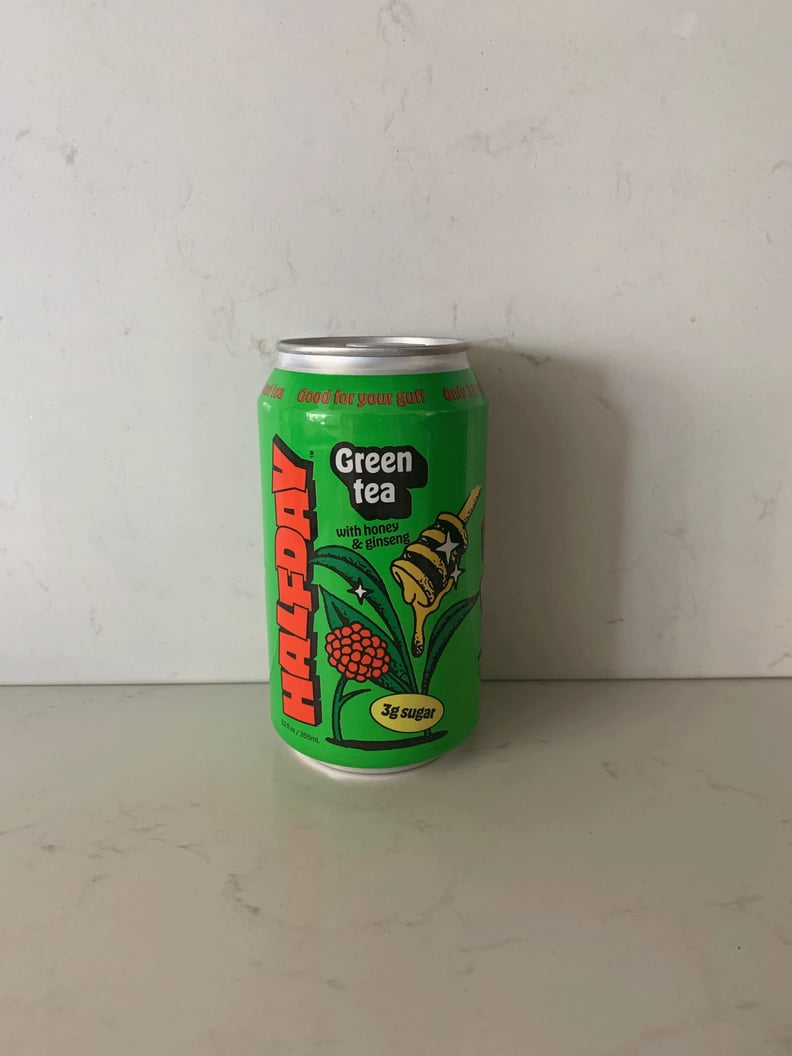 Halfday Iced Green Tea
Like another iced-tea brand featuring extra-tall cans, Halfday's Green Tea ($36 for 12) has a light touch of honey flavor and just a hint of lemon. It's perfectly refreshing to sip with lunch or on its own.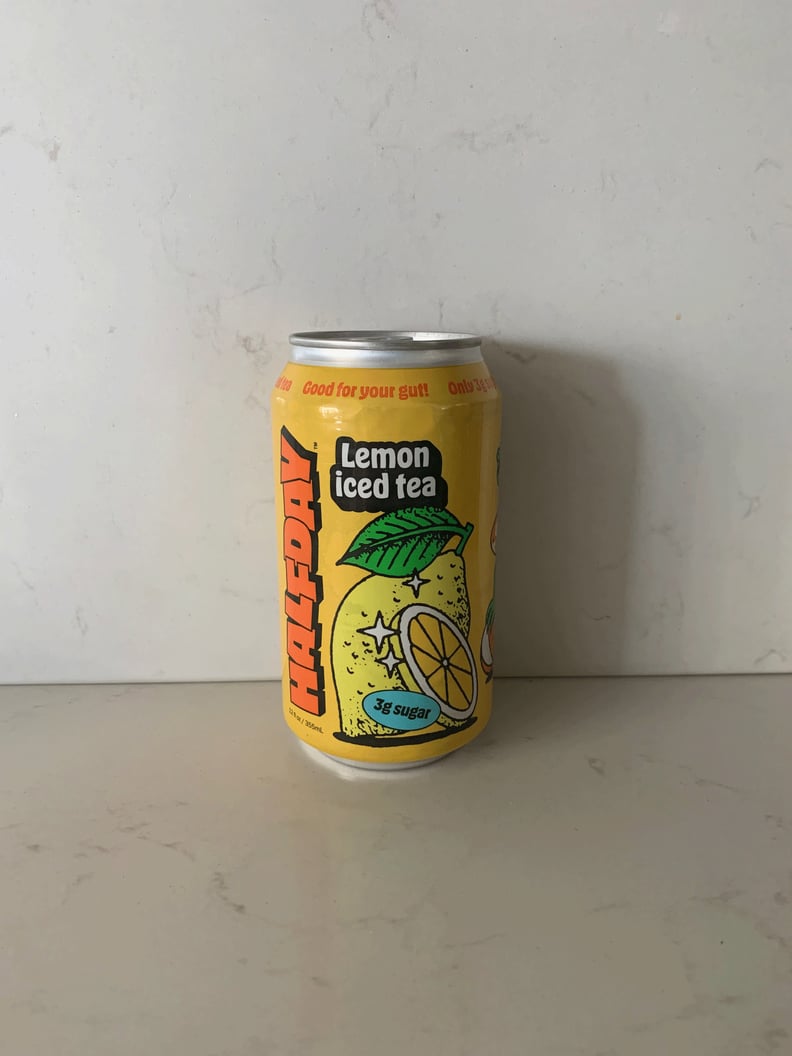 Halfday Lemon Iced Tea
Sometimes, nothing hits the spot quite like a classic black tea with lemon, and Halfday's version of Lemon Iced Tea ($36 for 12) is super satisfying. Once again, it really reminded me of the conventional iced-tea brands you can find in just about any convenience store but with far less sugar.
Overall, I was impressed by all three flavors in the Halfday Variety Pack ($36 for 12). Though it definitely costs more than a 12-pack of your standard iced tea, the price per can is still quite affordable. And since Halfday is available in large chains like Target, Wegmans, and Stop & Shop, it's easy to find in store if you don't want to order online. Bottom line: if you're a beverage fiend like me who wants to avoid added sugar, Halfday is a worthwhile find.