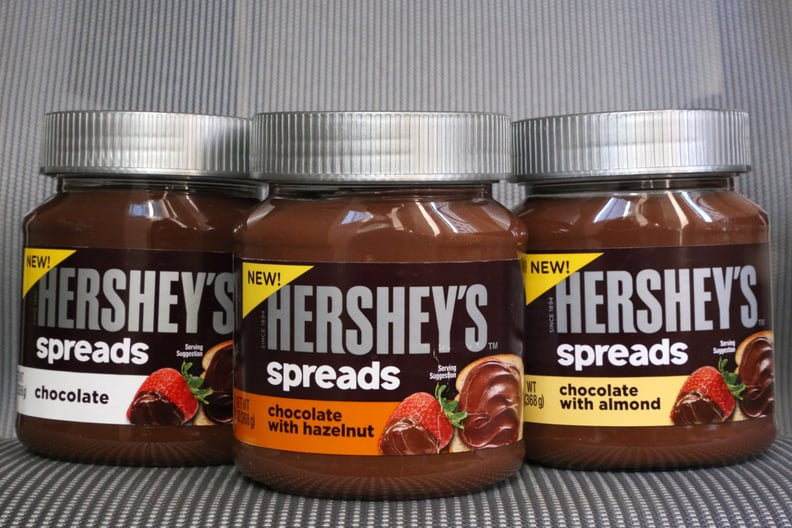 Nutella may have some new competition in the spread aisle. Please meet Hershey's Spreads ($4) in chocolate, chocolate with almond, and chocolate with hazelnut. The website offers a myriad of enticing foods that pair ever so well with the spreads, including graham crackers, pretzels, and marshmallows. But because we are a generation of Doritos Locos Tacos, it's to be expected that the chocolate giant included some eyebrow-raising spread possibilities. How do carrots, pickles, and potato chips sound? We tried and rated the spreads themselves as well as all the flavor combos to bring you the best.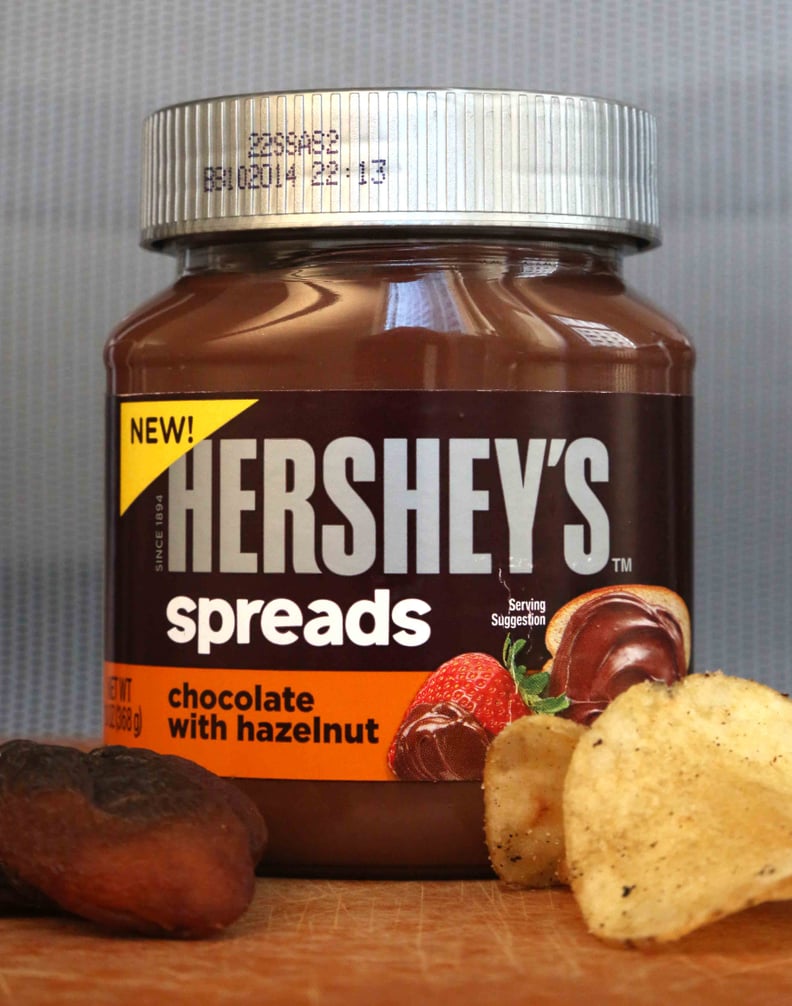 Chocolate With Hazelnut
Nutella, don't you worry about a thing. Tasters repeatedly reported, "Nutella wins." One commenter even dubbed it "fake Nutella." Another said it was a noncompetitor. Many loved the thick, smooth texture but struggled to taste the chocolate as well as the hazelnut. So people, what we have here is a really sweet, fat spread.
Conservative pairing: Dried apricot. Nuts and dried fruit go together like bees and honey.
Crazy pairing: Potato chips. The roasted flavor complements the starchy potato. Plus, anything ultrasalty tastes amazing with the spreads.
★★★☆☆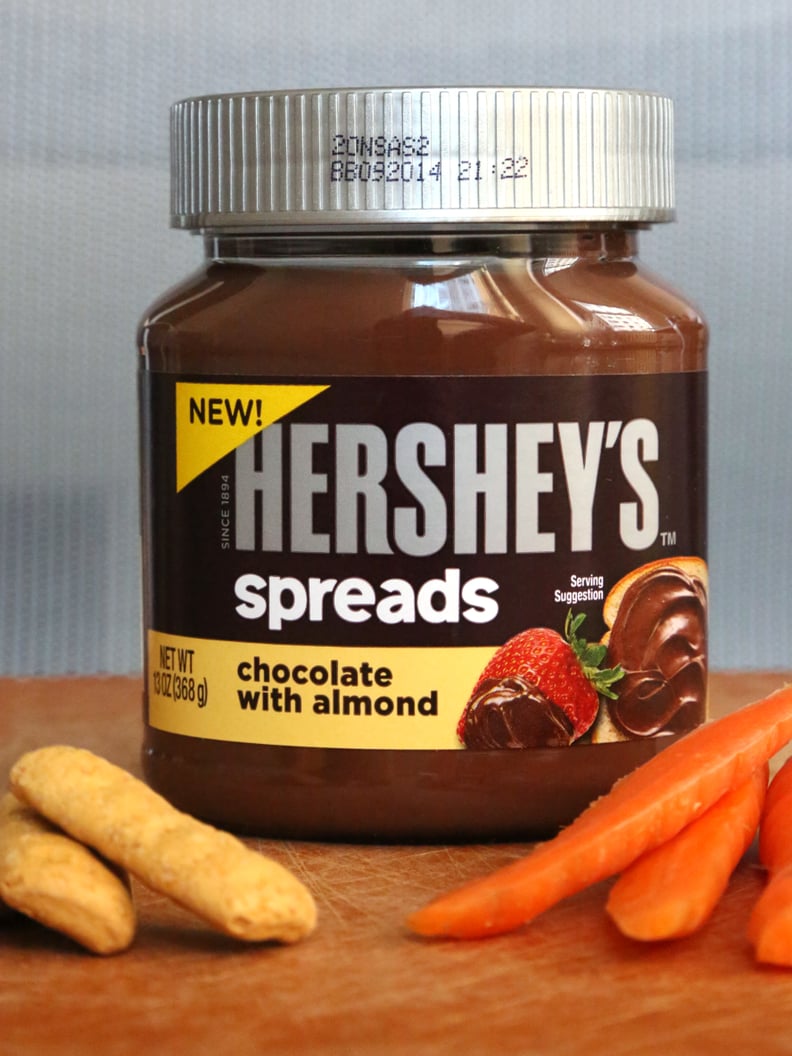 Chocolate With Almond
This almond spread has the added bonus of tasting roasted. Though the intensity of the chocolate could have been boosted, it didn't stop tasters from wanting more of it. Several admitted they preferred the chocolate with almond to the hazelnut, and the scores back up that claim.
Conservative pairing: Honey graham crackers. The toasted honey flavor rounds out the nuttiness of the spread.
Crazy pairing: Carrots. Like an unexpectedly good wine pairing, the sweetness of the vegetable goes well with the sweet spread.
★★★☆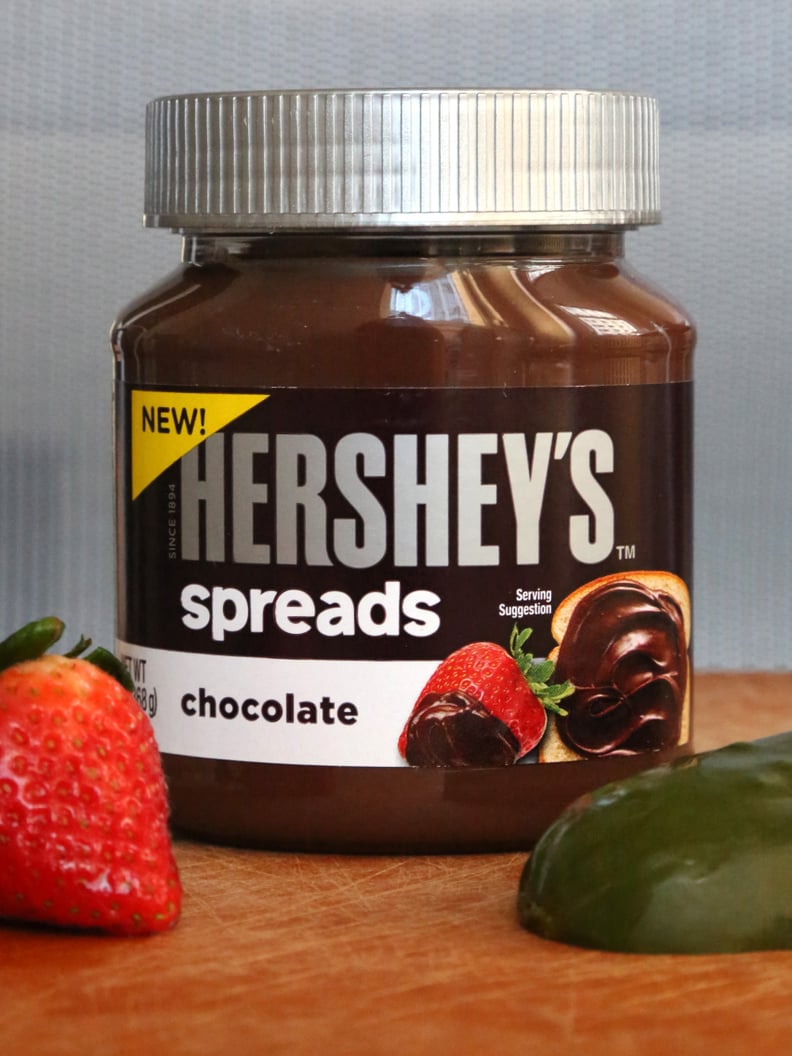 Chocolate
The spread tastes like Hershey's chocolate syrup but in butter form. Reviews were mixed. About half raved about the product and loved the iconic flavor in the new spreadable texture. However, others thought the chocolate tasted fake and probably wouldn't go back in for another spoonful.
Conservative pairing: Strawberries. It's basically like chocolate-covered strawberries, minus the laborious effort. Get ready to down a few . . . OK, maybe a lot.
Crazy pairing: Pickles. Yes, it's totally weird. No, it's not just for pregnant ladies. We were completely skeptical but could easily snack on this all day long. The brininess with the sweet chocolate just works.
★★★★☆