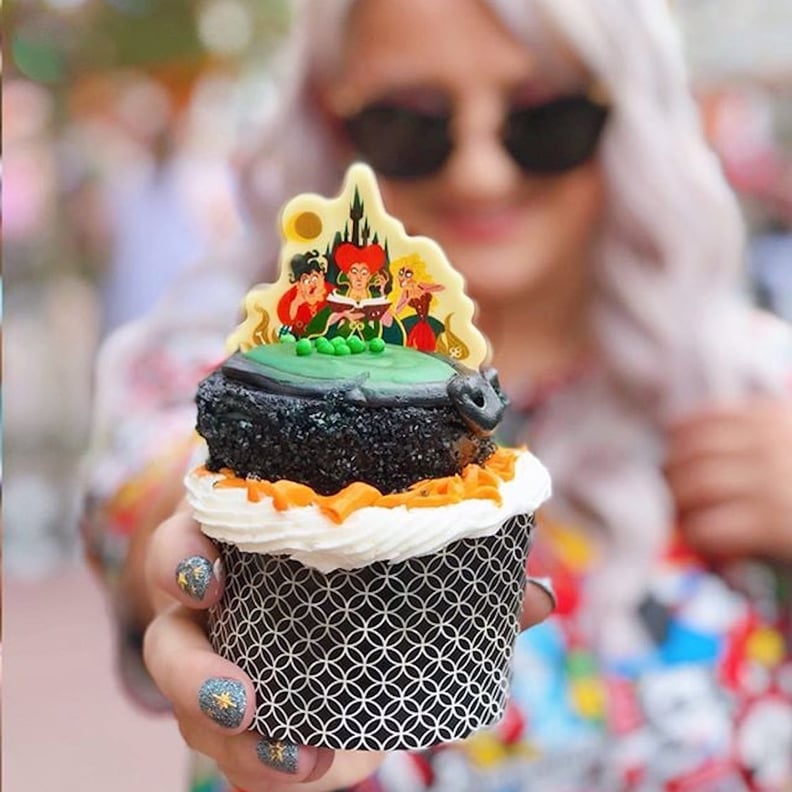 Someone must have lit the black flame candle, because the Sanderson Sisters are back in full force in the form of Disney World's new Amuck, Amuck, Amuck cupcake! The sweet Halloween treat is baked with peanut butter chips, chocolate candy bits, and toffee, and is filled with caramel sauce and topped with the so many cute Hocus Pocus details!
The cupcake looks like the actual cauldron from the film and has frosting flames underneath it and handles on each side. It's filled with the green potion Winifred whipped up from her beloved spellbook (dead man's toe not included) and it's bubbling up thanks to some green crispy pearls. And the chocolate piece has each of the Sanderson sisters in their awesome outfits — with Winifred holding her spellbook — while standing in front of Cinderella's castle.
And don't worry if you're not going to Mickey's Not-So-Scary Halloween Party this year, because this cupcake is available all day throughout the Halloween season at Magic Kingdom! You can find it at the Main Street Bakery, which most people know as the Magic Kingdom Starbucks, for $8. Now excuse us while we run amuck until we get our hands on one.