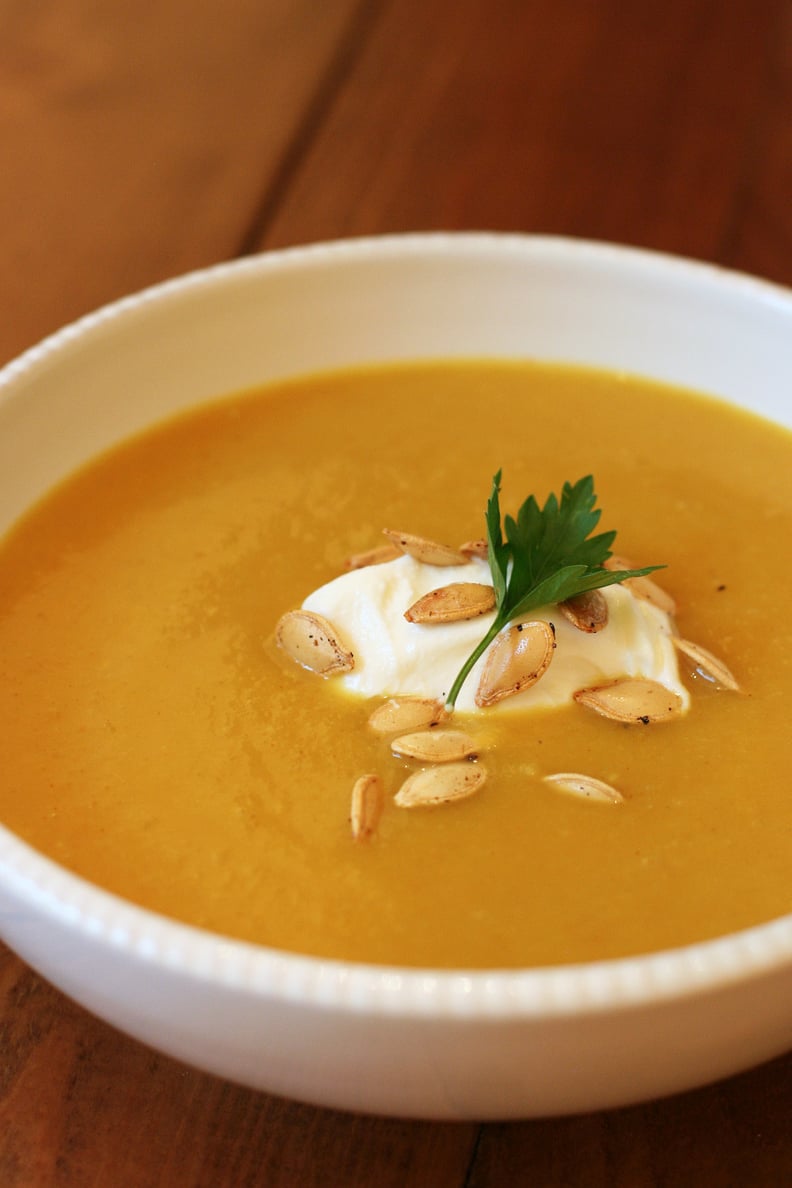 POPSUGAR Photography | Anna Monette Roberts
POPSUGAR Photography | Anna Monette Roberts
It's only August, but we've got our sights set on Fall already. In case you missed it, pumpkin spice products have already hit shelves, which means we're doing our best to forget about the hot weather and embrace all things pumpkin, apple, and cinnamon. To get even more in the mood, we've curated a list of some of the best pumpkin-y recipes out there, both savory and sweet, using both fresh and canned pumpkin. If you've been hesitant to cook with the squash-like vegetable in the past, these recipes will convince you that it's not as complicated as it sounds, and the results are unlike anything you've eaten before. Here's how Giada De Laurentiis, Ina Garten, and more of our favorite celebrity chefs prepare their pumpkin.
Alton Brown: Pumpkin Soup — in a Whole Pumpkin
Leave it to Alton Brown to come up with a completely out-of-the-box pumpkin recipe that also manages to look delicious. His whole pumpkin pie soup takes one-pot cooking to a whole new level by cooking everything inside the pumpkin! If you have time on your hands (the recipe takes a little over two hours), you'll be rewarded with quite possibly the coziest, creamiest, most Fall-like pumpkin soup ever. It's full of garlic, apples, cream, goat cheese, and thyme, meaning your kitchen will smell amazing.
Giada De Laurentiis: Pumpkin and Goat Cheese Risotto
Pumpkin and Italian food are a match made in heaven — at least according to Giada De Laurentiis. Her pumpkin and goat cheese risotto is Fall comfort food at its finest. The rich pumpkin risotto gets a salty, crunchy kick from chopped bacon, and a combination of parmesan cheese and goat cheese ensures it's extra-decadent and hearty.
Ina Garten: Pumpkin Roulade With Ginger Buttercream
Ina's pumpkin roulade with ginger and buttercream is like the ultimate gingerbread and cheesecake hybrid. As the name "roulade" implies, it's a roll of pumpkin cake filled with sweet ginger mascarpone icing. Sliced up into individual pieces, it makes for the perfect dessert for a Fall dinner party and can be served well into the holidays.
Mario Batali: Pumpkin Lune With Butter and Sage
"Lune," short for Mezzelune, is a stuffed pasta similar to ravioli. If you're ever going to attempt a homemade version, it should be Mario Batali's pumpkin lune with butter and sage. While the whole meal requires a little patience and dedication to make pasta dough from scratch, the end result is entirely worth it. The pockets of cheesy pasta practically melt in your mouth, and letting the fresh sage leaves cook in butter creates an aroma and flavor that can't be beat.
Gordon Ramsay: Pumpkin and Mushroom Soup
For his pumpkin and mushroom soup, Gordon Ramsay roasts a whole pumpkin in the oven so that it becomes tender enough to blend with garlic, rosemary, and olive oil. From there, Gordon flavors the base of the soup with onion, nutmeg, parmesan, chicken stock, and cream before adding the homemade pumpkin puree and marrying all of the rich flavors. What makes his pumpkin soup stand out is the garnish of pan-fried mushrooms, which have an earthy flavor that complements the nuttiness of the pumpkin.
Ree Drummond: Pumpkin Gingersnap Cheesecake
If you're a cheesecake and pumpkin-spice fanatic, Ree Drummond's pumpkin gingersnap cheesecake is all you. The Pioneer Woman cuts no corners in this from-scratch recipe, which even calls for a homemade salted caramel sauce to pour on top. She gives the cheesecake's crust a Fall spin by pulsing gingersnaps in a food processor, and the cream cheese filling tastes like autumn thanks to cinnamon, nutmeg, and pumpkin puree.
Guy Fieri: Chicken and Green Chile Pumpkin Bean Stew
If you know Guy Fieri well, you know he loves his chiles. It's no surprise that his pumpkin meal of choice is chicken and green chile pumpkin bean stew, a hearty one-pot meal that will fill you up on a cold night. Pumpkin puree is an excellent addition to chili and stew, and Guy bulks his up even more by adding pantry staples like black beans, kidney beans, chickpeas, and roasted tomatoes. He takes the stew to the next level by making an easy homemade green chile sauce that complements the rich pumpkin flavor perfectly.