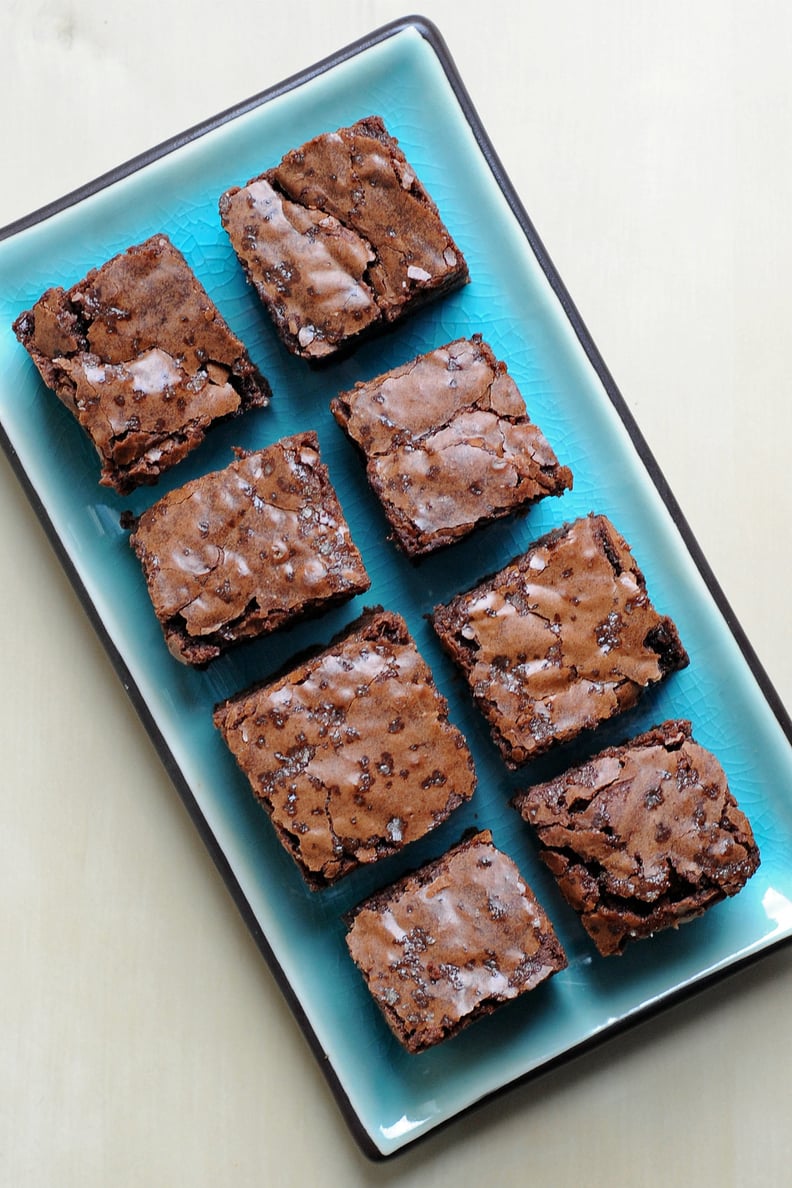 POPSUGAR Photography | Nicole Perry
POPSUGAR Photography | Nicole Perry
Step away from the boxed brownie mix. These brownie-baking methods from some of our favorite celebrity chefs will transform the way you make the classic dessert, and you just might replace your go-to recipe with one of these. From adding fresh vanilla to using a secret technique to get the fudgiest consistency, here's how the experts achieve the best brownie results.
Ina Garten: Coffee-Infused
Ina Garten's brownies are named "outrageous brownies" for a reason (that five-star rating doesn't lie). If you're an avid Barefoot Contessa watcher, you already know that Ina is a fan of adding coffee to chocolate because it brings out the flavor, so if you're a mocha-lover, this is a brownie recipe not to be overlooked.
Alton Brown: Extrafudgy
Alton Brown's cocoa brownies are undoubtedly killer, but his cocoa brownies 2.0 are the real standout. He has an ingenious trick for getting extrachewy, fudge-like brownies: lower the temperature of the oven about halfway through. Alton explains in the recipe, "Proof positive that technique is just as important as ingredients. This is version 2.0 — a change up in the baking time creates an ooey-gooey brownie, different than the original recipe."
Gordon Ramsay: With Fresh Vanilla Bean
Much like Gordon Ramsay's scrambled eggs recipe, his indulgent chocolate brownies recipe calls for quite a few nontraditional ingredients. The chef swaps vanilla extract for fresh vanilla seeds scraped from the pod, and he uses a triple-threat combination of dark, milk, and white chocolate.
Ree Drummond: Brownie Cookies
Leave it to The Pioneer Woman to expertly combine two classic comfort foods. Her brownie cookies recipe is perfect for anyone who lives for edge brownies rather than center pieces, because each cookie develops a crispier crust while maintaining a gooey middle.
Giada De Laurentiis: Espresso Brownies
Giada actually uses a box of brownie mix in her brownie recipe (gasp!), but she dresses it up with espresso powder to give the brownies an upgrade.
Mario Batali: Pot Brownies
That's right. Ahead of the 2016 Super Bowl, Mario Batali released his recipe for his double-chocolate pot brownies, saying, "In honor of those Broncos, their crazy mile-high city, and their weed-friendly state, I'm offering a rocky mountain high option. (I'm actually making regular brownies but if you happen to be in Colorado or any other marijuana-friendly state, go for the add-in marked 'optional.'" If you're going to make weed brownies, you probably want to use a trusted chef's recipe — just saying.
Related: