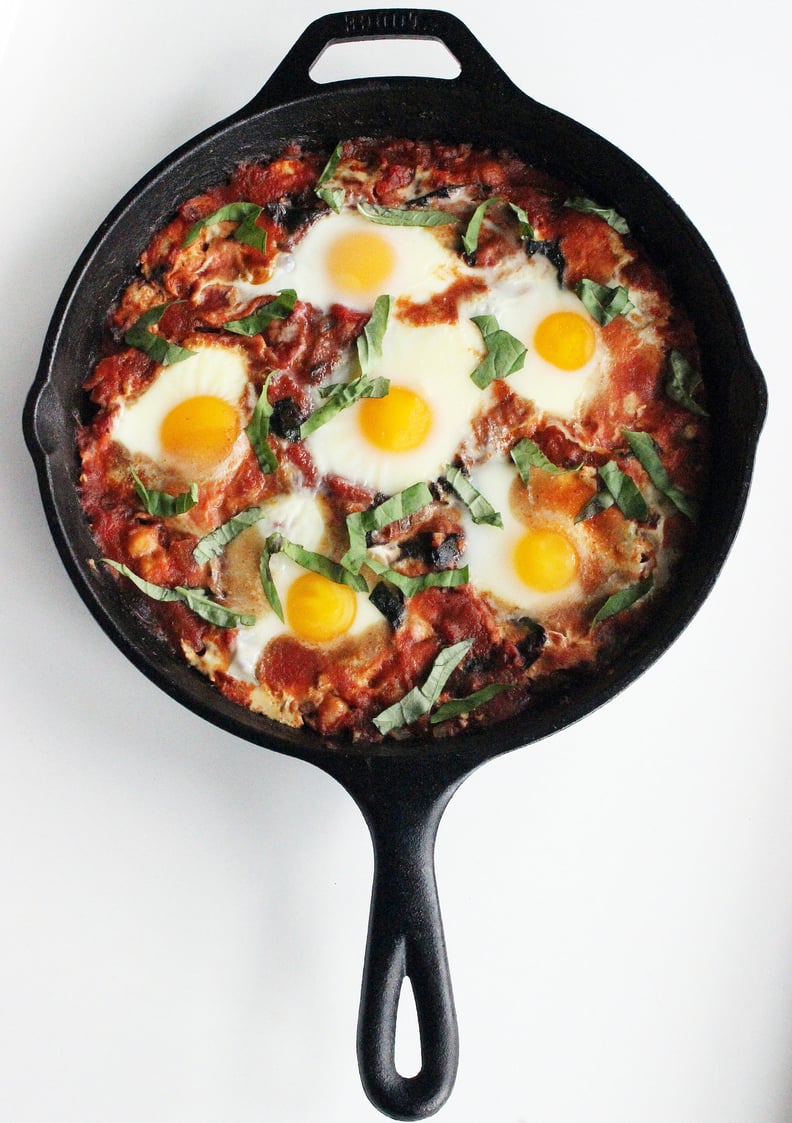 POPSUGAR Photography | Lizzie Fuhr
POPSUGAR Photography | Lizzie Fuhr
Eggs can either be incredibly boring or really exciting. If you'd rather have the latter but you're 100 percent tired of your go-to plain scramble or omelet, these chef recipes should help. Breathe some new life into your breakfast or brunch routine with these creative takes on eggs from Giada De Laurentiis, Alton Brown, Chrissy Teigen, and more.
Alton Brown: Benedict From Scratch
If you've never attempted homemade eggs benedict for fear of the effort, Alton Brown's benedict recipe will convince you it's entirely worth it. While he goes as far as making his own English muffins, you could certainly use store-bought bread but make the hollandaise from scratch.
Mario Batali: Baked With Herbs and Cheese
Mario Batali's eggs in hell recipe is the Italian chef's take on the traditional Middle Eastern dish shakshuka, pictured above. While his scrambled egg recipe involves truffles (classic Mario), the flavor in this skillet recipe comes from plenty of garlic, jalapeños, chili flakes, parmesan, and basil.
Ree Drummond: Omelet With a Twist
The Pioneer Woman's style of cooking usually involves simple ingredients you probably have in your pantry that are used in creative recipes you hadn't thought of before. Such is the case with her Sleepin'-In Omelet, which is a casserole-like baked egg dish topped with pieces of onion rolls, cheddar cheese, and chives. This is what you'd want to serve if you're having a group breakfast or brunch, and the best part is you can make it the day before and keep it in the fridge before popping it in the oven to bake in the morning.
Chrissy Teigen: Nontraditional Shakshuka
Another popular take on shakshuka is Chrissy Teigen's spicy tomato skillet eggs with prosciutto, which you'll find on page 24 of her cookbook, Cravings. "I always have the ingredients for this divine, painfully simple crowd-pleaser. Sopping the eggy tomato sauce with focaccia *almost* makes me not regret inviting someone into my home/getting out of bed," the always-hilarious author wrote in the recipe's intro. Catch a glimpse of the eggs sizzling in the pan from a video Chrissy shared on Instagram.
Giada De Laurentiis: In a Muffin Tin
If grab-and-go breakfasts are your favorite, you'll love Giada's mini frittatas recipe. Made in a muffin tin, the egg muffins are full of sliced ham, fresh parsley, and (of course) parmesan cheese. You can make a batch of them on Sunday and have breakfast ready for the whole week.
Gordon Ramsay: Custard-Like Scramble
There's really nothing like Gordon Ramsay's scrambled egg recipe. You'll forget everything you thought you knew about such a basic breakfast and immediately impress yourself with a chef-quality meal. Nothing about Gordon's recipe is expected, from the tool (pot instead of pan) to the secret ingredient (spoiler: it's crème fraiche).
Related: