This Is How All Your Favorite Chefs Make Grilled Cheese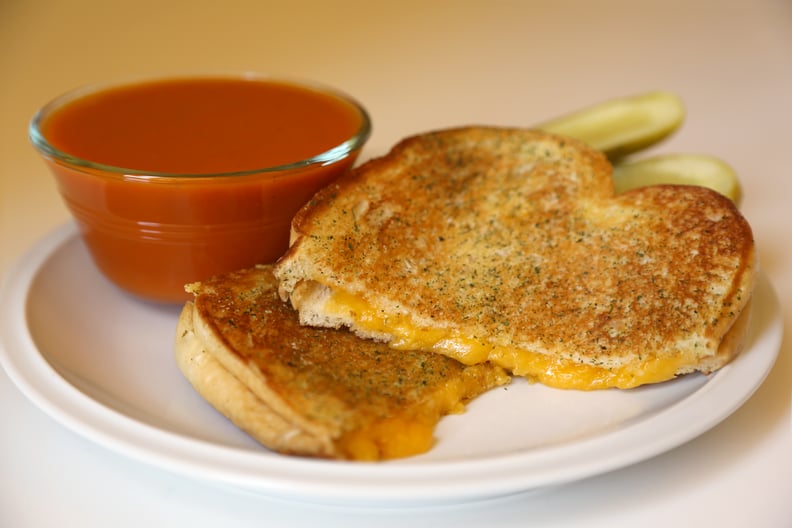 POPSUGAR Photography | Anna Monette Roberts
POPSUGAR Photography | Anna Monette Roberts
Grilled cheese is one of those recipes everyone should learn how to make, but it's so much more than white bread and American cheese. Need a little inspiration? Here's how some of our favorite celebrity cooks make theirs (I personally want to try Chrissy Teigen's ASAP).
Alton Brown: Literally Grilled
Alton Brown has very strong feelings about calling it "grilled" cheese when it actually isn't. In Alton's grilled cheese video, he says, "These words repesent disappintment, dishonesty, and disillusionment, because whenever people say they're gonna make you a grilled cheese sandwich, what they really mean is they're gonna make you a griddled sandwich containing some melted cheese. Well, not me." And he's not exaggerrating — Alton's grilled cheese recipe calls for putting the cheese and the bread on the grill.
Giada De Laurentiis: With Italian Flair
Would you expect anything else from a Giada recipe than an Italian flair? Her grilled cheese with spinach and pancetta is proof that prosciutto or pancetta makes anything better.
Chrissy Teigen: Sweet and Spicy
"My love of oozing cheese knows no bounds, and as I'm sure you've noticed, I'm constantly trying to find a way to squish delicious things between buttery pieces of bread." Same, girl. That's how Chrissy Teigen introduces her grilled cheese recipe, and the oozing cheese is just the beginning of the excitement. Chrissy adds sweet Thai chili sauce, red onions, and fresh peaches for an unexpected sweet and spicy flavor combination.
Ina Garten: Mayo Slathered
Ina Garten is one of those cooks who follows recipes to a T, so you know her decision to include this secret ingredient was well-thought-out, and it's . . . mayonnaise. Actually, mayo and dijon mustard. Ina's grilled cheese recipe calls for generously spreading the bread with the condiment mixture on one side, and butter on the other — "Don't neglect the corners!" she advises.
The Pioneer Woman: Starts With a Cast-Iron Skillet
The Pioneer Woman's grilled cheese recipe proves that sometimes you don't need to mess with a classic. If you've got a cast-iron skillet, all you need is three ingredients — bread, cheese, and butter — to be on your way to an extracrispy exterior and melty center.
Bobby Flay: Nontraditional Cheeses
You won't find cheddar or mozzarella in Bobby Flay's grilled cheese. You'll find a combination of melty brie and tangy goat cheese, plus bacon and green tomatoes to keep things interesting.