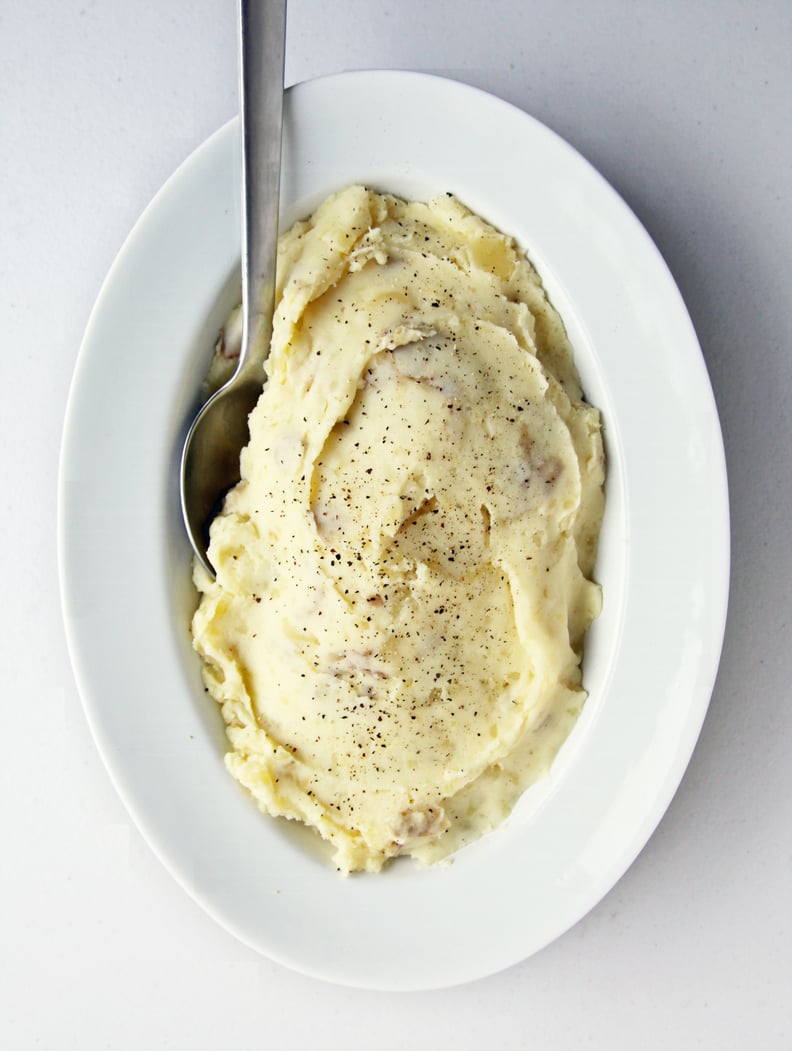 POPSUGAR Photography | Nicole Perry
POPSUGAR Photography | Nicole Perry
Mashed potatoes are one of the easiest yet most complicated dishes to make. Simple tweaks to your cooking method and ingredients can mean the difference between gluey, underwhelming mashed potatoes and creamy, lump-free, flavorful ones. This holiday season, take a cue from the experts and avoid fails in the kitchen and at the dinner table. Here's how Tyler Florence, Giada De Laurentiis, and more pros recommend making mashed potatoes.
Tyler Florence: Cooked in Cream and Butter
Tyler Florence's mashed potatoes recipe proves a brilliant point: if you're going to add cream and butter to your cooked potatoes, why not go ahead and cook them in the good stuff instead of water? After boiling potatoes in cream, butter, olive oil, garlic, and herbs like sage and thyme, Tyler strains the potatoes in a colander before adding the potato-infused cream back into the potatoes and mashing it all together. "It's the best mashed potato you'll ever taste in your entire life," he promises.
Giada De Laurentiis: With Italian Flair
It wouldn't be Thanksgiving at Giada's without an Italian spin on the menu. Giada's baked mashed potatoes call for parmesan, mozzarella, and breadcrumbs for a cheesy, decadent dish that's both creamy and crunchy thanks to a breadcrumb topping that crisps up in the oven.
Ree Drummond: With a Secret (Cheesy) Ingredient
Ree Drummond's mashed potatoes have a secret ingredient you might not have tried adding to your potatoes before: cream cheese. With two sticks of butter, eight ounces of cream cheese, and a cup of heavy cream, you can bet these mashed potatoes are so creamy, they might not even need gravy. Before serving, Ree recommends transferring the potatoes to a baking dish, topping with more butter, and baking them in the oven for 20 to 30 minutes so that they're completely warmed through and dripping with flavor.
Sunny Anderson: No Peeling Necessary
Sunny Anderson's red bliss mashed potatoes call for red potatoes instead of Yukon or russet potatoes, and the best part is you don't have to peel them. The skin from the red potatoes adds flavor and texture to the creamy mashed potatoes, which are packed with plenty of garlic and heavy cream.
Alton Brown: No Skimping on the Garlic
If you love garlic, Alton Brown's mashed potatoes recipe is the one for you. By simmering six garlic cloves in a saucepan with half and half, the garlic becomes warm and soft enough to mash directly into the cooked potatoes, infusing every bite with flavor. A handful of grated parmesan cheese rounds it all out and adds the perfect amount of saltiness and creaminess.
Ina Garten: Flavored With Sour Cream
The secret ingredient of choice in Ina Garten's mashed potatoes recipe isn't cream cheese or garlic — it's sour cream. The Barefoot Contessa's go-to method is to boil the potatoes in cold and salted water, heat milk and butter in a saucepan, run the potatoes through a food mill, and then whisk in the milk and butter mixture before adding a generous scoop (half a cup) of sour cream.