The 1 Ingredient That Will Instantly Uplift Any Salad, Sandwich, or Pasta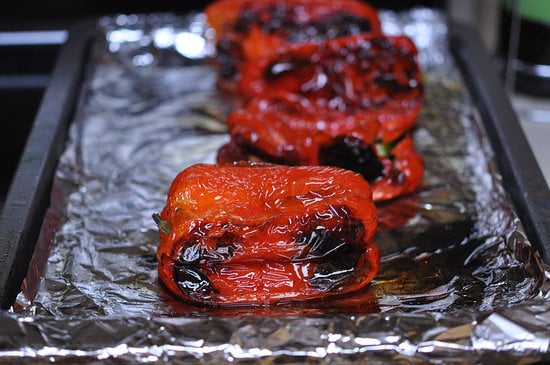 POPSUGAR Photography | Lauren Hendrickson
POPSUGAR Photography | Lauren Hendrickson
Roasted red bell peppers are a great addition to salads, sandwiches, pasta dishes, and antipasto platters. I love to make my own at home, jar them and have them on hand for whenever one strikes my fancy. Large red bell peppers are sweet, not spicy and can be found in grocery stores year-round — although their peak season (when they are the cheapest) is from May until August. Here how to roast them:
Start by washing the peppers and removing the stickers. Next you can either char them on high heat on a gas range stove by placing them directly onto the grates, or roast them in the oven (which is what I like to do). Use tongs to turn the pepper to blacken on all sides. Cook on the grill the same way.
If roasting in the oven, preheat to 450°F. Arrange the peppers on a cookie sheet and roast in the oven, turning every 15 minutes until done (about 30 minutes).
Whatever technique you use to blacken the peppers, once they are done, place in a covered bowl or brown paper bag. As the steam from the peppers condenses, the skin becomes easier to peel off.
Once the peppers have cooled, carefully peel off the blackened skin and discard. You can do this with your fingers or a sharp paring knife. Pull or cut off the top of the pepper and squeeze gently to remove the seeds.
Never rinse or wash the peppers, as the water will diminish the smoky flavor. When the skins and seeds have been removed, cover the peppers in oil, adding garlic slices or herbs if desired, and refrigerate for up to two weeks.