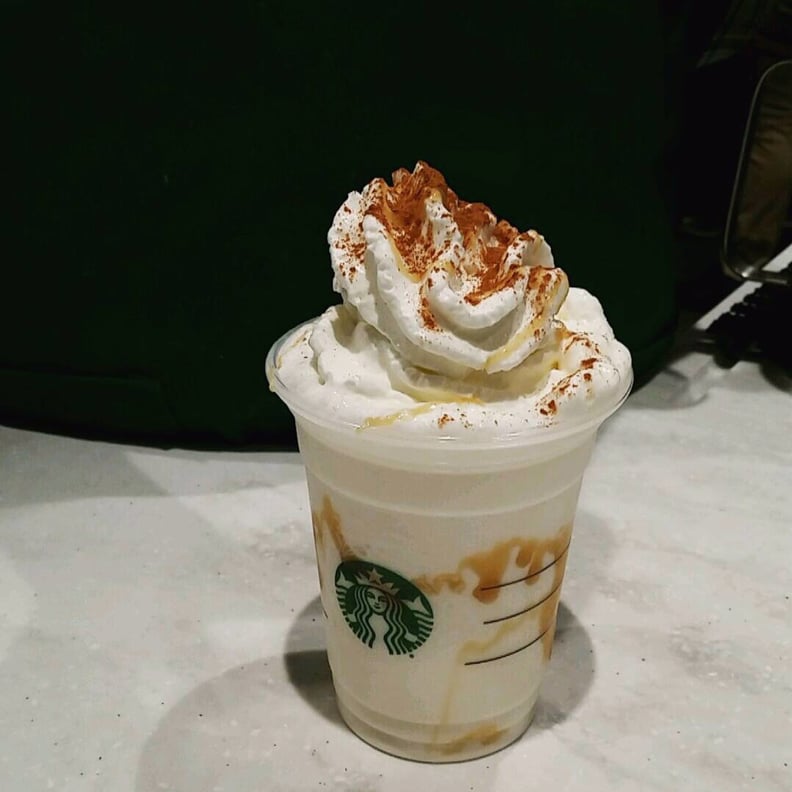 "Fall" is basically synonymous with "Starbucks Pumpkin Spice Latte," but there's a lesser-known secret menu drink that just might become your new favorite this year. Bonus: it's not even pumpkin spice! It's the Apple Pie Frappuccino, which is not on the menu but which can easily be ordered, according to fan site Starbucks Secret Menu. The frothy Frappuccino apparently tastes exactly like apple pie, thanks to the combination of apple juice, cinnamon syrup, caramel syrup, and a creamy base. If you attempt to order this during your next Starbucks run and it's clear your barista has never heard of it, here's the exact recipe you can tell them:
Fill to first line with cream base
Fill to second line with apple juice
Add cinnamon dolce syrup (one pump for a tall, 1.5 for a grande, two for a venti)
Add caramel syrup (one pump for a tall, 1.5 for a grande, two for a venti)
It seems that true Starbucks aficionados have been aware of this "secret" drink for a couple of years, and people are continuing to share photos of the Autumn-approved Frappuccino on Instagram this year. Clearly the drink is on the extremely sweet side, but the consensus is that it really does taste like one of the best Fall desserts. One person's caption reads, "It was like apple pie in liquid form. Unbelievable!" If you've suddenly developed a serious craving for an Apple Pie Frappuccino, read on to discover more photos of what it should look like, and then order one for yourself ASAP.