TikTok Is Making Tinned Fish Trendy — Here's Everything You Should Know About It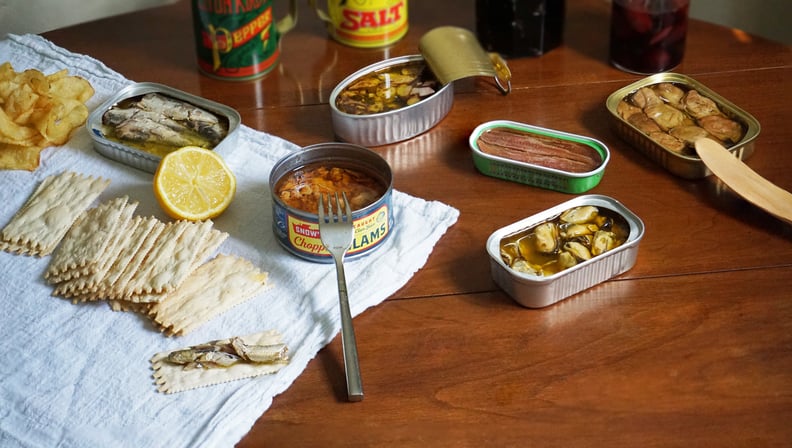 POPSUGAR Photography | Kalea Martin
POPSUGAR Photography | Kalea Martin
As POPSUGAR editors, we independently select and write about stuff we love and think you'll like too. If you buy a product we have recommended, we may receive affiliate commission, which in turn supports our work.
Go to any bar in Spain or Portugal and there's one tapas dish you're sure to find: conservas. Though the name directly translates to "preserves" in both Spanish and Portuguese, it more accurately refers to canned seafood — but not the kind most Americans might be familiar with.
Rather than the basic selection of albacore tuna you can get in the canned-food aisle of any US grocery store, conservas come in the form of mussels, clams, squid, sardines, and the many other types of seafood found in the coastal region of the Iberian Peninsula, where Spain and Portugal are located. Conservas, or tinned fish, as they've come to be known on TikTok, are preserved at the peak of freshness in different broths, oil- and vinegar-based brines, and spice blends, historically to make them last all year round.
For TikTokers, though, it's less about function and more about enjoying #TinnedFishDateNight.
Though conservas go by "tinned fish" on TikTok, it seems they're only different in name. Across the app, you'll see people popping open their tins, arranging them on a charcuterie board, and eating them tapas-style with olives, potato chips, even straight from the can with a glass of white wine. The practice is nothing special or new for the southern Europeans who so often enjoy it, so why all of a sudden has this popped off on TikTok?
Harrison Weinfeld, a tinned fish expert who goes by @TheSardinfluencer on Instagram, says it has to do in part with the fact that people are becoming increasingly intentional about their food choices. "Like most things related to food in Europe, tinned fish is about coming together around the table to enjoy a leisurely meal. It's about community and slowness of experience," he explains to POPSUGAR. "The tinned-fish boards we are seeing go viral are a natural progression of this history, offering a 'choose your own adventure' version, in which any destination is delicious."
Just like the aged cheeses and cured meats that make up the ever-popular charcuterie board, tinned fish is an attainable gourmet food with many varieties, offering endless opportunities to indulge in the "dolce far niente" approach to living and eating that Americans glamorize so much. It falls into the same category as drinking a glass of Champagne with lunch à la "Emily in Paris" or stopping for a midday gelato on the Spanish Steps like Audrey Hepburn in "Roman Holiday," but in a way that fits into our own lives. The fact that tinned-fish packaging is ultra Instagrammable adds to the appeal even more, Weinfeld points out.
How to Try Tinned Fish For Yourself
While you might be tempted to choose your tinned fish based on the TikTok-worthy packaging alone, the words on the label and the price are much more reliable indicators of quality and taste.
Weinfeld recommends tinned fish imported specifically from Spain or Portugal, which TikTokers have reportedly found at stores like Trader Joe's and Cost Plus World Market. He says that Spain is known for its clams, mussels, octopus, and squid, while Portuguese brands produce the best sardines, mackerel, and pole- and line-caught tuna. It'll typically run you about $3 to $5 per package, sometimes upwards of $15 both online and at gourmet food stores. You can look for brands such as Fishwife, Patagonia Provisions, Matiz España, Pinhais, and Scout in stores or online. You can even buy a pack of Weinfeld's favorites from Portugalia Marketplace ($40).
It's possible to do tinned fish on a budget, but you'll be sacrificing flavor, Weinfeld warns. The ones in the $1 range (including those cans of tuna you rely on for tuna-salad sandwiches) often have questionable sources, are overcooked, and tend to be excessively fishy. If you want to do the tinned-fish-date-night trend right, you'll definitely want to take note from the Europeans, and high-quality seafood is the best place to start.
The great thing about tinned fish is that it has a long shelf life, and that means you can have yourself a little tapas moment anytime you see fit. When you're ready to enjoy your tinned fish, Weinfeld says the easiest way to go about it is to treat it like a charcuterie board and simply swap out the cured meats for tinned fish. Because of the naturally salty and smoky flavors, tinned fish pairs particularly well with anything pickled, so make sure you also add briny foods like cornichons, olives, and pickled onions to your board for a delicious contrast of taste and texture. Hot sauce with mussels and manchego cheese with sardines are some of the most popular combos, but even just eating the tinned fish as is on top of a cracker can be tasty. If all else fails, a little salt and lemon goes a long way, and you can find plenty more inspiration on TikTok.
One-pot meals and 30-minute recipes do have a place and purpose, but tinned-fish date night (or tapas, really) isn't about getting dinner on the table fast with the fewest amount of dishes and ingredients. So have fun experimenting with pairings, try out the different varieties, and give yourself a chance to savor the food in front of you. Keep your pantry stocked with tinned fish, and anytime you need a break from the hustle and bustle, just pop open a tin.