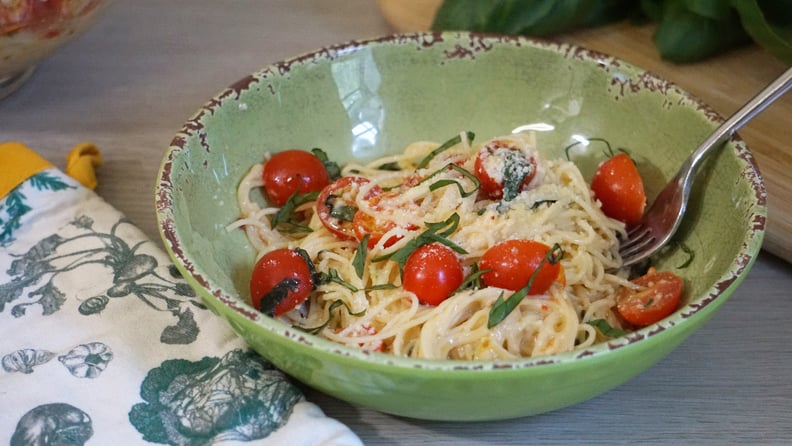 POPSUGAR Photography | Kalea Martin
POPSUGAR Photography | Kalea Martin
Ina Garten's summer garden pasta is technically meant to be enjoyed during summer when the tomatoes are sweet and in season, but once you taste it, you'll definitely be tempted to make it all year round.
The celebrity chef first shared the recipe in her 2006 cookbook "Barefoot Contessa at Home," and more than a decade later, it went viral on Instagram. Ever since then, the dish has been a fan favorite.
Perhaps the reason Garten's recipe is such a classic is that it doesn't take much effort to make. You can easily eyeball how much of each ingredient to add, and the only cooking involved is the three minutes of boiling the angel hair.
The sauce comes together simply by combining cherry tomatoes and olive oil with basil, minced garlic, salt, and crushed red pepper flakes, then letting them sit for a good four hours. During those four hours, the tomatoes start to leach their juices into the olive oil, and this liquid then becomes infused with the flavors of basil, garlic, and red pepper, ultimately forming a delicious pasta sauce.
Because the sauce is more like a dressing, you might assume Garten's dish will taste like a pasta salad; however, temperature is key in this recipe. Garten says to let the tomato mixture marinate on the counter at room temperature, not in the refrigerator.
She then tops it with the hot angel hair as soon as it's done cooking and adds grated parmesan cheese. The residual heat and steam from the cooked pasta cause the tomatoes and garlic to cook slightly, intensifying the flavors even further, especially with the addition of cheese.
If you're looking for an easy recipe to add to your dinner rotation, you can't go wrong with this pasta dish. It's basic yet filling and packed with a ton of bright, summery flavors, cementing it as just the thing to make when it's hot outside. Read on for the basic steps in putting together this summer pasta recipe.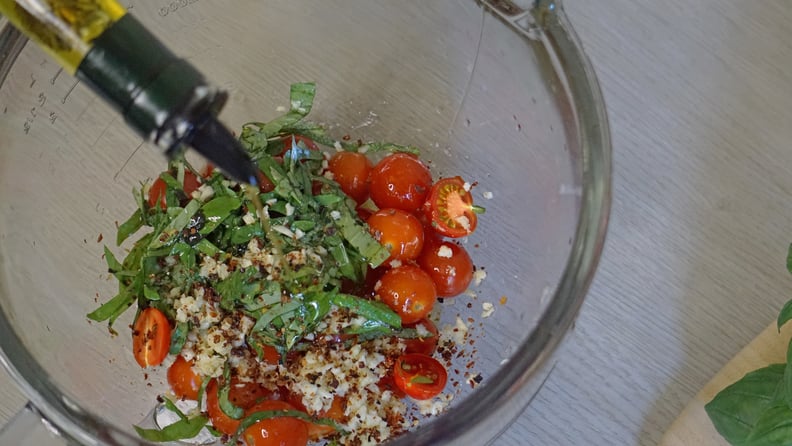 To make enough sauce to accompany one pound of pasta (which serves four to six), combine four pints of halved cherry tomatoes, 1/2 cup olive oil, six minced cloves of garlic, 18 julienned fresh basil leaves, 1/2 teaspoon red pepper flakes, salt, and pepper in a large bowl. Cover and set aside (at room temperature) for four hours.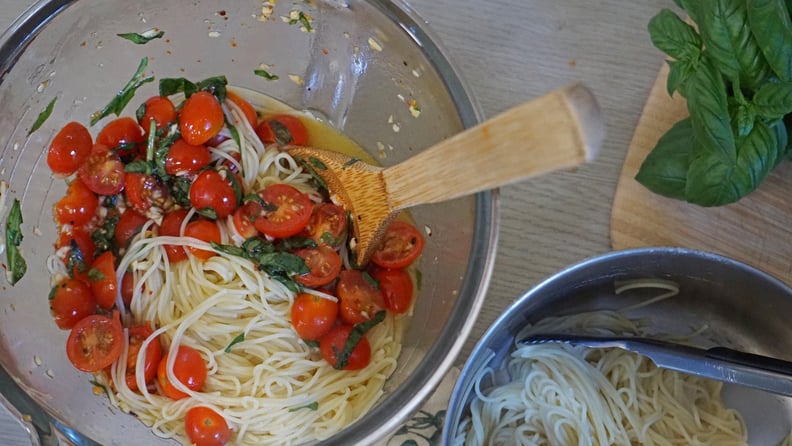 Cook one pound of angel hair pasta. Drain, then add to the bowl with the tomato mixture. Add 1 1/2 cups grated parmesan cheese, toss, and serve.