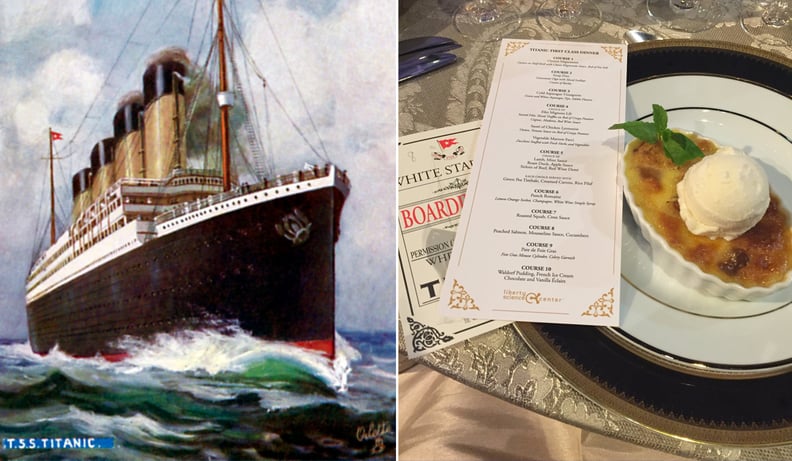 POPSUGAR Photography | Hedy Phillips
Getty | Culture Club
POPSUGAR Photography | Hedy Phillips
Getty | Culture Club
It's not every day you get to eat a spectacular re-creation of the very last meal served on board the Titanic before it sank in 1912, but I got to do just that. The dinner, hosted by the Liberty Science Center in Jersey City, NJ, and prepared by Donatella Arpaia, Alex Guarnaschelli, and a team of chefs, served as a kickoff for the center's Titanic: The Artifact Exhibit, which opened Oct. 31, 2015.
The 10-course meal was served over the span of about three hours with a string quartet playing on the side, similarly to how it would have been done on the Titanic itself. Alex and Donatella introduced each course and provided insight on the preparation along with tidbits about what dining on the Titanic was like. Alex was quick to point out that the staff on the boat had little regard for cost and seasonality when it came to preparing the food.
"As a chef who's always worrying about food cost . . . there was no food cost on the Titanic. . . . Why wouldn't you just have bone marrow laying around on a boat?" she quipped about the fifth course. She and Donatella also added that peaches for the dessert on that fateful voyage were flown in from Africa and quail was imported from Egypt, because Titanic promised the best of the best for its first-class passengers — though second-class passengers ate very well, too, from what we were told.
The meal served at the event followed as closely as possible to the original one served in 1912, though the chefs did say that the original recipe for the Waldorf Pudding in the 10th course went down with the ship — but I can't complain, because the current rendition was amazing and probably my favorite thing I ate all night . . . followed closely by the filet mignon that was soft as butter. Keep reading to get the full dining experience.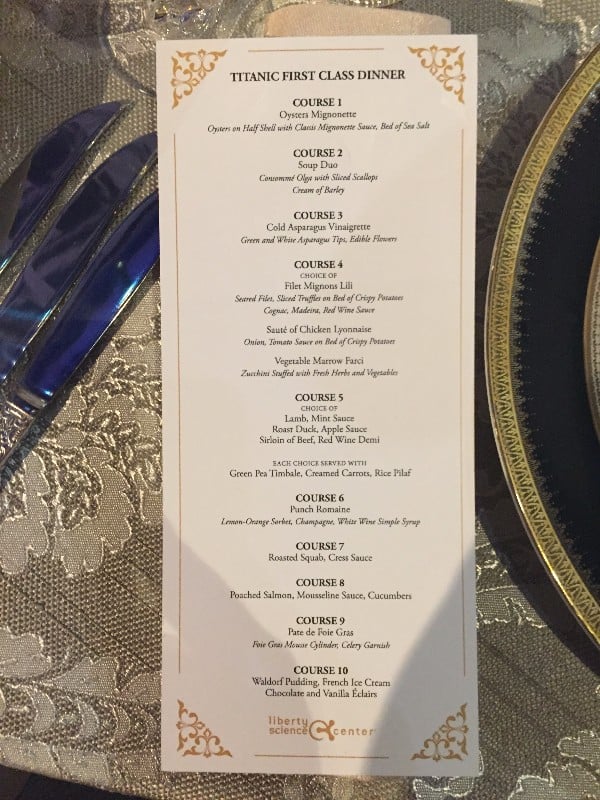 Last Dinner Served on Titanic: Menu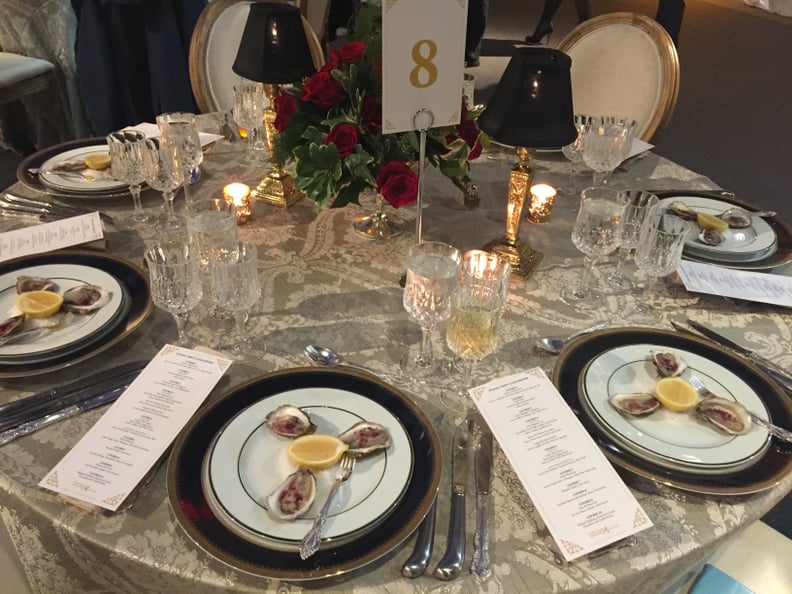 Last Dinner Served on Titanic: Tablescape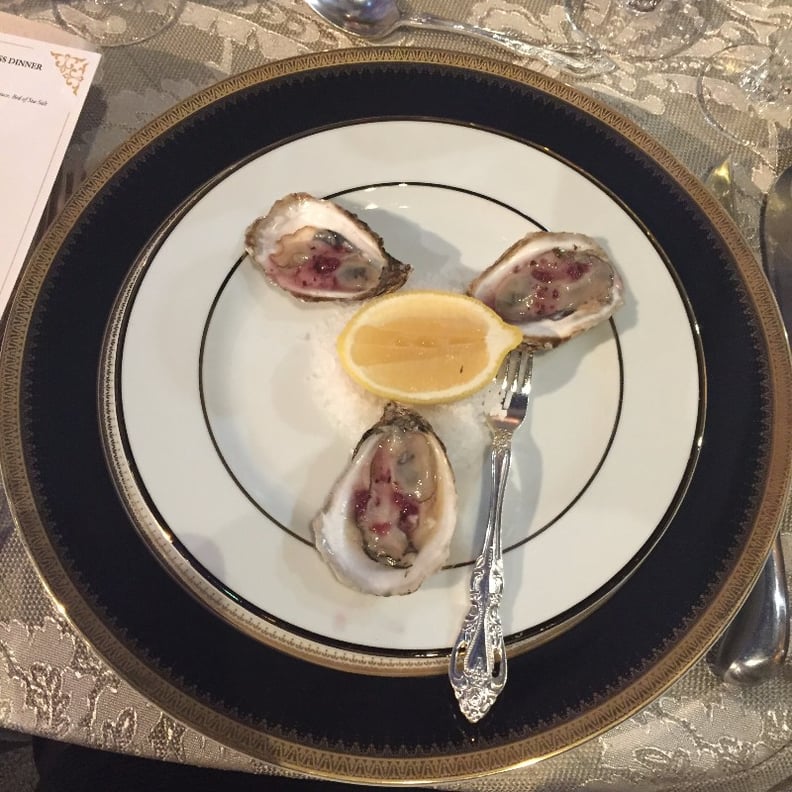 Last Dinner Served on Titanic: Course 1
Oysters mignonette — oysters on half shell with classic mignonette sauce, bed of sea salt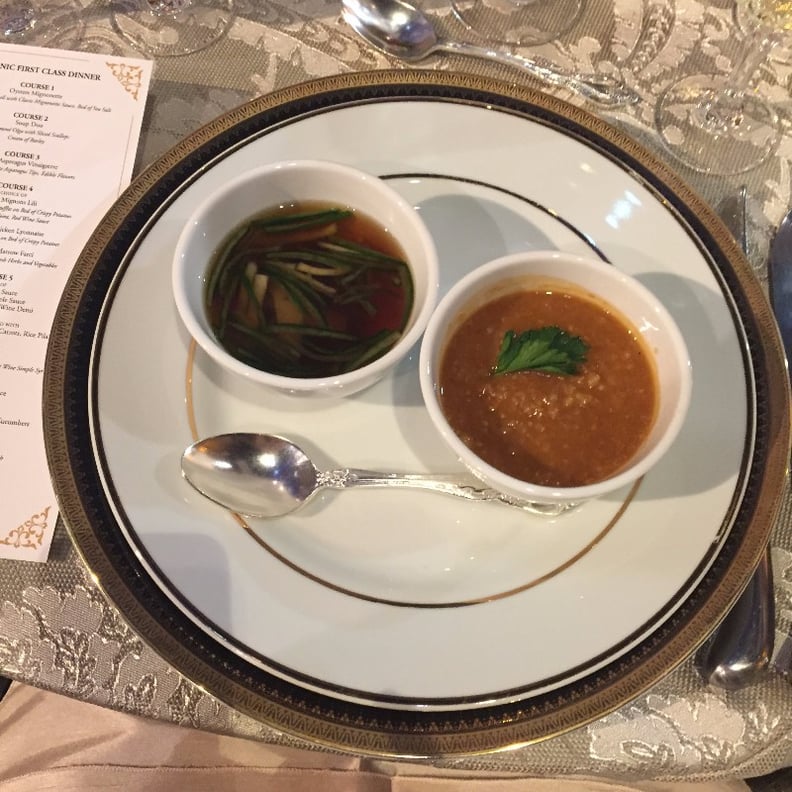 Last Dinner Served on Titanic: Course 2
Soup duo — concommé olga with sliced scallops, cream of barley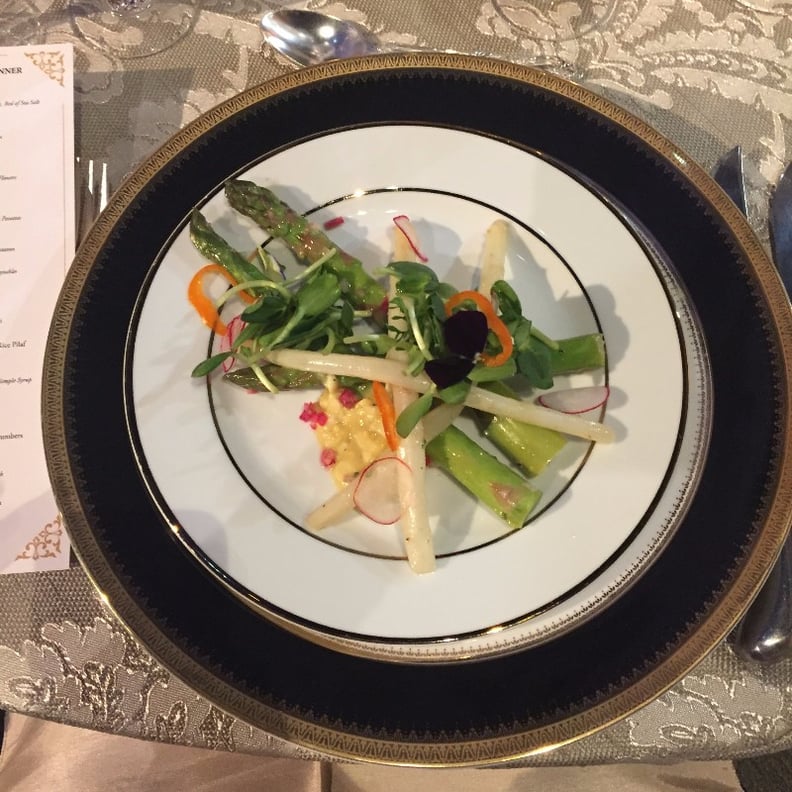 Last Dinner Served on Titanic: Course 3
Cold asparagus vinaigrette — green and white asparagus tips, edible flowers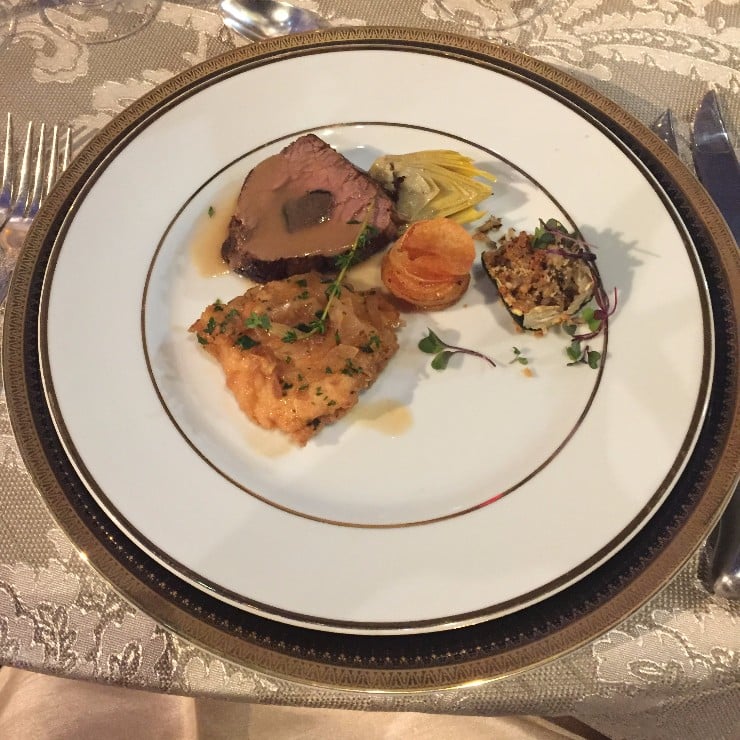 Last Dinner Served on Titanic: Course 4
Trio of:
Filet mignons lili — seared filet, sliced truffles on bed of crispy potatoes, cognac, Madeira, red wine sauce
Sauté of chicken lyonnaise — onion, tomato sauce on bed of crispy potatoes
Vegetable marrow farci — zucchini stuffed with fresh herbs and vegetables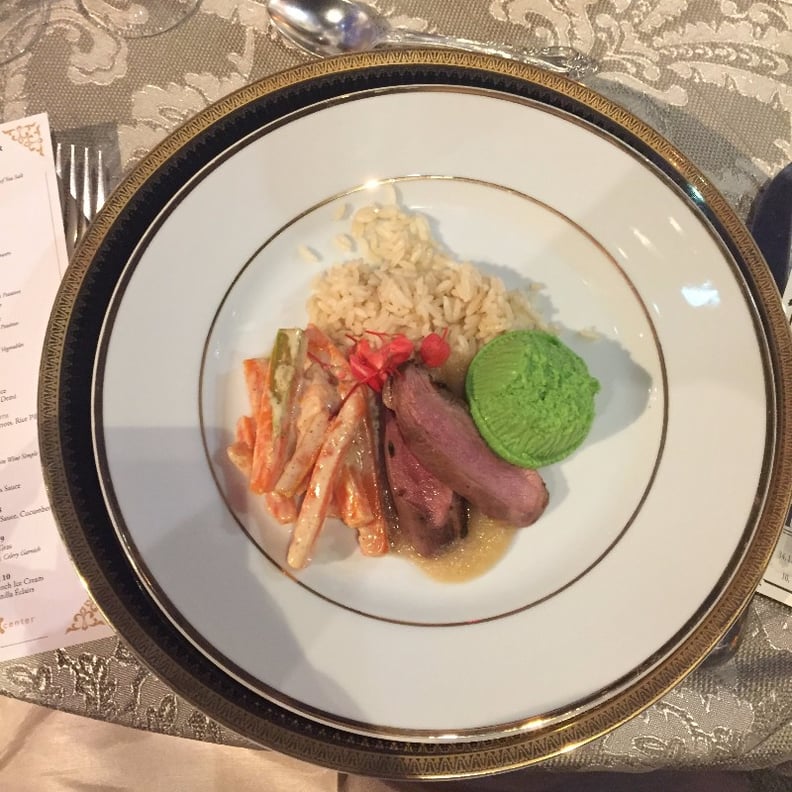 Last Dinner Served on Titanic: Course 5
Roast duck, applesauce, green pea timbale, creamed carrots, rice pilaf
(other options: lamb with mint sauce and sirloin of beef with red wine demi)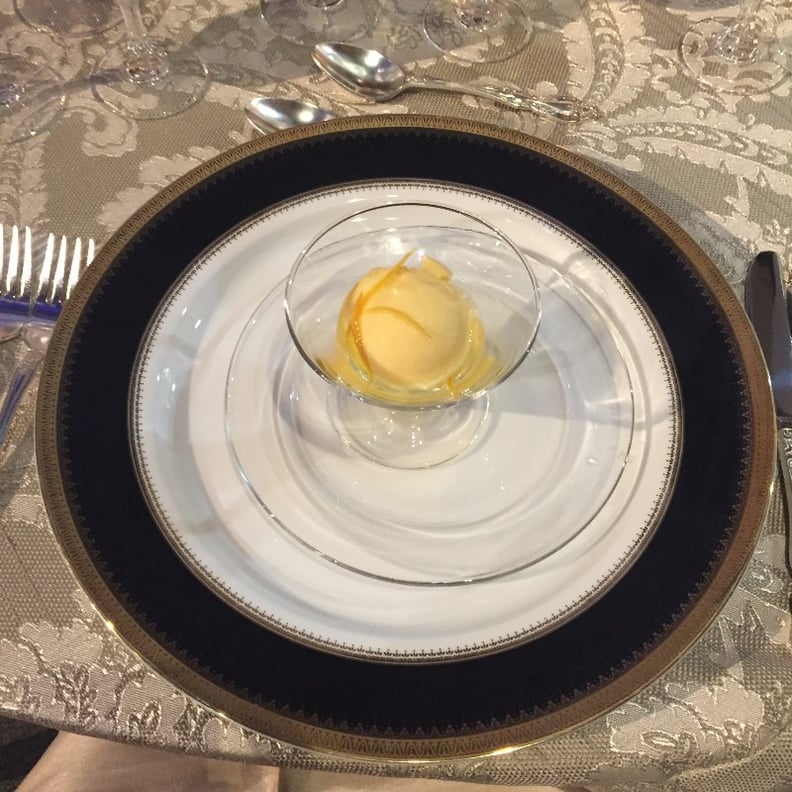 Last Dinner Served on Titanic: Course 6
Punch romaine — lemon-orange sorbet, Champagne, white wine simple syrup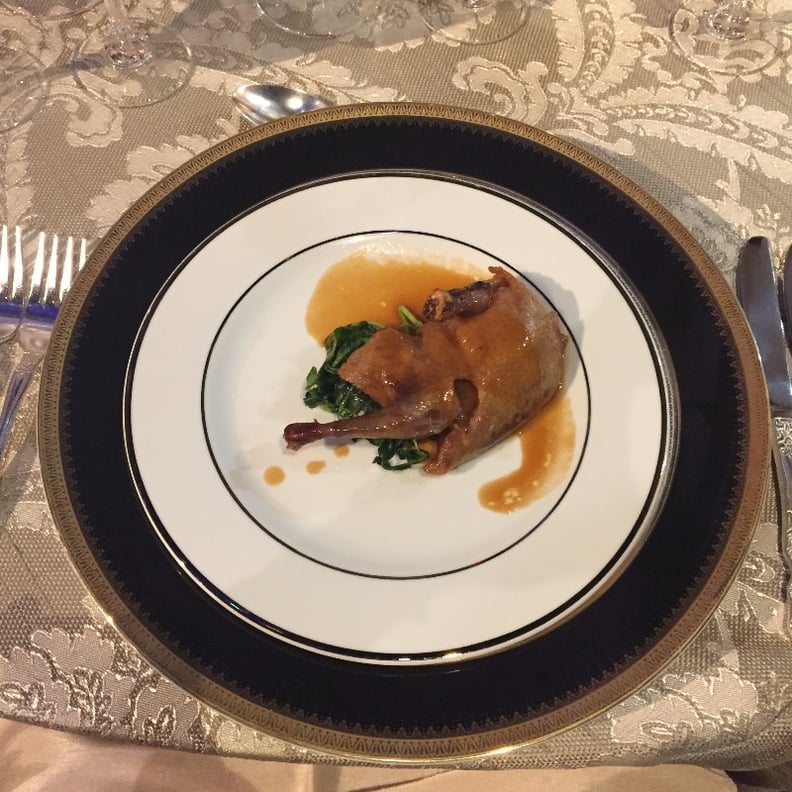 Last Dinner Served on Titanic: Course 7
Roasted squab with cress sauce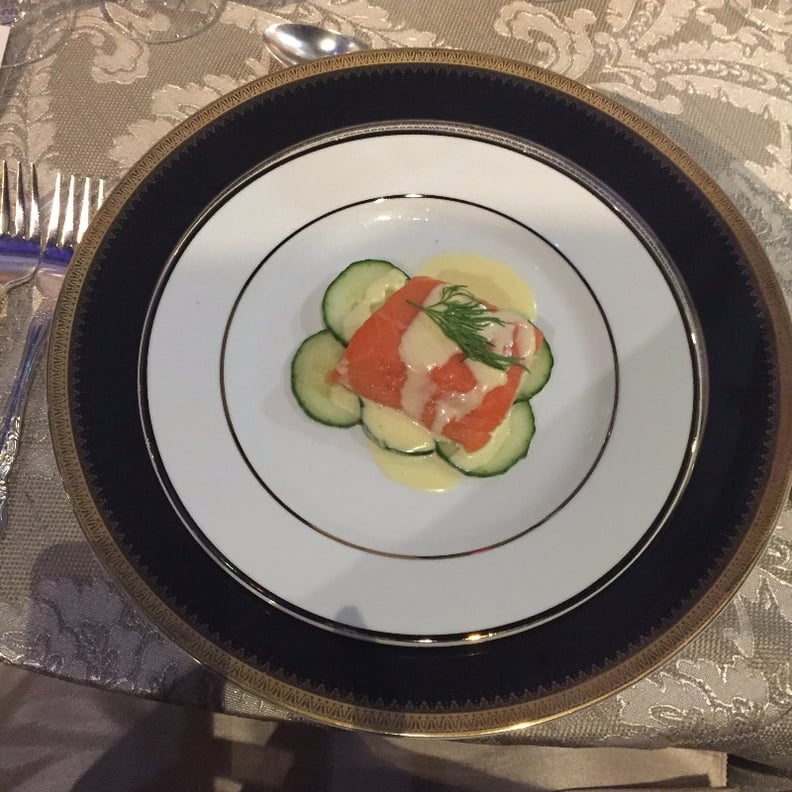 Last Dinner Served on Titanic: Course 8
Poached salmon with mousseline sauce and cucumbers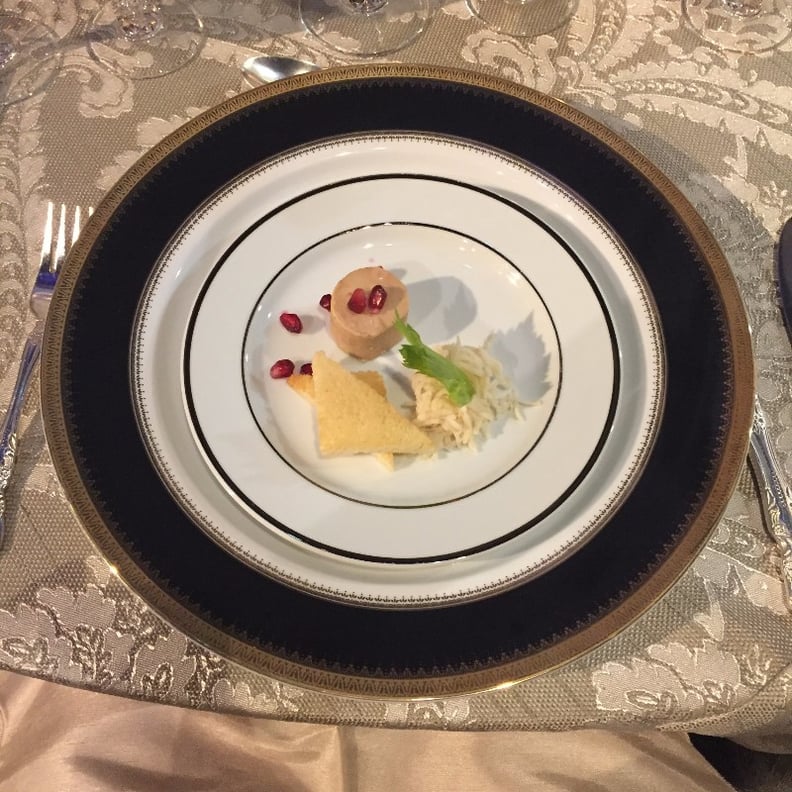 Last Dinner Served on Titanic: Course 9
Pate de foie gras — foie gras mousse cylinder, celery garnish
Last Dinner Served on Titanic: Course 10
Waldorf pudding with French ice cream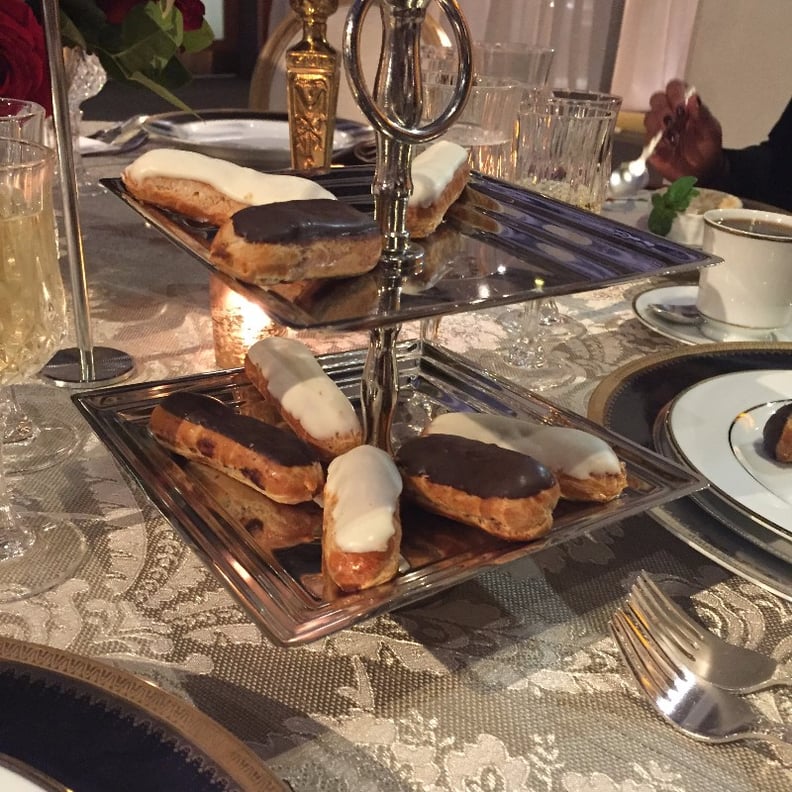 Last Dinner Served on Titanic: Course 10
Chocolate and vanilla eclairs