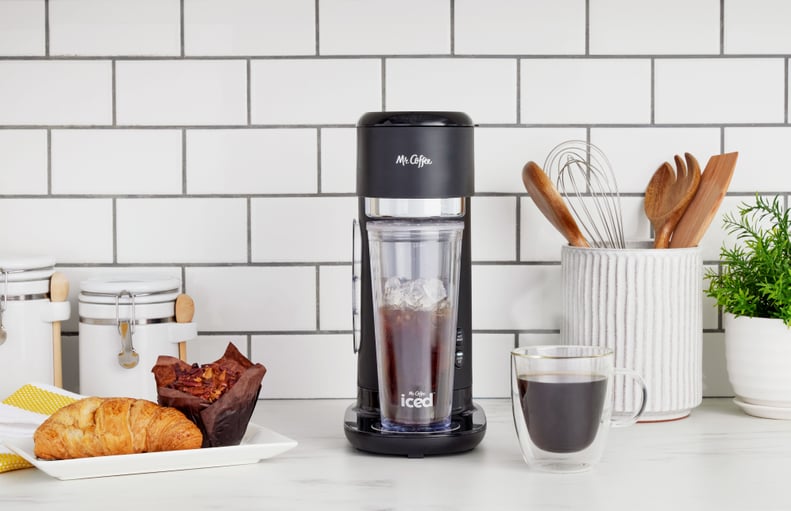 Walmart
POPSUGAR Photography | Marisa Petrarca
Walmart
POPSUGAR Photography | Marisa Petrarca
As POPSUGAR editors, we independently select and write about stuff we love and think you'll like too. If you buy a product we have recommended, we may receive affiliate commission, which in turn supports our work.
As a native New Englander, I drink iced coffee in all weather climates: heat waves, blizzards, rainstorms, you name it. While some find it strange — or an entirely foreign concept, even — it's super normal in my book.
The only problem is that I find it so much more difficult to concoct a Starbucks or Dunkin'-quality iced coffee than a hot one. For that reason, I used to shell out an obscene amount of money through the years to keep up with my obsession. (In retrospect, it's fiscally disturbing).
But just about a month ago, I was lucky enough to test out the brand-new Mr. Coffee Single-Serve Iced and Hot Coffee Maker With Reusable Tumbler and Coffee Filter ($60). I know it's rather extreme to admit, but my life has really, truly changed for the better thanks to this kitchen tool. First off, the machine is slim (little-apartment approved), and it comes with a tumbler to brew your iced coffee in — and drink it out of. Keep scrolling to see it in action.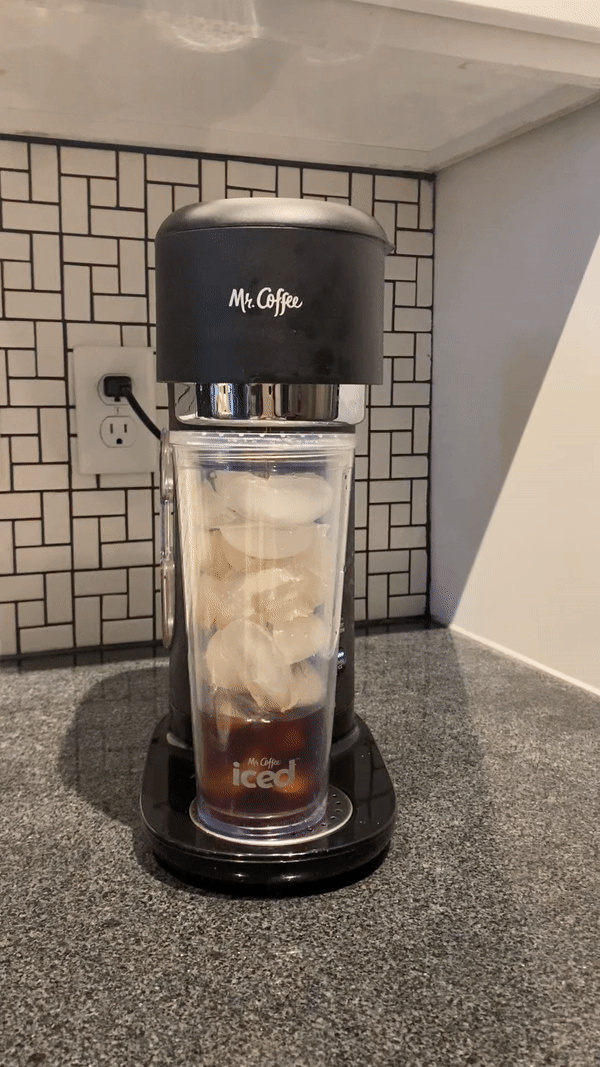 I've been hesitant to try an iced-coffee maker in the past in fear that the process would be weirdly complicated or it wouldn't taste like *real* iced coffee. But gosh, was I wrong on both fronts.
I swear, my fiancé and I actually donated our previous coffee maker because we love this one so much. Not only does it make a café-quality iced coffee in seconds, but it can also brew hot coffee if you feel like changing things up.
But the best part of all is that it's so easy to use. All that's needed to make a big tumbler of iced coffee are water, ice, and coffee grounds. You simply drop a scoop-full of coffee grounds into the coffee filter at the top of the machine using a handy measuring spoon that comes with the device. Then, you fill a second compartment with water, the exact amount of which is helpfully labeled on the provided tumbler.
The final step is to fill the tumbler with water before placing it under the machine's spout and pressing "over ice." In just a few minutes, you have yourself a large iced coffee that you can customize any way you like. (Hi, cream and sugar fans). Be warned, you'll probably want a second. But hey, it'll cost you nothin'.