This Brand of Sustainable Cutlery Sets Wants to Bring You Peace of Mind During the Pandemic
As POPSUGAR editors, we independently select and write about stuff we love and think you'll like too. If you buy a product we have recommended, we may receive affiliate commission, which in turn supports our work.
If you've eaten outside at a restaurant amid the ongoing coronavirus pandemic, a very valid concern you might have had is whether the utensils you used were properly washed. Most restaurants are doing everything they can to follow recommended health and safety protocols, but it's only natural to worry. And that's exactly what happened when Margie Stein had a date night after months of social distancing. In addition to worrying about the cutlery on the table, she also noticed over a dozen plastic forks and knives on the lawn as she left the restaurant, which were presumably from takeout orders. Fueled by her desire to do something for the environment and her own peace of mind for her health, she called up her best friend, Nataly Neuman, and NAMAR, a line of biodegradable, reusable, and recyclable cutlery, was created shortly after.
"I thought of a compact cutlery case that you can take with you anywhere and is also not bad for the environment," Stein told POPSUGAR. After a few months of stewing on her idea, Stein called up Neuman. "I thought I was just going to let her know about the idea I came up with, but she loved it so much that she fully ran with it," she said. "She reached out to the manufacturers and created the branding, website, and Instagram. She made the idea in my head come to life."
A few months later, NAMAR — dubbed after their first names — was born. Made out of wheat straw, the eco-friendly cutlery set was created with the mission to help people get one step closer to minimizing the spread of germs and reducing waste. "The idea behind it is to have something that feels high-end and compact to fit in your pocket yet impactful enough to make a difference," Stein said.
A portion of the proceeds from NAMAR sales are donated to Feeding America, a nonprofit organization that aims to connect people with food and end hunger. The practical and sustainable cutlery set comes in four different colors: Sea Foam (green), Sand Dune (nude), Purple Field (lavender), and Pink Skies (pink). To learn more about the brand and shop its popular cutlery sets, keep scrolling.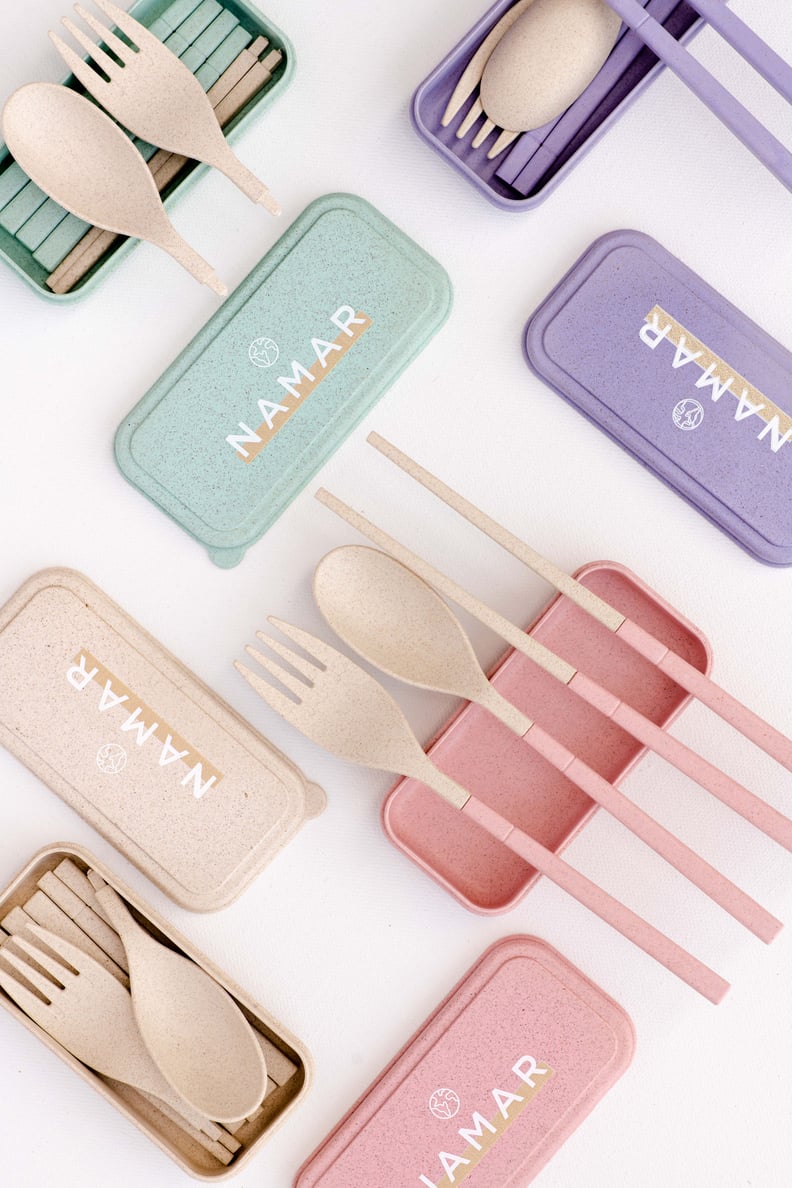 NAMAR Sets
Lightweight and incredibly durable, the on-the-go cutlery sets are perfect for picnics, camping, or even eating takeout! NAMAR sets ($12) are available in pink, purple, cream, and green.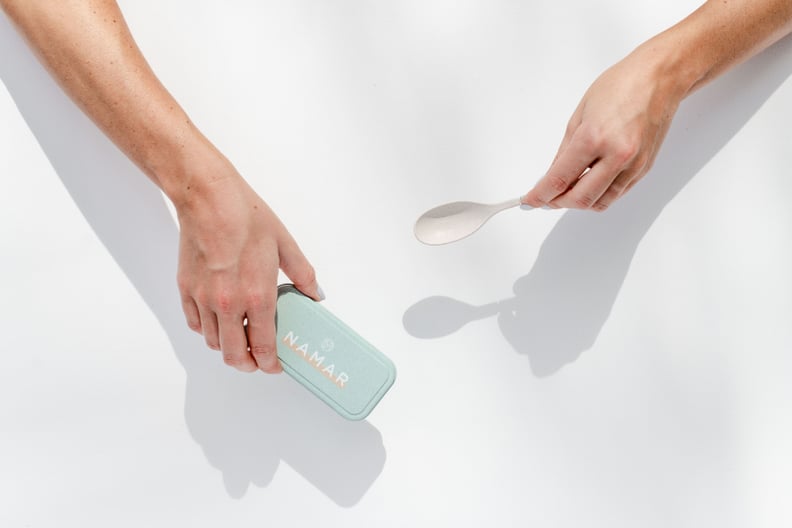 Sea Foam Green NAMAR set
A NAMAR bestseller, the Sea Foam Green Set ($12) is inspired by the beautiful oceans on our planet. NAMAR envisions crystal-blue water with no plastic in sight, and the portable cutlery cases can help the planet get one step closer to that.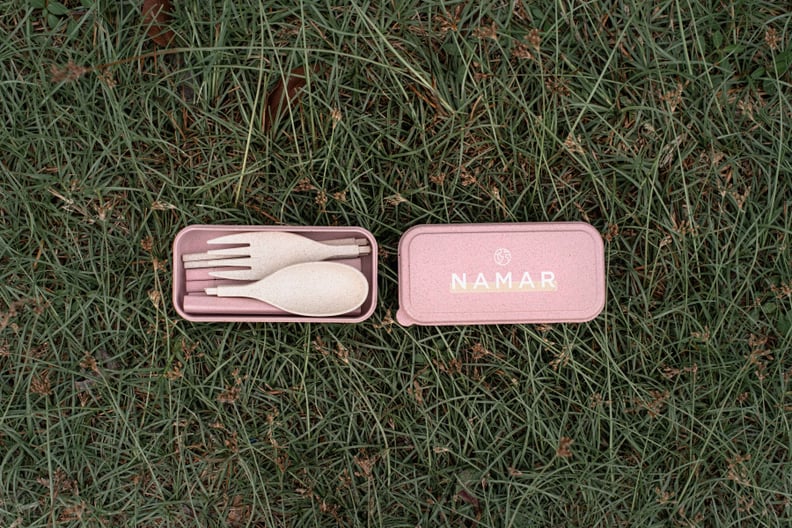 Pink Skies NAMAR Set
The Pink Skies NAMAR Set ($12) is inspired by breathtaking sunrises and sunsets. Foldable and portable, this dreamy set will lighten up anyone's day.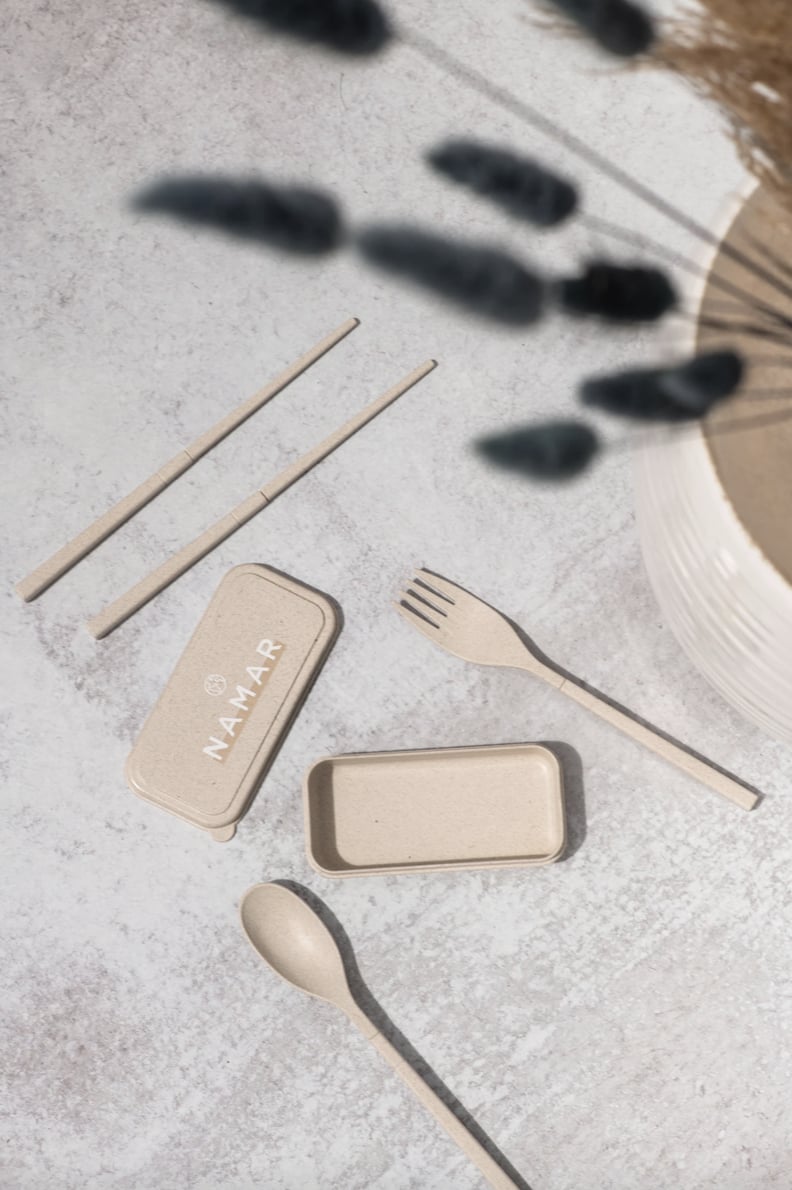 Sand Dune Nude NAMAR Set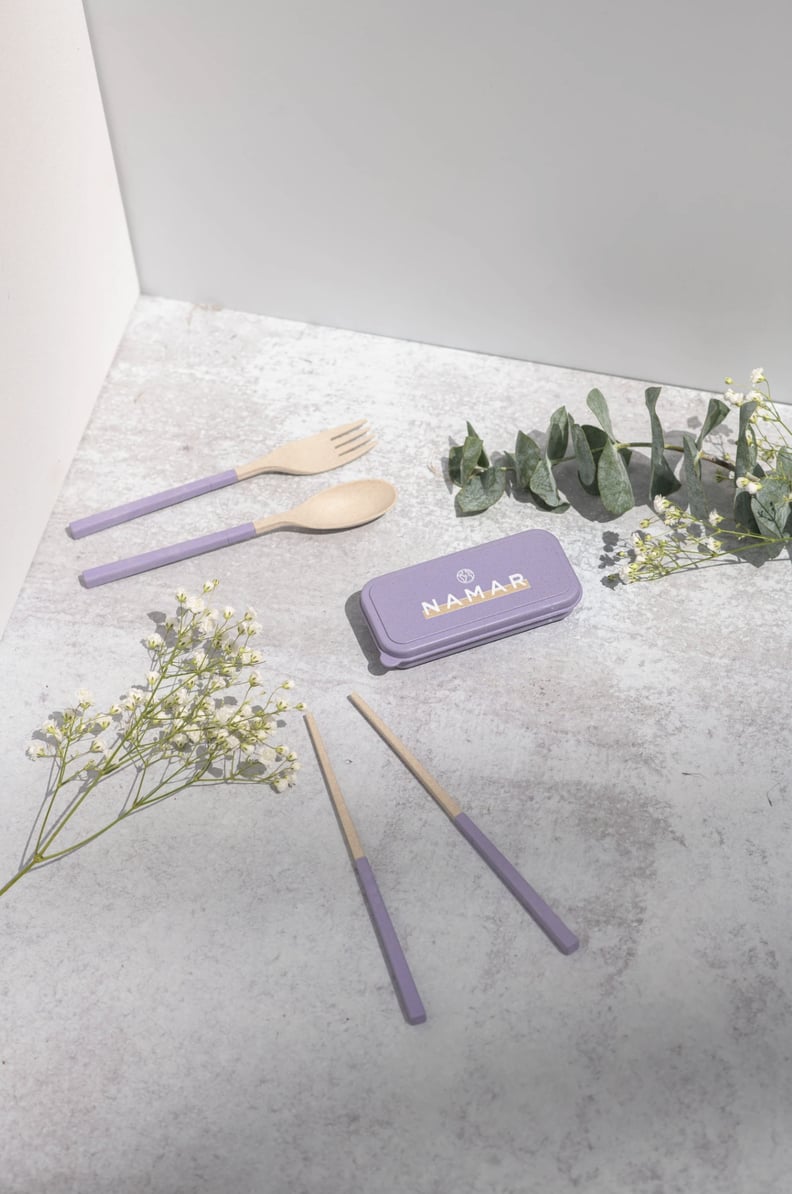 Purple Fields NAMAR Set