This Gluten-Free and Vegan Pasta Sauce Is Just as Delicious as "Regular" Sauce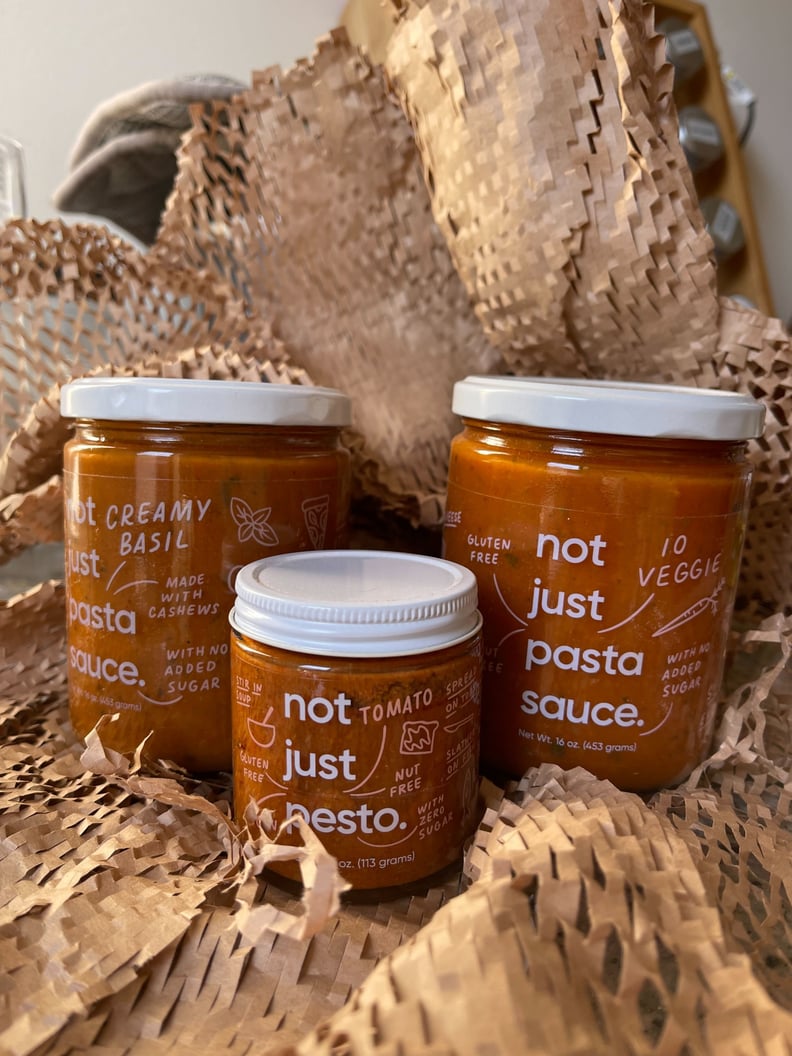 POPSUGAR Photography | Chiara Nicole Gero
POPSUGAR Photography | Chiara Nicole Gero
As POPSUGAR editors, we independently select and write about stuff we love and think you'll like too. If you buy a product we have recommended, we may receive affiliate commission, which in turn supports our work.
I was diagnosed with celiac disease on my 12th birthday, and since then I've been on a quest to find the perfect staples for my gluten-free kitchen. Celiac, an autoimmune disease that affects my small intestines and can lead to more severe health problems in the future if I don't follow a strict gluten-free diet, was a bit of a tough diagnosis to get used to. I was only a tween, so I was right at the beginning of growing and wanting to fit in with my friends who would go and get pizza at the local Croatian restaurant — I had to sit and watch them eat without indulging in this seemingly mundane activity, but for a young girl who wanted to feel like a part of something, being different was difficult. Celiac, mixed with being half American living in Croatia, felt like the end of the world to my prepubescent self. Now I've come to terms with my diagnosis and do my best to take care of myself and my body, and I realize that gluten-free pizza isn't as bad as it might have seemed back then.
My father is part Italian, and like any good Italian, he is obsessed with pasta. I, being his first daughter and basically his clone, am the same. If you ask me what I would want to eat for the rest of my life, I would probably have a hard time deciding between my grandma's homemade lasagna or pasta with pesto genovese. That being said, I have to admit I am a bit of a picky eater — more in terms of "being married" to certain brands and tastes than the usual sense of the term. I've eaten one pesto brand and one red-sauce brand my entire life, so when I heard about Not Just Co. and its gluten-free Pasta People Pack ($38), I knew I had to step out of my comfort zone and try it.
What I Like About Not Just Co.
The Pasta People Pack is a gluten-free, vegan pack of pasta sauces — 10 Veggie Pasta Sauce ($10), Tomato Pesto ($9), and Creamy Basil Pasta Sauce ($10). I am usually not a fan of sun-dried tomatoes in my pesto, but Not Just Co. changed my mind. I rate the Tomato Pesto a five out of five and betray my usual go-to brand (don't tell them.) It's light, tasty, perfect with a little spoonful of olive oil, and had me thinking about the next time I was going to eat it after just one bite. The 10 Veggie Pasta Sauce is great on pasta, but I am excited to use it as a meal starter — I see a shakshuka in my near future. All three sauces were really tasty, light on my stomach, and easy to prepare. All I added to each sauce was a bit of olive oil, and it was ready to go.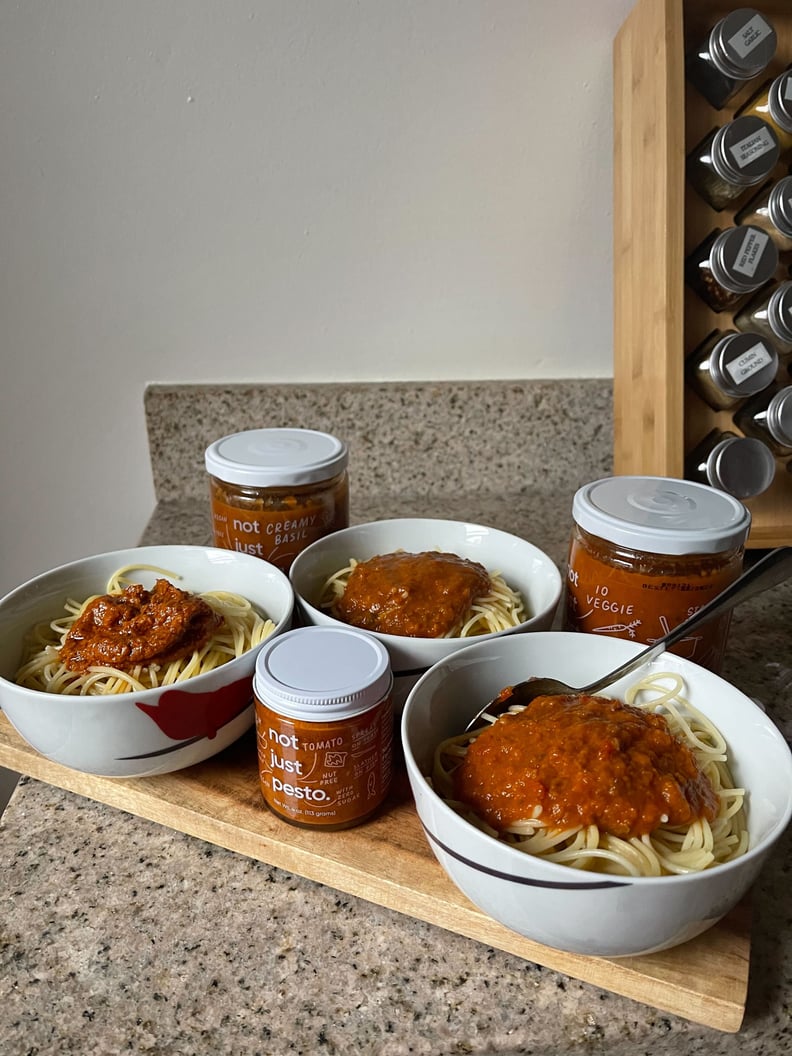 What's Worth Noting About Not Just Co.'s Pasta Sauce
The versatility of the product isn't lost on me — the Creamy Basil is the soulmate to my morning grilled cheese, the Veggie Pasta Sauce is my next soup-simmering ingredient, and the Tomato Pesto will be tried on some toast (no judgement!). That might be my favorite part of the products — they're perfect pantry staples that are not one-use-only sauces but can be used for many meals. The sauces also contain zero sugar, which is difficult to find in most popular pasta products. You can also get any of the products on the brand's website with Not Just Co.'s cute tote bag included, so if you're like me and collect tote bags for various grocery runs, it's the perfect match!
Who Is Not Just Co. Past Sauce Best For?
These pasta sauces are the perfect pantry staples for my fellow celiac folks. They are tasty, come with recipe suggestions, and are also great to use when you have your vegan friends over. Plus, getting three pasta sauces for only $38 seems like a great deal, especially if you're on a strict diet for your health or want to accommodate your family/friends at the next holiday dinner party. All the sauces passed my test — my stomach did not hurt after my meal, and honestly . . . what more can a girl ask for?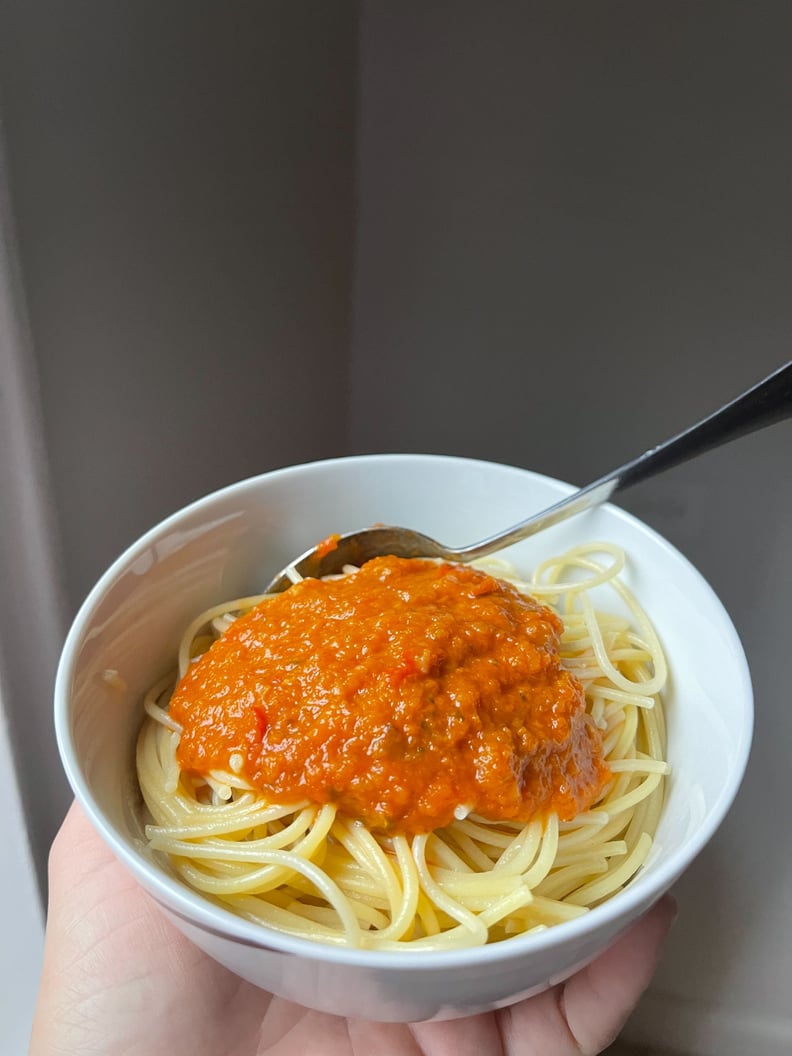 Additional Details
Complete list of ingredients for each sauce:

10 Veggie Pasta Sauce: Tomatoes, water, onions, peppers, golden beets, zucchini, carrots, celery, spinach, extra virgin olive oil, salt, basil, garlic, citric acid
Creamy Basil Pasta Sauce: Tomatoes, water, onions, peppers, beets, zucchini, carrots, celery, spinach, extra virgin olive oil, cashew butter (cashews, safflower or sunflower oil), salt, basil, garlic, citric acid (Contains: Tree Nuts)
Tomato Pesto: Roasted red peppers, sun-dried tomatoes, safflower oil, water, scallions, sunflower seeds (unsalted), basil, parsley, arugula, nutritional yeast, citric acid

Not Just Co. also makes salad dressings ($39).

Where Is Not Just Co. Available?

In addition to the Not Just Co.'s website, you can purchase the 10 Veggie Pasta Sauce at Williams Sonoma ($11).

Rating

★★★★★