Treat the Loaf of Your Life to Olive Garden's Breadstick Bouquets This Valentine's Day!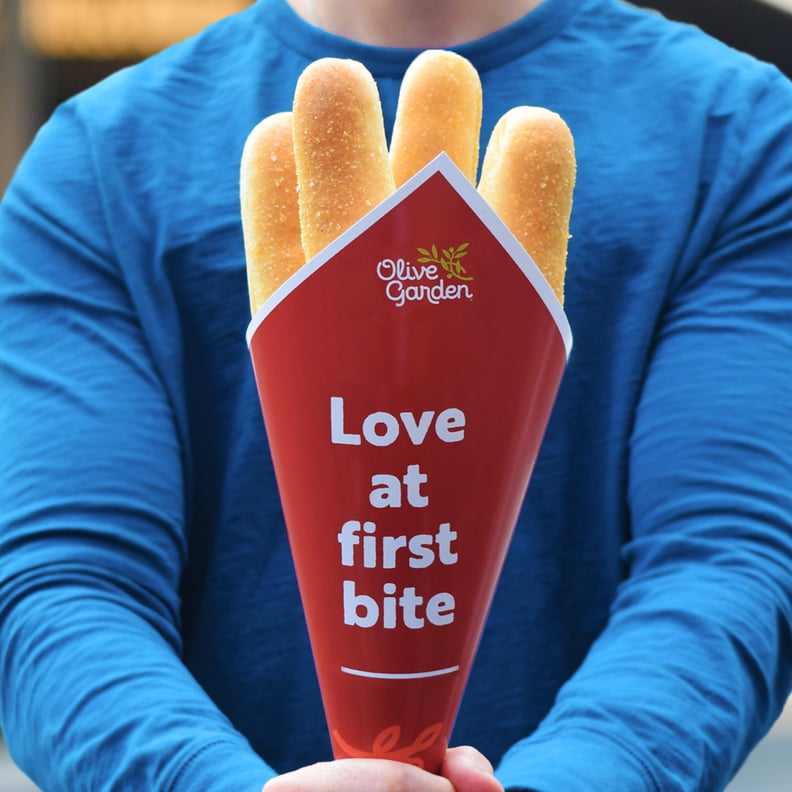 Olive Garden
Olive Garden
I'm no Oprah Winfrey, but I do f*cking love bread. So much so that I would take a bouquet of breadsticks over a bouquet of flowers any day, and lucky for me, Olive Garden is making that possible. The beloved Italian-food chain is encouraging customers to ditch the roses this Valentine's Day in favor of something a little more creative — and a lot more savory — with the introduction of breadstick bouquets for your loved ones.
Breadstick bouquets aren't an actual menu item, but to create one, just order breadsticks to go from the nearest Olive Garden location before wrapping them up in special bouquet paper that you can print out on your own. Each piece of wrapping paper features one of six sweet messages for your loved one, from "My love for you is never ending," an obvious nod to those Never Ending Pasta options, to "We belong together like spaghetti and meatballs."
Customers hoping to turn this romantic offering into a full meal also have the option of ordering a special Valentine's Day takeout dinner for two, which includes breadsticks, soup or salad, dipping sauce (choice of Five Cheese Marinara or Alfredo), one shareable entrée for two (Five Cheese Ziti al Forno, or Chicken Alfredo for an extra $6), and one shareable dessert (Black Tie Mousse Cake or Tiramisu). The deal starts at $35, beginning on Feb. 13. While you're taking all of that in, take a look at Olive Garden's special bouquet wrapping papers and after-dinner mint boxes ahead, and download full-size versions of them here.