POPSUGAR Photography | Natasha Smith
POPSUGAR Photography | Natasha Smith
Meet Phong Trinh, one of the four ultrahip owners of West Hollywood's hottest tea bar, Pearl's Finest Teas. Amidst the troves of ultracool sneaker shops enters the next 'gram-worthy (and healthy) boba tea spot where I recently discovered a liquid treat that tastes as good as it looks. Upon entering Pearl's Finest Teas, you will find yourself drawn to the hot pink palm tree leaf wallpaper, sitting at the bar, and sipping a delicious concoction while listening to the latest hip hop tracks.
Pearl's biggest hit and crowd favorite is the orange yuzu, a clear winner due to its refreshing taste and all-natural, pastel rainbow coloring. Curious about this newly famous orange yuzu (which was originally created by Phong "as a mistake"), I ordered it and sat at the bar. I watched Phong measure, swirl, shake, rattle, and pour ingredients to create the rainbow hibiscus drink. I quickly wondered how many artificial colors are involved, and Phong assured me that the entire drink was au naturel. Mind blown. Upon first sip, the tea hits you like a citrusy lemonade. Imagine the taste of Tang with a mandarin undertone, followed by a zesty aftertaste.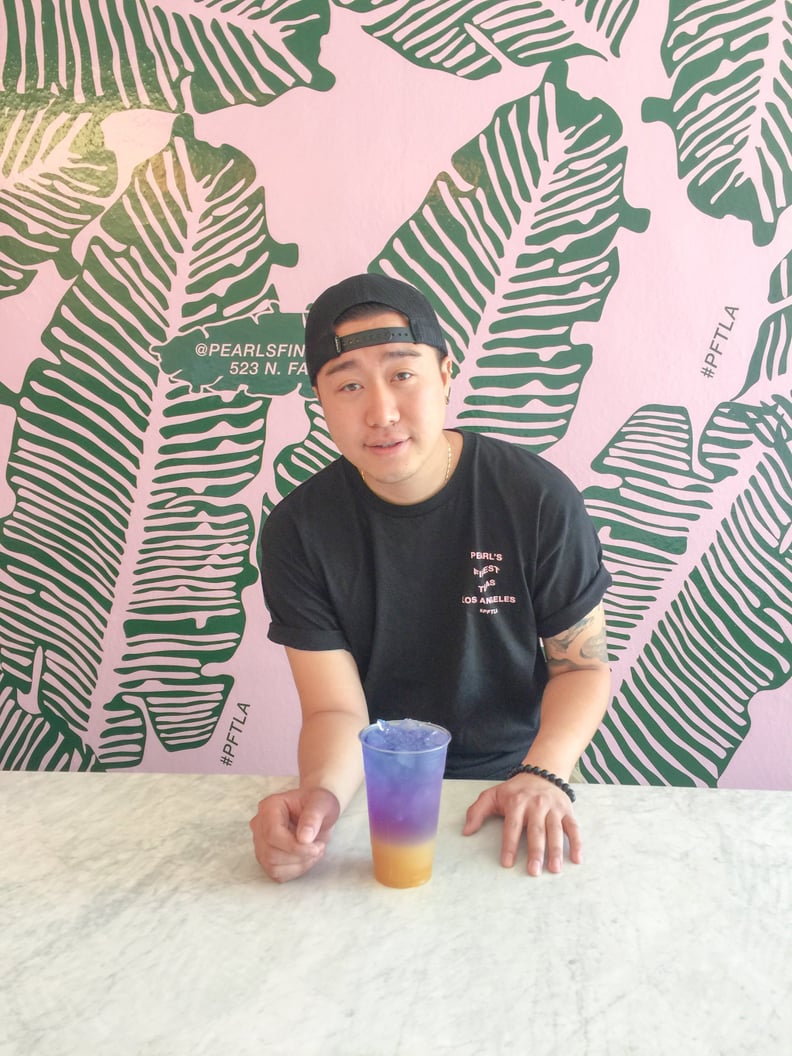 The Secret Ingredient
Although I couldn't get Phong to reveal his magical recipe in its entirety, he did have two words for me: butterfly pea (flower). I found out that butterfly pea can be bought as a powder or a concentrate form and is derived from a stunning indigo-colored flower that has been growing and vining buildings in Burma and Thailand for thousands of years.
Don't fret if you aren't in the Los Angeles area and can't make it to Pearl's Finest Teas. Below, you'll find my notes from observing Phong making the famous orange yuzu. And if you are in the LA area, come early November, there will be a whole new set of rainbow teas for your sipping and Instagramming pleasure.
While Phong is not a chemist, he calls himself a "tea tender" and can make any drink for you based on your flavor preference, even mood, without it even being on the menu. If you ask me, I'd say he's more of a tea and coffee whisperer.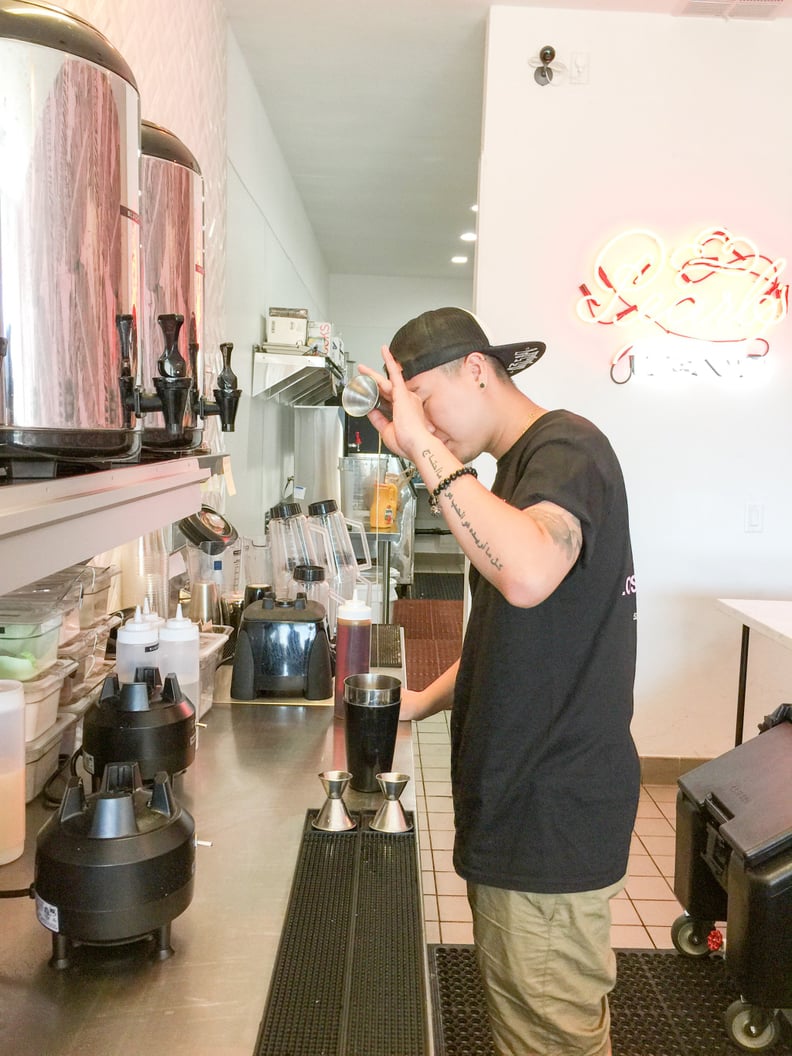 The Procedure
Different flavors in squeeze bottles, cocktail jiggers, and cocktail shakers line the bar and are readily available for quick drink making. Phong measured out two types of orange-colored liquids and poured them into the shaker. I believe one was an orange syrup and another was orange juice at about 1 1/2 ounces each. After a quick swirl in the cocktail shaker, he added a few spoonfuls of yuzu (a syrupy, marmalade-like concoction) into the mixture directly from the jar. He then poured the mixture into an empty cup and topped it with ice.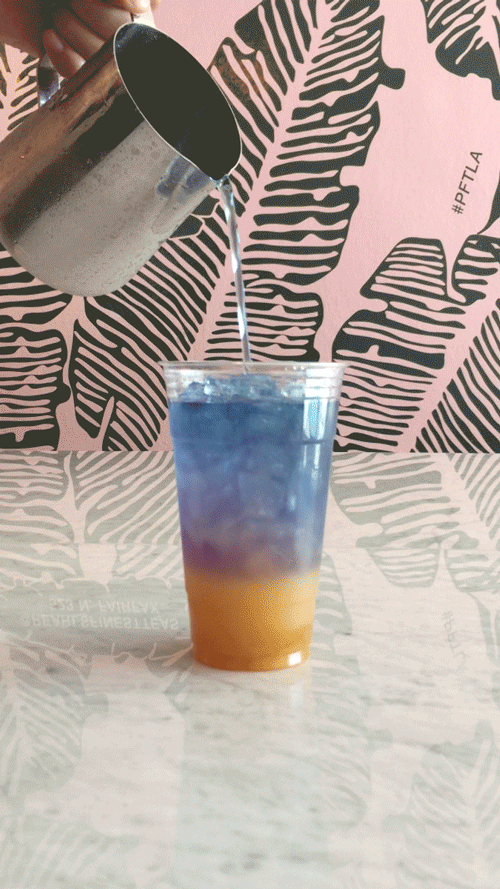 In a separate container, he combined a cold hibiscus tea with either butterfly pea extract concentrate drops or powder (amount will dictate the level of indigo in the final product) and poured it directly into the yuzu mixture over ice. Because of the PH of citrus already in the cup, you'll see the magical rainbow tea layer right before your eyes!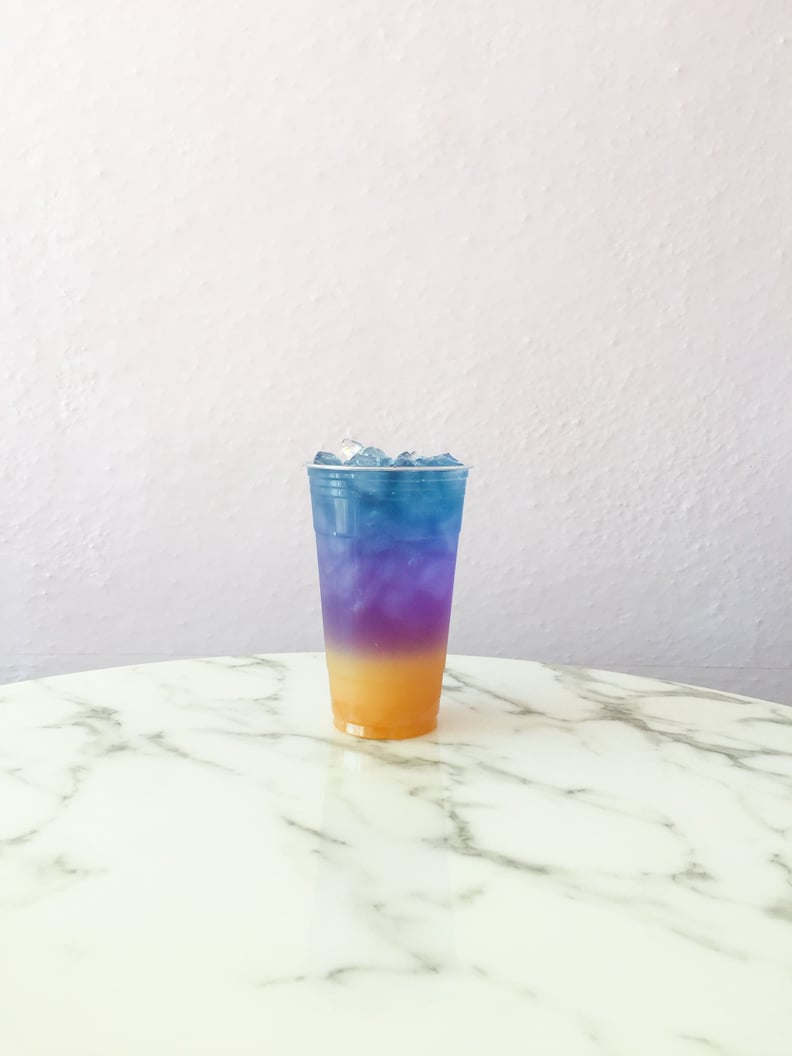 Note: most of the orange peel chunks from the yuzu floated up to the top, so make sure to mix up the drink before consuming (after snapping a pic, of course).