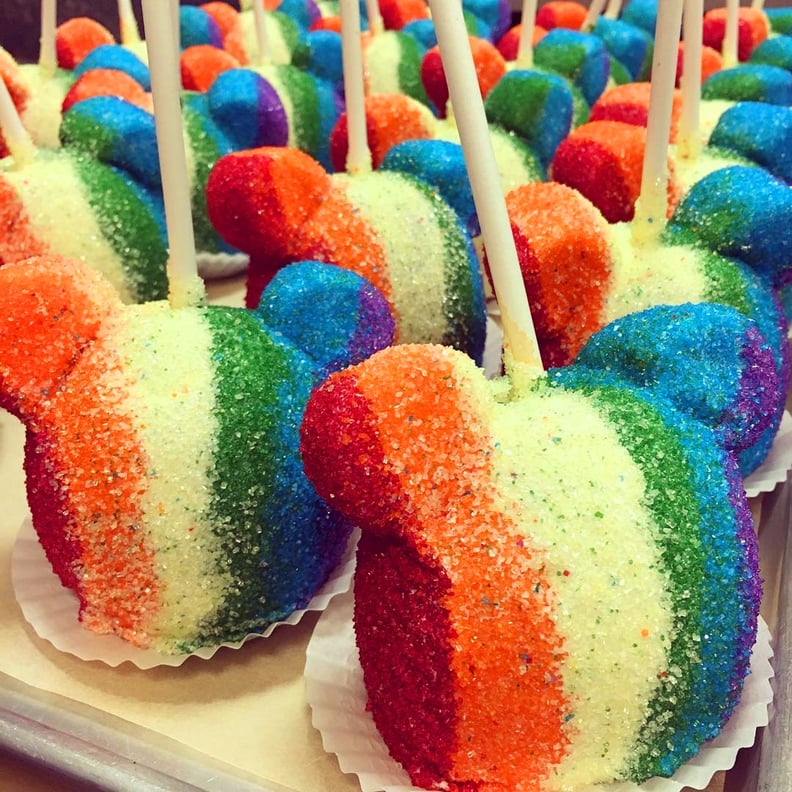 Considering that Disney's Anaheim, CA, resort boasts a show called World of Color, it would be a huge missed opportunity for Disneyland and Disney's California Adventure not to delight guests with brightly colored snacks and drinks. And when Pride Month celebrations roll around, these vivid culinary offerings can also serve another purpose: to celebrate the LGBTQ community and commemorate its history by evoking the colors of the rainbow flag.
So if you're visiting the California parks this June, be sure to snack on a few of these rainbow-colored goodies during your trip. Let's be real: the Happiest Place on Earth is even better when you stand proud (and have a tasty snack in hand)!
Rainbow Mickey Rice Krispies Treats
You can find these colorful treats at the candy shop on California Adventure's Buena Vista Street.
Rainbow Cove Bar Cocktails
The rainbow drinks at California Adventure's Cove Bar are technically "secret menu" items; you can enjoy the colorful concoctions (and a slight buzz) by ordering a Fun Wheel cocktail (pictured here), an Earthquake, or a Neverland Tea, which are also layered and bright.
M&M's Mickey Candy Apples
Pick one up at the Main Street USA Candy Palace or at Marceline's Confectionary in Downtown Disney.
World of Color Goofy's Glaciers
Rainbow Mickey Mouse Candied Apples
Snag these at Marceline's Confectionary in Downtown Disney or at candy shops throughout Disneyland and California Adventure.
M&M's Mickey Rice Krispies Treats
You can also find these at Marceline's Confectionary or at any candy shop within Disneyland or California Adventure.
Rainbow Layered Cake
This rainbow cake is available at the Pacific Wharf Bakery in Disney's California Adventure park.
Rainbow Disney Lollipops
Any Disney-goer knows where to find these — they're available just about everywhere in the parks!