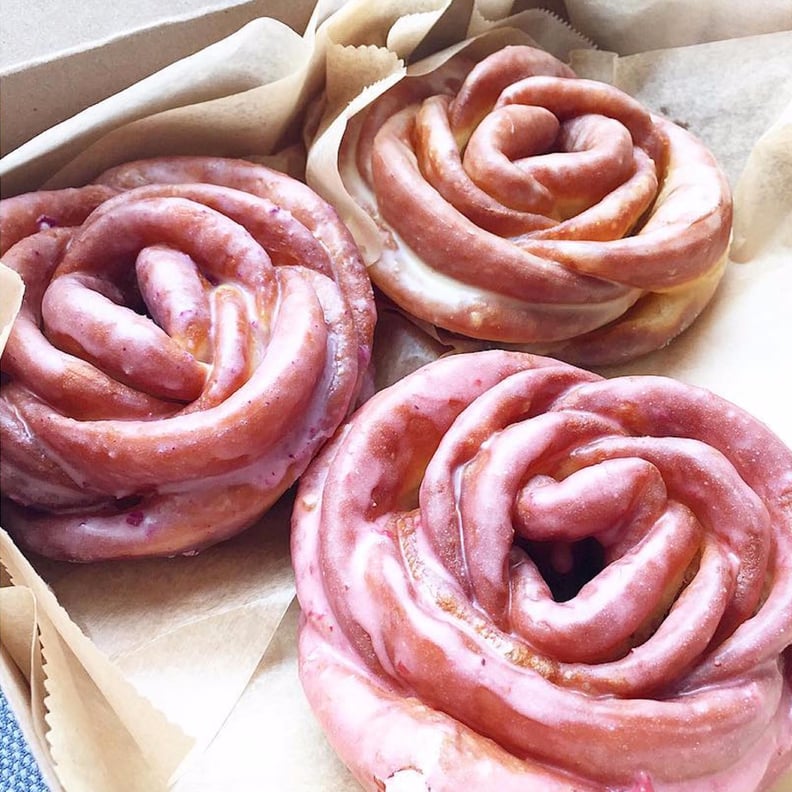 So far this year, the dessert gods have graciously shone down, delighting us with one picture-perfect treat after another. Roses have started infiltrating the dessert world in the form of gorgeous ice cream cones and a variety of other intricately designed edible goodies, but the latest addition to the trend is rather unexpected: rose-shaped doughnuts! That's right; these "doughflowers" swap out the basic circular shape for an intricate rose-inspired form, and the results are pure, Instagrammable perfection.
These rosy dough creations just started blossoming at New York City's Doughnut Plant, where they're sold for $5 each. Made with yeast, doughflowers are available in a choice of three mouthwatering glazes: strawberry (which is made from fresh berries), Italian blood orange (which contains orange blossom water), and, of course, rose (which is "richly perfumed with rose water and crushed edible petals"), according to The New York Times. OK woah — does it get any better than these babies? We bet Belle from Beauty and the Beast would totally be into them.
Keep scrolling to drool over these rose-shaped treats, which are sure to become Instagram's next big thing in no time.