Shaquille O'Neal Frosted Flakes With Cinnamon Basketballs
Grrreat News! Shaq and Frosted Flakes Revealed a New Cereal With Mini Cinnamon Basketballs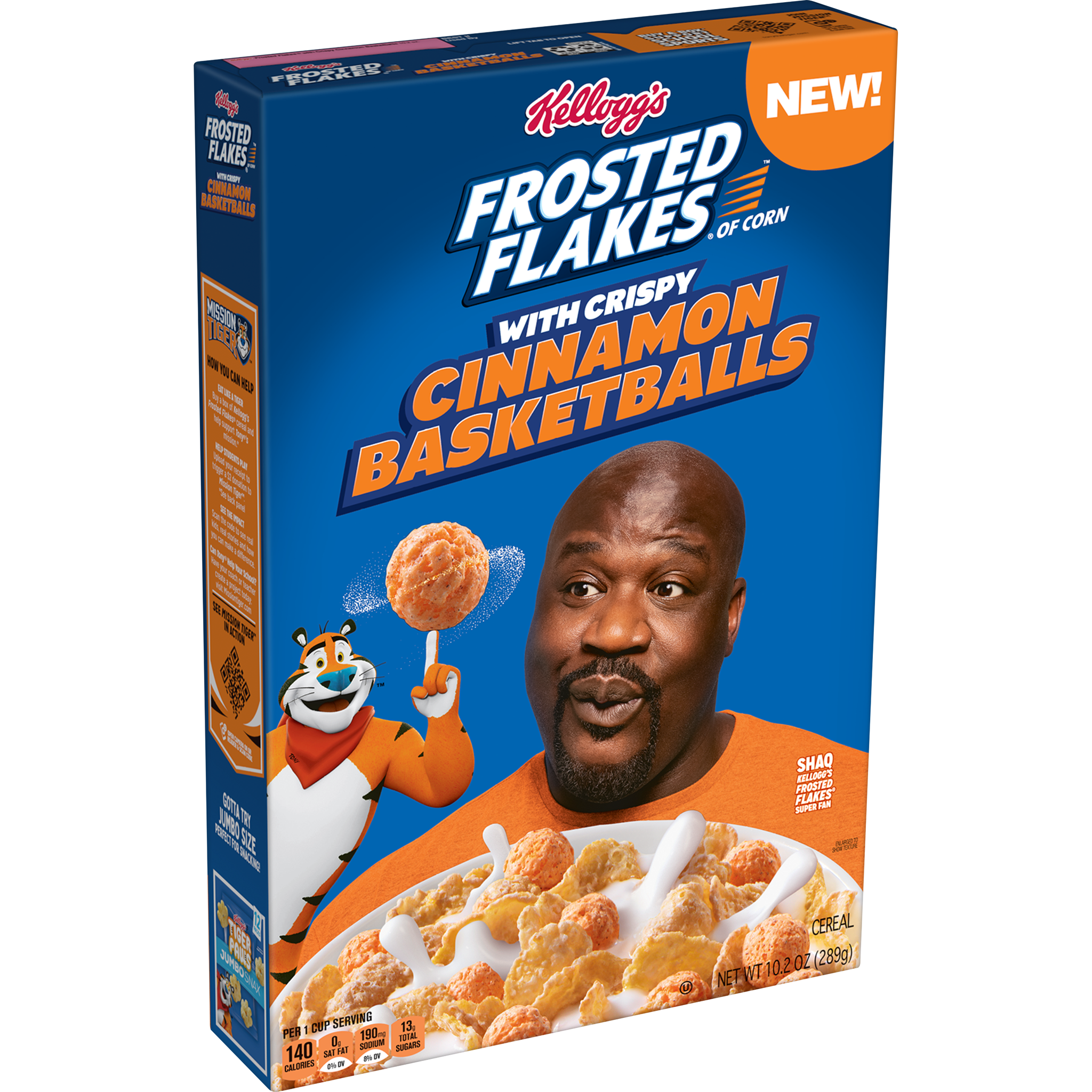 For the first time in Frosted Flakes history, Tony the Tiger won't be the only face smiling back at you across the breakfast table. In partnership with Kellogg's, Shaquille O'Neal will appear on boxes of the brand's Frosted Flakes With Crispy Cinnamon Basketballs.
The cereal includes classic cornflakes mixed with mini cinnamon-dusted basketballs, and was designed as part of the the brand's commitment to Mission Tiger, which has pledged to help one million kids nationwide gain better access to sports by the end of 2021. As of Feb. 17, the initiative has provided sports equipment and donations to almost 500,000 kids at schools where sports programs have been cut. For every box of Frosted Flakes sold, Kellogg's will donate $2 to DonorsChoose in support of Mission Tiger. All you have to do is upload a receipt of your purchase to the initiative's website within 30 days of purchasing the cereal before the end of 2021.
Due to the pandemic, in-person donations have been put on hold, but DonorsChoose is still working closely with teachers and coaches to complete funded sports projects for kids nationwide. "Thank you for your generous donations that will help expand our female sports programs at Webster Middle School!" a teacher wrote on the Mission Tiger website. "Our girls are looking forward to the new materials and I look forward to having an equitable program with enough equipment for every athlete. Your donations will change our program for the better!"
The basketball-inspired cereal will be available for $4 per 10.2-ounce box or $6 per $16.3-ounce box, so score a box for yourself once they hit shelves in April.