The Completely Addictive Method of Roasting Potatoes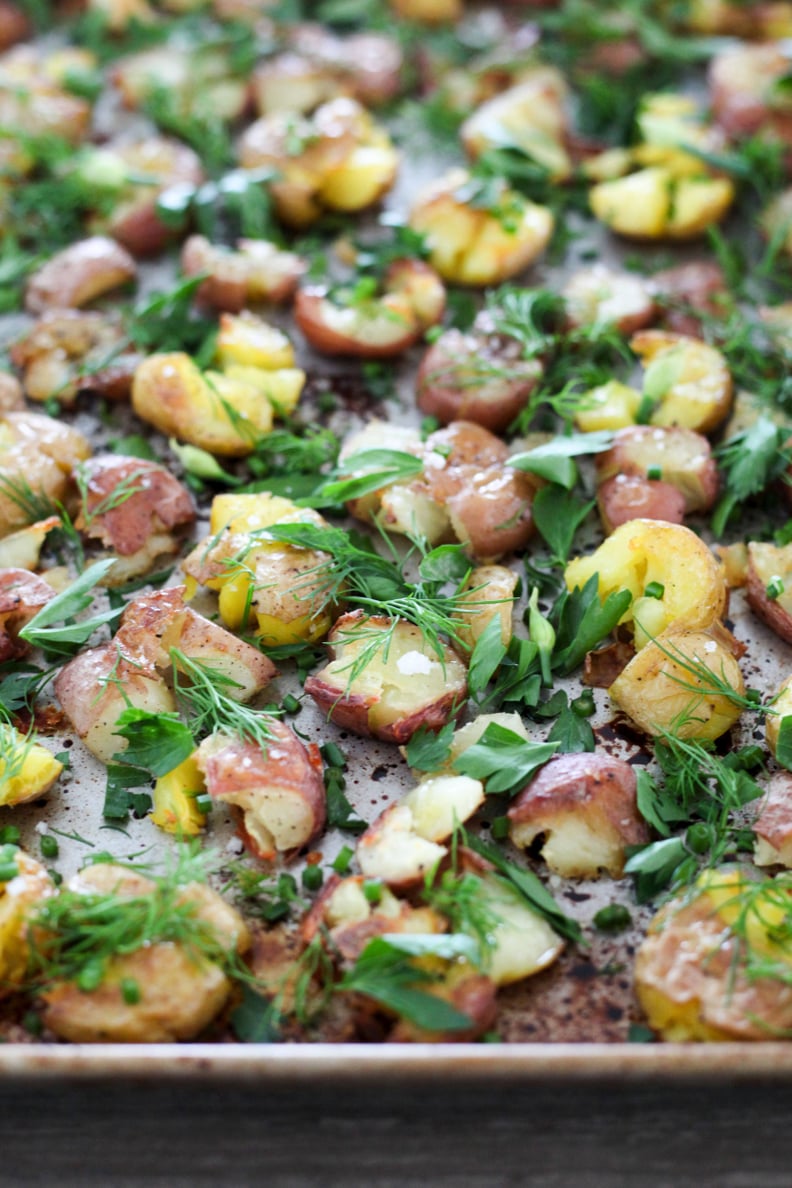 POPSUGAR Photography | Nicole Perry
POPSUGAR Photography | Nicole Perry
Even if you already think you know how to roast potatoes, listen up, because I'd wager that this easy method blows your tried and true out of the water. With two small but significant tweaks, this dinnertime staple goes from good to simply smashing.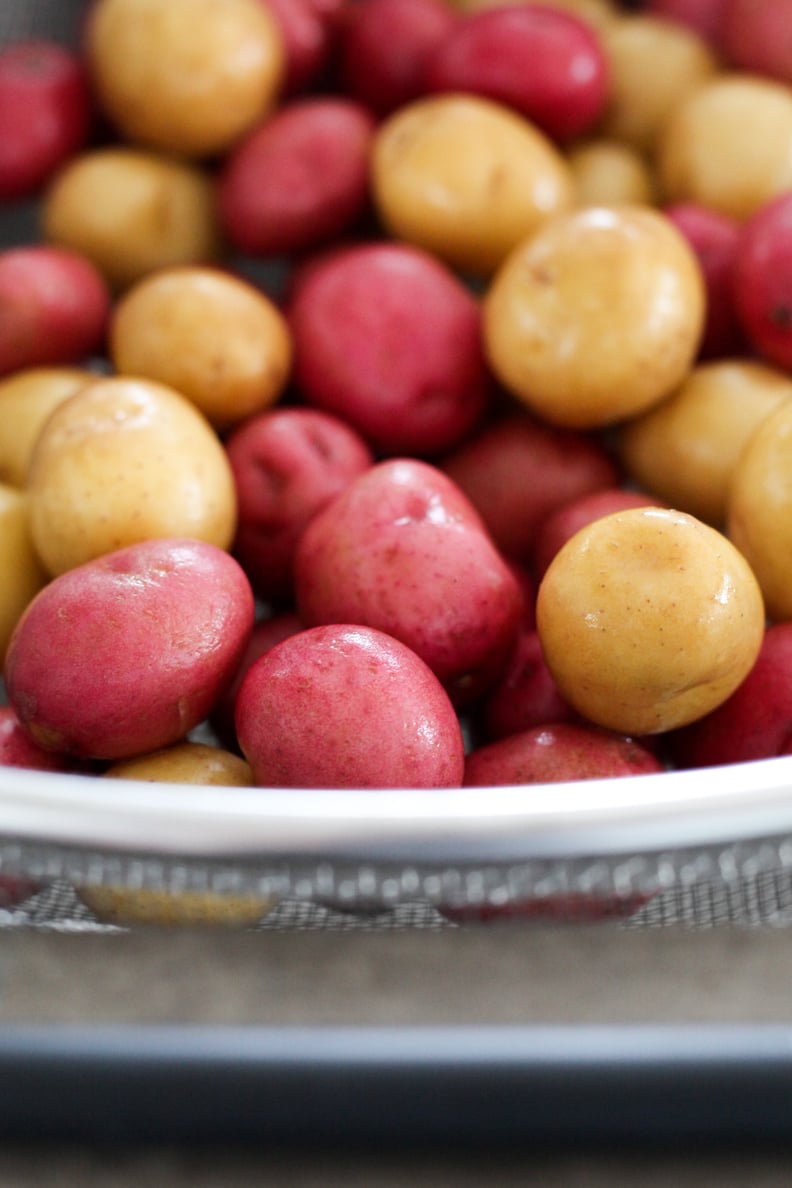 Choose Your Potatoes Wisely, Then Scrub Them Clean
To serve four people as a side, start with two pounds of small potatoes (the size is crucial in later steps, keep reading to learn why). Try a mix of pint-sized red potatoes and Yukon golds. Give the potatoes a good rinse and scrub, then trim away any eyes or other damaged bits. Now's also a good time to preheat your oven to 425°F.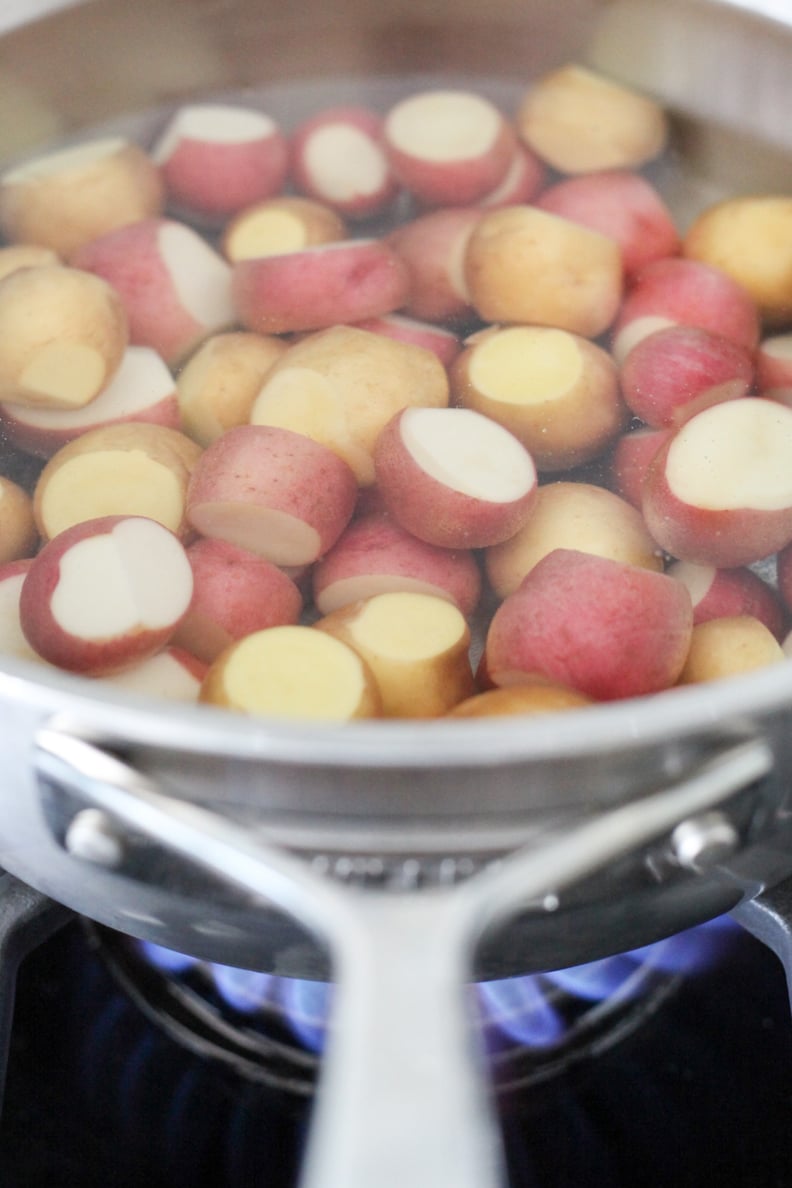 Parboil the Potatoes
Here's trick number one: before you roast the potatoes, parboil them (aka cook them until they're almost tender), so that they will cook through evenly before they get dried out or burnt on the edges. To do this, add the potatoes to a medium-to-large pot, cover them with 1 inch of water, add 1 tablespoon of salt, and bring to a boil. Reduce the heat to maintain a simmer, then simmer until the potatoes can be easily pierced with a paring knife but are still firm in the center, about 5 minutes. (This may take shorter or longer, depending on the exact size of your potatoes, so test early and often.)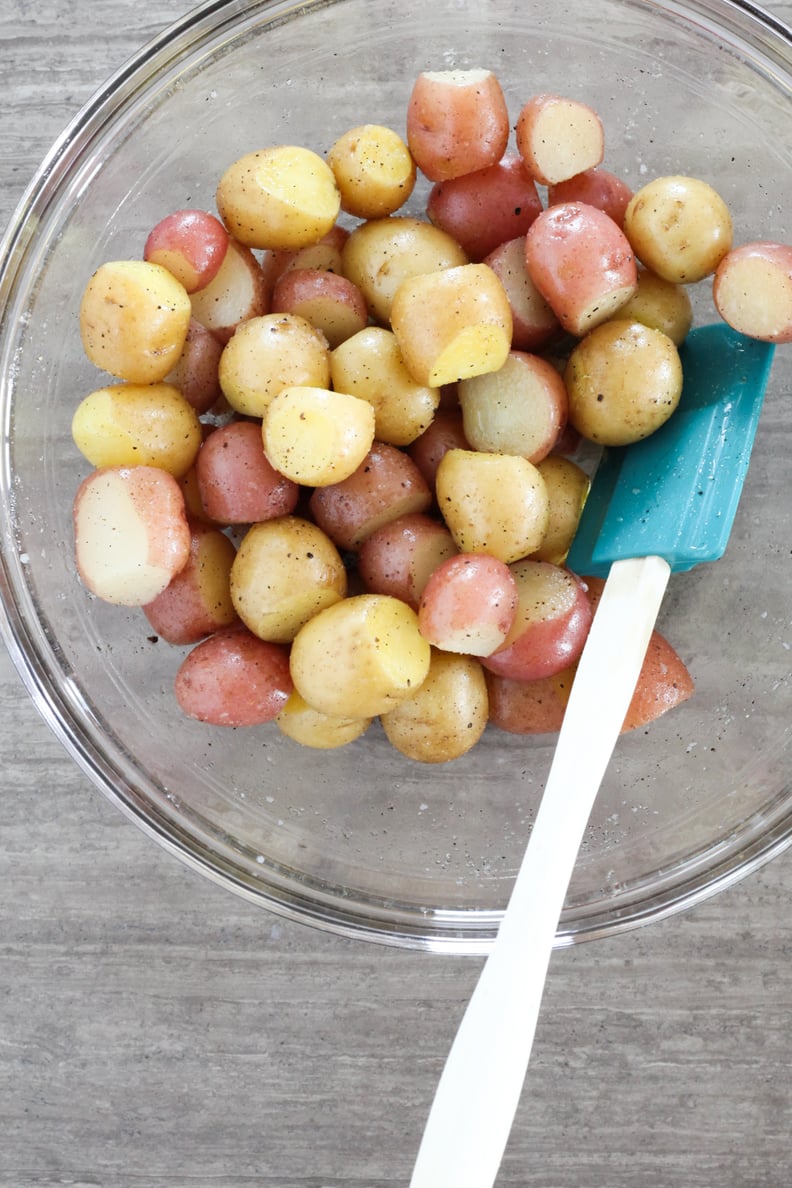 Drain and Dress the Potatoes
Thoroughly drain the potatoes, then toss them with 3 tablespoons high-heat-tolerant oil (such as grapeseed, avocado, or refined coconut), 1 1/4 teaspoons kosher salt, and 1/2 teaspoon freshly ground black pepper.
P.S. If duck fat's your thing, consider subbing an equal amount of melted duck fat for the high-heat-tolerant oil, for a supersavory batch.
Smash the Potatoes
Trick number two is a fun one: smash them! First, transfer the oiled-up potatoes to a half-sheet pan, then gently smash the potatoes using the flat side of a bench scraper or a meat pounder (my preference). Smashing the potatoes increases the surface area that comes into contact with the pan, which means a greater ratio of crisp, browned edges to tender centers.
As I mentioned earlier, smaller potatoes are key here. The why: smaller potatoes tend to keep their shape better than large potatoes than have been quartered. If all you can find are medium potatoes, use a waxy variety like Yukon gold.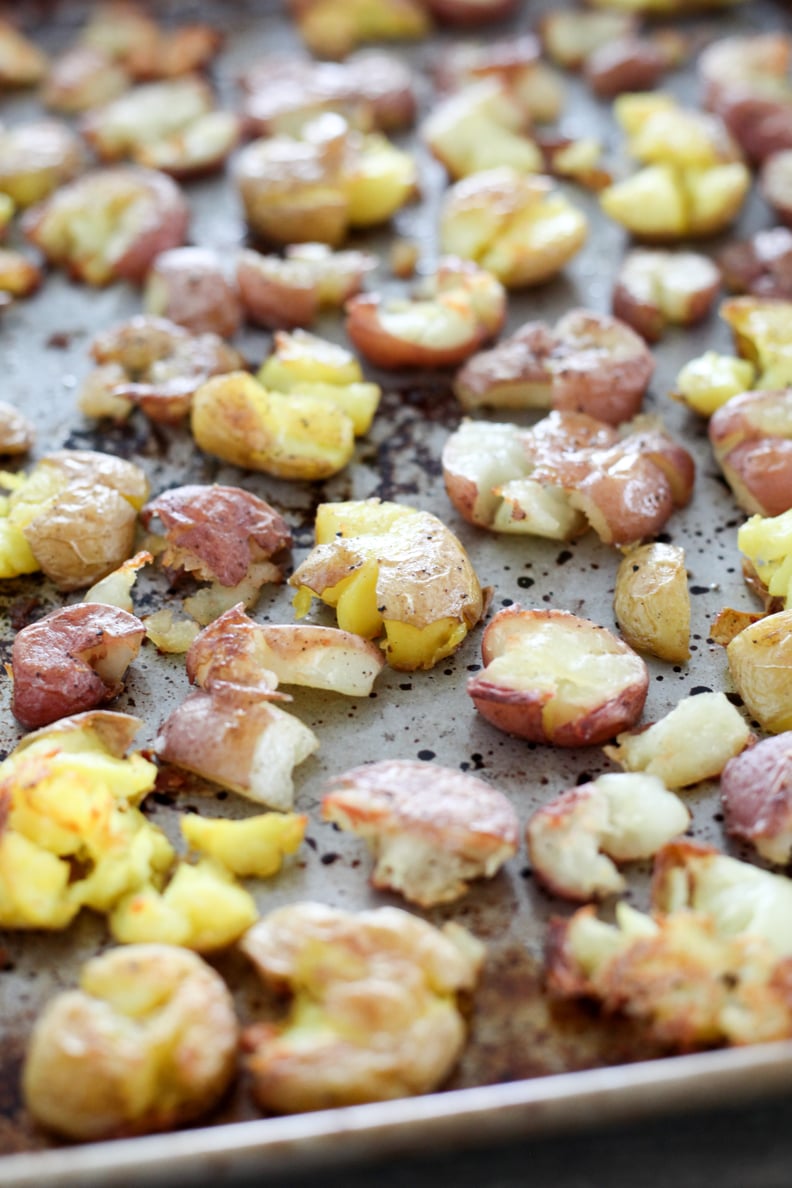 Roast the Potatoes
Make sure the potatoes are in one even layer, without overlapping (again, to increase pan contact). Then roast for about 25 minutes, or until the bottoms are brown. Flip the potatoes and cook for another 15 to 20 minutes, or until deeply browned and crisp-edged.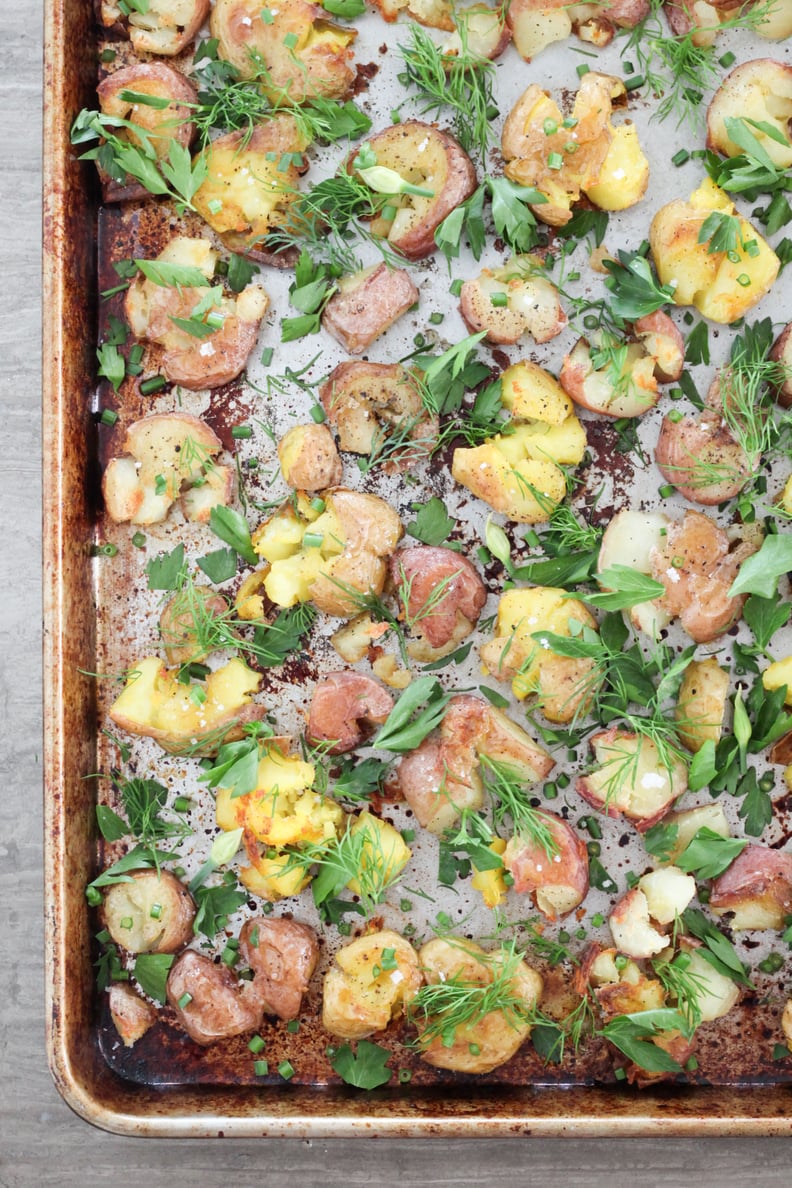 Go HAM With Herbs
While the potatoes roast, wash, dry, and prep about 1 loosely packed cup of soft green herbs, such as parsley, dill, chives, tarragon, the dark green parts of scallions, or cilantro, or some combination thereof. (If you use tarragon, don't make it the main herb, as it can be a bit strong). For parsley, dill, and cilantro, pick the herbs from their stems and give them a tear or rough chop. For scallions or chives, thinly slice them. Once the potatoes are cooked, sprinkle them with herbs, drizzle them with some extra-virgin olive oil, and sprinkle with flaky sea salt (if needed — they may be salty enough as is). Then, dig in.