Starbucks's Secret Menu Berry Caramel Frappuccino Review
I Tried Starbucks's Secret Berry Caramel Frap, and It's Now My "Treat Yourself" Drink For the Summer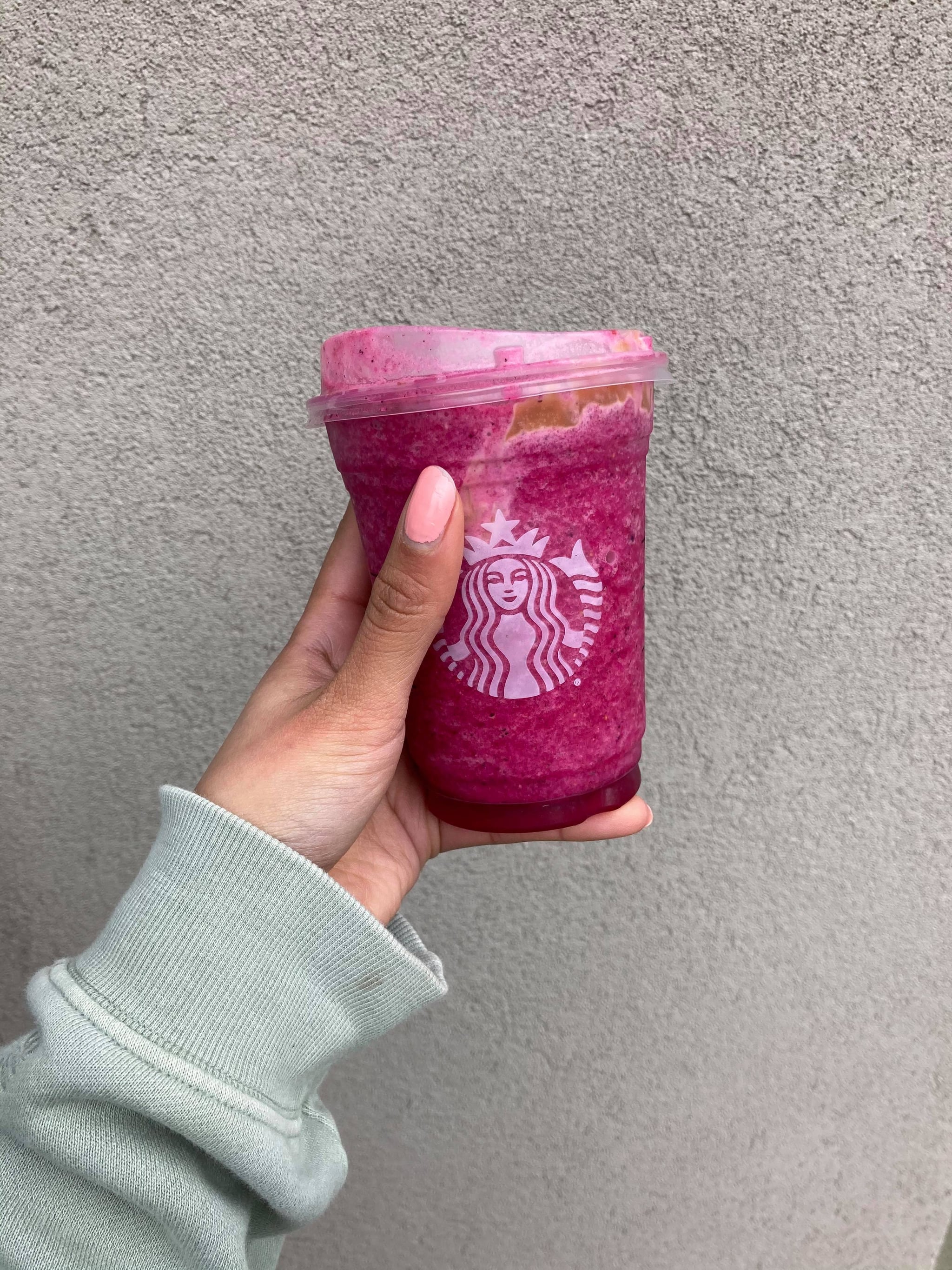 Over the years, Starbucks has quietly offered (on their not-so-secret menu) some incredibly inventive and yummy creations, like the Wonder Woman Frappuccino and the Ferrero Rocher Frappuccino (and that's barely the tip of the iceberg). So when I saw Starbucks barista Ryan Gawlik, known as @coffeefanatics on TikTok, make the secret Berry Caramel Frappuccino, I knew I had to try it to see if it was as tasty as it looked. The drink is beautifully vibrant with purple and pink swirls, which are my two favorite colors!
The consensus: it was refreshing, fruity, and had the perfect balance between sweet and tart. Given the price of around $7, however, I'd definitely reserve it as a once-in-a-while summer treat. But it's definitely something that's worth trying!
How to Order It
Since this item isn't officially on the Starbucks menu, you'll have to explain the custom order to your barista. Here's what to ask for:
Order a Strawberry Açaí Lemonade with apple juice and strawberry puree.
Add double scoops of mango and strawberry.
Ask for this to be double blended, making it a Frappuccino.
Ask for a caramel drizzle.
Patiently wait for this mouth-watering drink to be served, and thank your barista before you go!
What Does It Taste Like?
Traditionally, Frappuccinos can be heavy, with a consistency similar to a malt or milkshake. The Berry Caramel Frap, however, is anything but. Imagine a tropical fruit smoothie, but lighter and more refreshing. The apple juice base shines through, as do the not-too-sweet but not-too-tart strawberries. The caramel drizzle on top brings an unexpected but very welcomed twist of decadence that definitely balances out the drink so that it isn't overpoweringly fruity.
Is It Worth Ordering?
As an avid fruit-lover and fan of Starbucks's Strawberry Açaí Lemonade, I was hyped to try the Berry Caramel Frap. After all, it uses the lemonade as a base, and the additional puree makes it thicker.
The drink was most definitely the cool, crisp refresher I expected — although I should mention that I ordered it after an afternoon run, so I was thirsty and looking for something a little more exciting than my water!
Personally, I would order it again, but more as an occasional treat throughout the summer instead of a replacement for my go-to coffee order given its price of around $7 and lack of caffeine.
Image Source: POPSUGAR Photography / Simrin Purhar