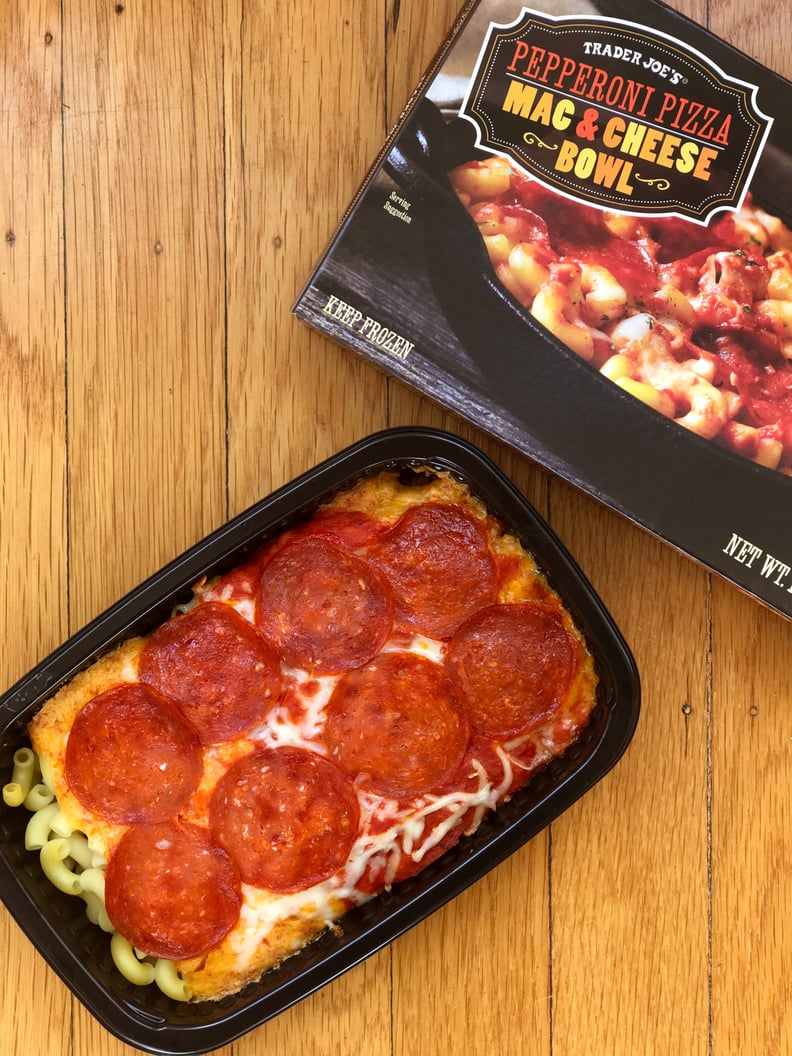 POPSUGAR Photography | Anna Monette Roberts
POPSUGAR Photography | Anna Monette Roberts
Trader Joe's just released this Pepperoni Pizza Mac & Cheese Bowl ($3), and if you know what's good for your taste buds, you will haul ass to your nearest branch to get a taste of it. It's not even up on the website yet (it's that new). We discovered it thanks to one of our editor's husbands. He was casually eating this gooey pepperoni mac on the couch when she came home from work recently. "What is that?" she asked exasperatedly. She said he luckily gave her a bite, and she swore it's the best thing she's ever had from the freezer section of Trader Joe's. It took us a while to get our hands on a package as it's been sold out every time we've tried. But finally! Today was the day I tried it.
First off, the elbow noodles are cooked to al dente perfection. The sauce is like a traditional mac sauce (cheddar, milk, butter) but then there's the addition of tomatoes, extra-virgin olive oil, garlic, basil, and black pepper. Remarkably, it's not greasy or overly rich. It tastes like a cheesy marinara. Shredded mozzarella and giant pepperoni slices melt atop the pasta, creating the pizza effect. It's so. Damn. Good. I cannot wait to have it again. Dare I say, I may prefer it to actual frozen pizza. I give this five stars, because the flavors and textures of this are flawless.
Once upon a time, we created a recipe for pizza mac and cheese on our show Eat the Trend. I (not so secretly) hope Trader Joe's saw it, and that's what inspired someone to come up with this awesome frozen dish.
★★★★★