11 Vintage Happy Meal Toys That Are Probably Still in Your Parents' Attic Somewhere
I'm just going to come out and say what we're all thinking: the best part of McDonald's Happy Meals when we were kids were the toys. Sure, the french fries were amazing and the McNuggets weren't too shabby, but the Teenie Beanie Baby or the Barbie at the bottom of the bag were the real stars of the show.
Happy Meal toys these days just aren't what they used to be. The couple that I've gotten recently — because yes, I still get Happy Meals when I'm feeling particularly adventurous — I either don't understand or are just weird. Except the Minions. Those are the current winners of the Happy Meal game. But the throwback toys that were just miniature versions of what we were already playing with as kids are still the best, and I'm betting you have a lot of these floating around your parents' house — or maybe your own — to this day. Check them out ahead.
01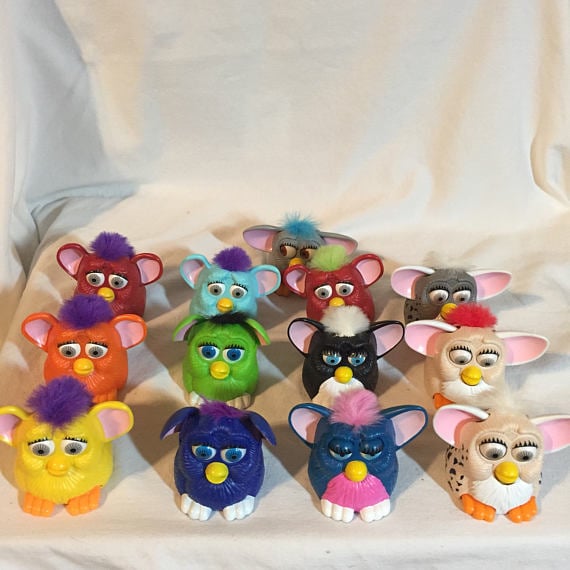 Furbies
I never wanted a real Furby because they scared me a little bit, but I was all about the mini version that came in the Happy Meal because they were tiny, colorful, and cute.
02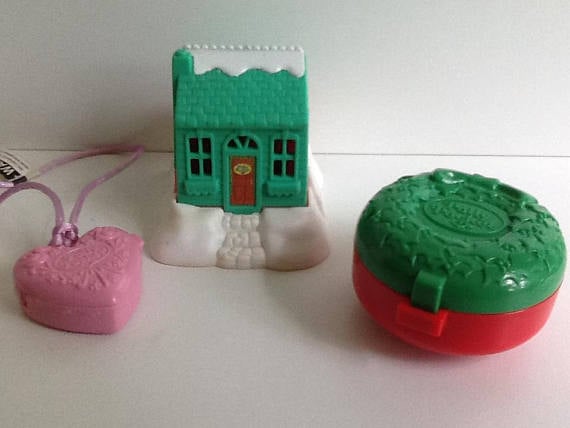 Polly Pocket
I had a bunch of regular-size Polly Pockets, and I know for a fact I had this red and green mini version. Even-smaller Polly Pockets? Yes, please.
03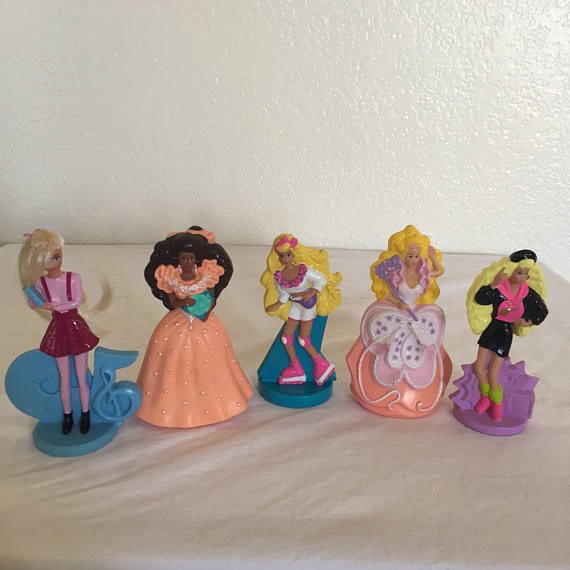 Barbies
I had about a million regular-size Barbies and maybe half as many mini ones from Happy Meals. I much preferred the ones that had actual hair over plastic, painted hair, but I happily collected them all.
04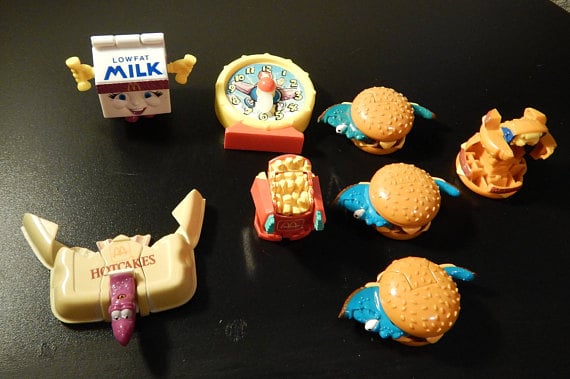 Transformers
I thought the plastic McDonald's food that transformed into other toys were so cool. The restaurant did a few iterations of this, and I probably have all of them.
05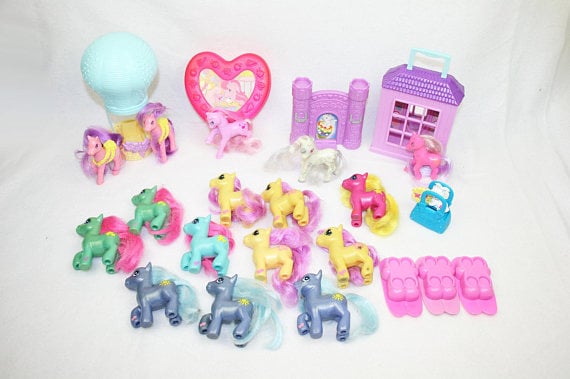 My Little Pony
I liked to pretend that my Happy Meal My Little Ponies were my standard My Little Ponies' kids, of course.
06
Dinosaurs
These were weird and amazing. You squeezed the handle that connected to a tube on the dinosaur to make it move. Why they weren't just toys with movable parts is a mystery to me, but I had them all.
07
Halloween Buckets
These were amazing because they, of course, doubled as a trick-or-treating bucket when the best day of the year rolled around. They also made great toy storage!
08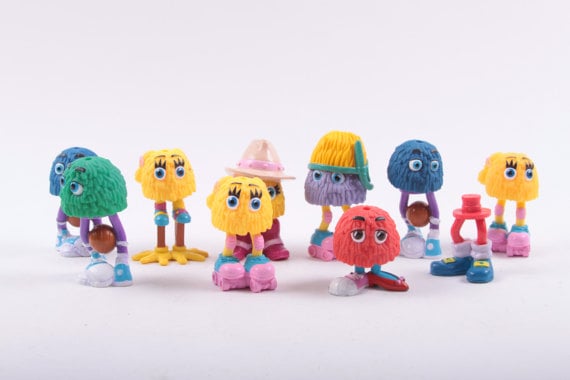 Fry Guys
These adorable little mascots came in a bunch of colors and varieties and were oddly adorable.
09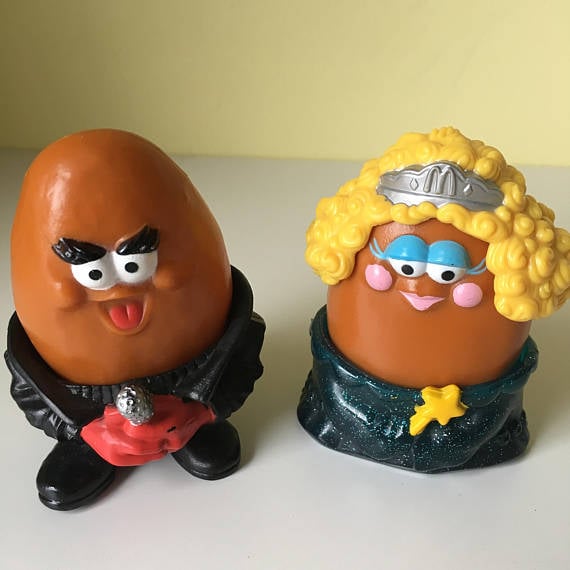 Nuggets
I love that the McNuggets used to be little characters and got costumes for Halloween. I had so many different ones.
10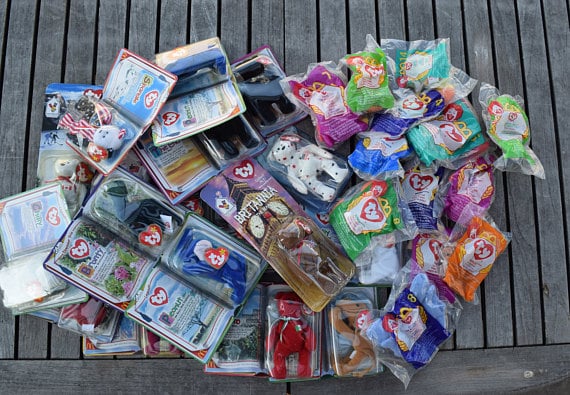 Teenie Beanie Babies
Teenie Beanie Babies were probably the height of Happy Meal toys. It's absurd how many Happy Meals my family went through so we could collect these. And guess what, they're worth nothing now, so I'm glad I have hundreds of them stored away.
11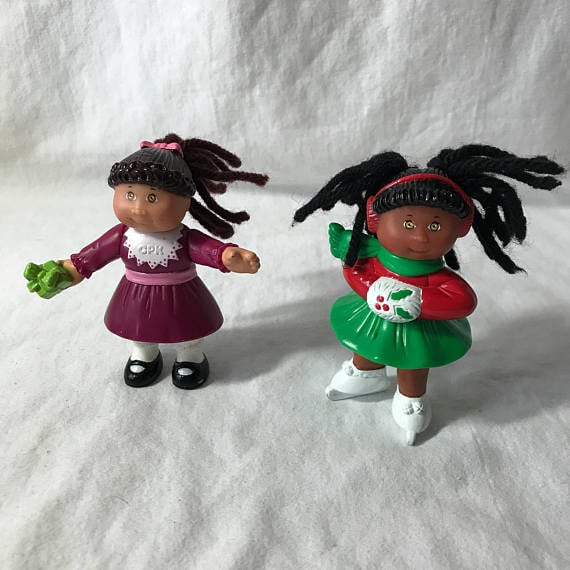 Cabbage Patch Dolls
McDonald's offered a bunch of different Cabbage Patch figurines for holidays and other times, so it was fun to try to get all of them.