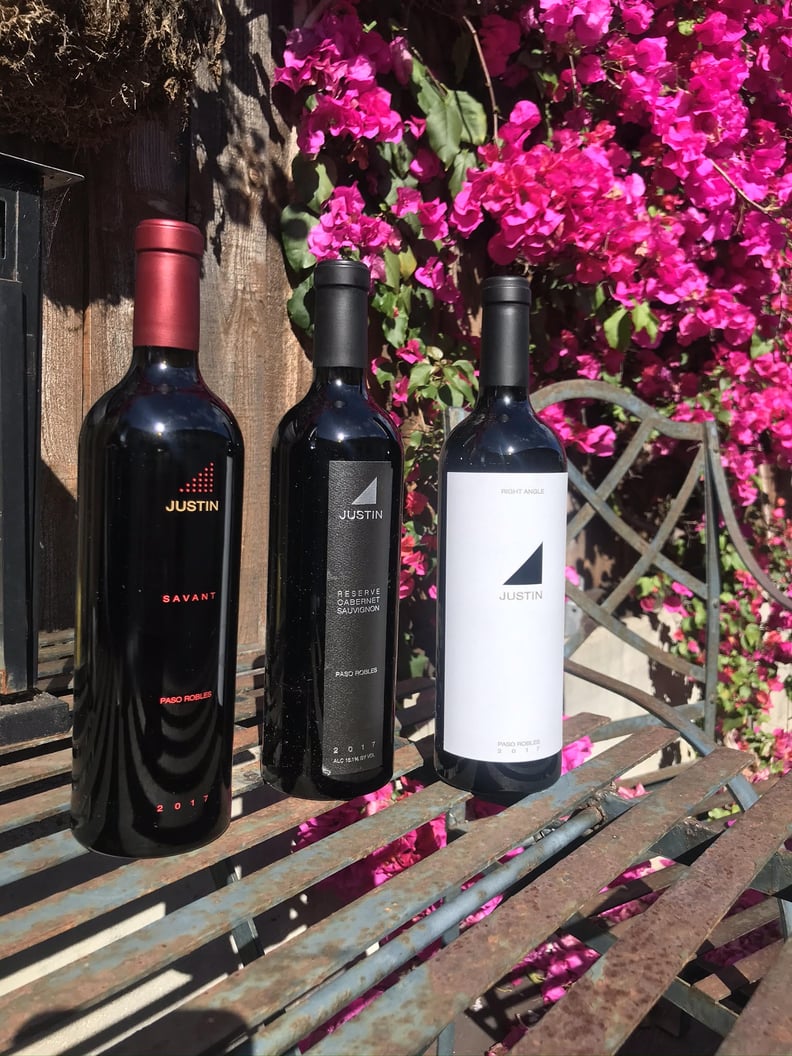 POPSUGAR Photography | Lauren Harano
POPSUGAR Photography | Lauren Harano
A few short weeks ago, I was planning a quick trip to Napa for the weekend to wine taste with a friend. We had picked out the winery and were counting down the days — that is, until the coronavirus hit. My travel plans rapidly changed, and our weekend in Wine Country was out of the picture completely. Flash forward a couple weeks, and as I'm social distancing at home, I get an invitation to join a virtual wine tasting. At first I was perplexed at how something like this would work, but I was already hooked when I saw the word "wine."
This particular tasting was put on by Justin Vineyards and Winery, complete with founder Justin Baldwin himself. The invitation noted that Baldwin was going to guide participants through the tasting notes of three elegant wines that he personally selected as well as share stories about his vineyard and answer questions during a live Q&A session. Having a passion for fine wine, I knew this opportunity was one I couldn't pass up. Besides, who would want to miss out on a happy hour?
What Do You Do in a Virtual Wine Tasting?
To fully partake, having the bottles that will be tasted are a must. Some sites such as Sommelier Company offer "dry" sessions that cover things like the secrets of sommeliers as opposed to actual tastings. In this case, you don't need any wine to participate.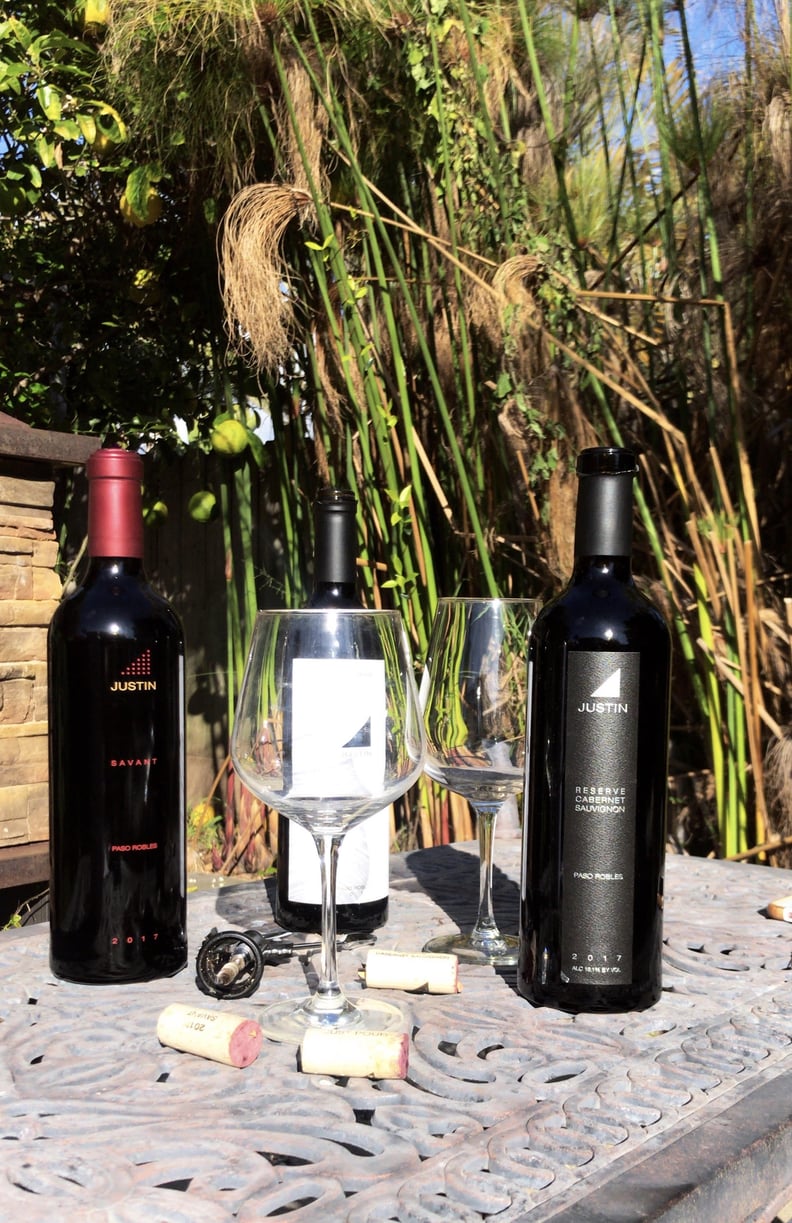 For the tasting I did, there were three specific bottles featured. Before Justin signed on for the Instagram Live event, I set up shop in my backyard and opened all three bottles. Having the wines on hand made it easy for me to follow along — as well as get a good buzz. This particular winery has held two virtual tastings so far this month, both of which have had high success rates among wine-lovers during social distancing — myself included. Since people can't visit their favorite wineries, this experience brings the tastes of the winery right to their home.
Do You Need Supplies?
The only supplies you need are the wines being tasted, wine glasses, and a bottle opener. I had a cup of water nearby to rinse out my glass in between tastings and to wash down each wine before I tried the next bottle. Feel free to pair the wines with cheeses, meats, and desserts if you want to bring the tasting to the next level. Reaching out to the winery or staff beforehand is the best way to find out what foods pair well with each bottle.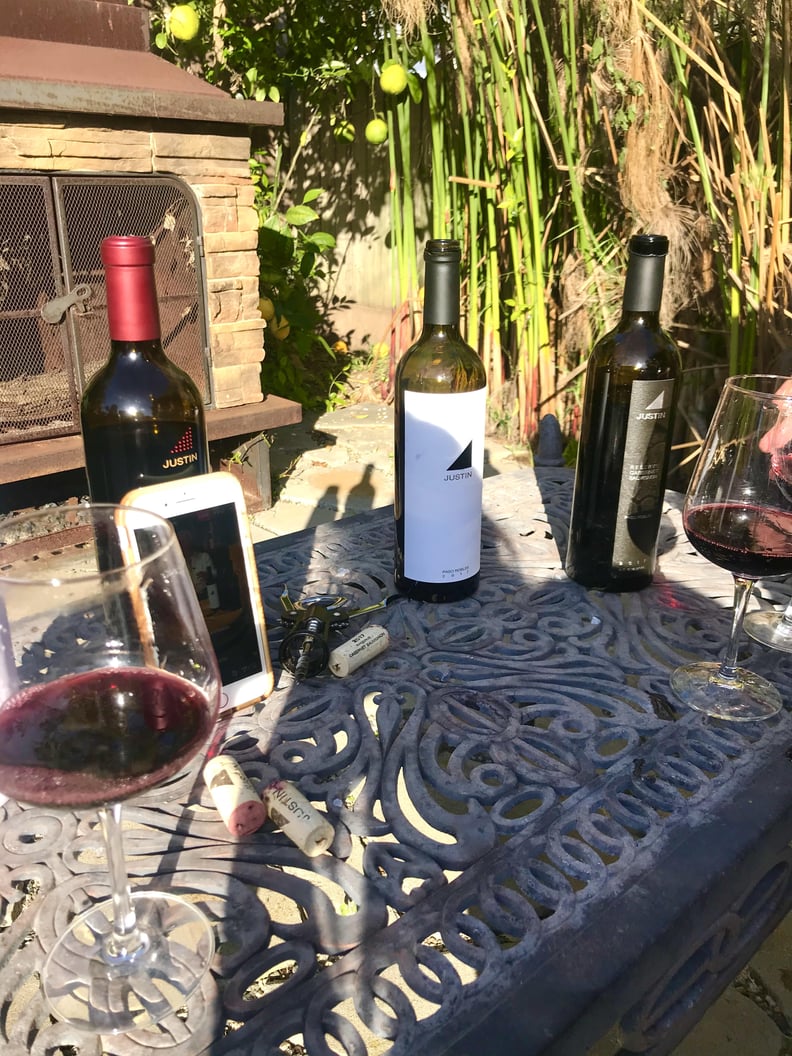 What Do You Learn in a Virtual Wine Tasting?
Depending on who's leading the tasting and what they decide to cover, there are a variety of things you can learn. Over the course of the tasting I took part in, the winery owner described the history of this vineyard, the basics of how wine is made, and what we should be looking for as we try each kind. He went over how to identify the alcohol content in a glass by looking at the legs, how to taste for tannins, and how to tell if the wine was bottled recently or had time to age. This tasting dove deep into how the three wines were part of the Cabernet Sauvignon grape varietal and how to taste for different notes in each. Baldwin also noted what foods to pair the bottles with, and he even shared his favorite wine from his collection. For those wondering, Justification continues to be one of his favorite wines in the portfolio. "To me, it's all about how a wine pairs with food. Justification hits that goal out of the park by combining the harmony of its strawberry/cherry flavors and pleasant, integrated acids to lend versatility to a multiplicity of food pairings," Justin said. "Try it with fatty seafood (tuna, salmon, lobster) and you'll have found a new friend!"
Where Do You Find Virtual Wine Tastings Online?
A handful of different wineries and companies are joining in on the virtual tasting trend. A simple Google search is a great way to see what brands are promoting their tastings and when they will be held. Sites such as Sonoma-Cutrer and Priority Wine Pass offer different sessions with a range of wines and sommeliers. If you're looking for a similar tasting to the Justin Wine session, Landmark Vineyards is doing an IG Live on Friday, May 1.
The best way to find a wine tasting that I wanted to participate in was by following my favorite wineries on Instagram to get real-time updates. Justin Wine posted information about the tasting a week beforehand, giving me enough time to get the bottles.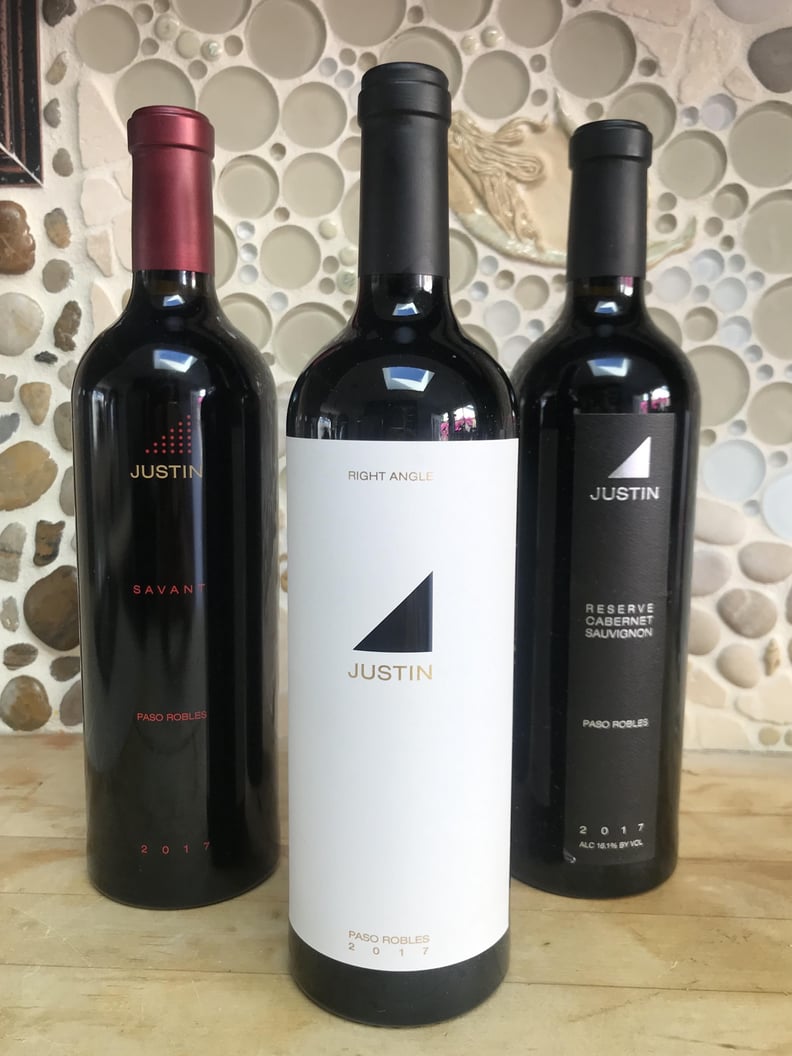 Final Thoughts
While nothing compares to being on the grounds of a vineyard, virtual tastings are a close second. Being able to connect with the owner of a winery, ask questions and get live answers, and learn about what goes into making each bottle so special creates a truly enjoyable experience. Until wineries open again, I'll be taking part in as many virtual wine tastings as I can. Cheers to that!