Why All-Clad's Latest Gadget May Be Worth the $1,000 Price Tag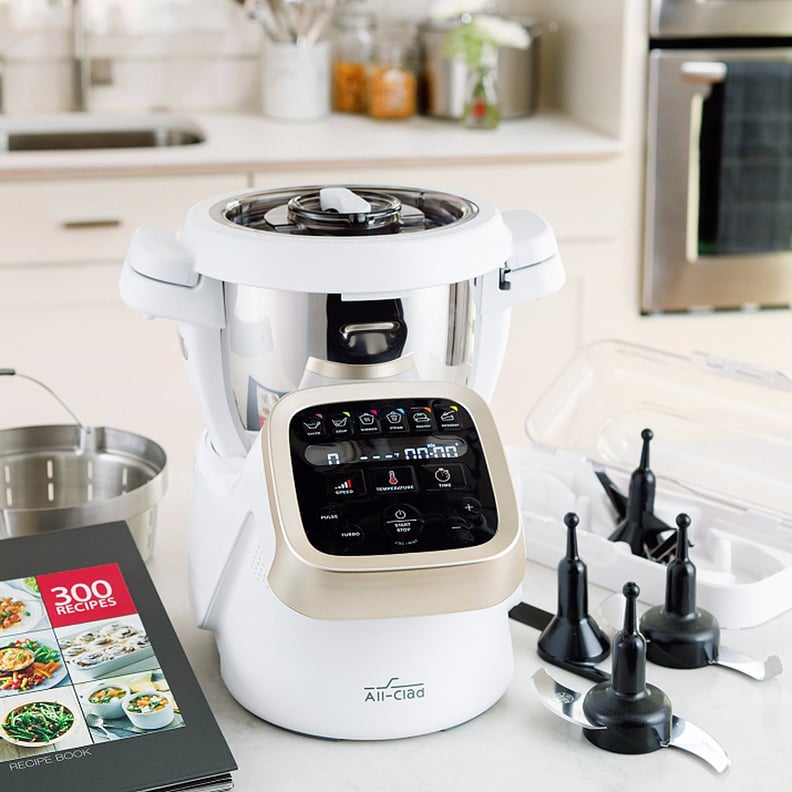 All-Clad has just released a kitchen gadget you may want to get your hands on (or add to your wedding registry). It's called the Prep&Cook ($1,000), a "cooking food processing machine," and it's intended to be your slow cooker, food processor, stand mixer, steamer, and blender all in one product. Wouldn't it be nice to replace all those clunky unitaskers with one gadget? But how does it work?! What can you make with it? Let's take a look at this high-tech device.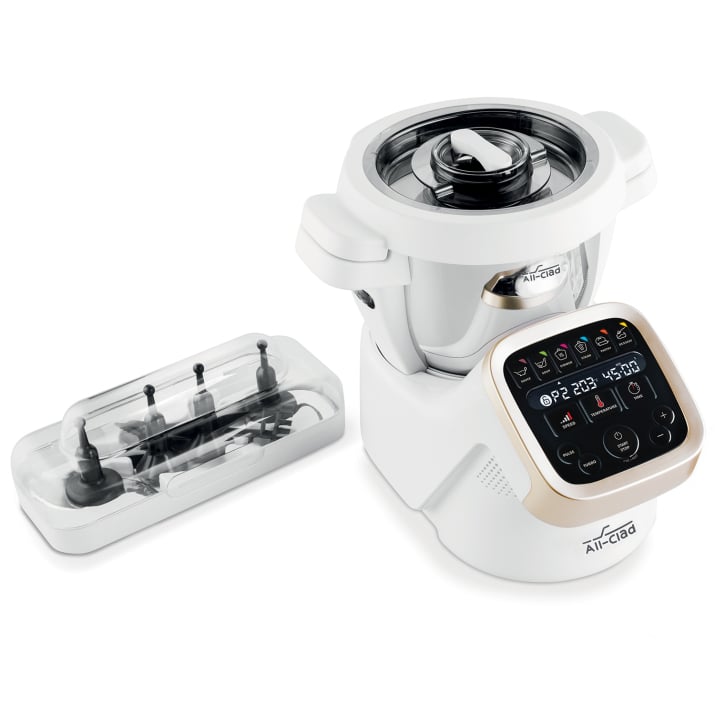 What can this machine do?
According to the site, the Prep&Cook "cooks, slow cooks, steams, stirs, stir fries, mixes, kneads, whips, and more at the touch of a button."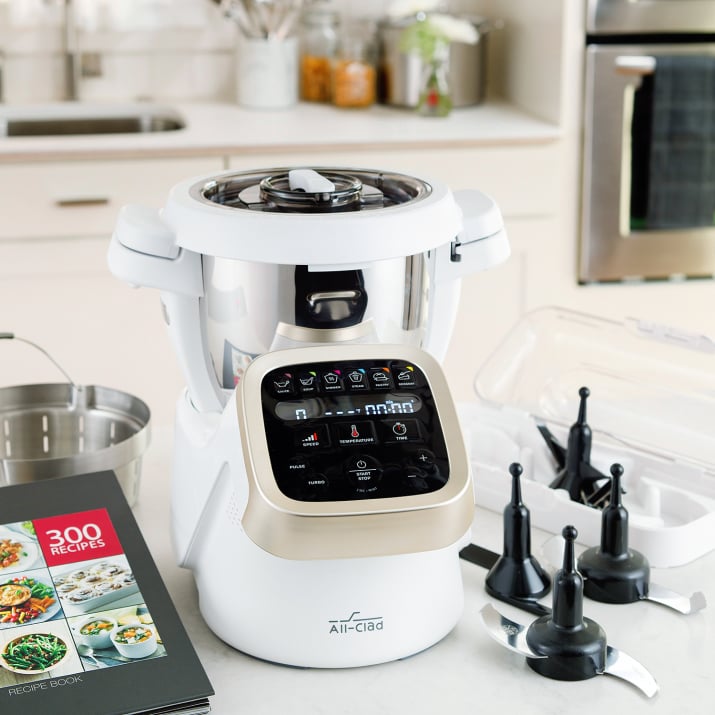 What comes in the box?
Beyond the device itself, the Prep&Cook comes with a steamer basket, variety of whisks (for different functions like food processing and dough making), and a cookbook with 300 recipes.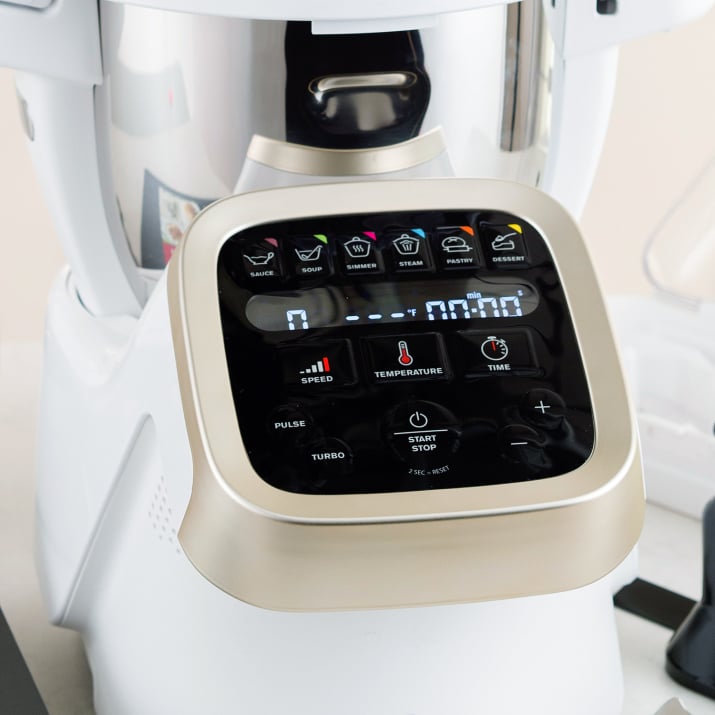 What are all the functions?
The control panel features six automatic programs:
Sauce: Machine continually stirs as it cooks at a constant temperature.
Soup: Make a creamy or a chunky soup with minimal effort.
Simmer: Brown meat, slow-cook, or simmer and stir with the different setting options.
Steam: Cook fish, veggies, or even really hard ingredients like potatoes and carrots.
Pastry: Knead bread dough, make cake batters, and use like you would a stand mixer.
Dessert: Make custards, pot de crème, or lemon curds with this function.
You can also manually control time, temperature (from 90°F to 270°F), and speed (12 levels).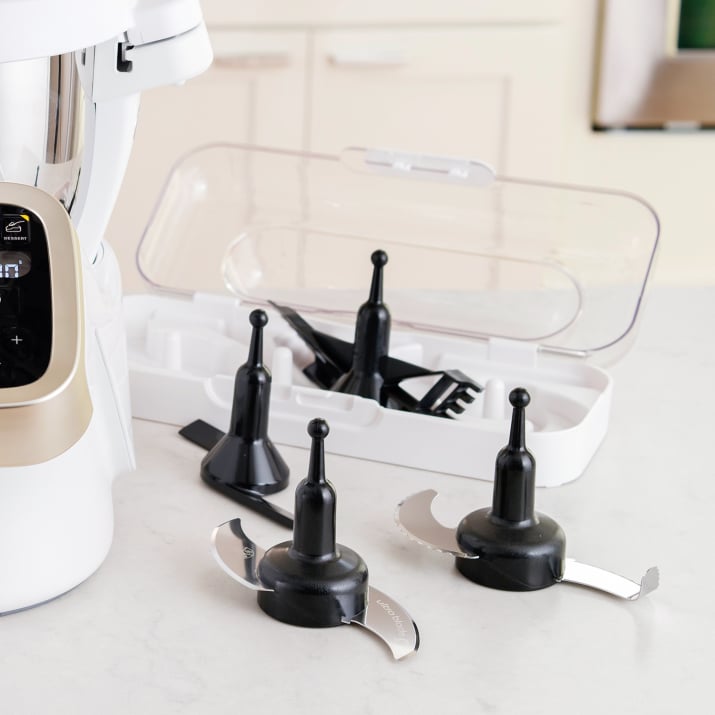 What do the blades do?
The blades all serve different purposes:
Kneading/crushing blade: For kneading dough and crushing ice or nuts
Whisk blade: Beats eggs, whips cream, emulsifies mayo and sauces
Mixer: Stirs all the ingredients without any sticking to the bottom of the bowl; good for melting butter or chocolate or stirring custardy desserts.
Ultrablade knife: Purees soups or fruit and chops veggies, meat, or fish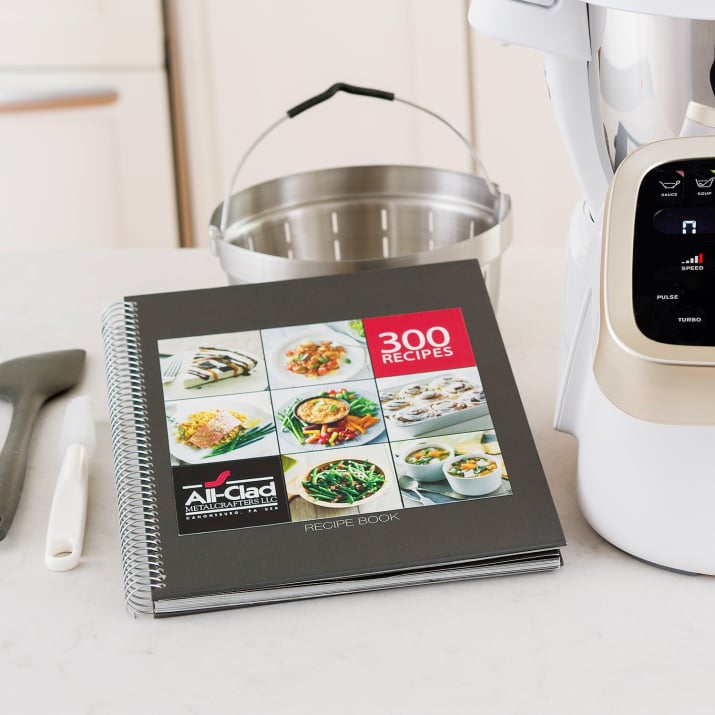 What recipes does the cookbook contain?
Snacks, dinner ideas, and desserts are found within the pages of the cookbook. Guacamole, steamed salmon, cream of asparagus soup, lime bars, and bolognese sauce are just a few sample recipes available on the site.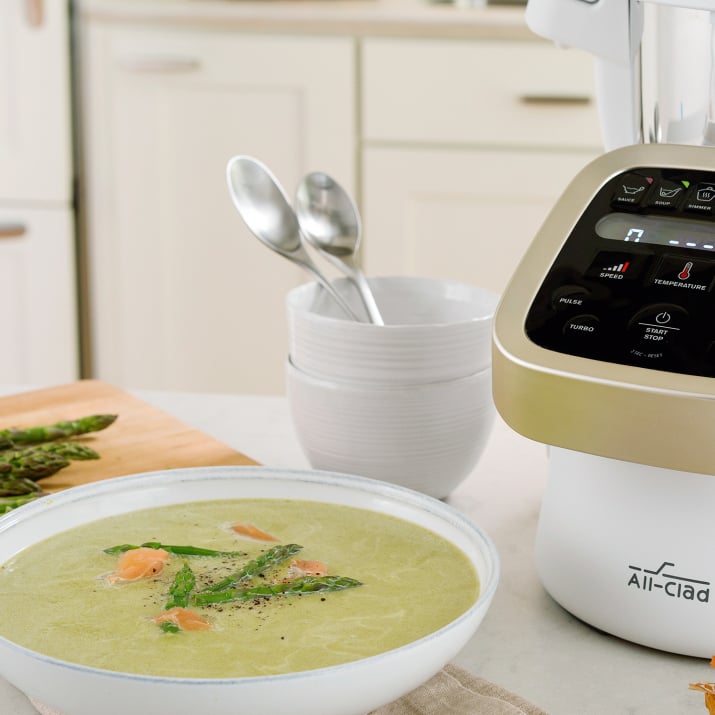 Cream of Asparagus Soup
Dice the asparagus, celery, and shallot. Throw in some veggie broth. Press the "Soup" setting and let the machine cook and puree the soup in one bowl!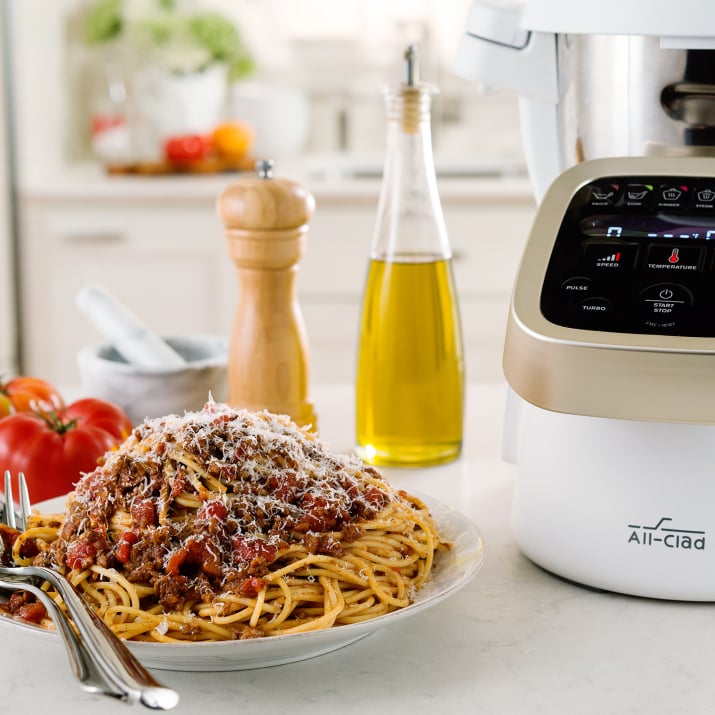 Bolognese Sauce
The amazing thing about this machine is you can swap out the blades to perform multiple functions. You can chop the veggies with one blade, change it out, and sauté/cook the rest of the ingredients with the "Simmer" function.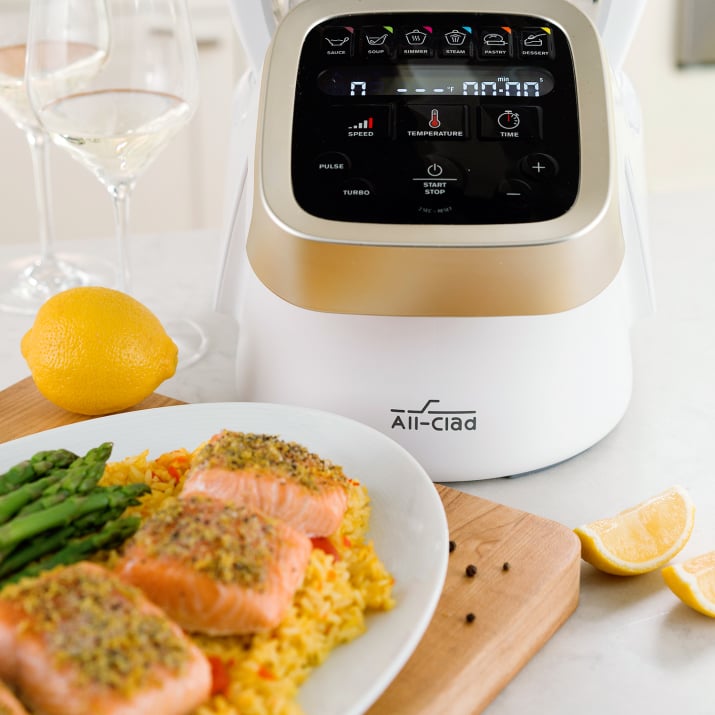 Steamed Salmon
You can simultaneously cook rice while steaming up salmon or other veggies! Talk about a true one-pot wonder.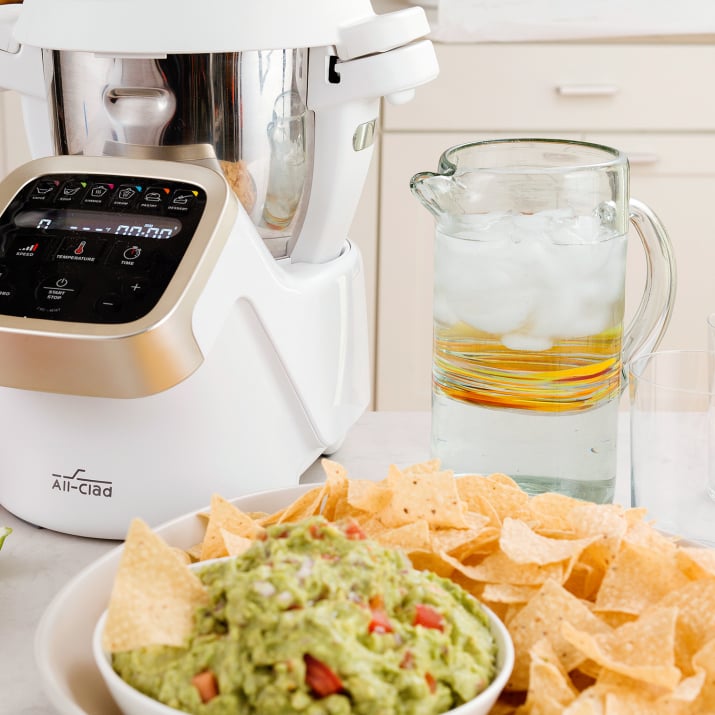 Guacamole
Blend it up to a creamy consistency, no hands required.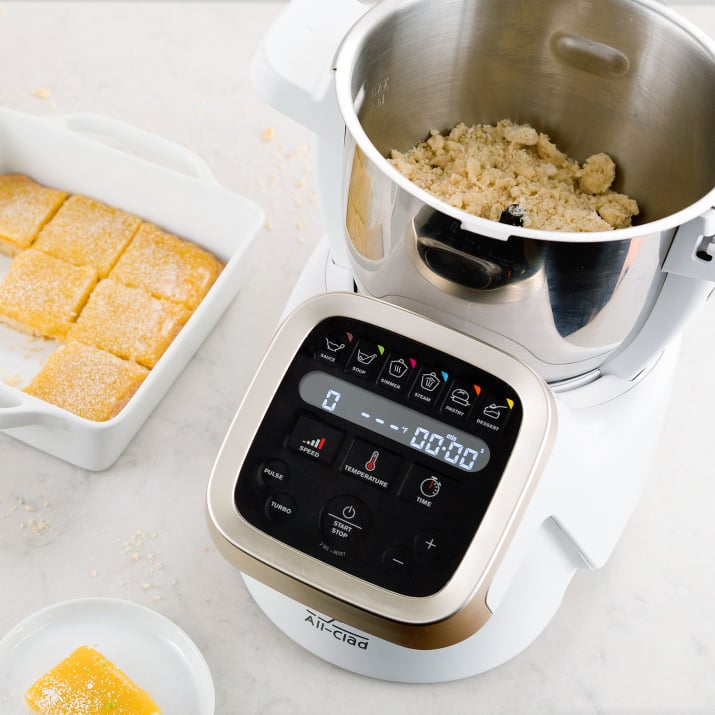 Lemon Bars
You can make pie crusts and custard fillings with one device.
Yep, it's a keeper.
Don't know about you, but I'm having serious kitchen appliance envy.