In Beauty and the Beast, one of Lumière's most famous lines from "Be Our Guest" is "Try the grey stuff; it's delicious!" And in good Disney fashion, Disneyland released the Grey Stuff dessert at the Red Rose Taverne. The restaurant replicated the exact look of the grey food from the animated film, swirls and ribbed cookie included!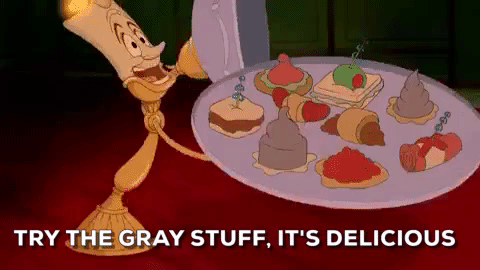 The dessert, called Grey Stuff Gâteau ($6), consists of white chocolate mousse, red velvet cake, and a raspberry center.
Now, if a breadstick is more your style, you can venture over to Maurice's Treats and get a Grey Stuff Twist ($4) with Grey Stuff dipping sauce. It's a flaky baked treat with chocolate and Oreo pieces twisted inside of it, while the dipping sauce has a chilled cookies and cream pudding-like texture. Thanks, Disney, for giving us two ways to try the Grey Stuff!


— Additional reporting by Lauren Harano