Glow Recipe Avocado Cleanser and Serum Review With Photos
Glow Recipe's Avocado Ceramide Cleanser and Recovery Serum Are Worth the Hype
As POPSUGAR editors, we independently select and write about stuff we love and think you'll like too. If you buy a product we have recommended, we may receive affiliate commission, which in turn supports our work.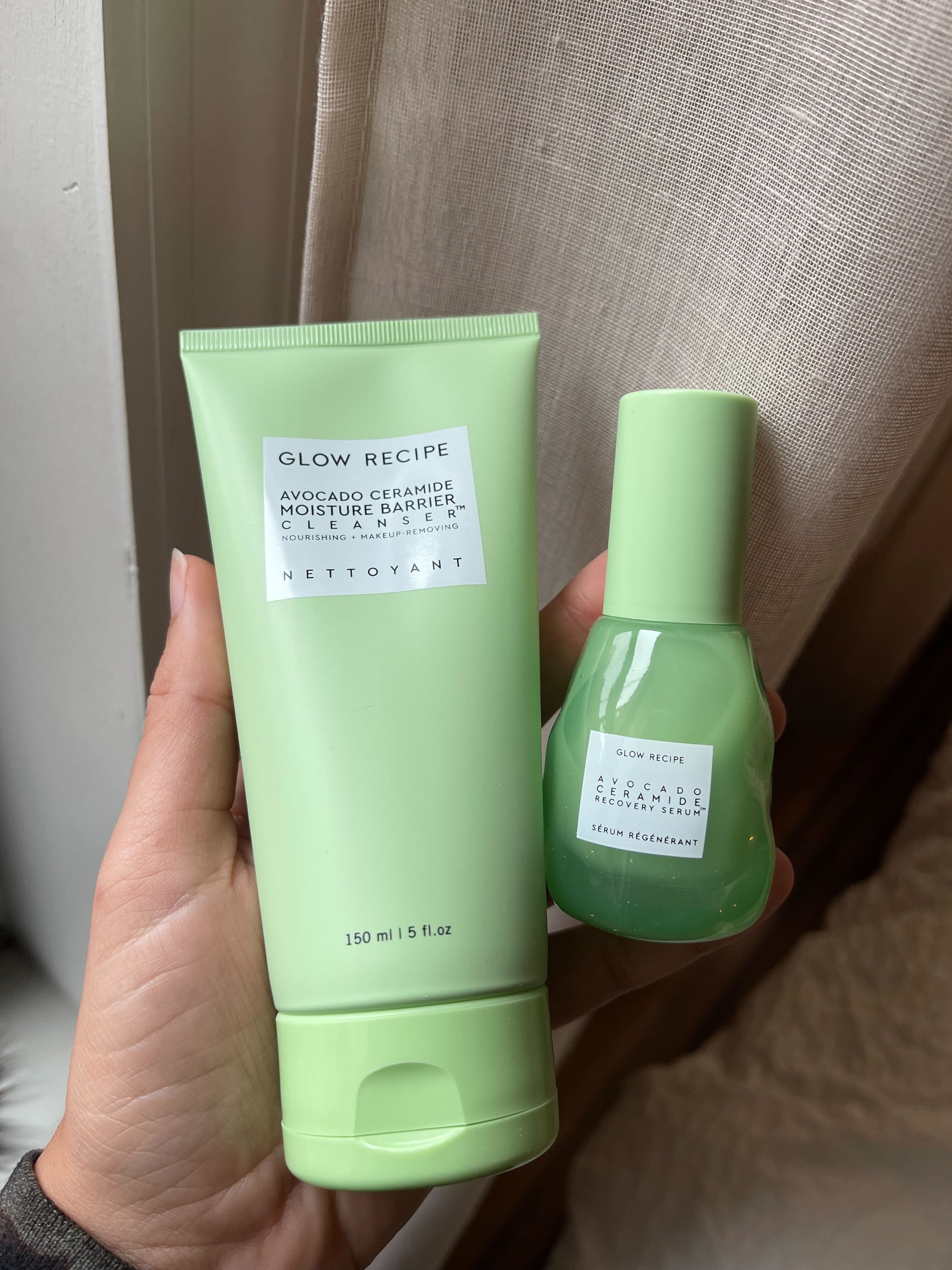 I was fortunate enough to meet the founders of Glow Recipe recently and was sent home with the Avocado Ceramide Recovery Serum ($44), which has since become a staple in my short but sweet daily skin-care routine. So, when the brand finally dropped the Avocado Ceramide Moisture Barrier Cleanser ($28), I knew I had to try it. I wanted to see if it was just as good as the serum, but also, I was in desperate need after my runway-model sibling accosted me for only using water to wash my face (I know, I know).
I wanted something that would remove my makeup without drying my skin out, and this ceramide-packed face wash from Glow Recipe ended up being just the thing. Ahead, learn why I'm loving it in my simple skin-care regimen.
About the Glow Recipe Avocado Ceramide Cleanser and Recovery Serum
These products support a healthy moisture barrier, reduce redness, and soothe skin.
They're formulated with nourishing ingredients like ceramides, avocado butter and oil, and colloidal oatmeal.
The avocado extract is processed in a way that helps conserve energy and water, lowering its environmental impact.
They're safe for all skin types.
The bottles and jars are partially made of recycled glass and are 100 percent recyclable.
What I Like About the Glow Recipe Avocado Ceramide Cleanser and Recovery Serum
Both of these Glow Recipe products aim to support a healthy moisture barrier. They contain a blend of avocado extract and butter and five skin-identical ceramides to improve skin's resiliency and prevent water loss. In the Recovery Serum, allantoin (a skin protectant that moisturizes and smooths skin) and rice milk hydrate and target redness from dehydration to soothe skin. I took it with me to Tulum, Mexico, because I knew I would need them after spending a lot of time in the sun, and it helped so much.
The Avocado Ceramide Cleanser dissolves oil, makeup, and sunscreen, and is formulated for all skin types. It contains ceramides, post- and prebiotics, colloidal oatmeal, avocado oil, and gentle makeup-removing agents (the packaging states they use the same cleansing ingredients as baby washes). The face wash doesn't feel harsh on my skin, and it isn't too thick for my liking — it actually almost spills out of the bottle when I open it. It also suds up quickly but doesn't travel down my neck or get messy, which is sometimes a struggle with other cleansers I've used.
I use the serum immediately after washing my face, and it feels like it's restoring moisture to my skin. I also just love aesthetically pleasing bottles, and the serum specifically feels nice to hold and look at.
How to Use the Glow Recipe Avocado Ceramide Cleanser and Recovery Serum
The cleanser can be used morning and night. All you need is a pea-size drop to wash your face (I usually suds my neck, as well). The serum should be used before your moisturizer by dispensing one to two pumps onto a slightly damp face and neck. You can apply it daily, both in the morning and at night.
Rating:
Image Source: POPSUGAr Photography / Chiara Gero