When it comes to decorating the space above your bed, sometimes it's easier said than done, and your bedroom wall winds up bare for a solid chunk of time (hey, we've all been there). However, if you are looking to up the creative edge of your bedroom and make your bed the focal point of the room, a little "oomph" over the bed never hurt. Lucky for you, we've found a handful of creative solutions for above-the-bed decor that are worth saving to your Pinterest board. From framed art pieces to macrame wall hangings to string lights galore, these ideas are perfect for both a bedroom or dorm room (some ideas you can even DIY!). If you want a little inspo for your current living situation, have a look at the 12 aesthetically pleasing bedroom pictures we adore, ahead.
— Additional reporting by Haley Lyndes
01
Wall Shelf
Draw eyes directly to your bed with a wall shelf that provides storage and room for plenty of decorations. From art pieces to plants to books to small little trinkets, there are so many ways to make a wall shelf eye-catching.
02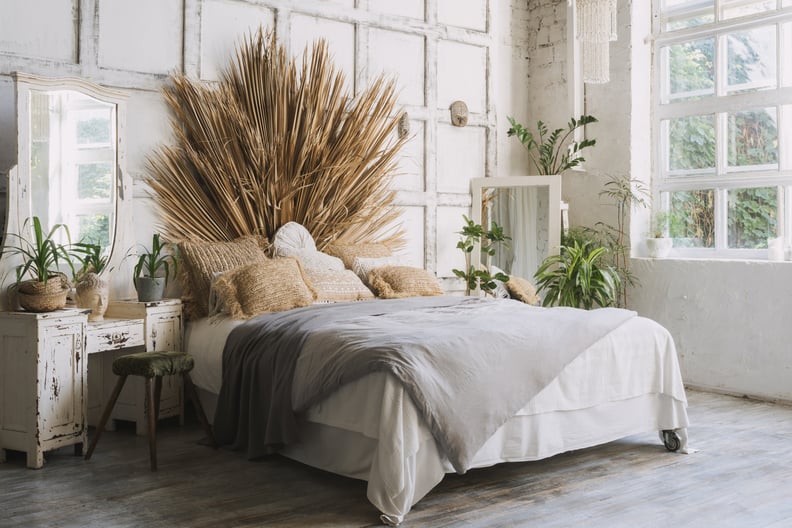 A Unique Headboard
If you can have a headboard behind your bed, why not do it? There are so many headboards on the market that have interesting details, and they are anything but boring. As a result, your room will look more put together with an anchor piece for eyes to look at.
03
Framed Art Pieces
It's no surprise that art is a great way to jazz up bare walls, and you bet you can do this with the wall behind your bed. Whether it's two pieces or one solid piece that grabs your attention, framed art is never a bad way to go.
04
Mirror
Mirror mirror on the wall, who has the prettiest bedroom of them all? Yes, a mirror is a great over-the-bed option, and will oftentimes make your bedroom appear larger in size, too. This is great for dorms or bedrooms that feel tight or cramped.
05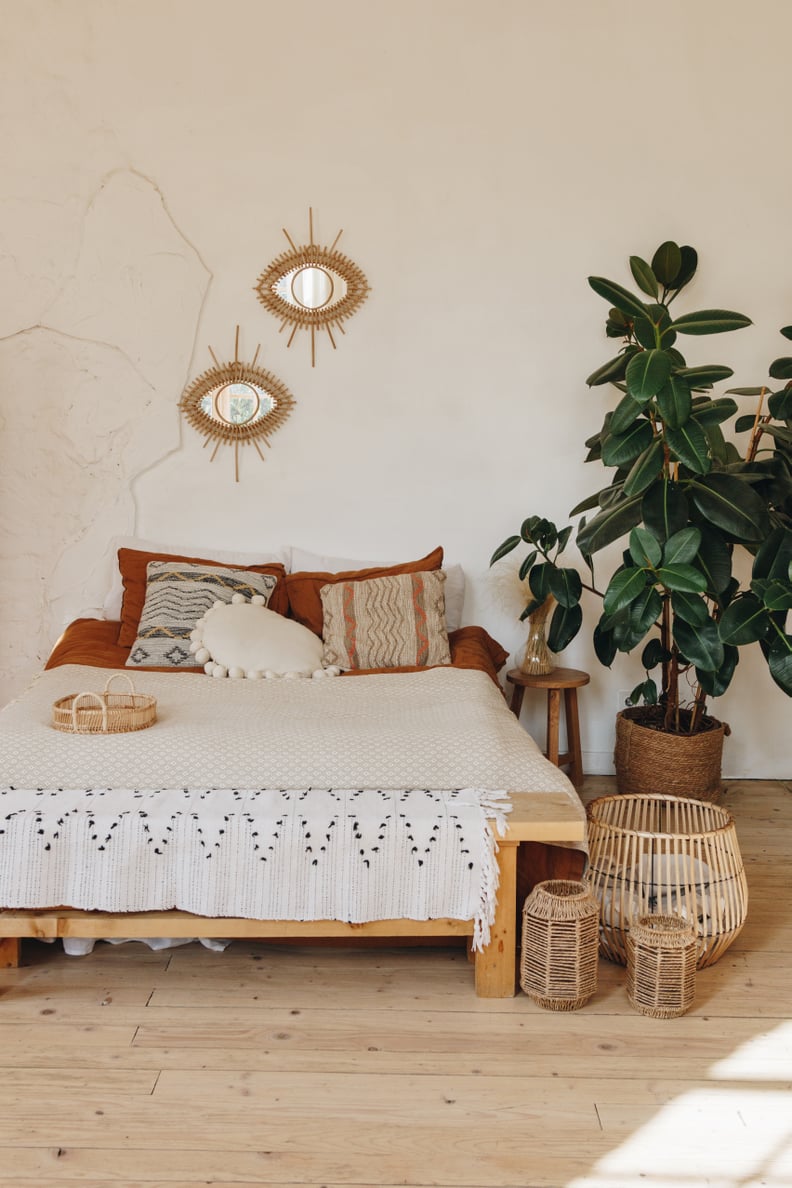 Decorative Art Pieces
While framed art is a great option, so are regular art pieces you can find browsing the internet (or local stores). From woven baskets to abstract objects, there's no limit to the art that's on the market. Get creative, shop around, and see what stands out the most to you.
06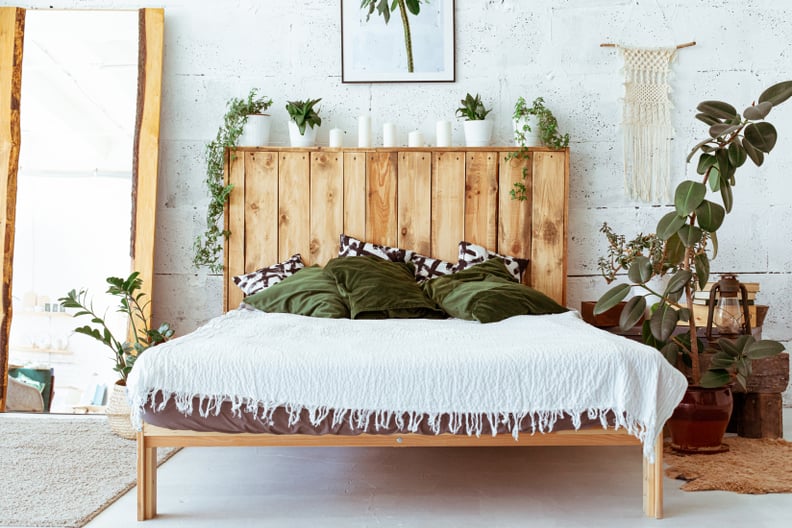 Plants
Greenery is a great way to bring a space to life, and if you have a shelf or headboard that can sustain a plant — use it to your advantage! From succulents to trailing plants, there are a whole bunch that you can choose from.
07
A Gallery Wall
Why just pick one art print when you can have a handful of them? Depending on how big the wall is above your bed, a gallery wall can be a great option. Choose to bring in different colors with your art pieces or stick to one theme — either way looks good!
08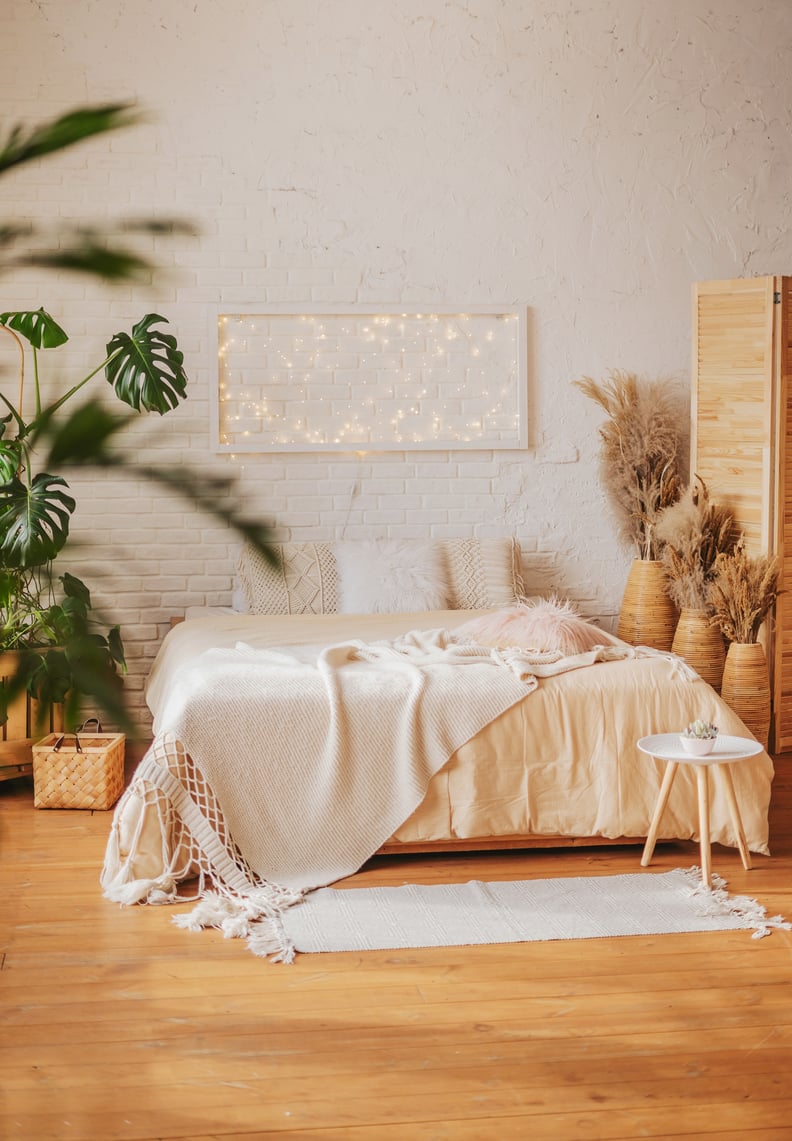 String Lights
Popular in college dorm rooms, string lights know how to set the mood and can easily be manipulated to hang however your heart desires. Bunch them up into a frame or string them loosely across your bedroom wall for a more relaxed feel.
09
A Canopy
If you want that dreamy bedroom aesthetic, a canopy can do no wrong! Drape it over the top of your bed and you won't have to do anything to the wall behind it.
10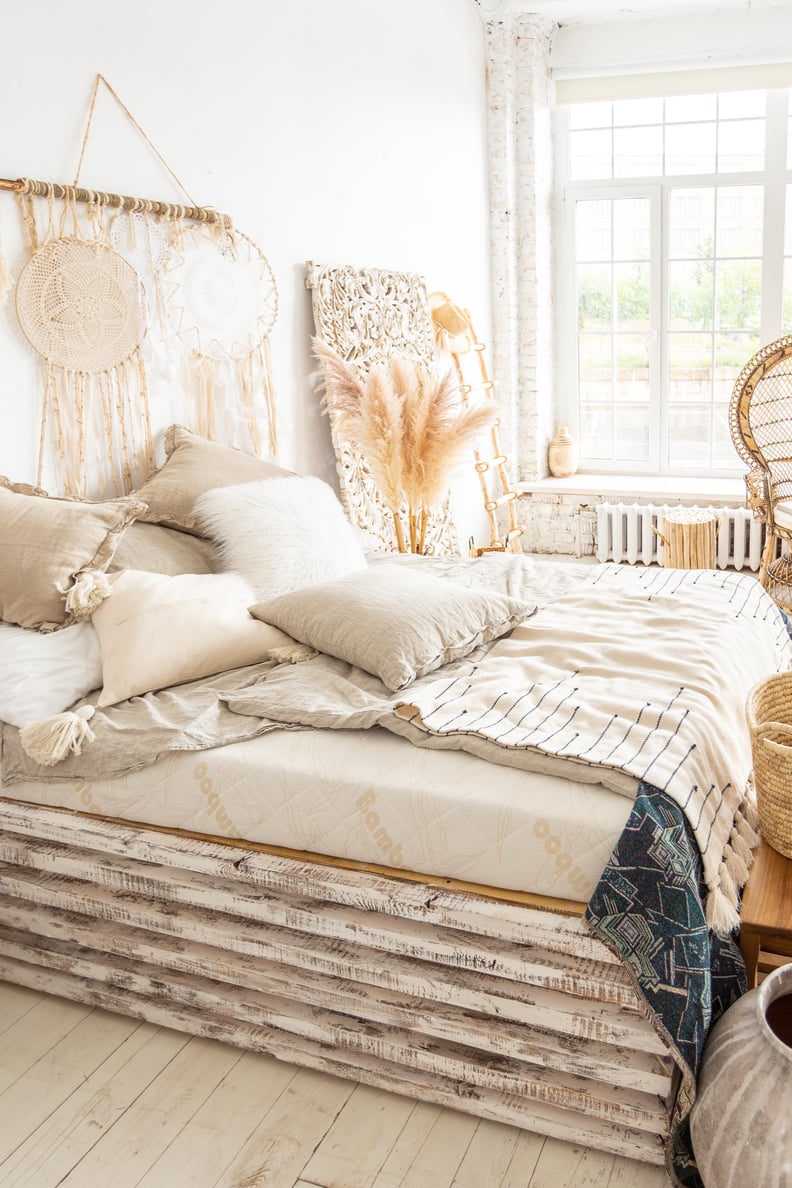 Macrame
There are so many macrame art pieces on the market, and they're easy to hang and play around with. Layer a few on your bedroom wall or stick to one piece you really adore. Macrame is the perfect way to add texture and give your bedroom a touch of boho.
11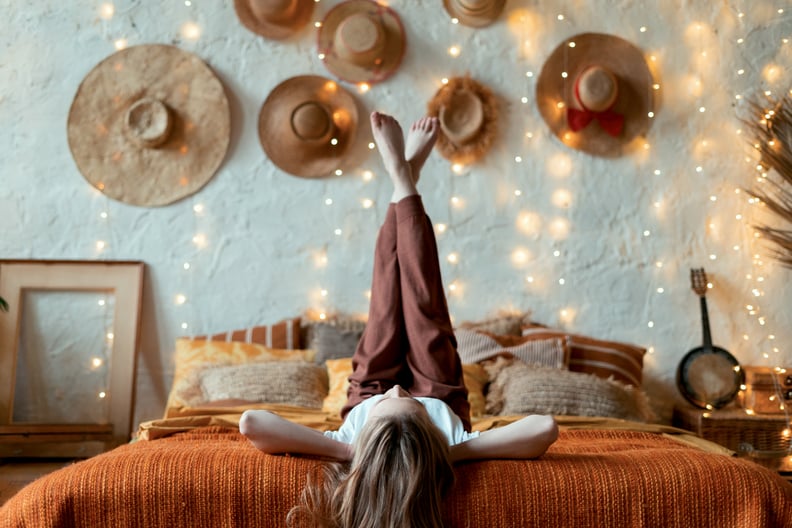 Hats
If you own an abundance of hats, they just so happen to double as great art pieces! Stick a bunch of command hooks on your wall and hang them there for future events — it's both practical and decorative.
12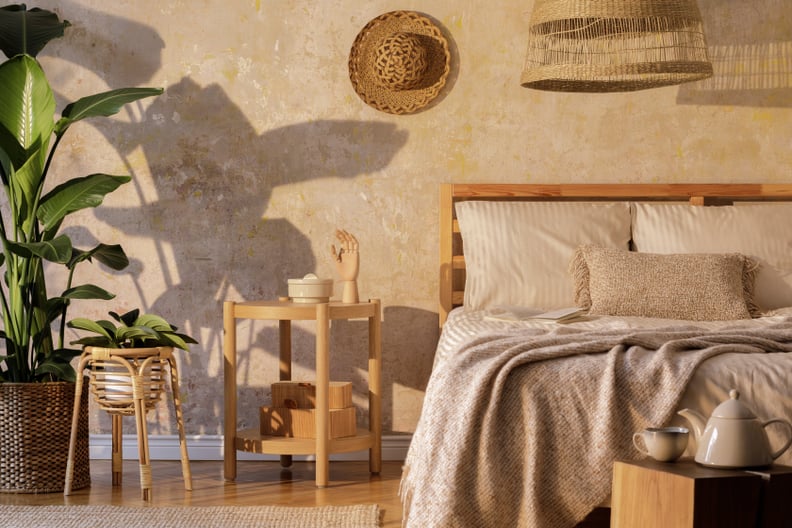 A Chandelier
Cover your wall with a show-stopping chandelier! Not only will it provide you with some extra light, but it'll also distract from a bare wall behind it.