Christmas Tree That Puts Up Itself
Save Your Sanity This Christmas With This Miraculous Tree That Puts Up Itself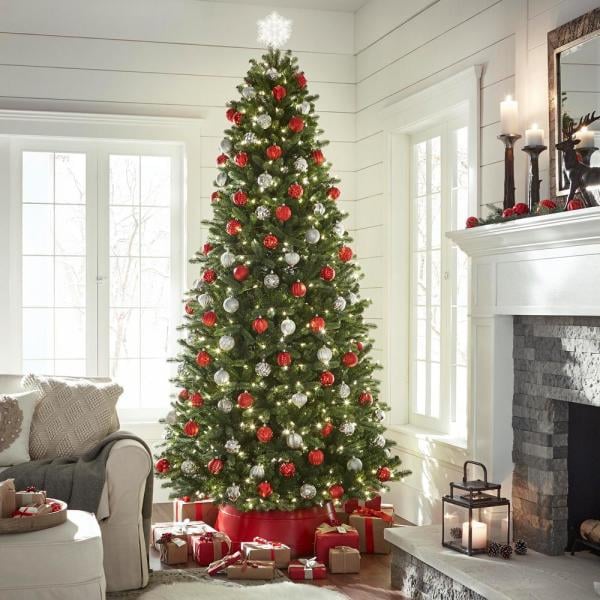 It's a struggle that many of us face every year: putting up the Christmas tree. Whether you assemble a faux tree or cut down your own evergreen every year, putting up the tree is rarely easy. From getting it in the right position in your living room to making sure it's straight to positioning the bare patches in the back, it's never a one-person job.
Christmas trees are an essential part of the holiday season for many families, so getting it right is important. Anyone who has done battle with a Christmas tree is sure to appreciate a simpler option, especially if it's a Christmas tree that puts up itself!
The Adjustable Grow & Stow Christmas Tree ($580) could be the answer to your Christmas tree woes. By simply plugging into an electrical outlet, the branches expand at the touch of a button. The tree's height is adjustable between seven and nine feet, so whether you have a smaller space or a grand room, it's sure to fit. The base has wheels so it's easy to move around, and it has a foot pedal and remote control so you have complete control over where your tree goes and when it expands.
Unlike some fake Christmas trees, the Grow & Stow actually looks surprisingly real. It's bushy and full, and even the needles look realistic. It's also prelit with over 700 lights, which can be white or colorful depending on your decorating style. The prelit feature makes it so you don't have to worry about stringing your own lights or making sure the tree is evenly lit. Just add your favorite decorations and you're good to go.
Even worse than putting up a Christmas tree might be disassembling it after the holidays, but this one separates into just two parts and comes with a handy storage bag so you can tuck it away again in no time. Check out the video below to see how the tree springs to life!