Facts About HGTV's Good Bones
12 Fascinating Facts About HGTV's New Hit Show Good Bones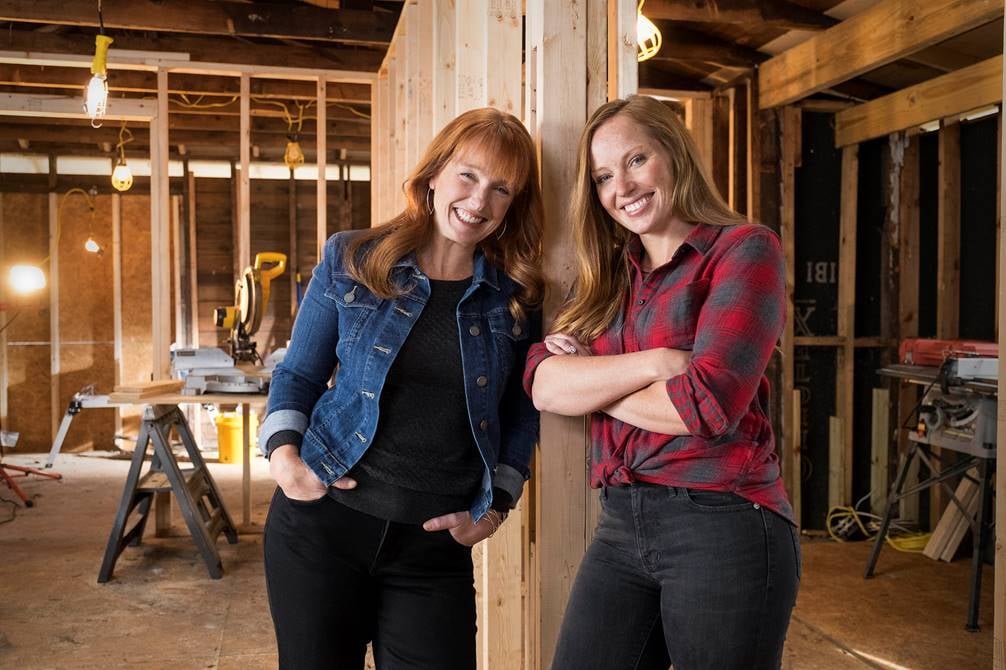 If you're one of the more than 14 million viewers who've tuned into the first season of HGTV's new home reno show Good Bones since it premiered in 2016, then you're probably already in love with the dynamic real estate duo of mother Karen E Laine and daughter Mina Starsiak. With a lot of sweat and a little help from their big family, these ladies are revitalizing their beloved city of Indianapolis one dilapidated house at a time — and they're having a whole lot of fun in the process. We had a chance to speak with the stars of Good Bones, which was just renewed for a third season, and we can vouch that they're as warm and playful in real life as they are on TV. Between Mina's hilarious quips and Karen's infectious laughter, here are 12 fascinating facts they shared:
1. A Casting Agent Discovered Them Through Their Facebook Page — but Mina Thought Her Call Was a Joke
Mina explained: "She kept calling my cellphone, and I thought it was someone messing with me first and trying to get our business information. But then I heard it was [a casting agent] . . . and we started a conversation about whether it was something we'd be interested in. We were like, 'Sound's like a party. Let's do it!'"
2. Renovating Houses Started as a Weekend Passion
Karen and Mina completed their first rehab in 2007, but they didn't think of it as a business until closer to 2009. "We had done our third or fourth project and we've just been growing slowly since then," Karen explained. Mina added, "Mom had a full-time job being an attorney and I also waited tables full-time, and then we did this on our days off and on the weekends."

3. Karen Always Knew They Would Make a Great HGTV Show
"Mom was cleaning out something and found a letter that she had written to HGTV years ago saying, 'You should make a show about us!'" Mina said. It seems Karen always knew that their life had all the makings of a hit show.

4. They Filmed Their Test Episode With a Flip-Cam
Good Bones might be a full-scale production now, but Mina and Karen filmed the very first episode themselves on a flip-cam. "They edited it beautifully and put it to music and sent it to HGTV," Mina explained. "[HGTV] picked us up for a pilot and that aired in May of last year." The show was then picked up for a full first season.

5. They Hail From a Humongous Blended Family
Mina is the second oldest of seven siblings ranging from ages 12 to 32. Mom Karen and Mina's father had three kids together. Then, Karen remarried and had Mina's sister, while her father went on to father four more kids in two subsequent marriages.
6. Karen Is a Lawyer
"I am still a practicing lawyer, I am sorta on sabbatical. I've gotten rid of most of my clients but I still have a few left," she explained. No doubt her legal know-how comes in handy with some of the business elements of the real estate industry.

7. Location and Price Are Paramount When Selecting Reno Homes
"If it's in our location, in one of our neighborhoods that we focus in, and it's less than $10,000, it's our house," Karen said. "We don't even need to go look at it. We'll just put in an offer and buy it."

8. They Describe Their Design Style as Vintage Contemporary
Karen and Mina try to maintain a house's original charm, while updating for contemporary times by opening up the space and adding functional touches. "When you go inside, we have very clean lines, we use all modern materials," Karen said. But she points out that their decor leans to the cozy and welcoming side. "Feeling homey to me feels vintage. No laced doilies on the arms of the couches, though — none of that," Karen joked.
9. They Support Local
The best thing about the job, according to Karen, is the opportunities the show has brought to their hometown. "We have this opportunity for local people to apply their trade and grow in their chosen career, which is a beautiful thing to watch." Meanwhile, Mina is thrilled that the show has given such exposure to Indiana and all the local shopping and dining it has to offer. "It's given people outside of the area a better picture of that Indi is actually a really cool city. So I also think it helped growth opportunities for other small businesses that way."
10. The Hardest Part About Being on HGTV Is Keeping Up With Business
You have to work at a high volume and fast clip to feature a new reno in all 12 episodes of the season. "I think our biggest challenge has been growing our business fast enough to meet the needs of HGTV," Karen said. "Mina will tell you that we put about $150,000-$180,000 into each house. So if we do 10 houses, that's $1.5 million to $1.8 million. And we didn't have that in our pockets, so that growth spurt was up."
11. They Were Recognized For the First Time at the State Fair — and It Was Great
"Our experience has been that the people we run into who see the show and like what we're doing are so nice. They're just so nice and they're just happy to meet us, but still normal. Nobody gets carried away and acts weird. Everyone's friendly. They're enthusiastic, they ask a few questions, we take a few pictures, and then we go on our way. So thank you very much to all the people who like us and watch us!" Karen said.
12. Good Bones Was Just Renewed For a Second Season
Go ahead, fall in love with Good Bones, because it's here to stay a while. HGTV just renewed the series for a 12-episode second season slated for January 2017. Until then, you can enjoy the currently airing first season Tuesday nights 10 p.m. ET/PT on HGTV.