Facts About Hamilton's Set Design
12 Fascinating Facts About Hamilton's Set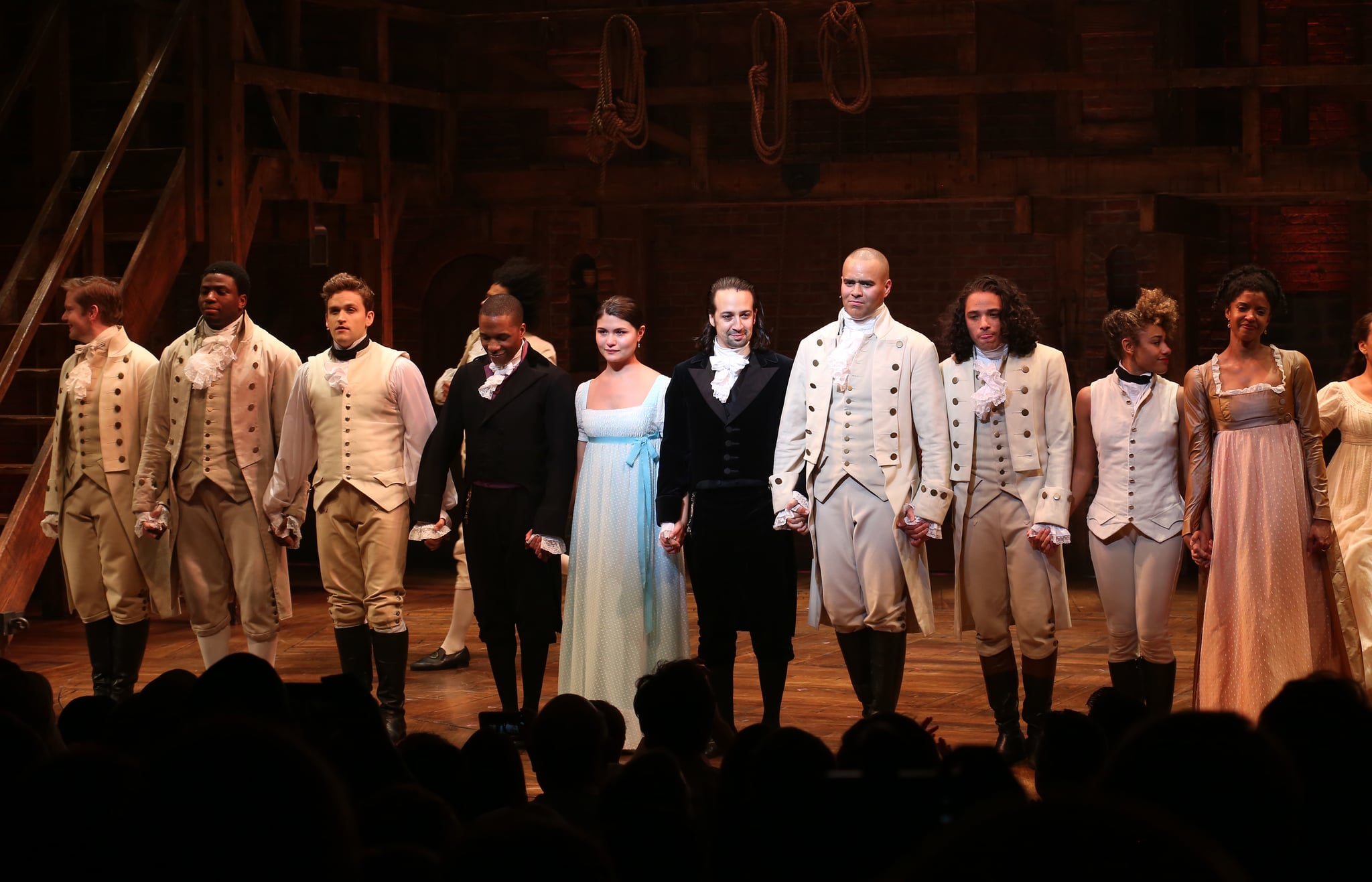 Broadway musical Hamilton didn't need to win 11 Tony Awards for us to appreciate its greatness. In addition to irresistible music and a crazy-talented cast, the historical musical's success is due in part to another major production element that you may have overlooked: the set. By definition, the set is the background, but in practice it's the foundation for all storytelling. We spoke to the Tony-nominated set designer David Korins, founder and principal designer of David Korins Design, to get the inside scoop. Check out what he had to say about the design process and set details below.
1. It Was Clear This Was Something Special From the Start
David is no novice when it comes to set design. He's worked with the likes of superstars like Kanye West and Mariah Carey and on major musicals like Annie and Godspell, so he knows a hit when he sees it – and when he saw Hamilton, he knew it would something big. "When I got the script and the music, I really responded to it," he told us. "No one would ever really know that it was going to be this juggernaut, crazy hit that it has become, but I knew that I responded to it in a very deep and profound way."
2. Hamilton Set Designer Was a Hard Job to Get
When you have a résumé like David's, jobs are usually placed directly in your lap, but getting Hamilton was a process. David spoke to show creator and star Lin-Manuel Miranda early on in the show's development to express his interest in designing the show's sets. "They called me in for an interview, which was kind of interesting given I had worked with them all several times," he says, referring Lin-Manuel, director Thomas Kail, choreographer Andy Blankenbuehler, and orchestrator Alex Lacamoire. David didn't mess around, putting in extensive preparation for the interview. "I did a theme breakdown, I read the show several times, I listened to it several times over, I did research, I did drawings, I did sketches. I did tons of work for it. And I literally sat in the meeting with Tommy and I said, 'Listen, I'm like James Madison to your Thomas Jefferson.' I was just drawing parallels between us and the Founding Fathers, and I finally said, 'You gotta give me the shot,'" he explains, laughing at his own earnestness.
3. A Brand-New Show Presents Unique Set Design Challenges
It turned out getting the gig was the easy party. "It's sort of like be careful what you wish for — I realized this is not a revival of a show, there's no blueprint or any kind of framework for what the design and the entire environment should be," David explains. "When we had our first design meeting, Lin sat down and was like, 'I have no idea what this thing should look like. I have no idea how it should move; I have no idea how we should transition from one scene to another; I don't have any preconceived notions and I trust you guys and I can't wait to see what we all come up with.' And so we kind of looked in each other's eyes and jumped off this artistic cliff together, and it was an amazing feeling," says David.
4. There's Added Pressure When Working on Something This Good
David felt more than just the pressure of creating a great set. "I was terrified because I really felt a huge responsibility for the profundity of what this work was. I really felt like it was a staggering work of genius, and I just felt like 'Oh gosh, I can't mess this thing up,'" admits David.
5. 3 Decades of History Are Squeezed Onto 1 Stage
Talk about a tight fit — David had to design a single set nimble enough to convey multiple time frames. "It was about how to wrestle 30 years of time period including space and time travel," says David. "There's some songs that take place in the blink of an eye, and there's some songs that take place over several weeks."

6. A Literal Design Concept Was Never an Option
"I knew right away we were never going to serve this narrative with realistic locations, that we were going to have to come up with some sort of theatrical metaphor," says David. "It was just more about which one to choose and how to go about it so that we could really serve this huge expanse of time in a clean and kind of clear way."
7. Real-Life Historical Locations Provided Inspiration
While the set isn't literal, it draws inspiration from actual places. "One of the cool things about Hamilton is almost every single location is one that you can research and find actual visual support for, whether it's on the internet or in history books, or if the actual location still exists," says David. "We did a lot of research in my office, getting everything from what the Schuyler Home actually looked like to what it looked like in New York City in 1781 and 1776. And we put it all up on a big huge board on a wall in my office, and we picked and chose."

8. The Set Was Almost Super Modern
It's hard to imagine Hamilton any other way, but the set was almost completely different from what's seen on stage today. "We had a couple moments where we thought, 'Oh, we're going to do this thing in a hypermodern way, or we're going to do this thing on a big huge piece of parchment with a quill sticking out of it,'" reveals David. "We had so many terrible ideas that we started with, and in a way, writing is rewriting. It's been so interesting and inspiring watching Lin rewrite over these past five or six years, and I've just been redesigning right along with him, kind of refining and kind of pulling the storytelling and the narrative tighter and tighter and tighter."
9. The Set Design Complements the Choreography
Even when watching closely, it's sometimes hard to tell if what the actors are doing is a function of the set or a function of choreography. "We work with design in very overt ways, like the two turntables on the floor – when they are moving, you obviously know that the scenery is at work and the set design is at work – but I'm so proud of how I have seamlessly integrated my work with Andy Blankenbuehler, the choreographer's, work so that people don't really know — is that the dancing or is that the set?" explains David.
10. It's Easy to Overlook Some of the Ingenious Ways the Set Tells the Story
You probably missed some of the subtle yet shrewd ways the set creates a tone and advances the plot; for example, the walls grow in height at intermission because the progress of the country is happening. He explains, "The walls grow to eight feet tall and we change out all the props from utilitarian, war-like instruments to more refined, scholarly things. No one really notices that, except that I think subconsciously it has weight."
11. It Took 33 Variations of Brick Color to Find the Perfect One
No detail went unconsidered. "We went through 33 different variations of brick color and wood color for the set to look perfect with the costumes and with the skin tones of our performers," David explains. "We did so much work just so someone could say, 'Okay, that's brick.'"
12. It's No Accident the Production Is So Polished
"I'm really, really proud of how cohesive it is with Paul Tazewell's costumes and Nevin Steinberg's sound and Howell Binkley's lighting," David says. "You would think that we spent every single second of every day in a meeting talking about this, and in fact we spent an awful lot of time together. So all that kind of gets thrown into a stew."