Hygge Interior Design
A Design Pro Shares 7 Easy Ways to Bring More Hygge Into Your Home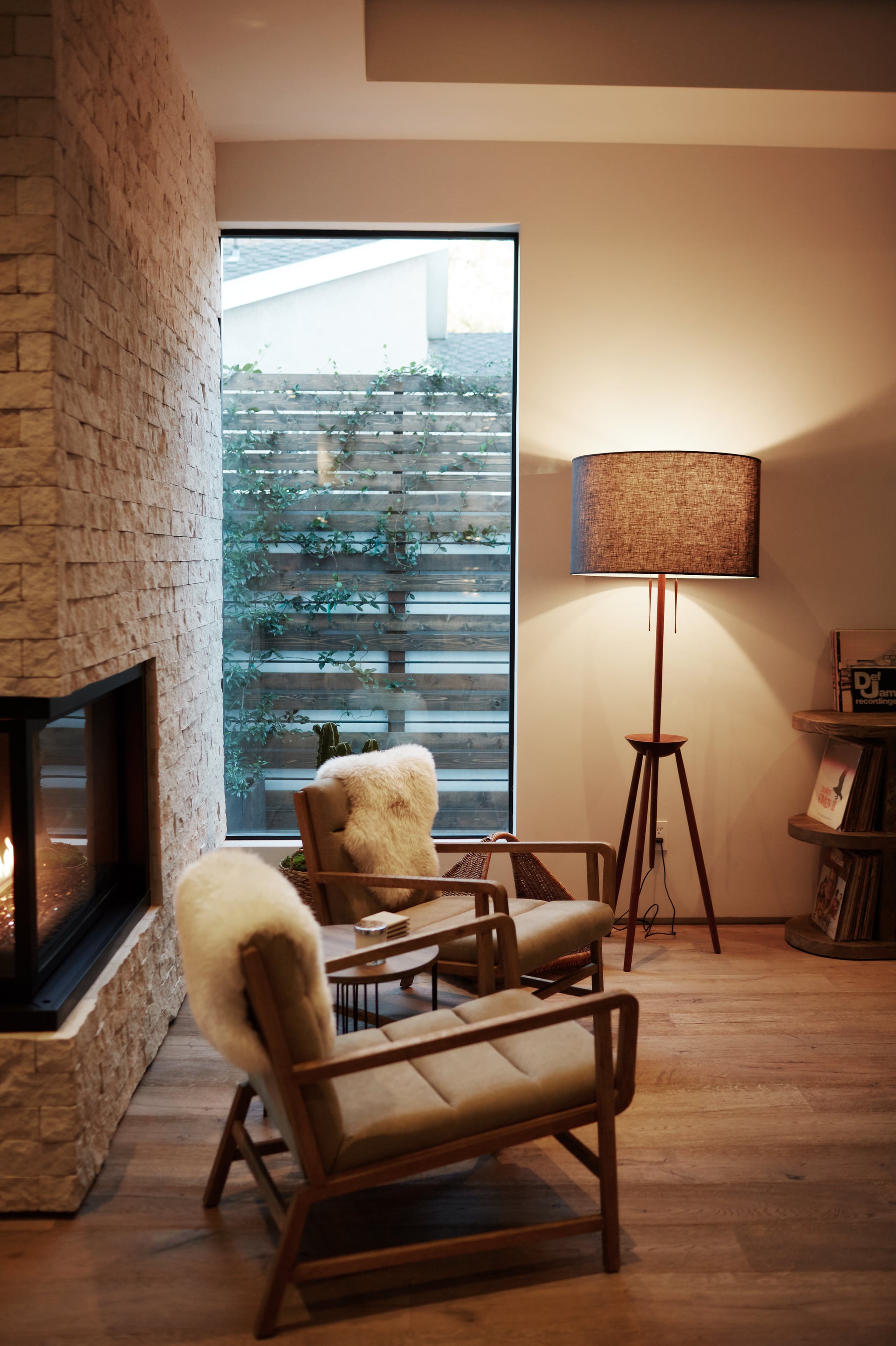 In the past we've been content just to make our homes cozy for Winter, but this year we're going a step farther and doing it the chic Danish way by bringing hygge — pronounced "hoo-gah" — into our living spaces. Hygge is the positive, Scandinavian approach to cozy Winter living originating in Denmark, and it's one of the hottest home trends right now.
So how can you make your home hygge? DIY Network star and Pine Mountain expert Jason Cameron filled POPSUGAR in on seven easy hygge interior design updates this season. Check them out in his words below.
1. Make Over Your Fireplace
"Winter is the season hygge thrives in most with people spending time by their fireplaces. Fireplaces have come a long way since the traditional red brick and concrete. To achieve a contemporary look, replace dated brick with a metal surround. It's also easier than ever to use your fireplace without making a mess with the ExtremeStart™ Firestarter from Pine Mountain®, as the fire starter is designed to use while staying in the wrapper. All I need to do is light it at the indications on the wrapper and I have a perfect fire started in minutes."

2. Make a Relaxation Station
"If hygge is not naturally incorporated in your home's decor, create an area that feels like it is separate from your hectic life to call your 'relaxation station.' Set up a cozy space in your living room with your favorite throws and even consider setting a half-hour appointment on your phone's calendar so you have no excuses to have 'me time.' I personally make it a point to carve out time on a Sunday afternoon, whether it is to watch a football game or read a book."

3. Incorporate Woodsy Smells
"Many overlook sense of smell as a design element. Smell can trigger an association to a certain memory or feeling and it is simple to add into any room if you do it the right way. I usually keep firewood stacked by my fireplace during the Winter months, but instead of plain firewood, you can add in a few American Home™ by Yankee Candle® Balsam Fir Firelogs. They fill the room with the scent of fresh balsam fir and evoke that feeling of coziness."

4. Create a Focal Point
"For those without a fireplace to gather around, it's important to make sure your living room layout is welcoming. This can easily be done by rearranging your furniture pieces so that they have the same focal point, whether it be a television, coffee table, or even a bookcase. Usually placing your furniture pieces in a semicircle shape can achieve this. When your living room is designed this way, you'll notice that you want to gather there more, as it allows conversation to flow more naturally and the layout is more relaxed than a square formation."

5. Bring the Outdoors In
"Images associated with hygge are snowy mountains, log cabins, and sitting fireside with friends. While it might be difficult to escape to the mountains, it's more attainable to bring the outdoors inside by adding subtle outdoorsy design pieces. Adding wood-paneled walls or using earth tones throughout your space can create a rustic, log-cabin feel in your home. If you're interested in a larger design project, wood ceiling beams are becoming more popular installations in living and dining rooms."

6. Gather 'Round the Bar
"During the Winter, I find myself wanting to stay in more than adventuring out. If you feel the same, a hygge DIY project I recommend is building a classic wooden bar using walnut or distressed wood to achieve a rustic look. A bar embraces the part of the hygge trend that encourages you to create an environment to enjoy everyday experiences and gather with friends."

7. Design a Backyard Retreat
"Hygge is not just for indoor living, but outdoor living as well. A firepit was ranked the No. 1 backyard accessory, according to a recent survey from Pine Mountain, and is a simple element to add to any backyard to achieve coziness and encourage people to gather. Other features, such as a stacked stone waterfall or wooden furniture, can be added to help evoke the feeling of a retreat without having to leave the comfort of home."
Image Source: POPSUGAR Photography / Sheila Gim