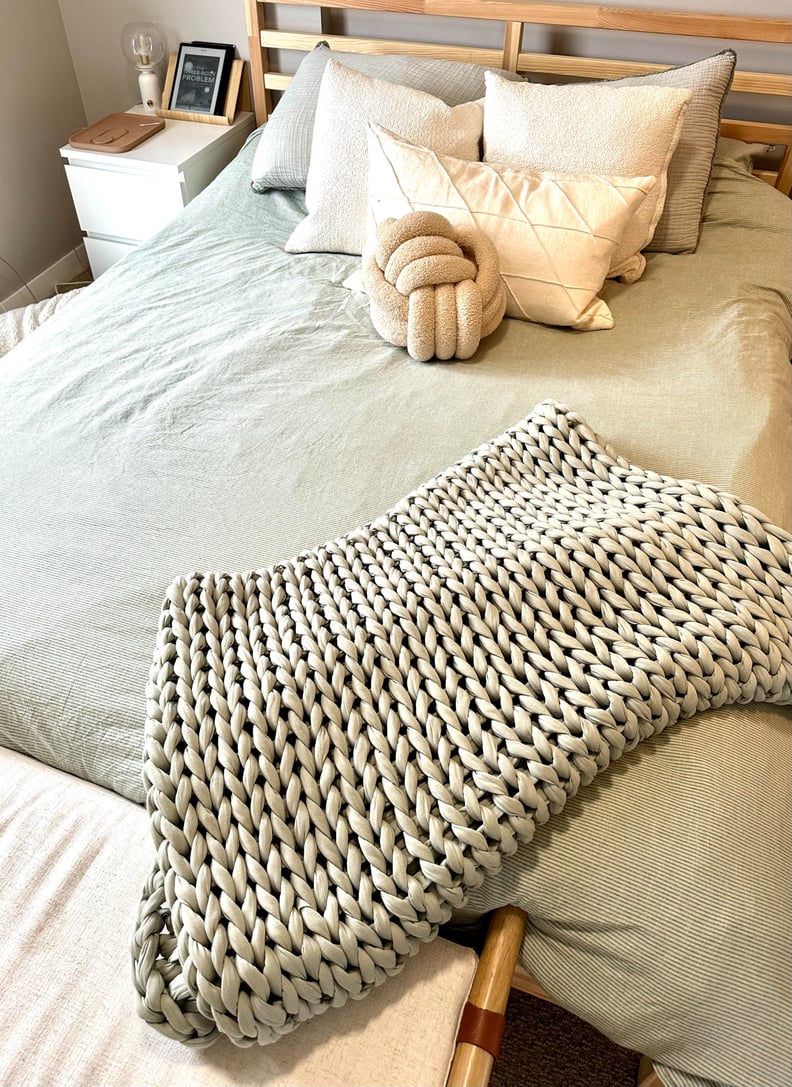 POPSUGAR Photography | Marisa Petrarca
POPSUGAR Photography | Marisa Petrarca
As POPSUGAR editors, we independently select and write about stuff we love and think you'll like too. If you buy a product we have recommended, we may receive affiliate commission, which in turn supports our work.
Long before I got my hands on the Bearaby Cotton Napper ($249), I wanted it in my life. The idea of a weighted blanket exuded pure luxury, but truth be told, I struggled to rationalize the steep price. I questioned how a blanket could genuinely justify such a cost. However, as I delved deeper into the scientific aspects of weighted blankets and their role in deep pressure therapy (DPT) — shown to alleviate stress and anxiety — I found myself increasingly convinced I had to own one.
Being someone constantly in search of ways to reduce stress and treat my body kindly, I was confident that a weighted blanket would complement my admittedly elaborate nighttime routine. (This includes taking a magnesium supplement, dozing off with my Helight Red Light lamp, and now: laying the Bearaby Cotton Napper on top of my comforter. Ahead, I dive into why getting one has improved my sleep routine.
What I Love About the Bearaby Knitted Weighted Blanket
One thing I adore about the Bearaby Cotton Napper is its knitted design, which is not only aesthetically pleasing but provides a cooling effect. It's made of 95 percent organic cotton and features an open-weaved texture, making it ultra-breathable.
I also appreciate there isn't an inner layer of beads or sand. (These are two material options commonly used by brands to make their blankets heavy.) Each Bearaby blanket is hand-knit and devoid of artificial fillers, and the layered, thick knit contributes to its weight. This construction ensures an even weight distribution, a benefit not guaranteed with other filler types. Equally significant for me is its machine-washable nature. Without that feature, I'm not sure I could deem it practical.
Last but certainly not least, the Bearaby Weighted Blanket has become crucial to my sleep routine. While I can only attest to this anecdotally, the sense of relaxation I feel when snuggled up in this blanket after a long, busy day is undeniable. I now appreciate why DPT is studied for its anxiety-relieving properties, as it has a definite impact on my sense of calm.
What's Worth Noting About the Bearaby Knitted Weighted Blanket
When caring for your Bearaby Cotton Napper, it's important to follow the brand's washing instructions. The recommended method is to wash it on its own on cold on a delicate cycle and then tumble-dry it on a low setting. Due to its weight and thickness, it may require a few cycles to fully dry (it took two for me, so patience is key). And before washing, always check your machine's weight capacity to avoid any issues.
Another element to think about is choosing the right weight for you. The Bearaby Cotton Napper comes in four weights: 10, 15, 20, and 25. The brand conveniently has a quiz on its website to help you figure out which weight is best for you. They ask for your weight and "snuggle preference" (i.e., breathable and cool, warm and cozy, or somewhere in between) to calculate your ideal suggestion. According to the brand, the recommended weight for adults ranges from 10 to 25 pounds, while for children, it ranges from six to eight pounds.
Who Is the Bearaby Knitted Weighted Blanket Best For?
The Bearaby Cotton Napper is best for those looking for a wellness-focused way to wind down at the end of the day and fall asleep with ease. Not only that, but it's an aesthetically pleasing piece of home decor that'll complement your space.
Additional Details About the Bearaby Knitted Weighted Blanket
The Bearaby Cotton Napper comes in several colors, outlined in the following slides.
It's available via Amazon Prime for two-day shipping and direct-to-consumer on the brand's website.
Its materials are Organic Content Standard (OCS), OEKO-TEX® 100 and Fairtrade International certified.
Rating:
★★★★★