Design Experts Predict the 6 Trendiest Bathroom Paint Shades For 2017
We all know the saying that pops up once the clock strikes twelve: new year, new you! And while we totally support this philosophy, it doesn't just apply to resolutions, eating better, or getting more exercise. Why not take this attitude of a fresh start and finally transform those areas of your home you've been wanting to change for some time? And what better place to start than a simple bathroom makeover for a brand-new and exciting welcome to 2017!? A paint color change is one of the most powerful ways to make a statement, and we have the inside scoop on the trendiest (and boldest) looks for the upcoming year. Read on for the six most desired bathroom paint colors, hand-selected from some of our favorite design experts that will take you one step closer to a happier, more revived home.
Unique Grays
Kristy from My Design Chic predicts a more neutral gray tone will be extra popular for bathrooms in the New Year. She specifically recommends Sherwin-Williams's Unique Gray as a favorite. She explains, "Grays can go a little bit cool, but this shade feels warm and soothing." Kristy also notes that for the New Year, it is important to wind down from hectic schedules and take some time to relax. "That is easier [to do] when your own bathroom feels like a sanctuary."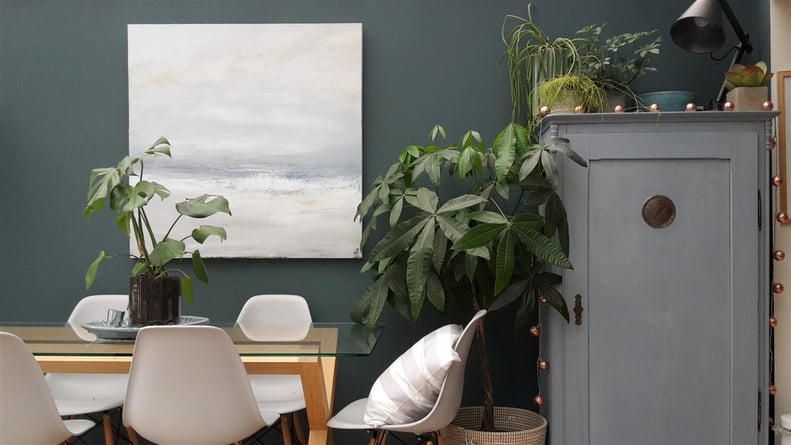 Deep, Dramatic Blues
Our friends at Greige Design foresee richer shades of blue being the perfect complement to a bathroom design in 2017, especially Farrow & Ball's Inchrya Blue. They note that this shade is a wonderful alternative to a standard gray or black "because it can look blue, green, or even gray depending on the light." They also suggest pairing this shade with gold or nickel hardware for an elevated finish.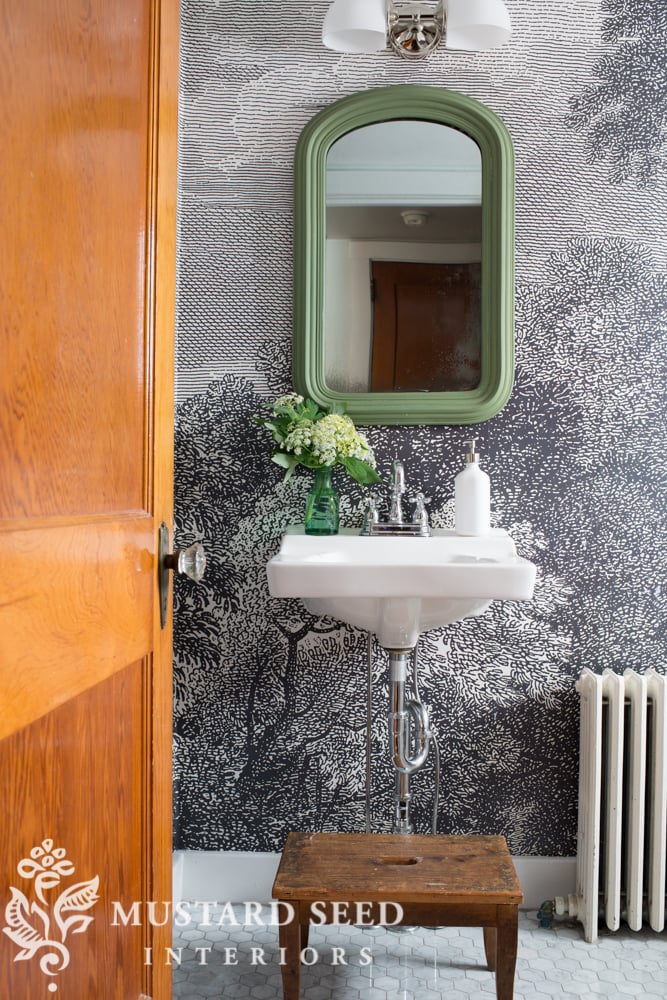 Wallpaper!
Marian from Miss Mustard Seed has a whole new vision for bathrooms in the New Year, and suggests swapping out those paint chips for none other than some snazzy wallpaper! She especially gravitates toward "wallpaper that is either graphic, modern, or classic like toile or a mural." And since bathrooms are typically a smaller space in our homes, it is the "perfect room to go bold and experiment with color and pattern."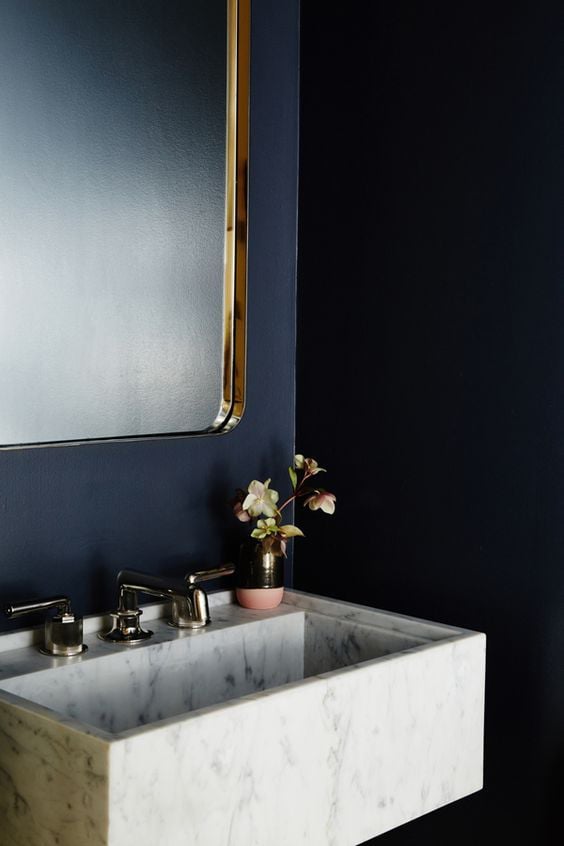 Bold Navy Blues
Coco from Cococozy suggests creating a moody vibe for your bathroom in 2017 with a deep navy blue. "Wrapping a room in navy creates the effect of diminishing edges," she says, "which can open up even the smallest spaces. Why not pamper yourself in a room that reflects a soothing sense of elegance?" Plus, Coco also notes that this rich hue creates a wonderful calming effect that is perfect for getting ready at the start of each and every day.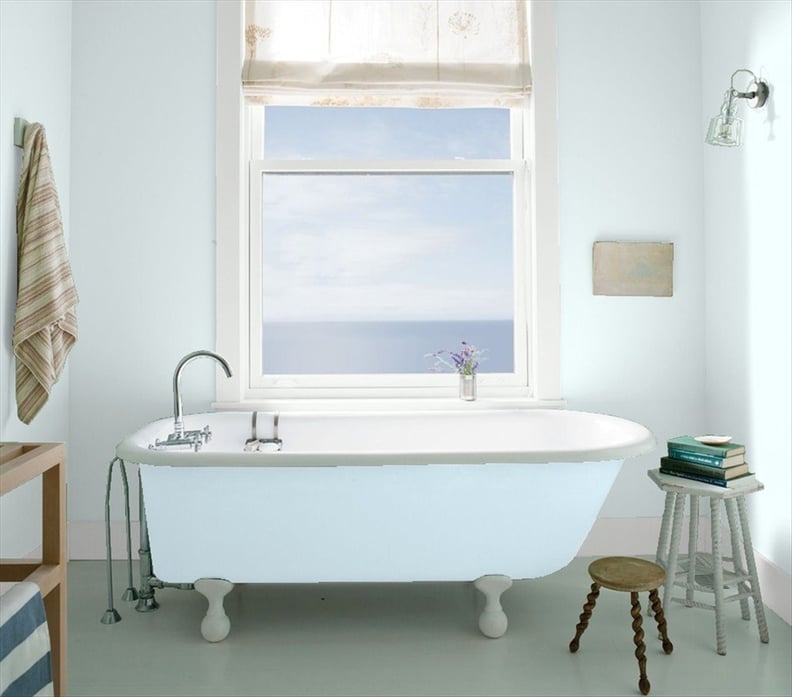 Soft, Soothing Blues
Lisa from Lisa Mende Design suggests keeping it cooler in 2017 with soothing and serene shades of blue. She notes that Benjamin Moore's Iceberg Blue is specifically a great choice since it is "soft and silvery, [and creates] a relaxing spa-like atmosphere for a bathroom." And there truly is nothing better than evoking a relaxing vibe for one of your most special spaces.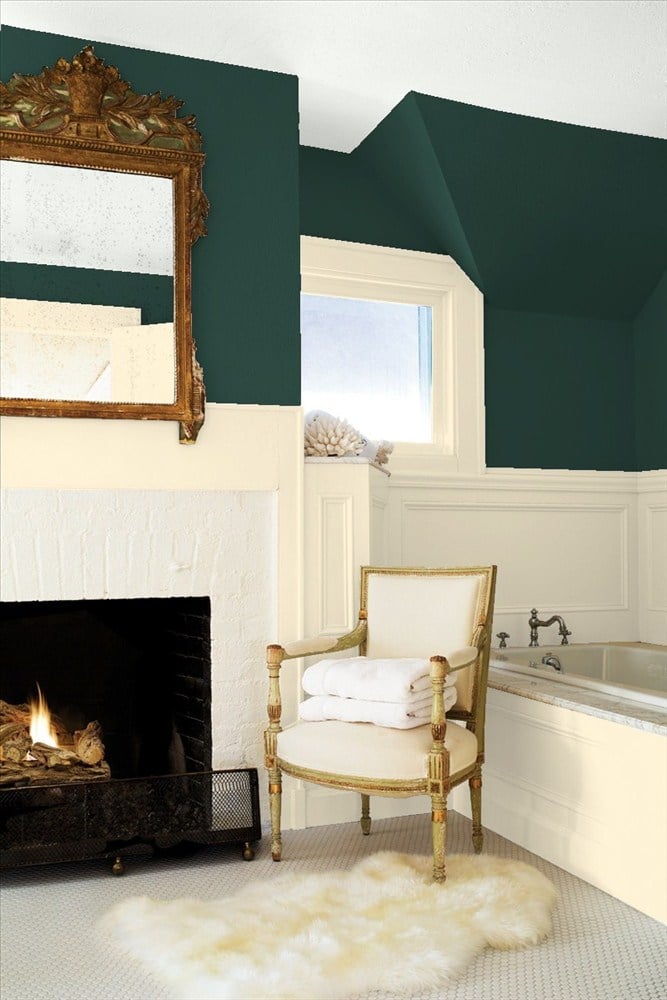 Hunter Greens
Jessica from Oh, I Design is in full support of a hunter green hue for bathrooms this year. She explains, "We saw a lot of navy in 2016, and I think this year there's going to be a rise in the rich, moody greens." She is especially a fan of Benjamin Moore's Hunter Green, and reminds us that the bathroom is just the right space to experiment with color palettes that may be outside of your typical design comfort zone.