As POPSUGAR editors, we independently select and write about stuff we love and think you'll like too. If you buy a product we have recommended, we may receive affiliate commission, which in turn supports our work.
Target is one of our favorite retailers for all things home, from outdoor furniture and comfortable couches to smaller items like what we're here to discuss: its highly coveted candles. They not only smell incredible but also double as home decor, come in all shapes and sizes, and boast fair price tags across the board. You're likely familiar with them; after all, many of the brand's candles are so well-loved that they've gone viral on social media, with comparisons to high-end candles and, in some instances, your favorite body-care products.
The brand is also exceptionally skilled in its diverse candle offerings, from seasonal scents to timeless ones. Right now, everyone's buzzing about its fall candles. They're making waves for their festive notes and unique designs (just wait until you see all the different pumpkin-shaped offerings). From earthy scents like pine and sage to decadent ones like cinnamon muffins and pumpkin pie, there's a candle that'll warm up any room of the house. Keep scrolling for a curation of our 10 favorite candles from Target to shop for the fall season — starting at $10.
01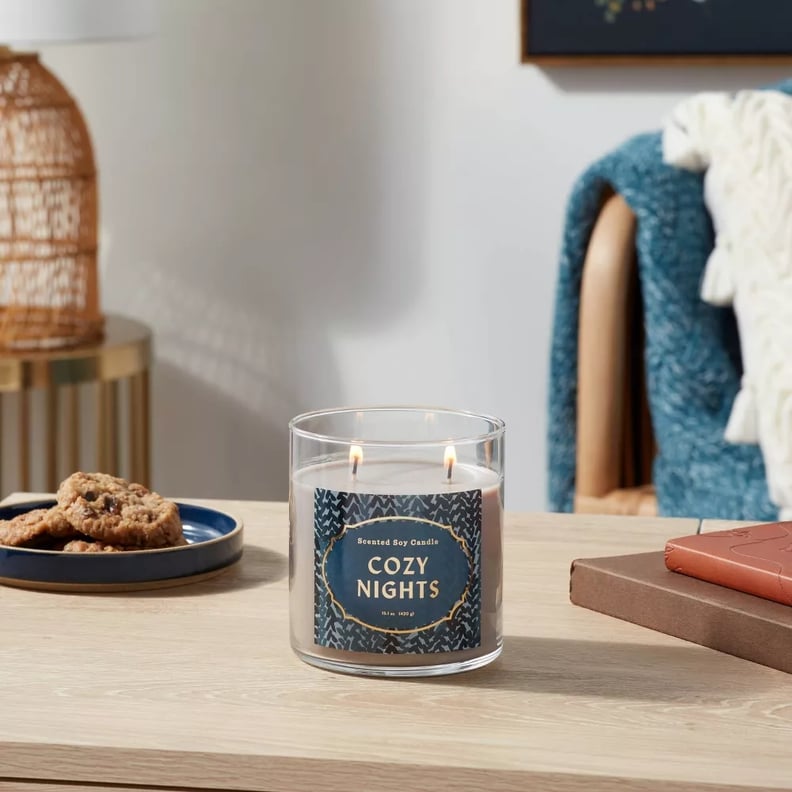 Best Cozy Candle
Opalhouse Lidded Glass Jar Candle Cozy Nights ($10)
This cozy candle is the number one bestseller among Target's offerings. Its scent profile combines woody tobacco, sweet caramel, and citrusy bergamot. It's the perfect choice for an unconventional autumn fragrance that stands apart from the usual apple, cinnamon, or pumpkin scents, and it's still captivating and soothing.
02
Best Ceramic Candle
03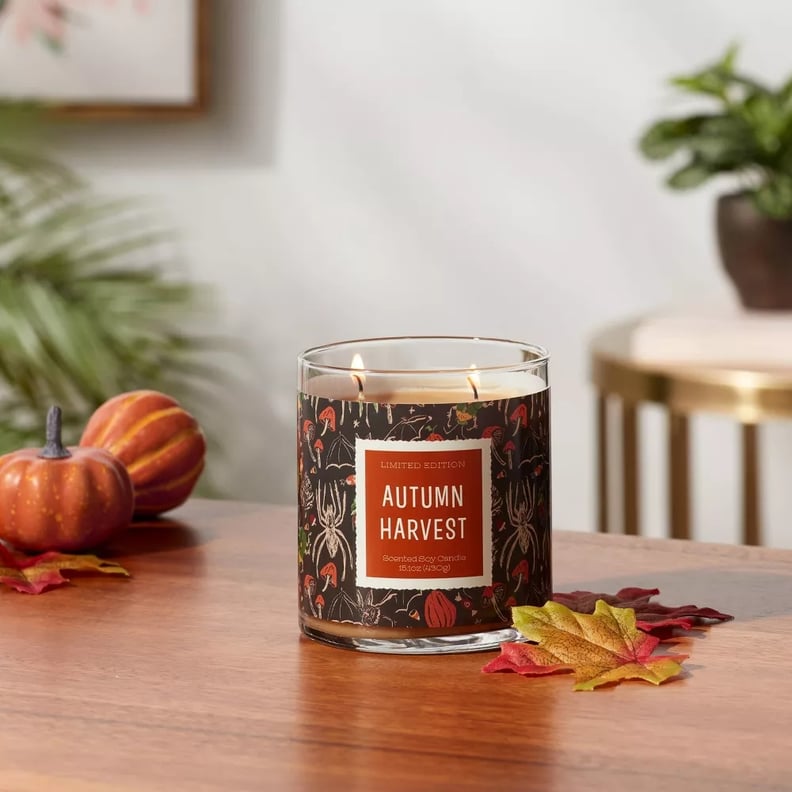 Best Halloween Candle
Opalhouse 2-Wick Lidded Glass Jar Autumn Harvest Candle ($10)
Cinnamon and chestnut are the standout notes of this autumn harvest candle, with a nearly perfect five-star rating on Target's website. The outer portion of the glass jar is decorated with creepy critters, pumpkins, and candy corn for Halloween, and it's limited edition, so you ought to scoop it up while it's still around.
04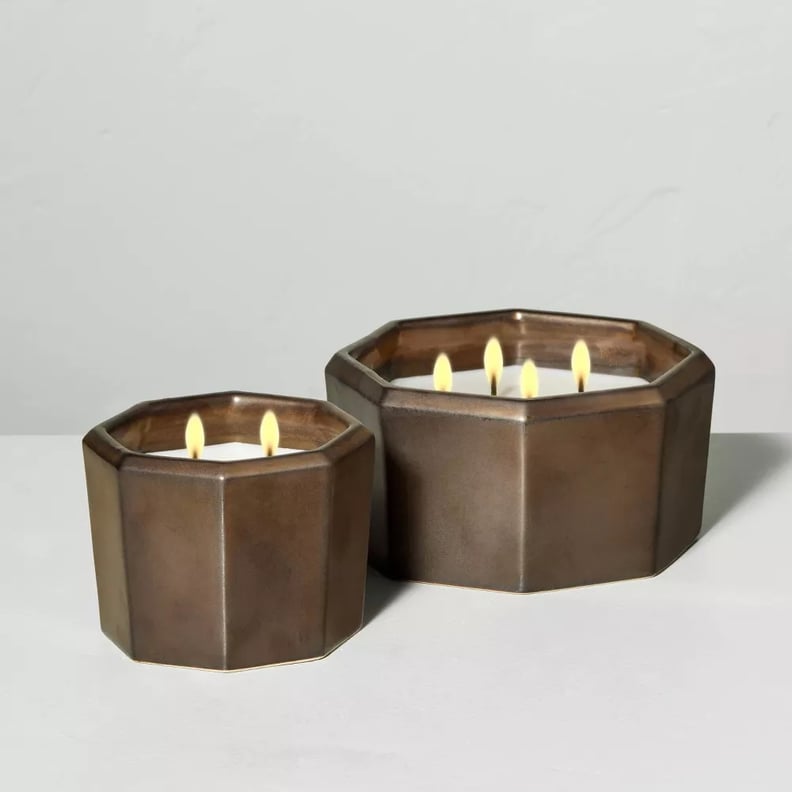 Best Octagon Candle
Hearth & Hand With Magnolia Octagonal Ceramic Salted Honey Fall Jar Candle ($15)
While we're enthusiastic about the Target candles that have striking names and vibrant, patterned containers, there's an undeniable charm in the simplicity of this octagonal ceramic jar. It has a metallic bronze finish and emanates a blend of honey and sea salt that shoppers have compared to the smell of Sol de Janeiro Brazilian Bum Bum Cream. Choose from two sizes: 10 ounces and 20 ounces.
05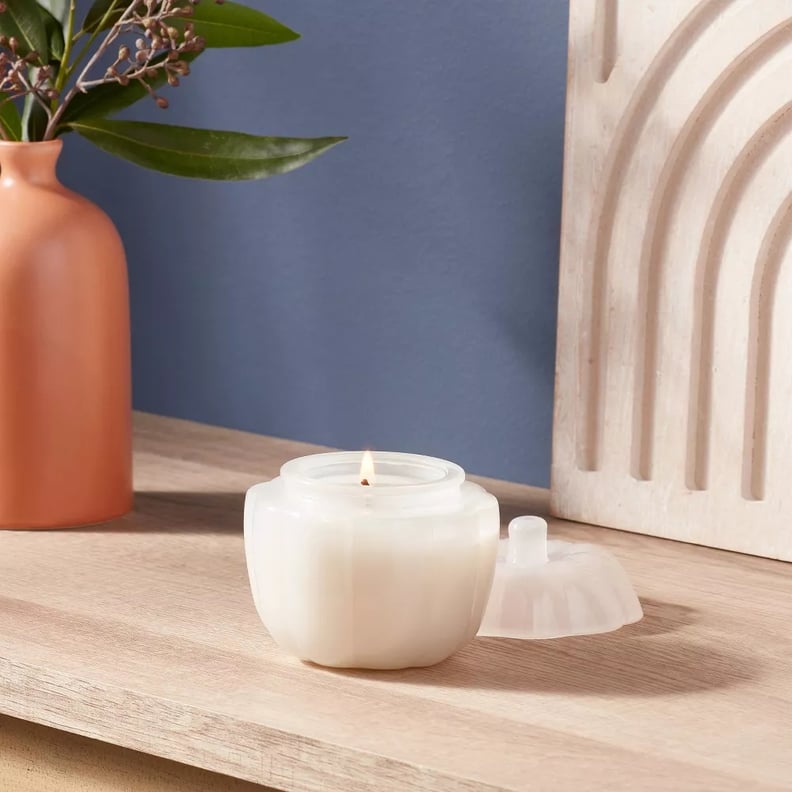 Best Pumpkin Candle
Threshold Glass Figural Pumpkin Vanilla Pumpkin ($5-$20)
There's so much to love about this candle, from its elegant, pumpkin-shaped glass container to its relaxing vanilla pumpkin scent. It comes in three different sizes — four ounces, 12 ounces, and 28 ounces — so you can select the one that complements your living space.
06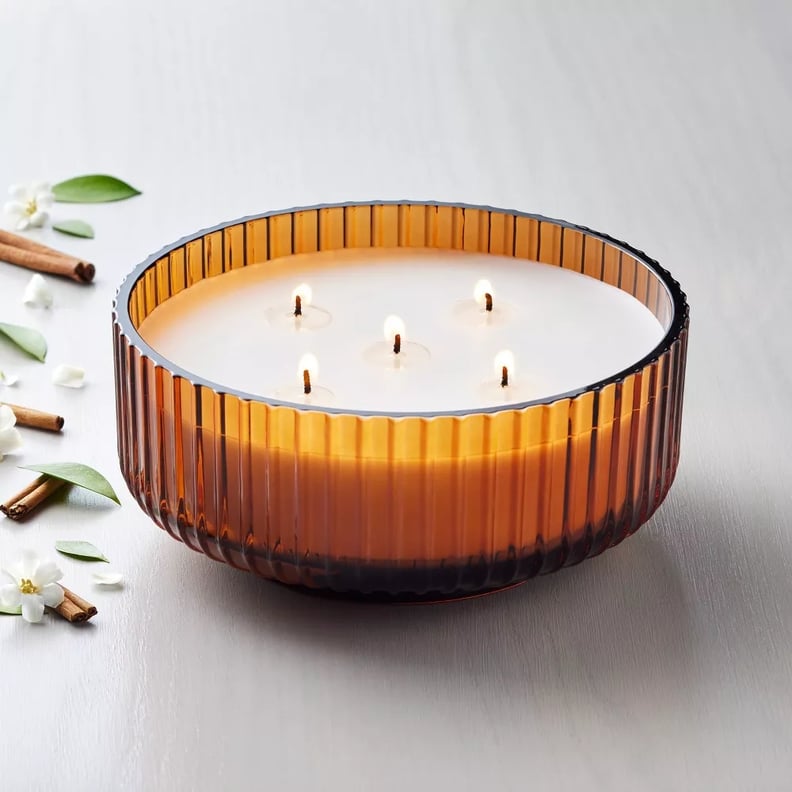 Best Glass Candle
07
Best Crackling Candle
Threshold Glass Jar Crackling Wooden Wick Candle ($13)
This candle takes its relaxing benefits up a notch with its crackling wooden wick, reminiscent of a crackling fire. The brown glass jar will blend in with your fall decor beautifully and has a masculine scent with warm notes of woodsy oak and smoky whiskey.
08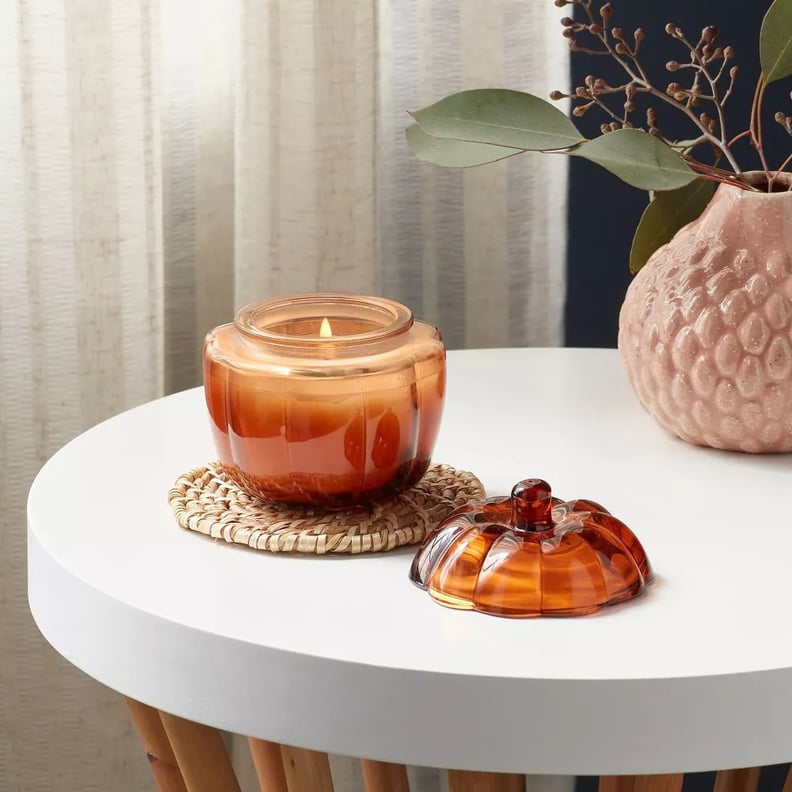 Best Pumpkin Spice Candle
Threshold Glass Figural Pumpkin Spice Candle ($10)
Prefer a tried-and-true pumpkin scent? This one's hard to beat. It boasts an orange pumpkin-shaped glass container complete with a lid to preserve the fragrance and camouflage as decor. Unsurprisingly, it has many positive reviews, including one that says it "smells exactly like you're baking a pumpkin pie."
09
Best Soothing Candle
Home Scents by Chesapeake Bay Candles Jar Candle Snuggly Sweater ($14)
This candle is infused with essential oils, namely warm wool, lavender, rose, vanilla, and musknotes. "It truly is like a snuggly sweater on a chilly, rainy day," writes one of many reviewers who've given it a five-star rating. "When I say I've repurchased this candle multiple times since 2017, I wish I could tell you just how many times."
10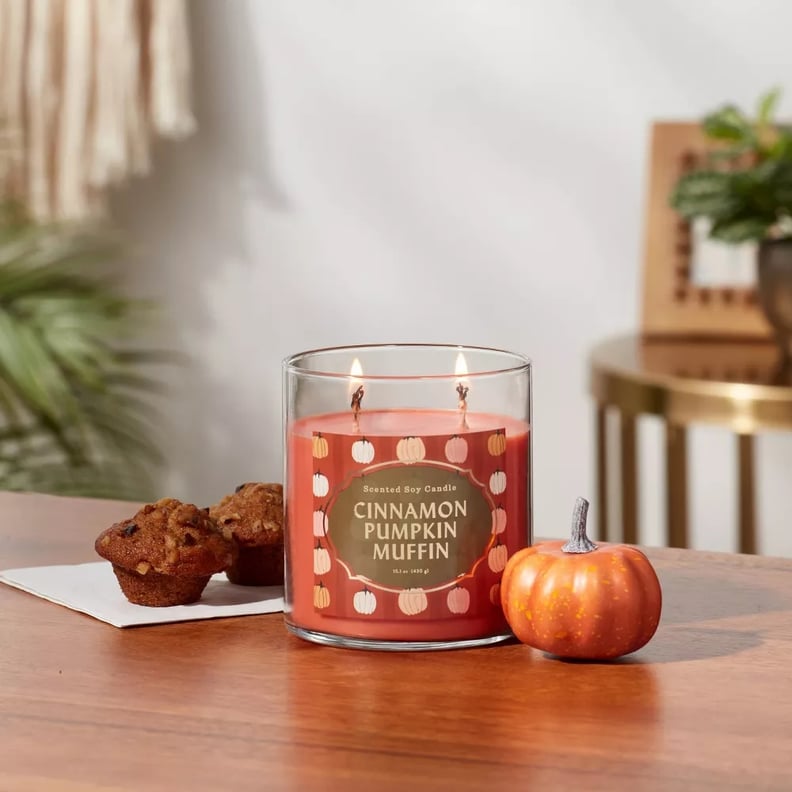 Best Gourmand Candle
Opalhouse Lidded Glass Jar Cinnamon Pumpkin Muffin Candle ($10)
This candle combines the aromatic blend of spicy pepper, ginger, indulgent pumpkin, and creamy undertones, creating an ambience that makes it smell like something delightful is baking in the oven. Numerous shoppers have praised its fragrance as robust but not overwhelming or overly sweet.