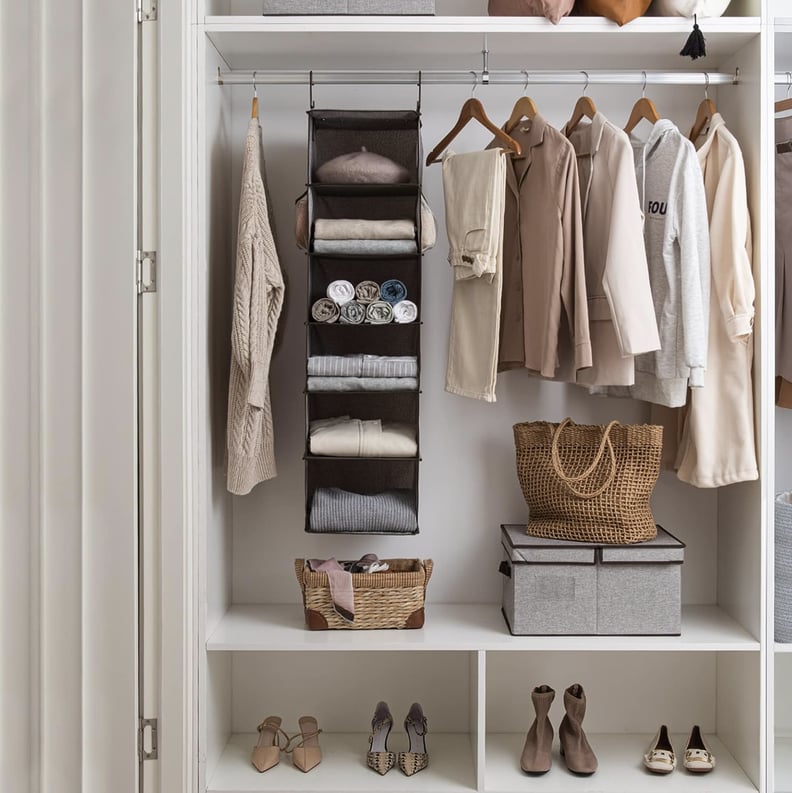 POPSUGAR Photography | Julia Van Arsdale
POPSUGAR Photography | Julia Van Arsdale
As POPSUGAR editors, we independently select and write about stuff we love and think you'll like too. If you buy a product we have recommended, we may receive affiliate commission, which in turn supports our work.
There are two indisputable facts about college: the first is that you're never going to get as much sleep as you need (it's just a part of the season), and the second is that your dorm room will be very, very small. Despite all of the new upgrades that are happening across college campuses worldwide, dorm rooms are known for being notoriously tiny — and they'll feel even smaller if you're sharing that space with someone else.
As a result, utilizing all potential storage areas is essential in ensuring that you'll be able to effectively maximize your space and have enough room to fit all of your necessities for the semester. Your closet may seem especially tight, but it actually doubles as the perfect spot for storing away all of your belongings — if you use it wisely, that is.
As you prepare for the new semester, we rounded up the best dorm closet organizers that will allow you to store all of your favorite college essentials without taking over your roommate's side of the room — or having to donate anything to Goodwill. From hanging closet organizers that can fit on a door to folding closet organizers that are easy to conceal on a shelf to modular closet organizers that are chic enough to be mistake for a bookcase, you're bound to find your perfect match. Keep reading to shop our selects.
— Additional reporting by Kyley Warren
01

Best Affordable Closet Organizer
Internet's Best Hanging Closet Organizer ($15)
Made with lightweight polyester fabric, this hanging closet organizer is not only collapsable and easy to pack, but it also includes three removable drawers for even more storage options. The product is designed to hold a range of products, from shoes to pants, intimates, and more.
02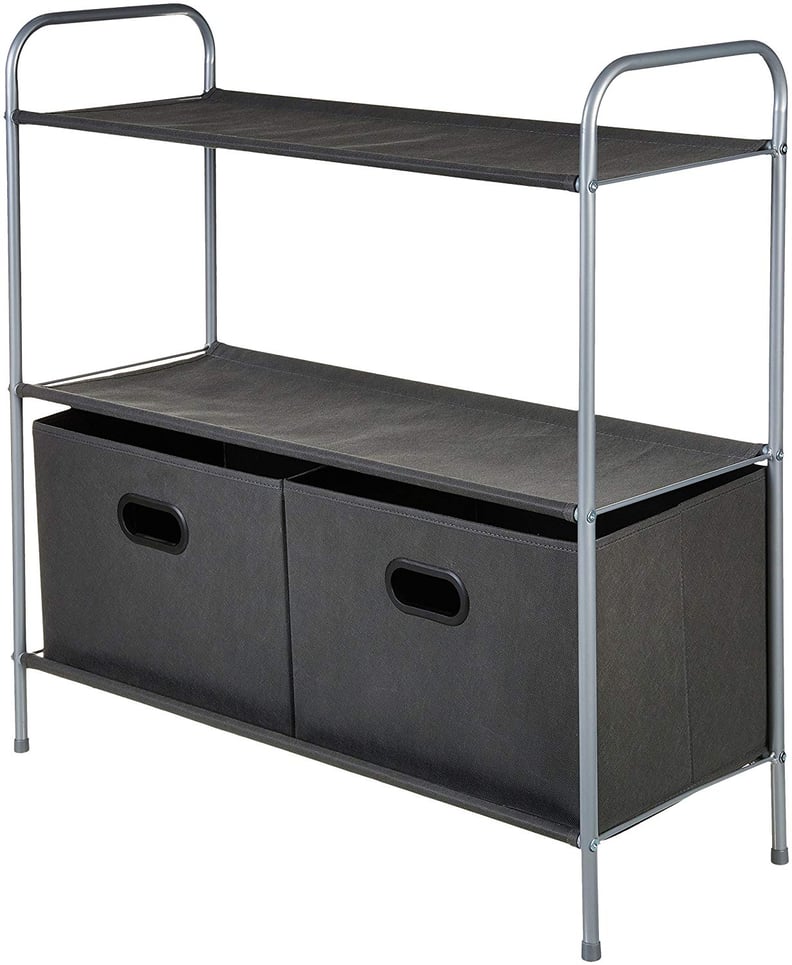 Best Free-Standing Closet Organizer
AmazonBasics Closet Storage Organizer ($25)
Rather than leaving your floorspace bare, invest in this lightweight closet storage organizer to give yourself two shelves and two drawers full of storage space. The product boasts a compact frame that won't take up too much floor space. Plus, unlike other closet organizers, it will give you even more room to hang clothes from your closet's hooks.
03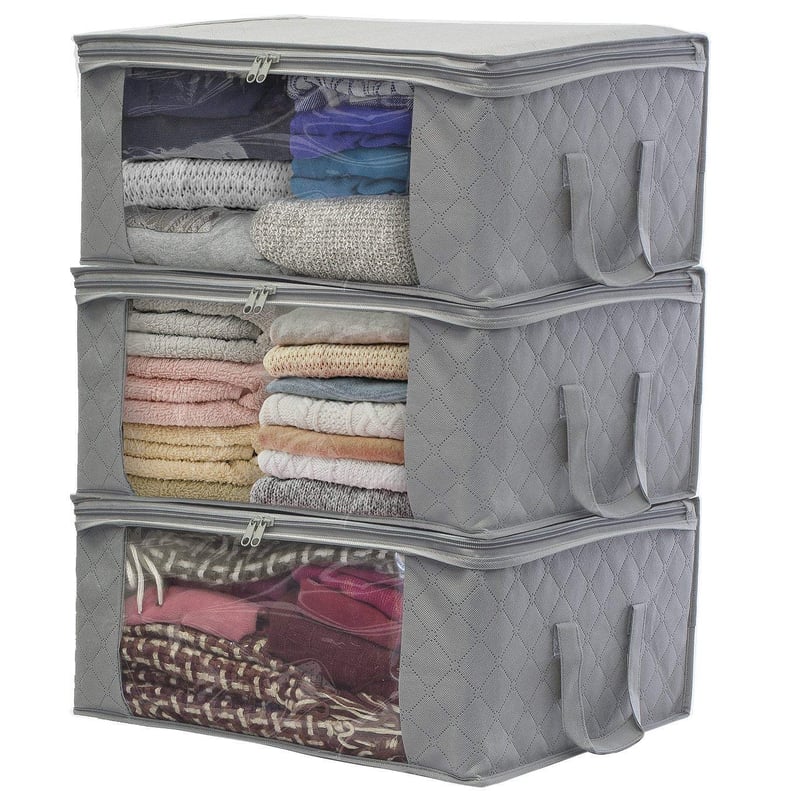 Best Foldable Closet Organizer
Sorbus 3-Pack Foldable Storage Bag Organizers ($21)
For out-of-season clothes, towels, linens, or whatever else, this foldable dorm closet organizer provides three divided sections with a clear window view and will help to protect your belongings from dust, pests, and water damage.
04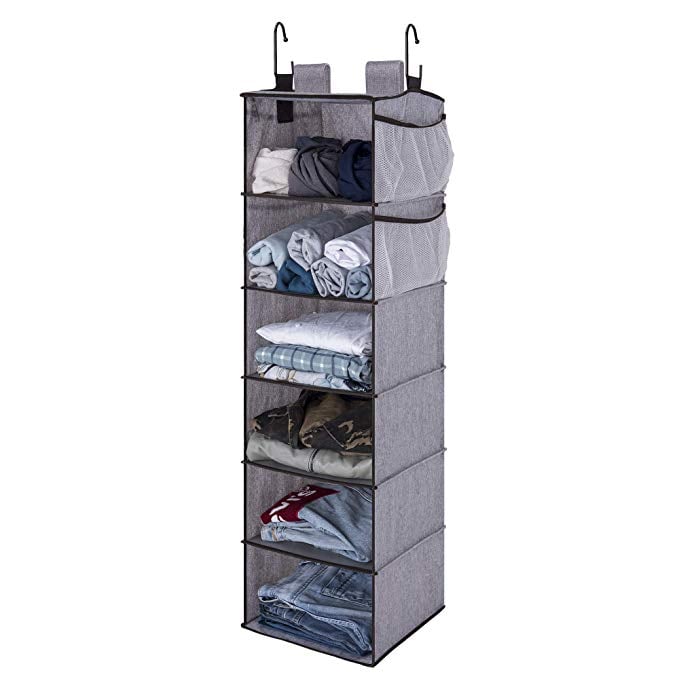 Best Hanging Closet Organizer
StorageWorks Hanging Closet Organizer ($28)
This hanging dorm closet organizer features two side pockets and two hanging methods, so no matter your closet set up or storage needs, this organizer will get the job done. Plus, it's designed to hold up to 40 pounds, so it's a great durable buy for more heavy-duty pieces like shoes and coats.
05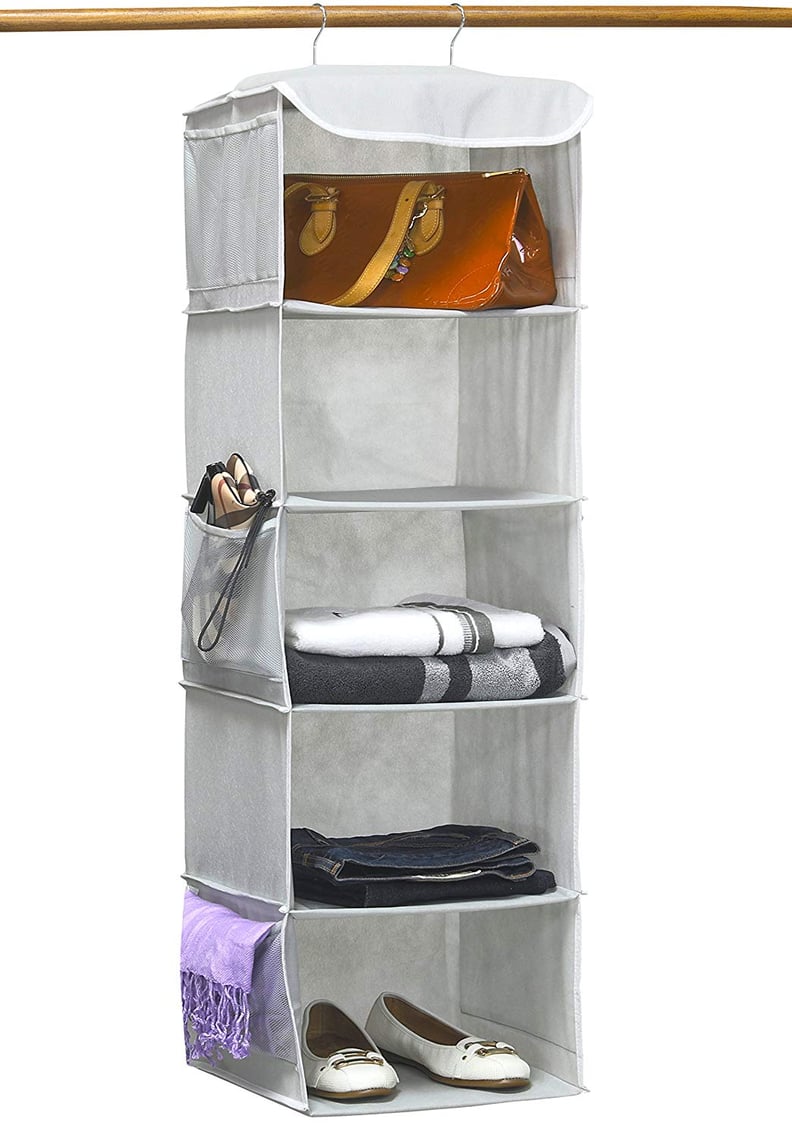 Best Closet Organizer With Shelves
Simple Houseware 5-Shelf Hanging Closet Organizer ($12, originally $13)
Whether you have a closet rod or a wired closet rack, this hanging closet organizer aims to work for every type of space and set up. It features five shelves and six mesh pockets to keep all of your essentials in one place.
06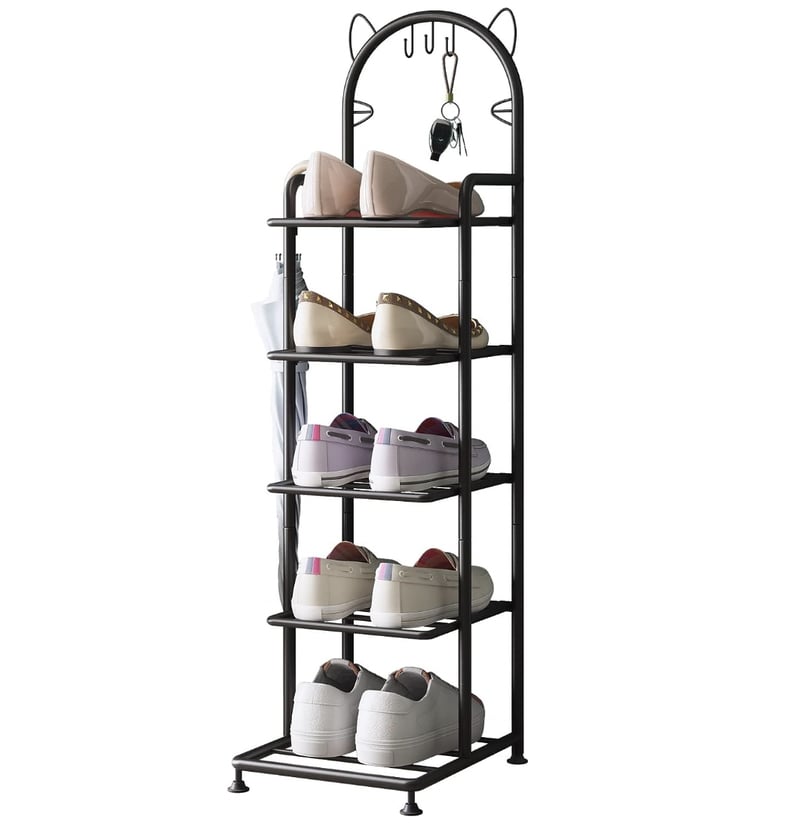 Best Closet Shoe Organizer
Azerpian Vertical Shoe Storage ($26)
Constructed of premium metal, this durable closet organizer doubles as an awesome alternative for storing your shoes — especially if your closet is limited on shelving space. The product can stand on its own or be hung on a wall.
07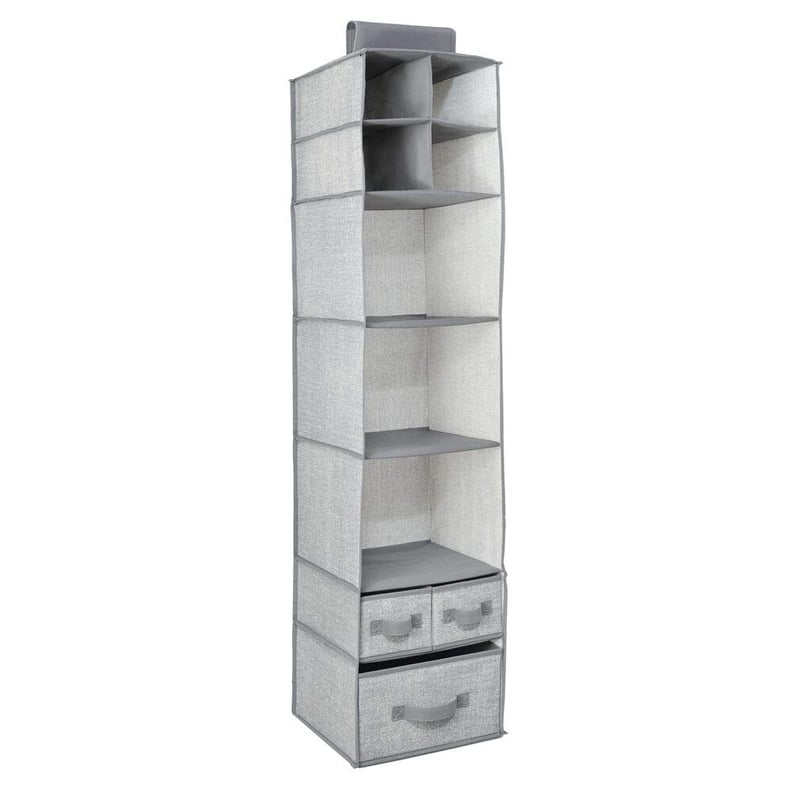 Best Closet Organizer With Storage Cubes
MDesign Hanging Storage Organizer ($20)
This dorm storage organizer offers seven open compartments and three removable drawers — so big or small, you'll find room for all of your things that need storage. We especially love that unlike other closet organizers, this product comes with closed drawers so you'll have no problem concealing items you might not want visible — like intimates or dirty laundry.
08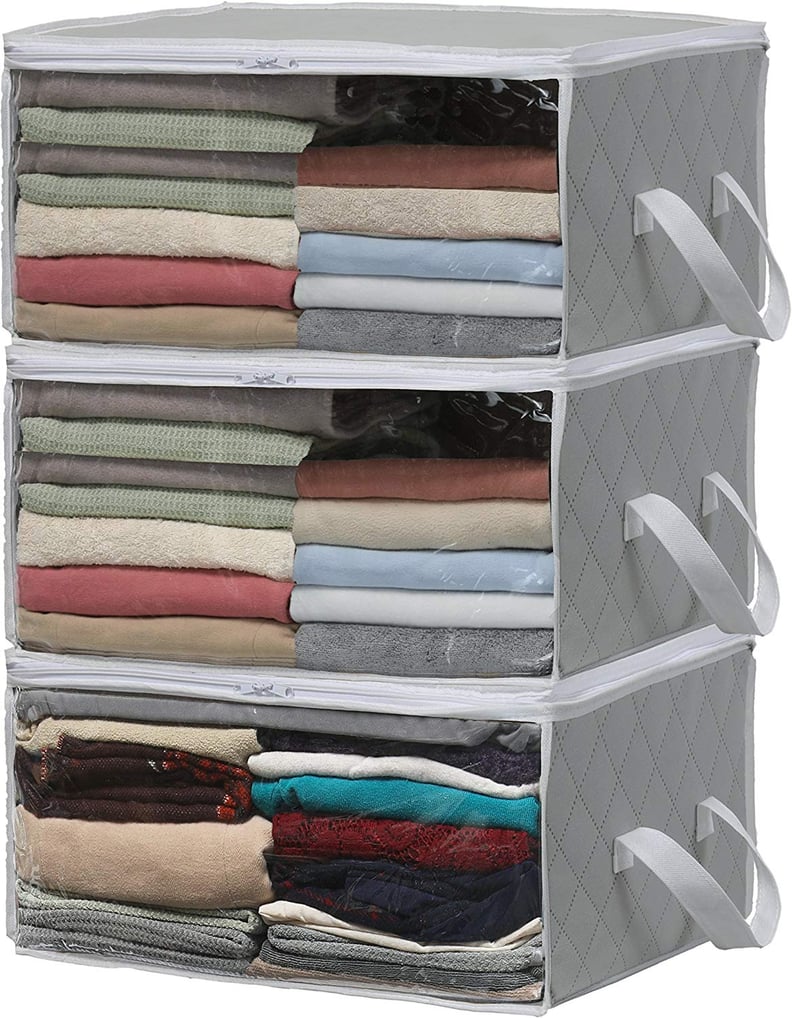 Best Closet Organizer Box
Simple Houseware 3-Pack Foldable Closet Organizers ($15, originally $20)
This foldable closet organizer might look soft, but it's actually surprisingly rigid and durable — at least according to reviewers. The boxy product is perfect for both closet storage and travel. Plus, it features handles on the side, so it's convertible and easy to move around as needed.
09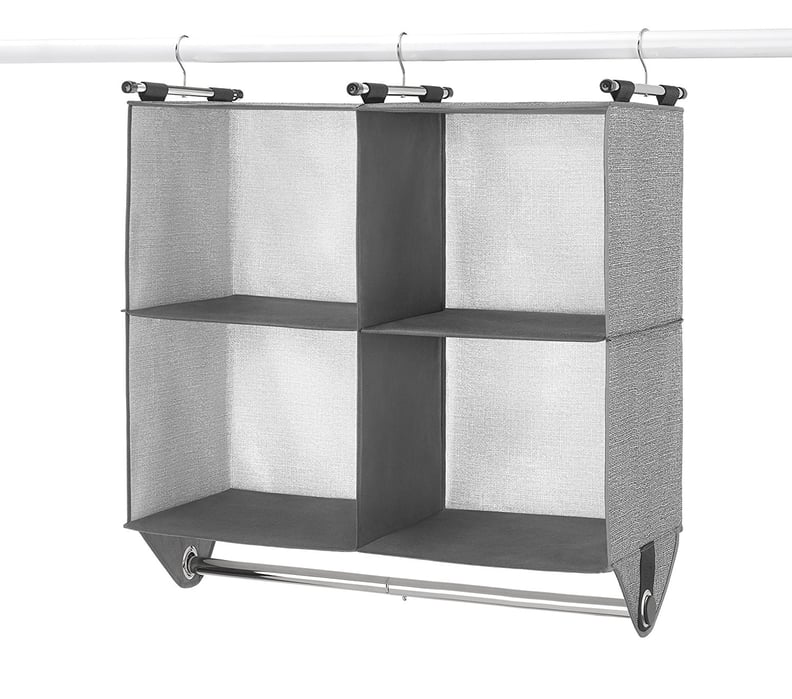 Best Fabric Closet Organizer
Whitmor 4-Section Fabric Closet Organizer ($19, originally $30)
Want extra storage space without taking up extra room on your closet rod? This sectioned closet organizer gives you the best of both worlds: it comes complete with four large cubbies and an attached metal garment rod.
10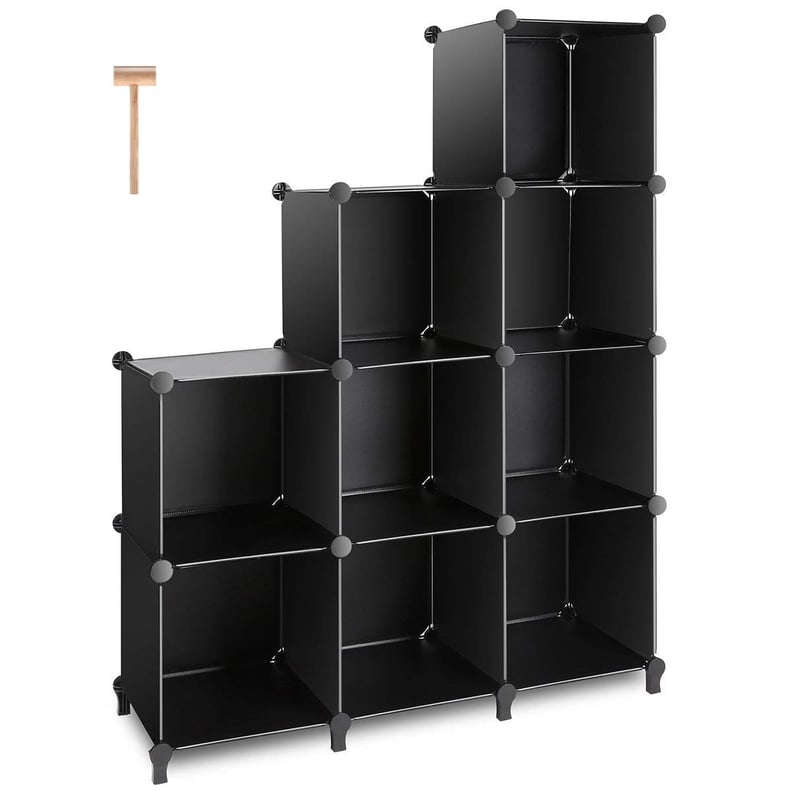 Best Modular Closet Organizer
TomCare 9-Cube Closet Organizer ($36, originally $42)
Whether you have extra room in your closet horizontally or vertically, this modular dorm closet organizer allows you to stack your stuff however you'd like, as its nine cubes can be freely adjusted to create a variety of shapes and meet your space needs.
11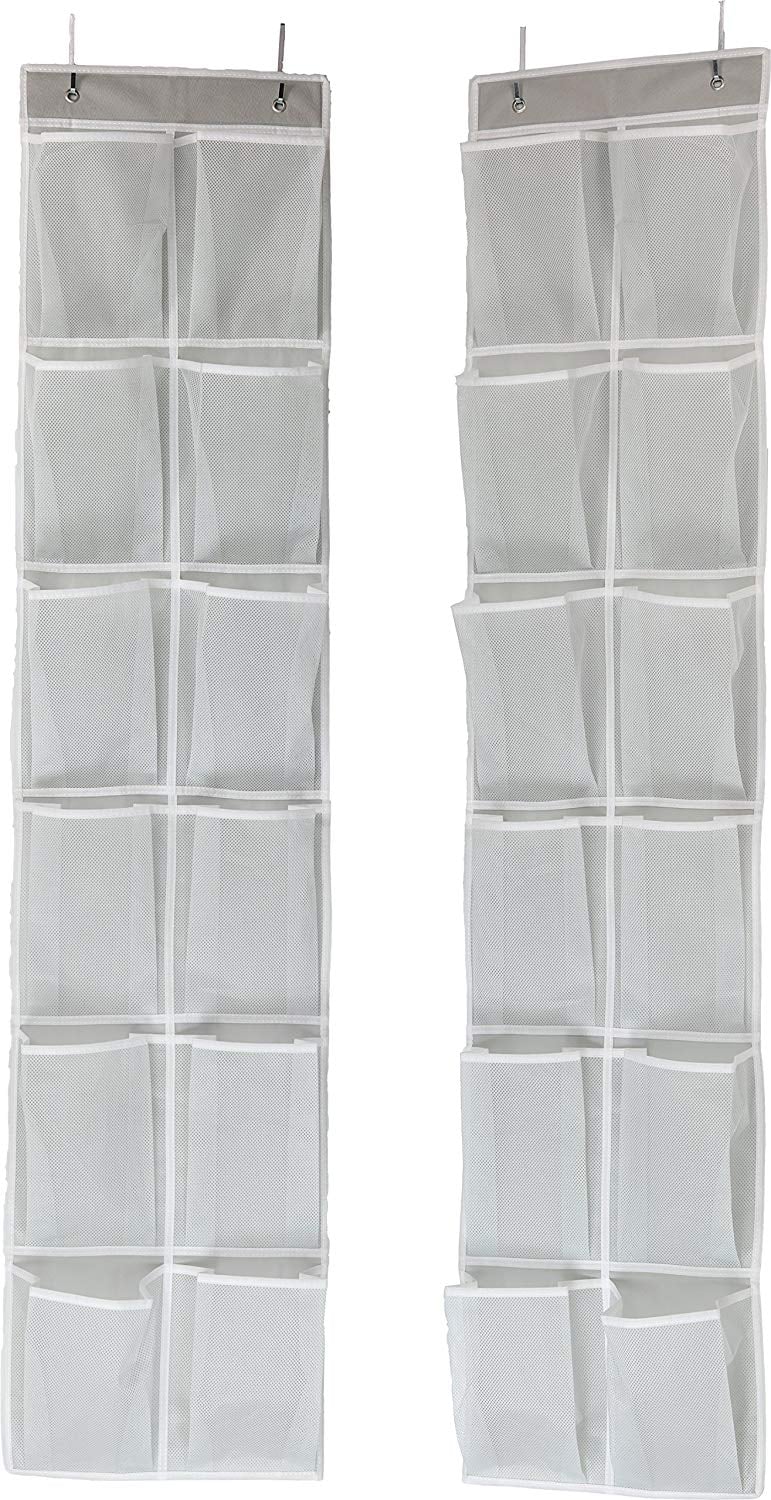 Best Space-Saving Closet Organizer
Simple Houseware 24-Pocket Hanging Shoe Organizer ($14, originally $16)
Get some use out of your closet door with this simple yet functional hanging shoe organizer, which features two dozen mesh pockets that are perfect for storing all kinds of shoes and accessories where you can see them.