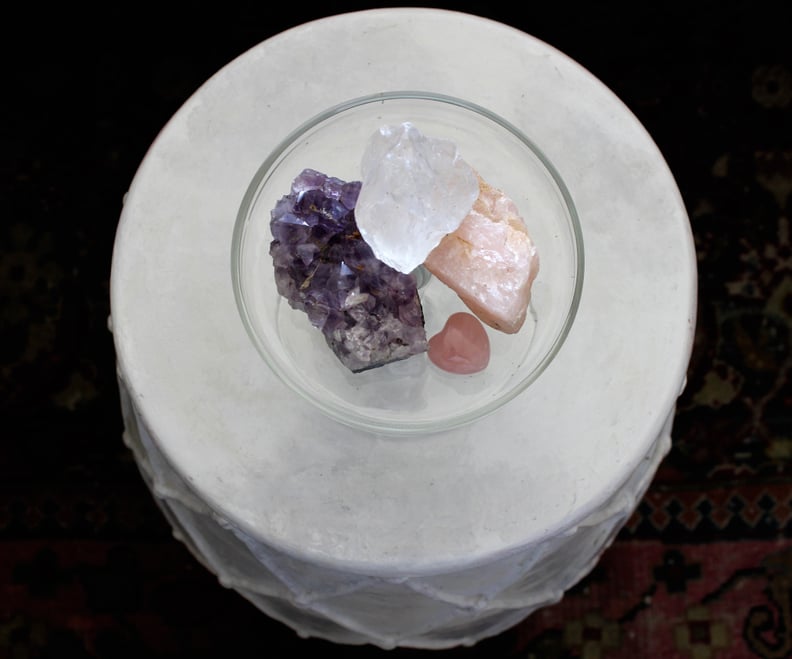 POPSUGAR Photography | Angela Elias
POPSUGAR Photography | Angela Elias
Whether you believe the hype or not, people have been using crystals for centuries to bring good vibes and positive energy into their lives. From dispelling negative energy to helping you feel more calm, their unique healing properties and stunning shapes and colors make them an ideal addition to your home. Here are some of our favorites!
Rose Quartz
Rose quartz is one of the most versatile crystals on the market and can be used throughout your home to create positive energy. Its primary use is for attracting love of all kinds, from self-love to familial love to romance, so it's equally at home in your bedroom or in shared living spaces. It's also great if you suffer from anxiety and can help promote peace, serenity, and tranquility. The pastel pink hue is stunning too!
Citrine
For a pop of color, look no further than citrine. Don't let its rarity and high price tag deter you from this beautiful yellow stone! Placing it in your home can help you with mental clarity and even success. But the best way to be prosperous with citrine is to share your success, as it's very much associated with generosity. Put this crystal in your home office to reap the benefits!
Smoky Quartz
Do you have a hard time making decisions or prioritizing the things in your life? Put some smoky quartz in your office or bedroom, and let it clear your mind. This dark and translucent gem will be a standout feature in any space and can help to remove negative energies so you feel more grounded in your life.
Amethyst
This deep violet or purple crystal is a favorite of people who want to sleep more deeply. Placing this crystal on your bedside table or somewhere else in your bedroom can have a positive effect on your dream cycle, improving your REM sleep. Its other benefits include clearing your mind, making you feel more calm and balanced and even more patient.
Selenite
Most crystals require cleansing and charging to keep their positive energies intact. Otherwise, they can take on opposite, negative energies — but not selenite. It's said to be immune to negative properties, and this wand-like crystal is itself cleansing and purifying. It would be at home in the bedroom, where it can promote harmony and peace.
Clear Quartz
Clear quartz is one of the most affordable options for crystals on the market — and its clear, light appearance makes it a great addition to any decor style or color palette. Clear quartz is associated with happiness and optimism, so place it anywhere in your home where you feel you need a bit of a pick-me-up!
Hematite
Crystals aren't just ideal for adult bedrooms — hematite is also a great option for children. If your child has trouble concentrating or tends to get overexcited, put some hematite in their bedroom to ground and center them. Hematite also has protective qualities, so it's perfect for this kind of space.
Black Tourmaline
To add some drama to your space — but just the aesthetic kind — consider black tourmaline. The rough, short, opaque crystal is excellent for repelling negative energies. Those suffering from fear, anxiety, or obsessions will feel much better with this stone in their space. From bedrooms to home offices to living rooms, put it wherever you need protection against negativity!


Love what you're reading? Head over to our Snapchat for more awesome, bite-sized content!