As POPSUGAR editors, we independently select and write about stuff we love and think you'll like too. If you buy a product we have recommended, we may receive affiliate commission, which in turn supports our work.
Maybe it's because we're in the mood for a little spring cleaning, but we just got the urge to redecorate our entire house. Luckily, just in time, Anthropologie dropped a ton of new spring-inspired pieces, and we couldn't be readier for a refresh. Sometimes adding a new rug to your living room or colorful wine glasses to the kitchen can make all the difference. The site has thousands of amazing finds, so we did the hard work for you.
Ahead, we curated a list of 12 beautiful decor and kitchen items that'll motivate you to add some life to your home this season. Whether you're on the hunt for a standout bar cart, a fun table runner, or even a boho chandelier, we've got you covered. So, what are you waiting for? Keep reading to shop all our favorites, and give your home the upgrade it deserves.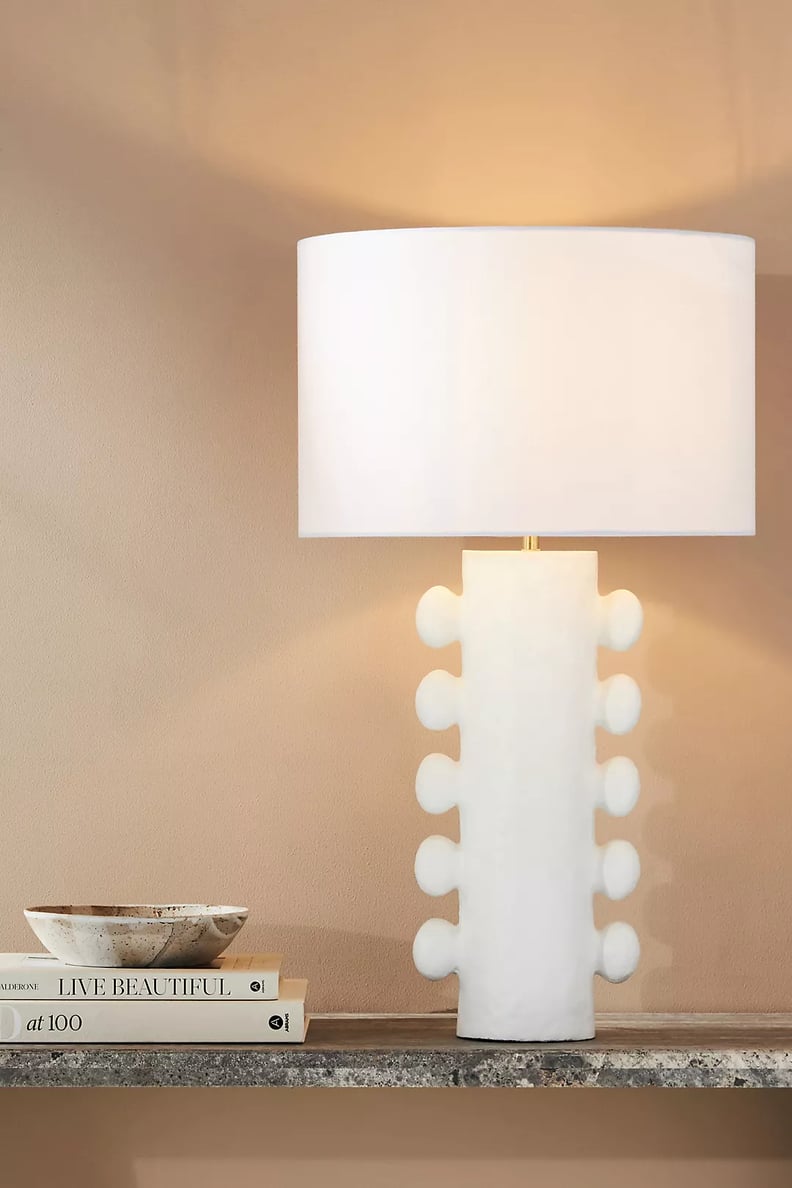 A Paper-Mache Lamp: Epine Table Lamp
The unique Epine Table Lamp ($750) is bound to make a statement. Place it on a table you love, and admire its paper-mache frame and linen shade. The cord is clear to ensure it doesn't distract.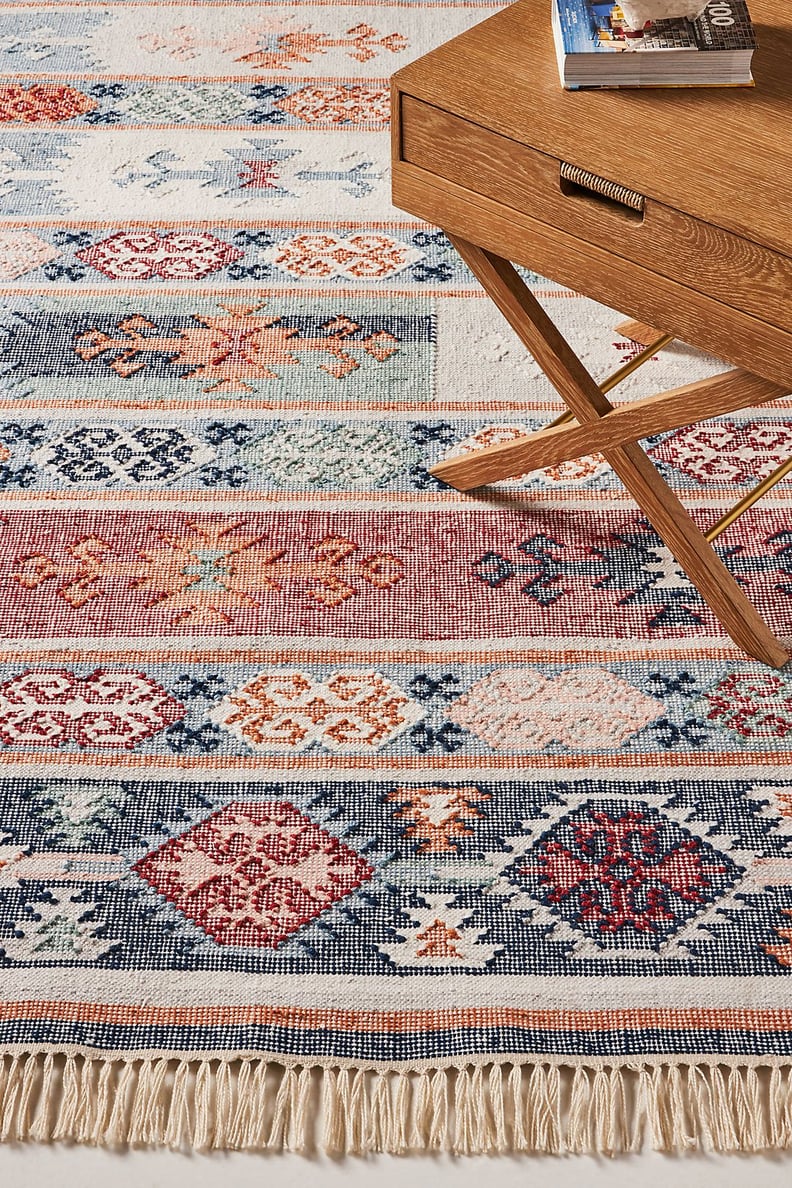 An Indoor and Outdoor Rug: Handwoven Baxley Indoor/Outdoor Rug
Handwoven with eye-catching motifs, this Handwoven Baxley Indoor/Outdoor Rug ($78-$1,298) is an exceptional floor covering. Place it in your bedroom, living room, or even patio. It's suitable for both indoor and outdoor use.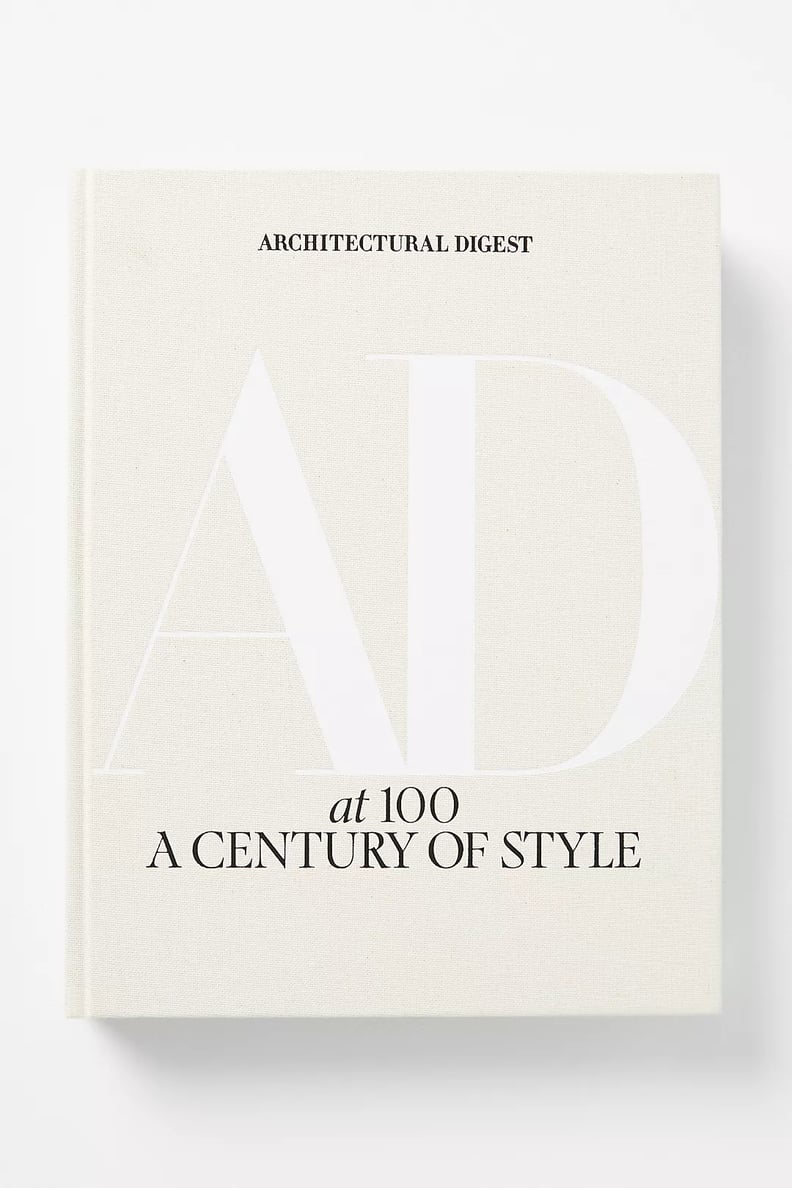 A Coffee-Table Book: "Architectural Digest at 100: A Century of Style"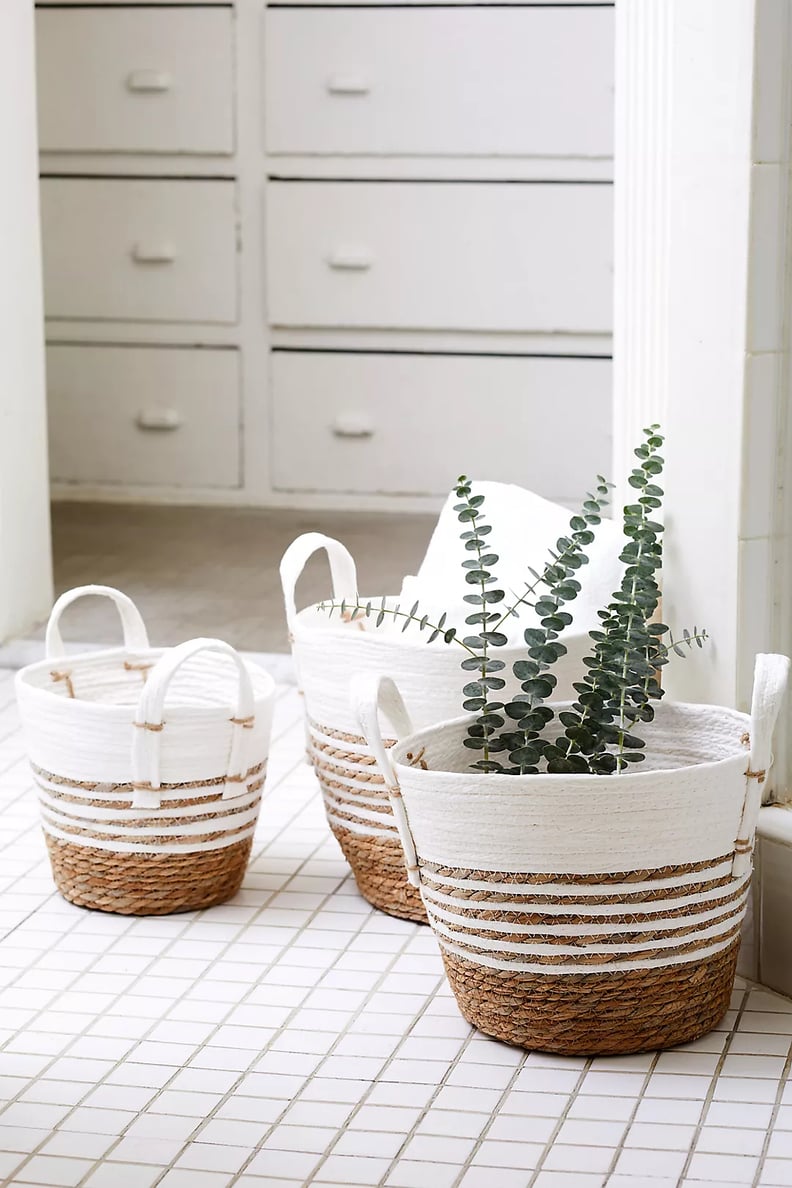 Decorative Baskets: White Stripe Woven Storage Baskets
Perfect for playrooms, living rooms, bedrooms, and more, these White Stripe Woven Storage Baskets ($178 for three) double as both storage and decor. The baskets come in a set of three in different sizes to fit all your items.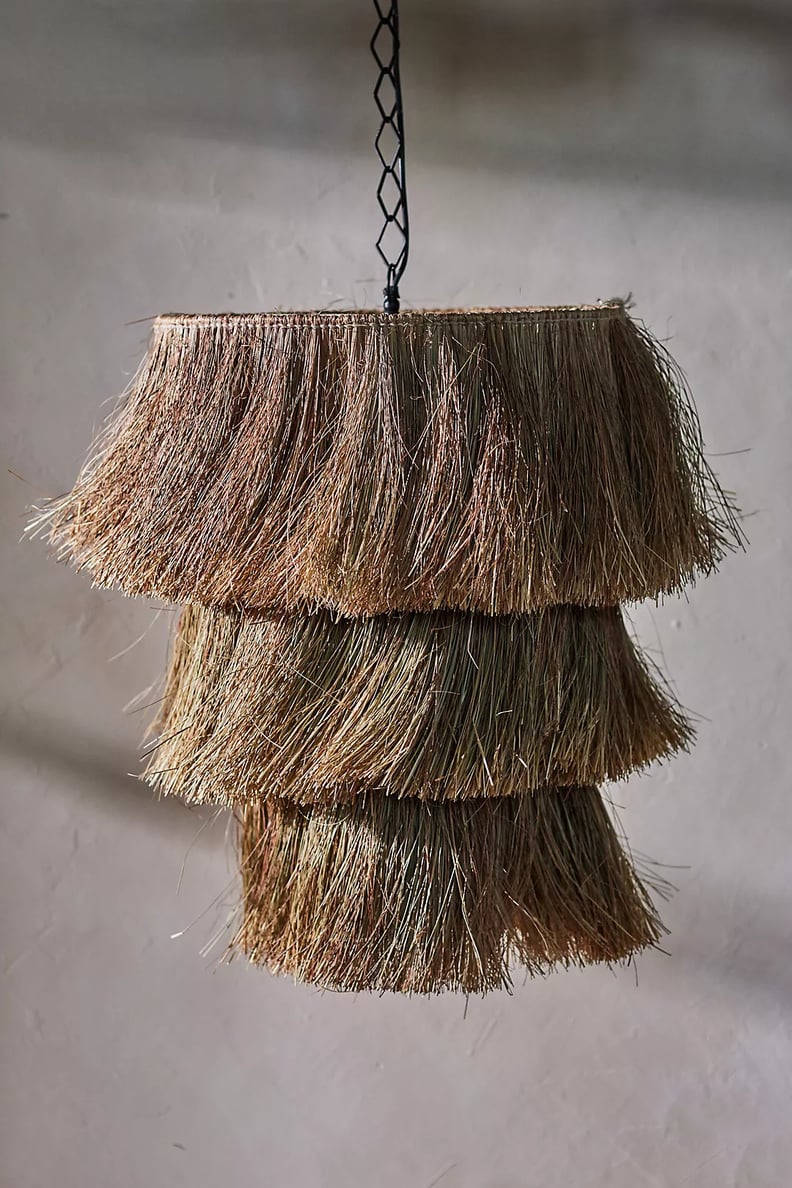 A Laid-Back Chandelier: A Seagrass ChaFringe Seagrass Chandelier
Create a major focal point in your home with the Fringe Seagrass Chandelier ($248). The chandelier portrays a laid-back cabana feel and has three tiers of seagrass. Hang it up in your dining room for a relaxed coastal vibe.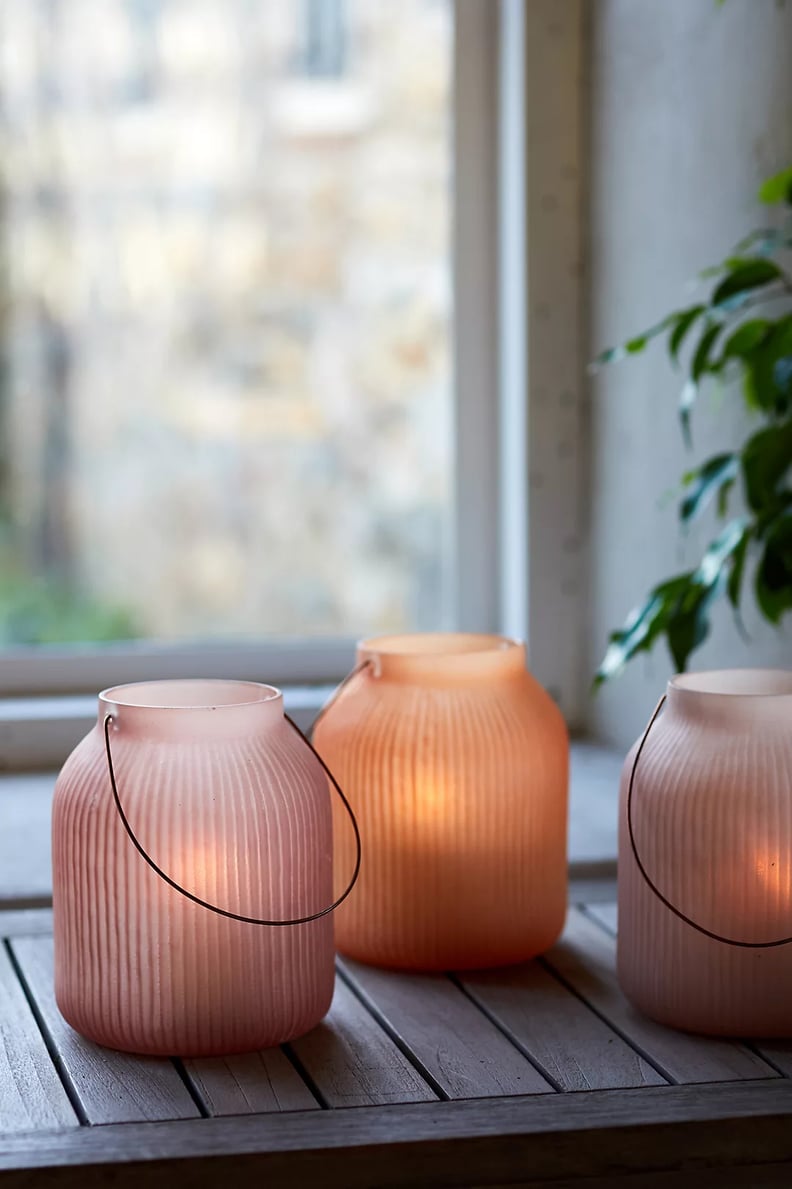 A Handmade Lantern: Ridged Glass Lantern
Set the tone with this gorgeous Ridged Glass Lantern ($48). The lantern showcases a round silhouette with ridged sides that give it character. Hang it up or leave it on a table for added ambience. It's available in three colors.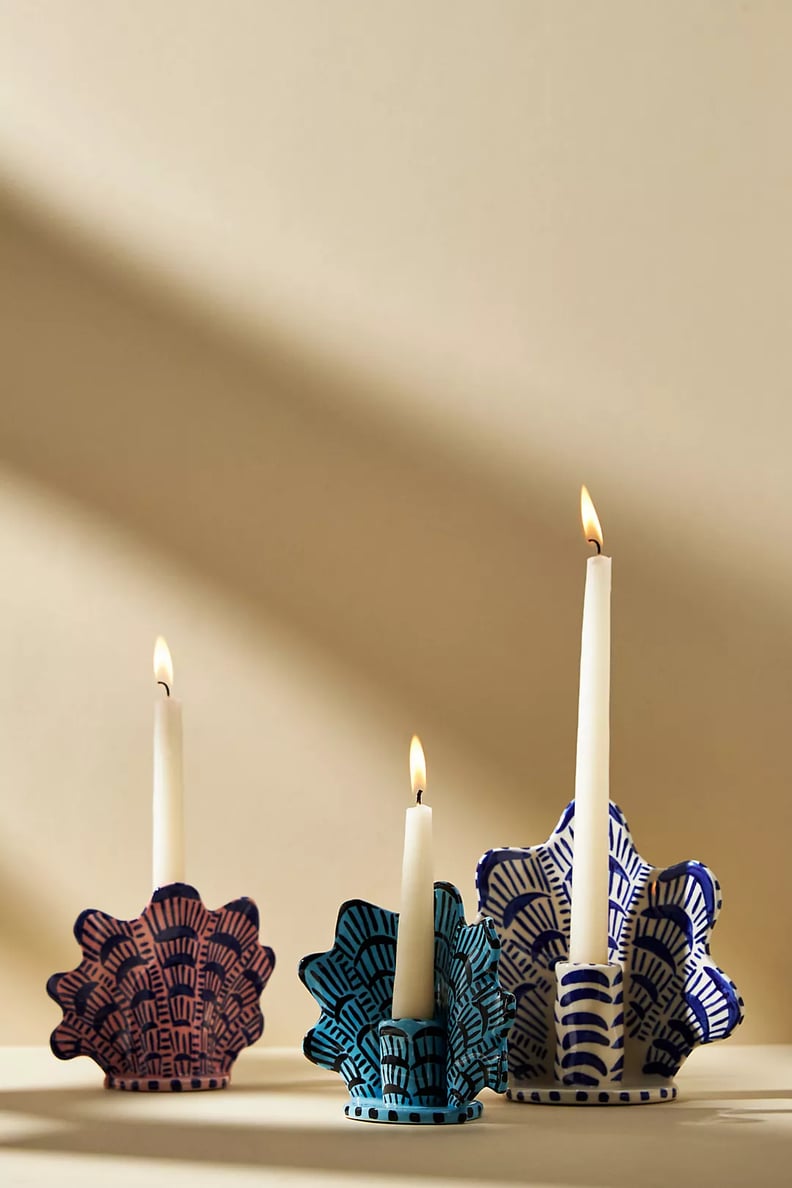 A Charming Candle Holder: Lucie de Moyencourt Taper Candle Holder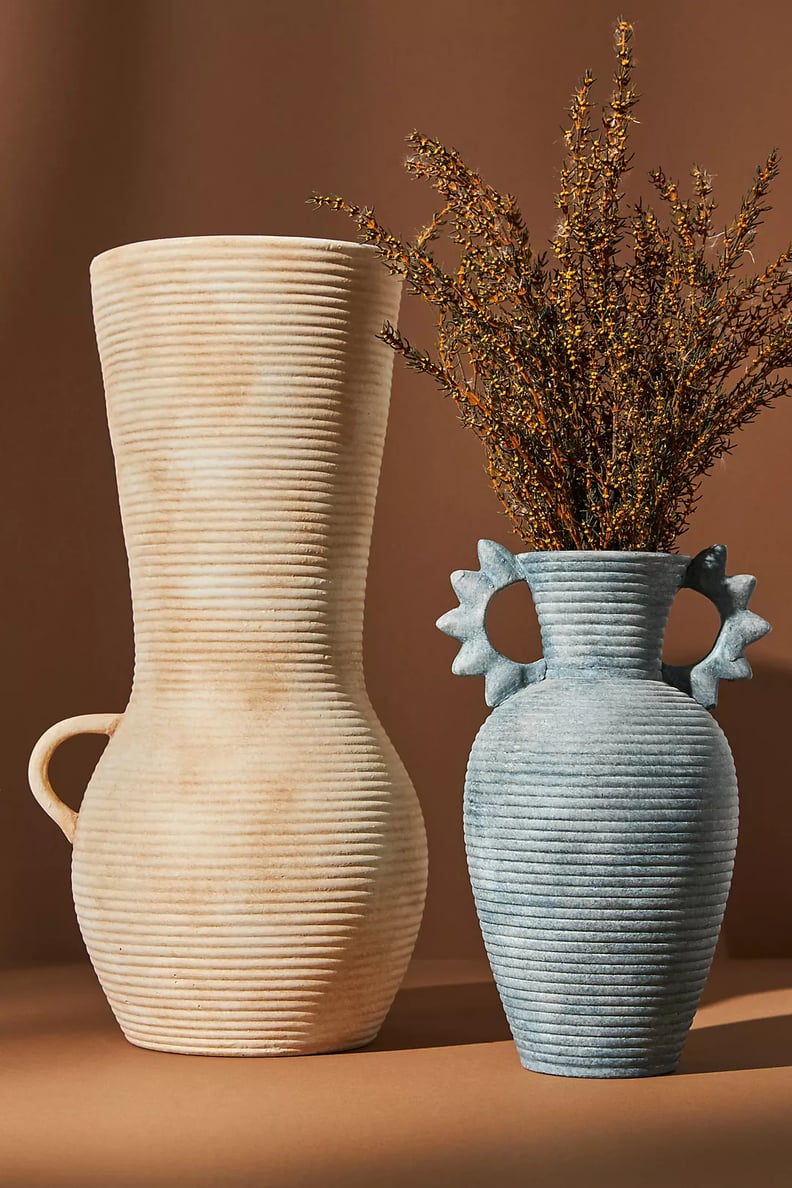 A Handcrafted Vase: Thara Vase
Incorporate texture into your home with the Thara Vase ($108). The vase is handcrafted, making each one vary in appearance. Perfect for holding outdoor clippings as well as flowers and various branches, this decor piece won't disappoint.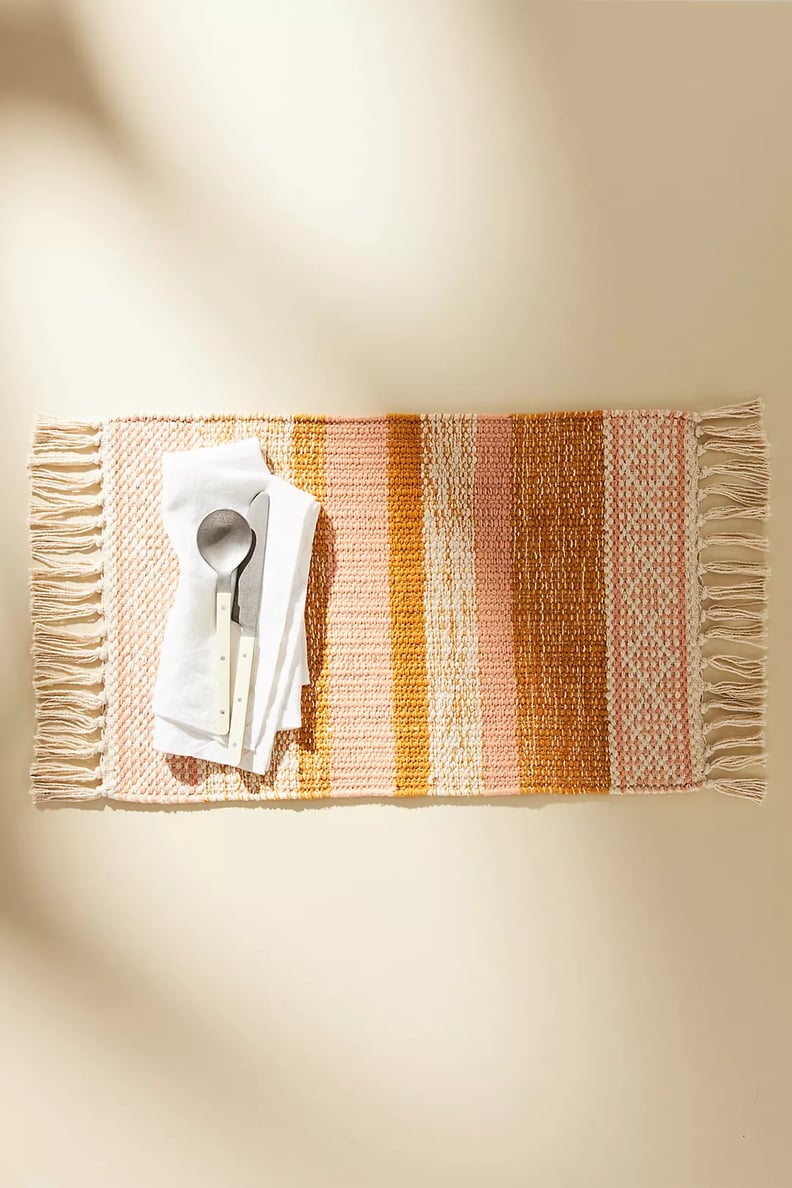 For Your Dining Table: Nectar Striped Placemat
Incorporate the Nectar Striped Placemat ($16) into your dining table's decor, and watch as it brightens your home. The mat's woven texture adds so much character.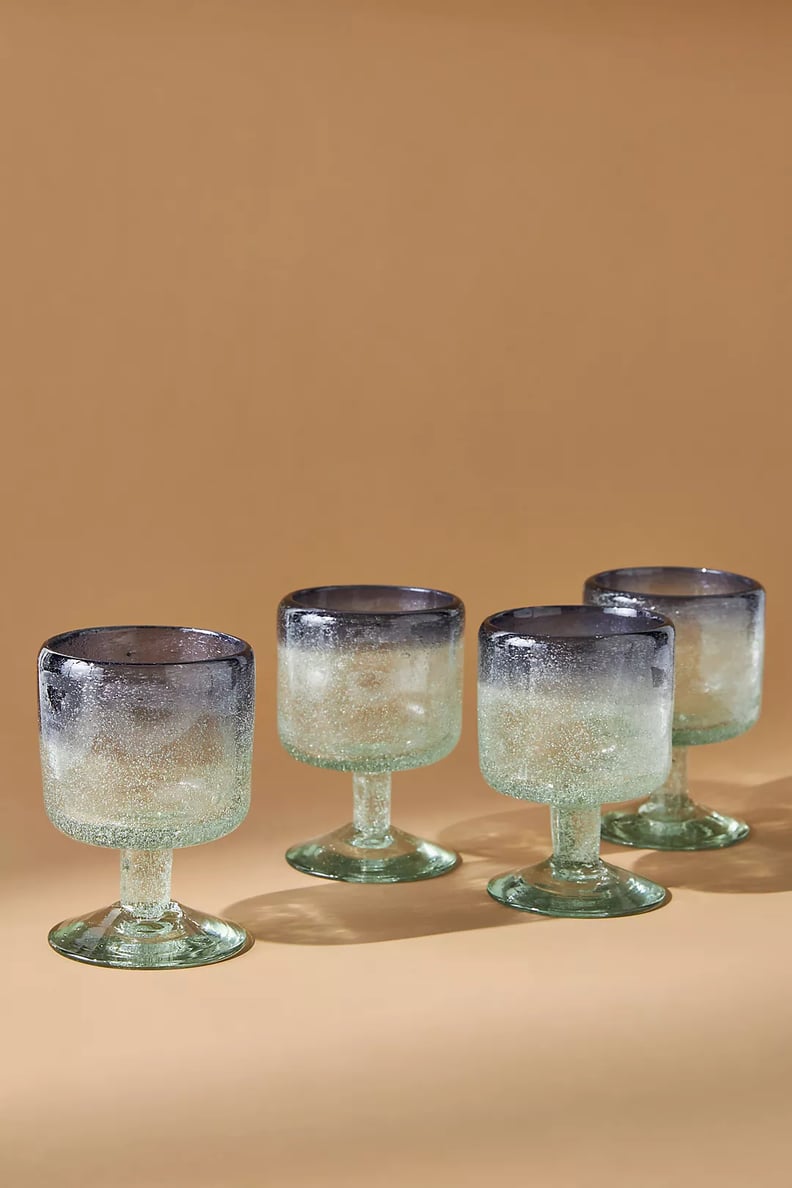 Handblown Wine Glasses: Rioja Amethyst Wine Glasses
Made of handblown glass, these Rioja Amethyst Wine Glasses ($56 for four) are a doozy to look at. Each glass differs ever so slightly thanks to its handcrafted nature. Pour a glass of wine for your friends, and enjoy its unique look.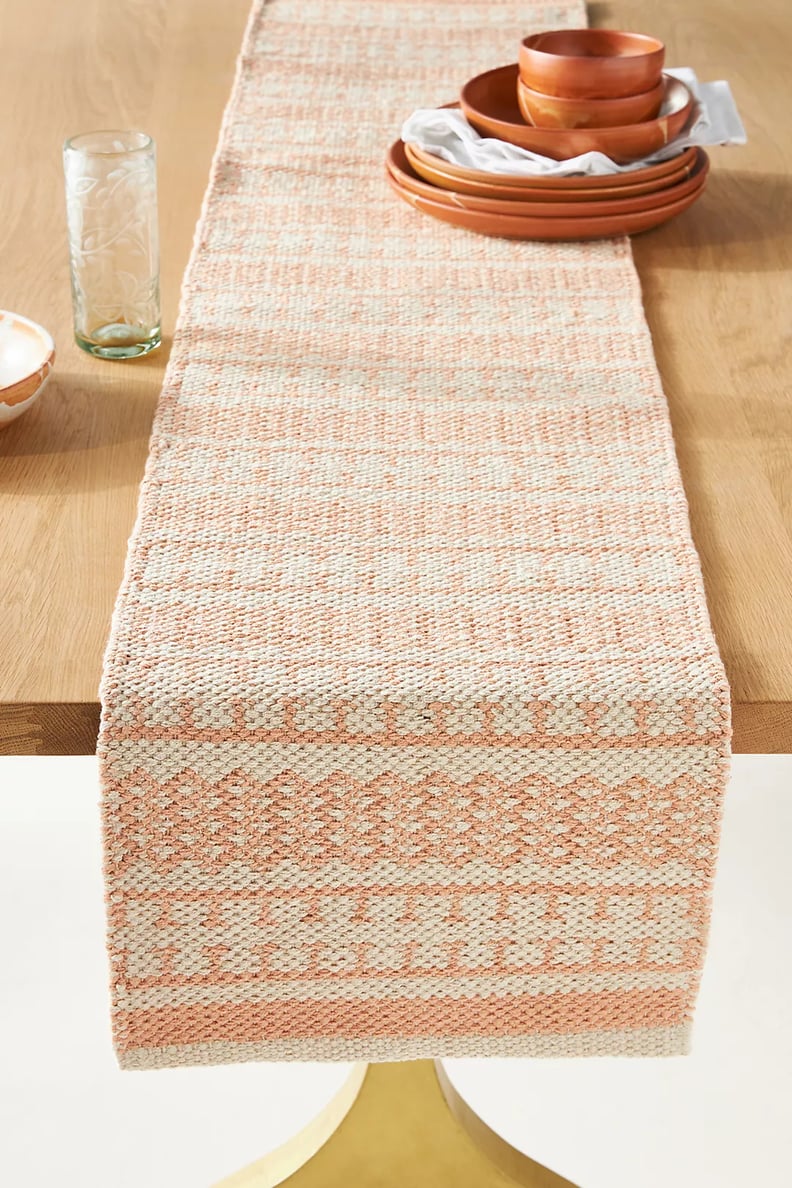 A Bright Table Runner: Nectar Striped Table Runner
There's so much to adore about this Nectar Striped Table Runner ($58), but we especially love its bright color. Add this runner to your dining or console table, and watch it come to life.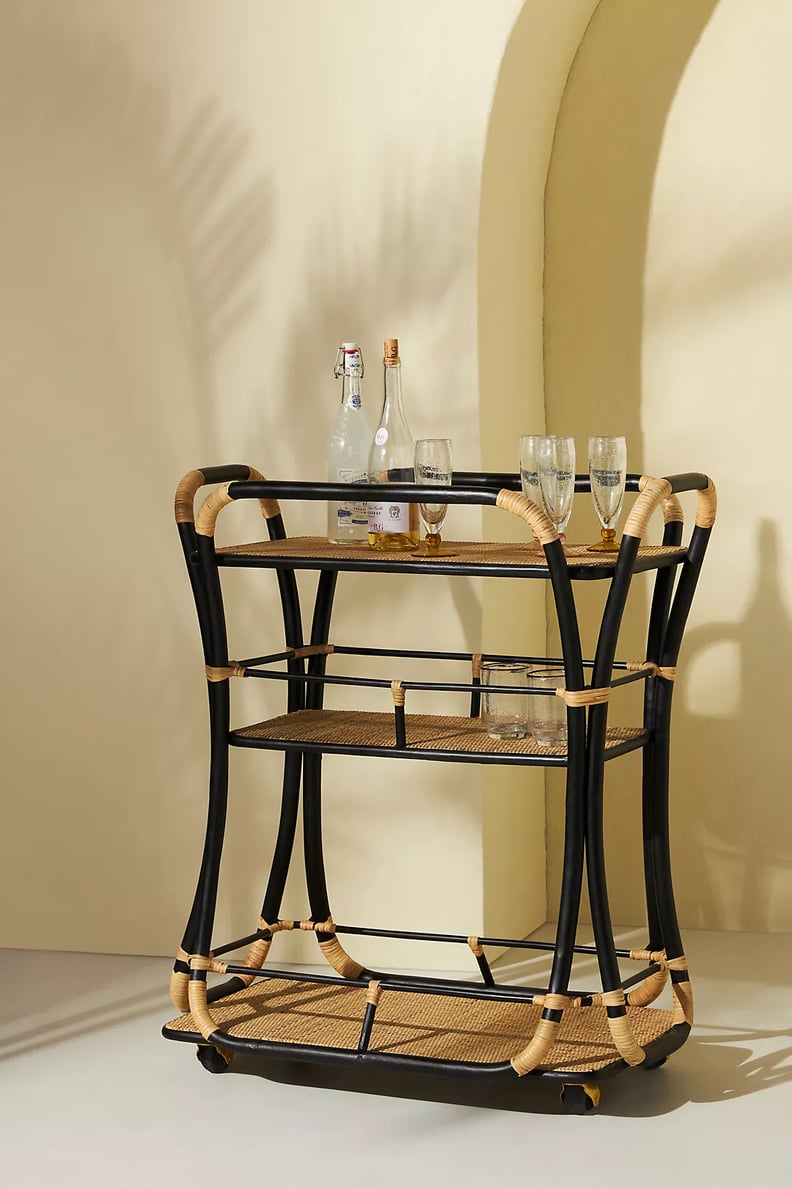 A Rattan Bar Cart: Edith Bar Cart
Showcase your spirits in style with the Edith Bar Cart ($698). Suitable for both indoor or covered outdoor use, this bar cart features three tiers for ample storage.