As POPSUGAR editors, we independently select and write about stuff we love and think you'll like too. If you buy a product we have recommended, we may receive affiliate commission, which in turn supports our work.
Curating your dream bedroom can take time, but once you've picked out the perfect comfortable mattress and a durable bed frame to match, the foundation and overall aesthetic of your space is pretty much set. However, if you're looking for an easy way to add a bit more depth (and storage options) to your bedroom, you should consider adding a stylish nightstand (or two).
Nightstands are one of our favorite home furniture pieces because they can double as decor while also serving a purpose by conveniently storing all your nighttime essentials — like an eye mask, night cream, or even a daily journal. There are plenty of options on the market, but we wanted to find nightstands that are stylish, affordable, and built with durability and functionality in mind. Here's what to consider when shopping out a new modern nightstand for your home:
What to Keep in Mind When Shopping For the Best Nightstands?
The biggest thing to consider is the amount of available space you currently have. Bedroom furniture can tend to be pretty large in size (bed frame, dressers, wardrobes, etc.) and unless your room is a designated master suite, chances are you might be more limited on floor space than you think. Small nightstands are a great option if you're looking for something more compact, but there are also plenty of large nightstands with drawers that can double as great storage alternatives. You'll also want to take into account how many nightstands you'll need. If it's just you, one nightstand could work, though many people prefer to get a nightstand set (one for each side of the bed) so that their home bedroom setup is a bit more cohesive.
The next most important element is the style of the nightstand. If your bedroom is already filled with statement furniture pieces and prints, you might be better off opting for something more muted like a metal nightstand or a floating nightstand. Alternatively, if you're interested in a model that'll add a little extra flair to your space, you might opt for something more stylish — like a midcentury modern nightstand or a boho nightstand.
Regardless of your budget or bedroom aesthetic, we curated the best nightstands for your home. Most of these options are under $500 a piece, so they're incredibly reasonable. Plus, all of our picks come from some of our favorite retailers like West Elm, Amazon, AllModern, and more. Keep reading to see our selects!
— Additional reporting by Anvita Reddy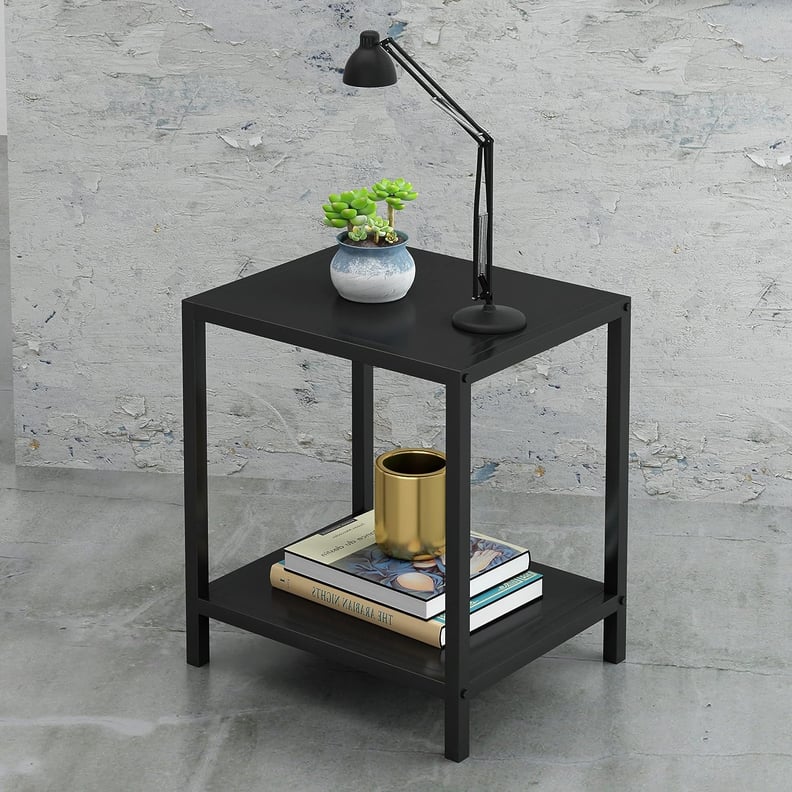 Best Metal Nightstand
Hafenpo Black Metal Nightstand ($35)
For something that'll last, you can't go wrong with a metal nightstand. This particular model is made from a carbon steel material that's sturdy — so you won't have to worry about it tipping over or getting damaged — easy to clean, and per reviews on Amazon's site, also very easy to assemble. It also has a cool, double-layer storage design so you can store plenty of items — from books and candles to table lamps and more.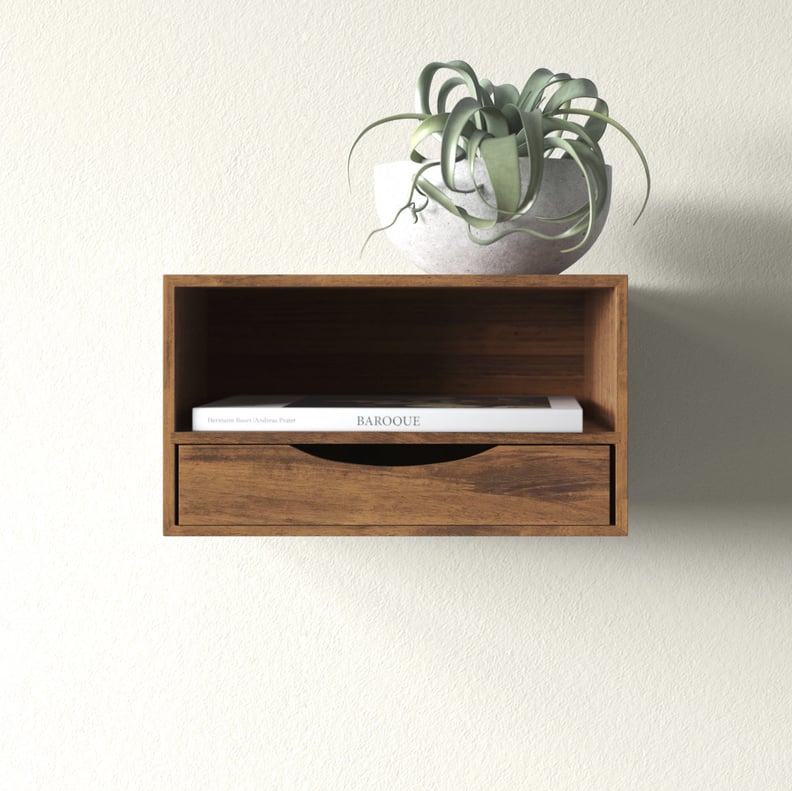 Best Floating Nightstand
Wade Logan Adeana Poplar Solid Wood Floating Shelf ($118, originally $145)
If you live in a small apartment, dorm, or just have a more narrow bedroom, we'd recommend trying out a floating nightstand. While the pieces are a little less conventional, they're lightweight and easy to mount on walls. Plus, this nightstand from Wayfair even has a built-in drawer and upper shelf, so you won't lose out on storage space despite its compact design.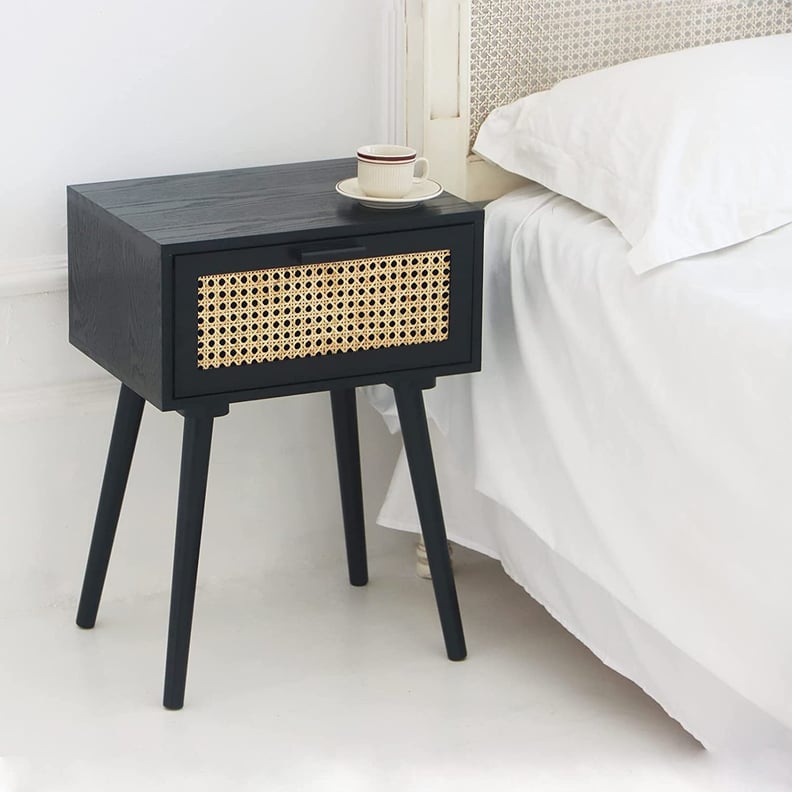 Best Affordable Nightstand
Awasen Nightstand Mid Century Modern Side Table ($46)
If you're living in a boho sanctuary, you can't go wrong with adding a rattan element to your space. This midcentury modern nightstand has a rattan drawer that's perfect for storing all your bedtime necessities. It's great for a small space, and it's 22 inches tall, 15.8 inches wide, and 12 inches deep. It comes in a variety of neutral colors. You can get this with two drawers instead of one as well.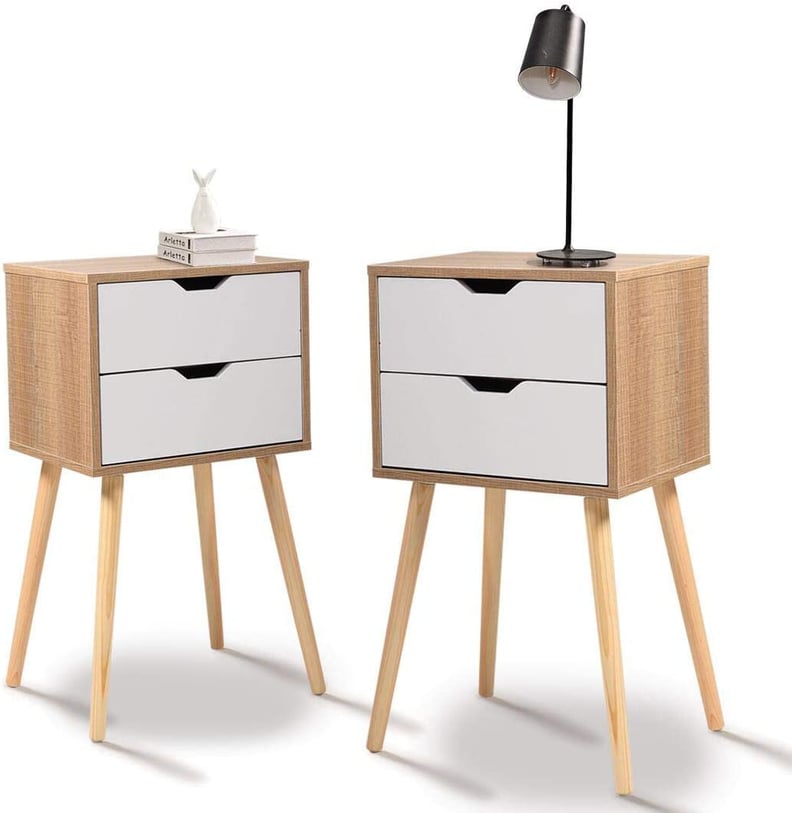 Best Nightstand Set
Jaxpety Set of 2 Wood Two-Drawer Nightstands ($98, originally $118)
These nightstands are a great deal. They're each equipped with two drawers, plus a waterproof and wear-resisting surface. It's a durable set that's perfect for a midcentury bedroom as both pieces have minimalistic tapered wooden legs that don't take up much floor space. They come in a variety of other colors as well, so you'll have no problem finding your perfect match.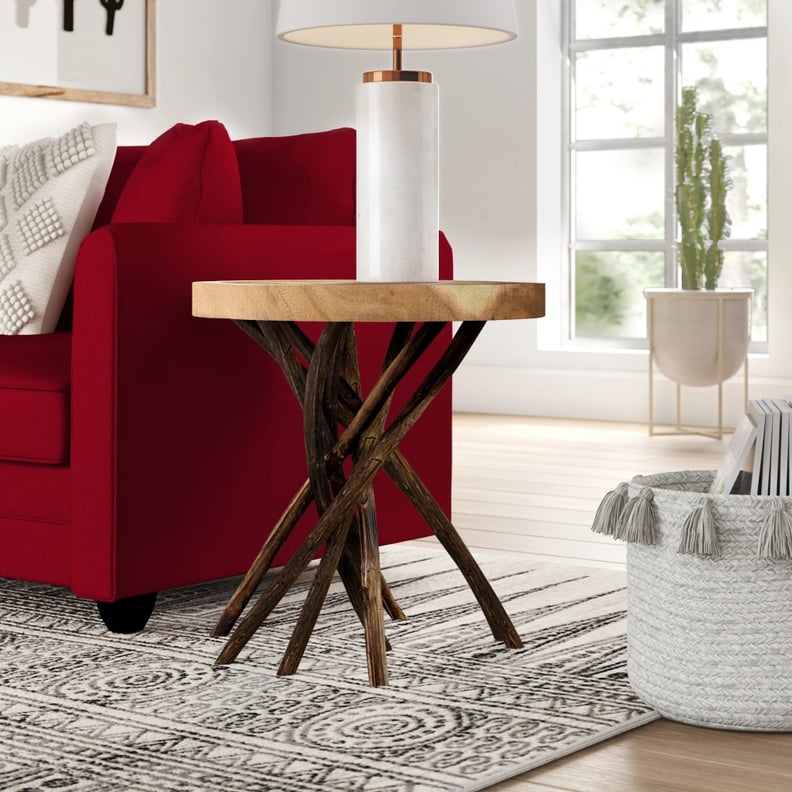 Best Round Nightstand
Sand and Stable Selah 22" Tall Solid Wood Tree Stump End Table ($130, originally $308)
This wood nightstand is a beautiful and unique piece that will bring a slice of nature right into your bedroom. The whimsical style would make the most perfect fit for a boho home. It's crafted from reclaimed teak branches — so each one is unique — and the nightstand boasts measurements of being 22 inches tall, 20 inches wide, and 20 inches deep.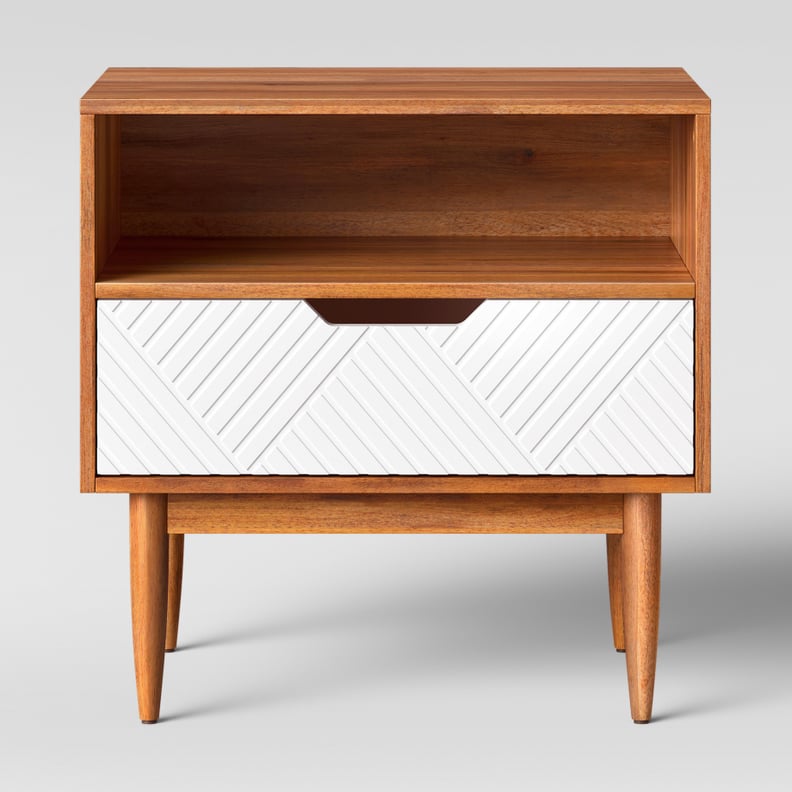 Best Wood Nightstand
Opalhouse Touraco Nightstand White Brown ($150)
This square nightstand is an eye-catching piece that's perfect for a boho or farmhouse vibe. The white drawer has textured lines that complement yet pop against the hardwood top and frame. It also has open shelving and drawer space to keep things organized the way you want it. Add a cute lamp, your nighttime reads, and a trusty water bottle on top.
Best Modern Nightstand
West Elm Curved Terrace Nightstand ($329–$658)
This stylish nightstand is truly an eye-catching decor piece that's perfect for a modern bedroom. It has shiny gold metal legs with a glass top and an open glass shelf underneath. Thanks to its sleek design, we think the piece is something that will make your bedroom feel even more glamorous. Plus, it doesn't take up much space. You can get this as a set of two as well.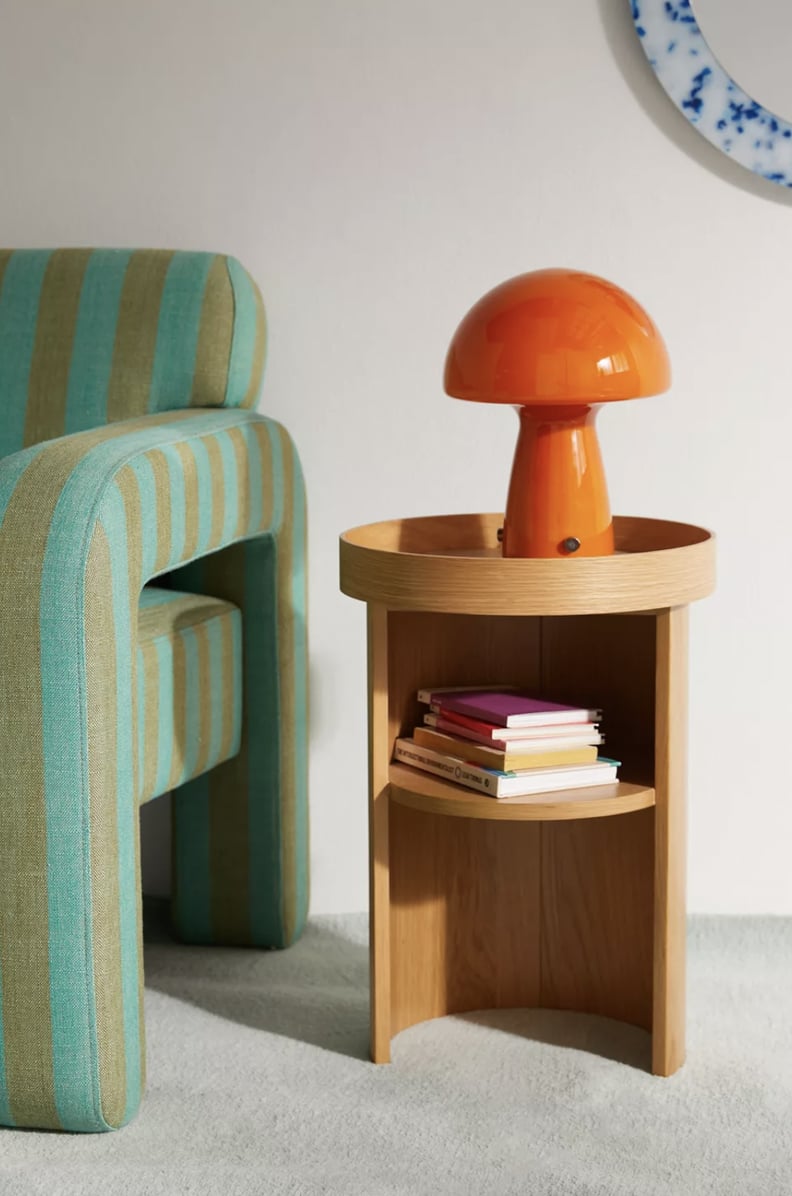 Best Nightstand With Storage
Urban Outfitters Tabitha Nightstand ($249)
If you're in the market for a round nightstand, this space-friendly option is something that will go with a variety of aesthetics. The nightstand is crafted from white oak wood material and features an open shelf underneath the round tabletop. It's 14 inches in diameter and 20 inches tall.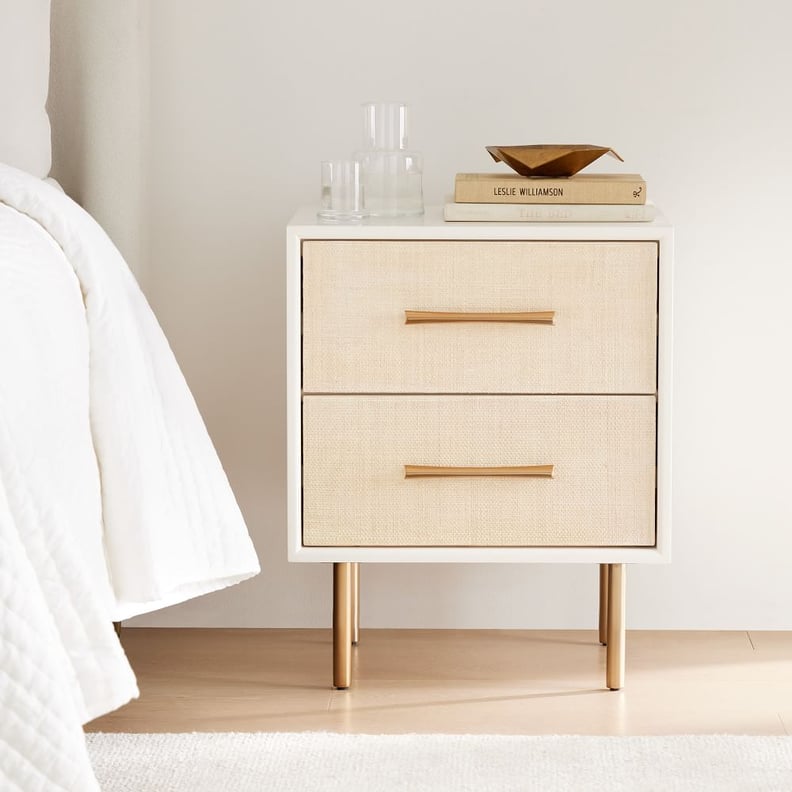 Best Nightstand With Drawers
West Elm Margot Raffia Nightstand ($499–$998)
This compact nightstand is an airy yet elegant piece that will brighten up your room. It's a stunning nightstand for those who have a modern-farmhouse aesthetic or a contemporary-boho feel. The model's two drawers offer plenty of storage space — plus, they have a woven-raffia detail that adds warmth to the bedroom while the gold accents add glam. What's not to love?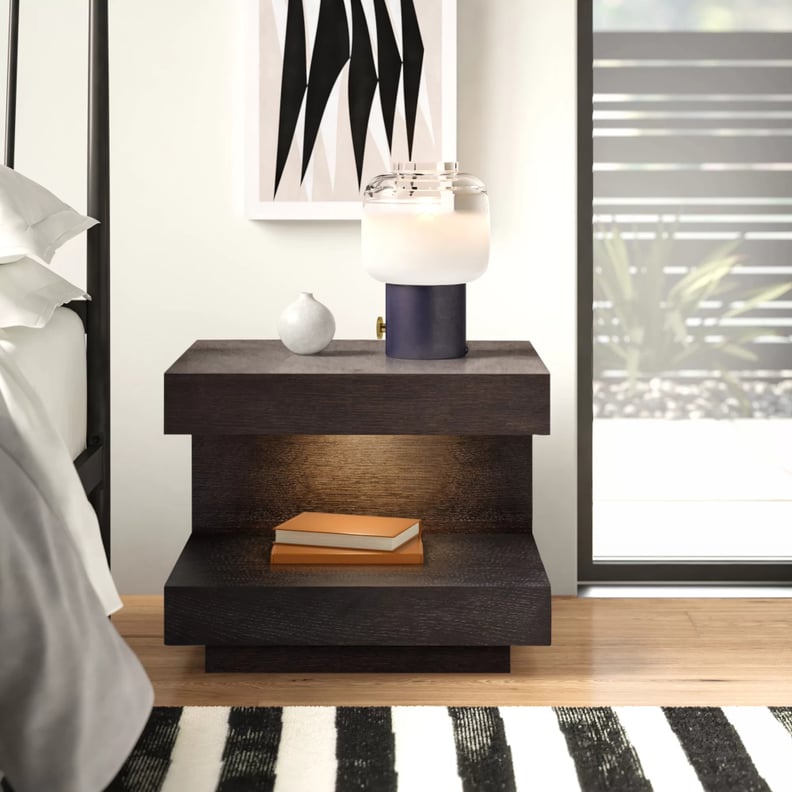 Best Large Nightstand
AllModern Denby Nightstand ($350, originally $450)
This is a modern, geometric piece that will make a statement in your contemporary bedroom. It has a large open shelf on the bottom, perfect for creating a curated decor area. Plus, it has a hidden seamless drawer on the top for your bedtime essentials. Add a decorative reading lamp, a carafe of fresh water, your latest reads, and more.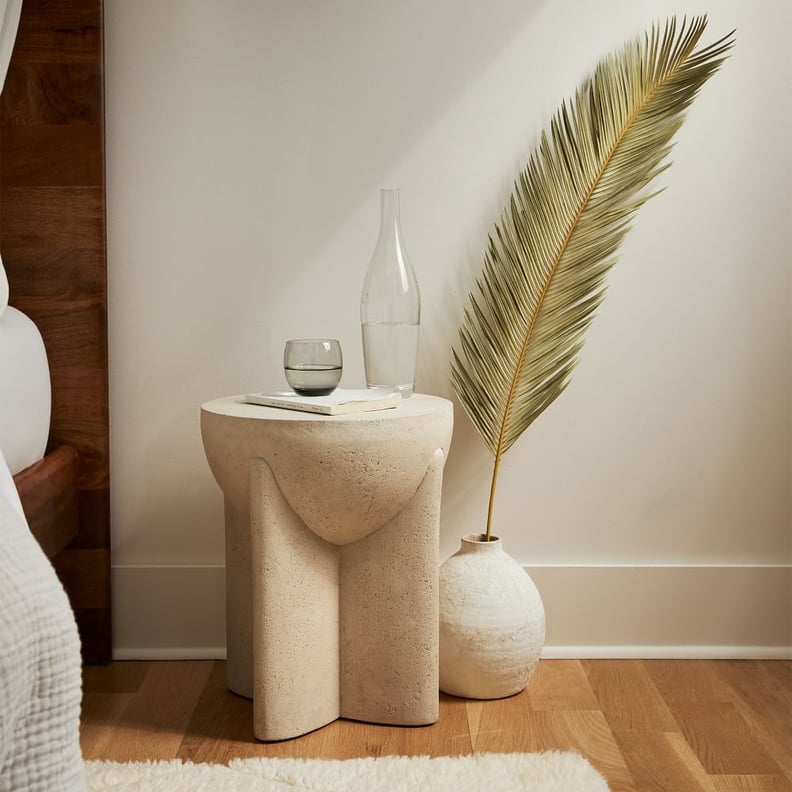 Best Unique Nightstand
West Elm Monti Lava Stone Nightstand ($199)
Add a natural element into your contemporary bedroom with this stylish round nightstand. It's a decorative piece that looks like a sculpture. And since it's made with volcanic ash, fiberglass, sand, and stone, the piece not only looks incredibly authentic, but it's also remarkably durable too.