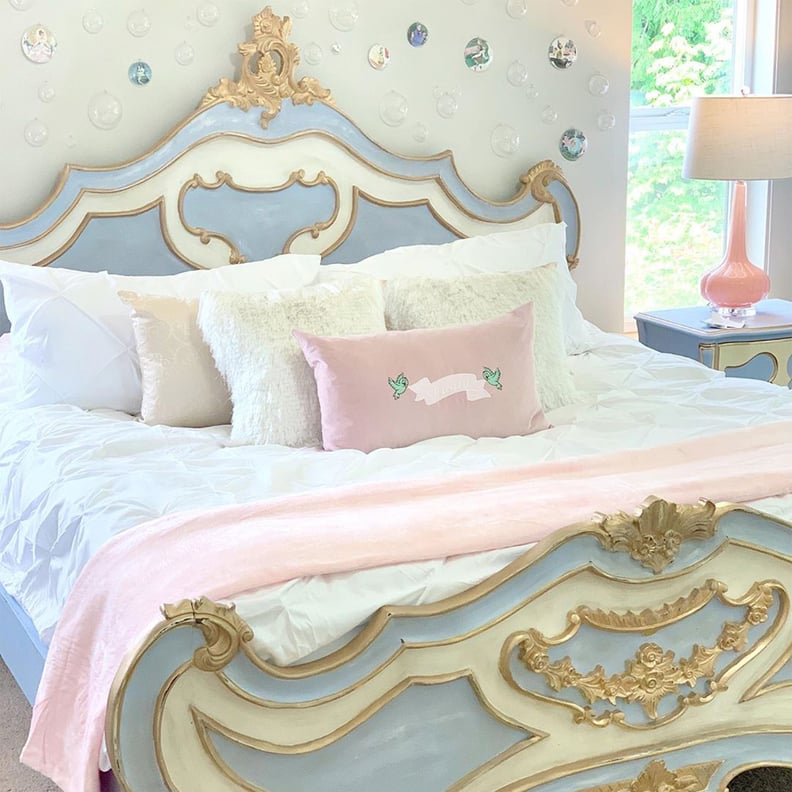 They say Disneyland is the happiest place on earth, where fans go to experience the unique worlds of their favorite Disney characters and get a taste of that same magic. That's why Kelsey Hermanson decided to transform her house into her own magical kingdom. Bringing the spark and adventure of the parks into her space, the mom of two decorated each room in her house to portray a different classic movie from the franchise, including a Cinderella-themed master bedroom to a bathroom entirely inspired by Ariel from The Little Mermaid. Known as Kelseymichelle85 on Instagram, TikTok, and YouTube, the DIY-er replicates the dreamy aesthetic from Disney's attractions and films in her family home.
"I like to create a space to feel like you're in a scene from the movie," Kelsey told POPSUGAR. "I make a lot of my decor myself, but I also like to repurpose thrift store finds into my designs. It might look expensive, but the true story is I did it all on a budget." She's also found vintage pieces and antique furniture on Facebook Marketplace, Amazon, and Disney stores while traveling, as she explained in TikTok videos featuring her home.
Each room is certainly mesmerizing in itself for its gorgeous depiction of the movies, but what's most fascinating are the special details that have resonated with Disney fans, like the Genie faucets in the Aladdin master bathroom and the tiny door in the Alice in Wonderland powder room. Of the 11 rooms she's remodeled so far, Kelsey's favorite is the Cinderella master bedroom, which is the most recent space she's worked on. "I love the colors and overall dreamy aesthetic," she said. "It truly feels like you are sleeping in Cinderella's bedroom."
While Kelsey has been meticulously furnishing and embellishing her house for the past three years, her house is still a work in progress. She told POPSUGAR that when the holidays roll around, she makes some fun upgrades, like decorating the living room in a Coco theme, instead of its usual Lilo & Stitch vibe, as well as adding The Nightmare Before Christmas decor and a pink coral Christmas tree inspired by Ariel's Christmas Under the Sea. "Our house really gets magical at Christmas," she said. The mom is also currently working on the details in her daughters' princess-themed playroom, which she most recently transformed. Ahead, see Kelsey's impressive DIY skills on display in her Disney-themed house.
Lilo & Stitch Living Room
Cinderella Master Bedroom
Lady and the Tramp Nursery Room
Beauty and the Beast Dining Room
Alice in Wonderland Powder Room
Enchanted Tiki Guest Room and Office