7 Dorm Room Design Hacks Every Student Must Learn — and Master
Decorating a dorm room can be a challenging task. Budgets are usually small, and the living quarters are temporary. After all, few people want to invest time or money in overhauling a small, drab space they'll live in for less than a year! Fortunately, Target's brilliant new hacks address issues of space, budget, and uniformity.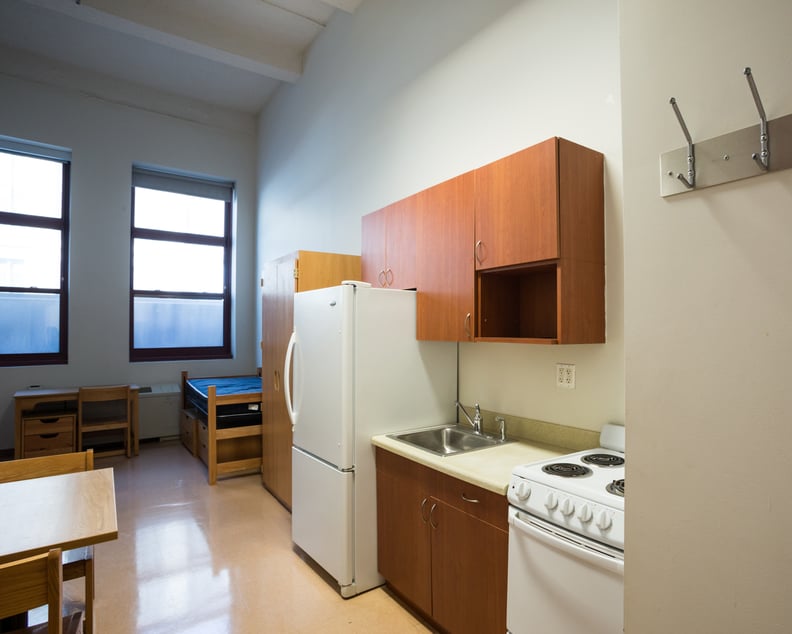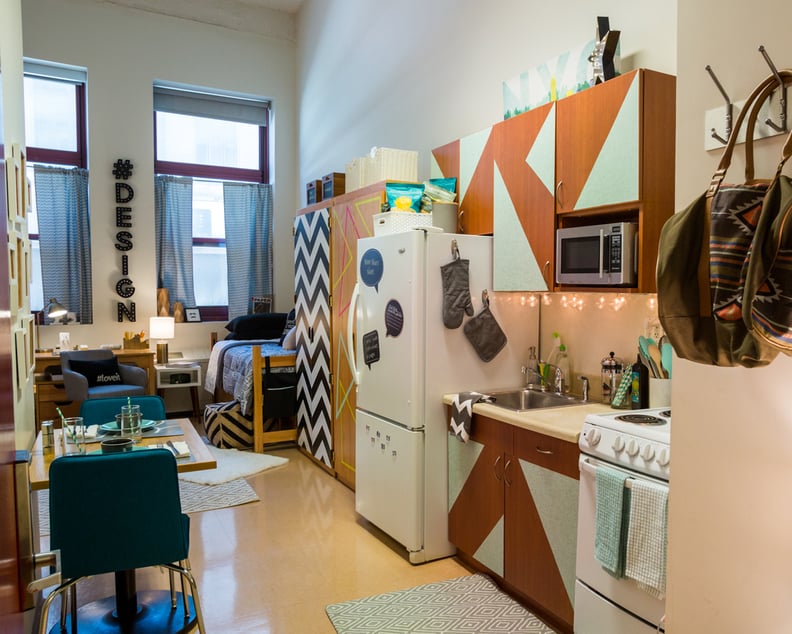 We recently visited a dorm room in NYC's Fashion Institute of Technology that had been outfitted with the help of the retailer's new Made For U College Styler Tool. The finished product is a room any student — or graduate, frankly — would love to inhabit. The designers came up with so many chic designs hacks in the space we can't wait to share with you.
01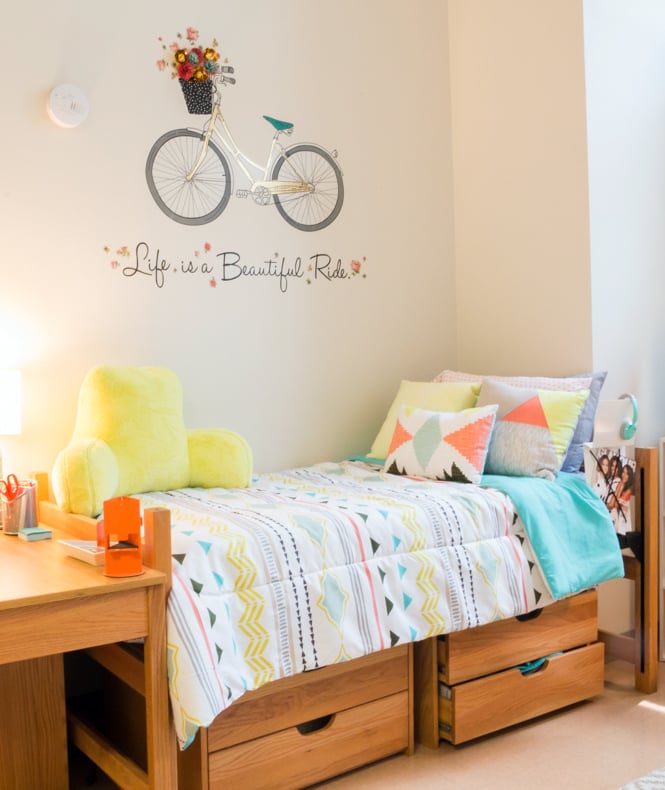 Add Texture to Wall Art
Removable wall art is all the rage in dorms. But consider adding 3D texture to the piece by popping simple bows with sticky backs in certain areas, like this bicycle with a bouquet!
02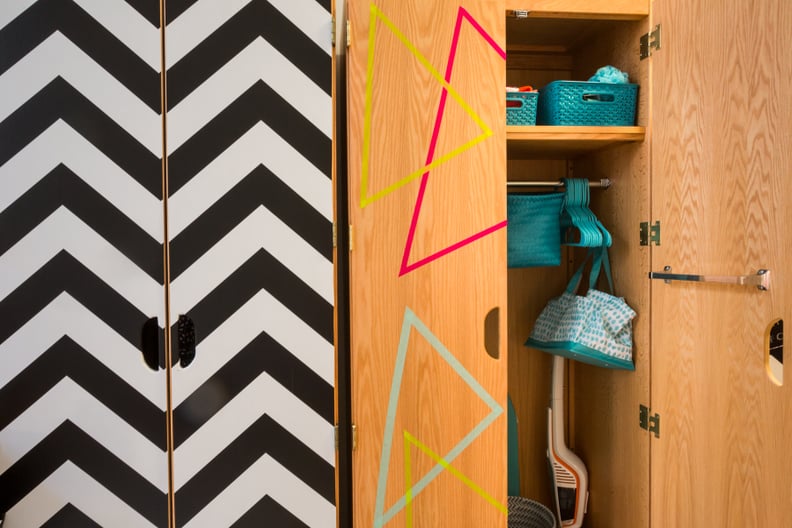 Washi Tape Art
Washi tape can be used for many purposes — including decorating! Buy brightly colored rolls of washi tape to create DIY geometric art perfect for walls, doors, and cabinets.
03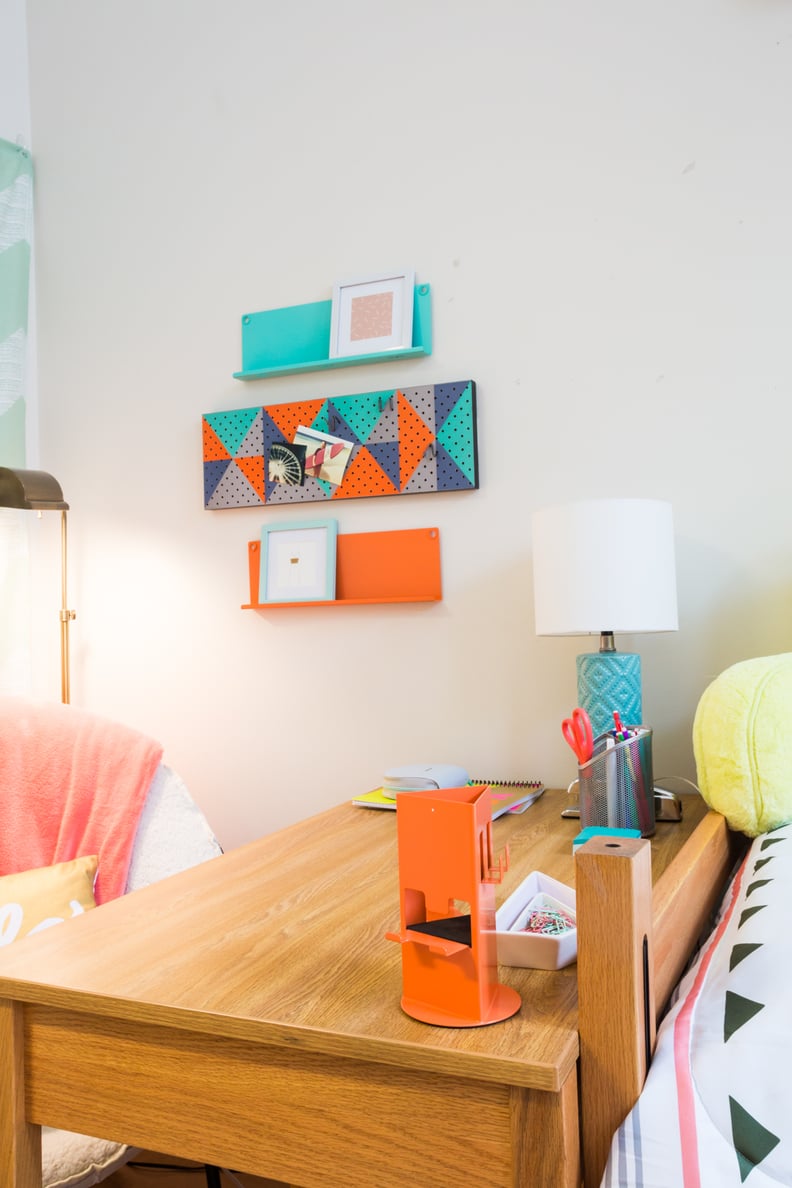 Mount Furniture With Double-Sided Sticky Squares
Who says it's impossible to mount things on dorm room walls? By using mounting squares, even chic organizers can become part of a dorm room's wall decor.
04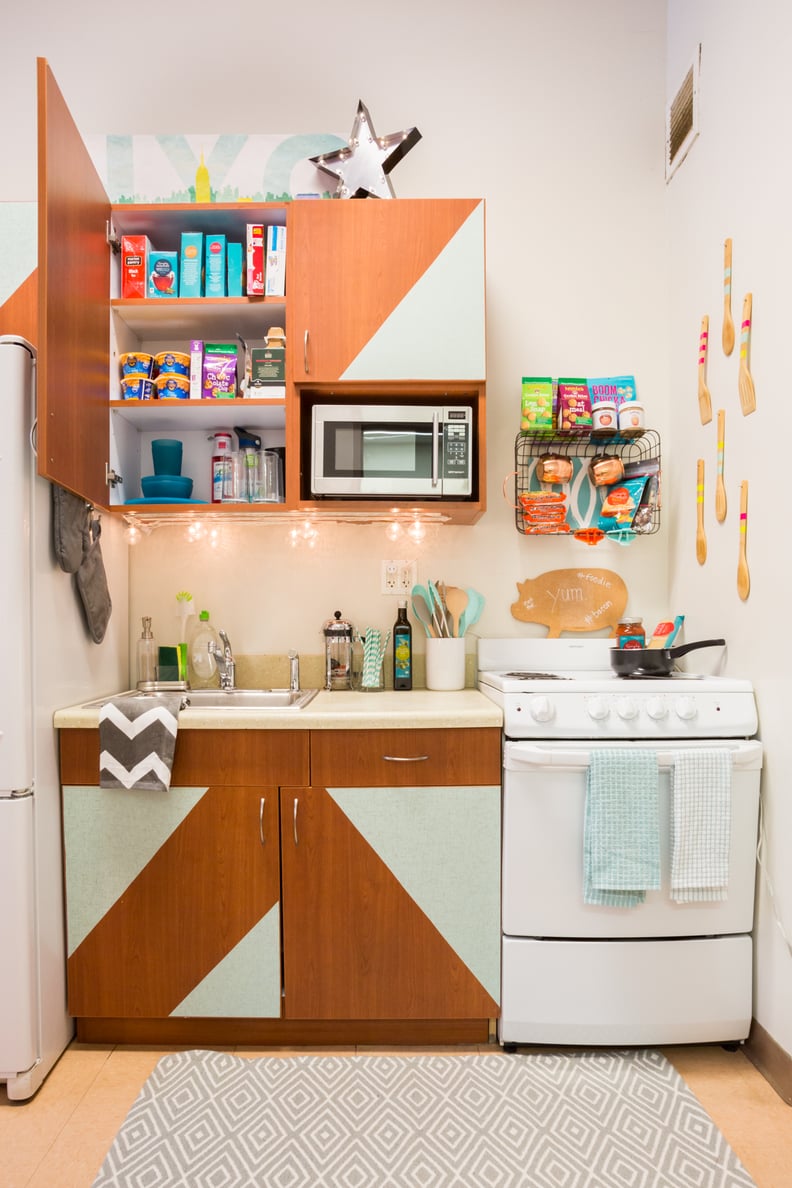 Find New Ways to Use String Lights
String lights have been an essential part of dorm decor since time immemorial. But Target's designers found a new way to improve on the old tricks, by stringing up the lights in a dim area using strong tape. Genius!
05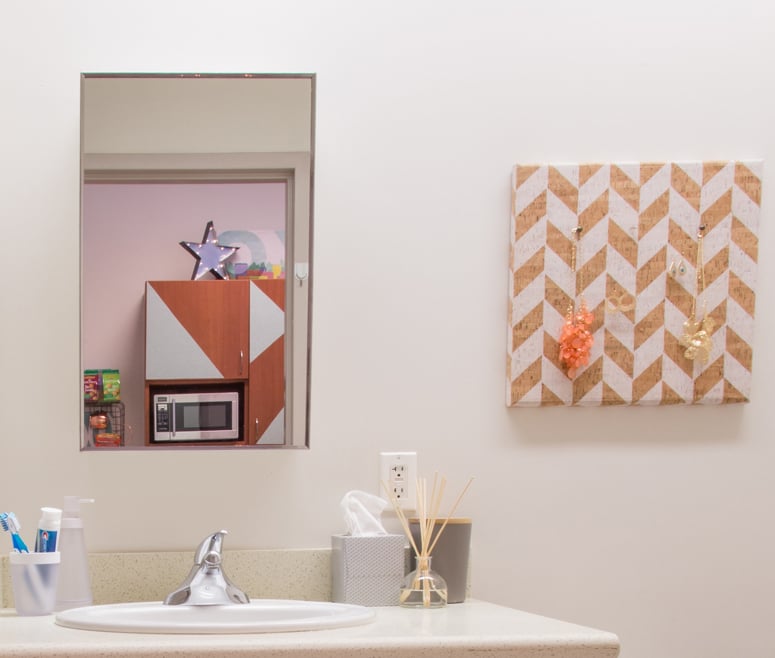 Make a Corkboard Jewelry Organizer
Corkboards aren't just for notes. Mount a corkboard that can later be used to organize jewelry.
06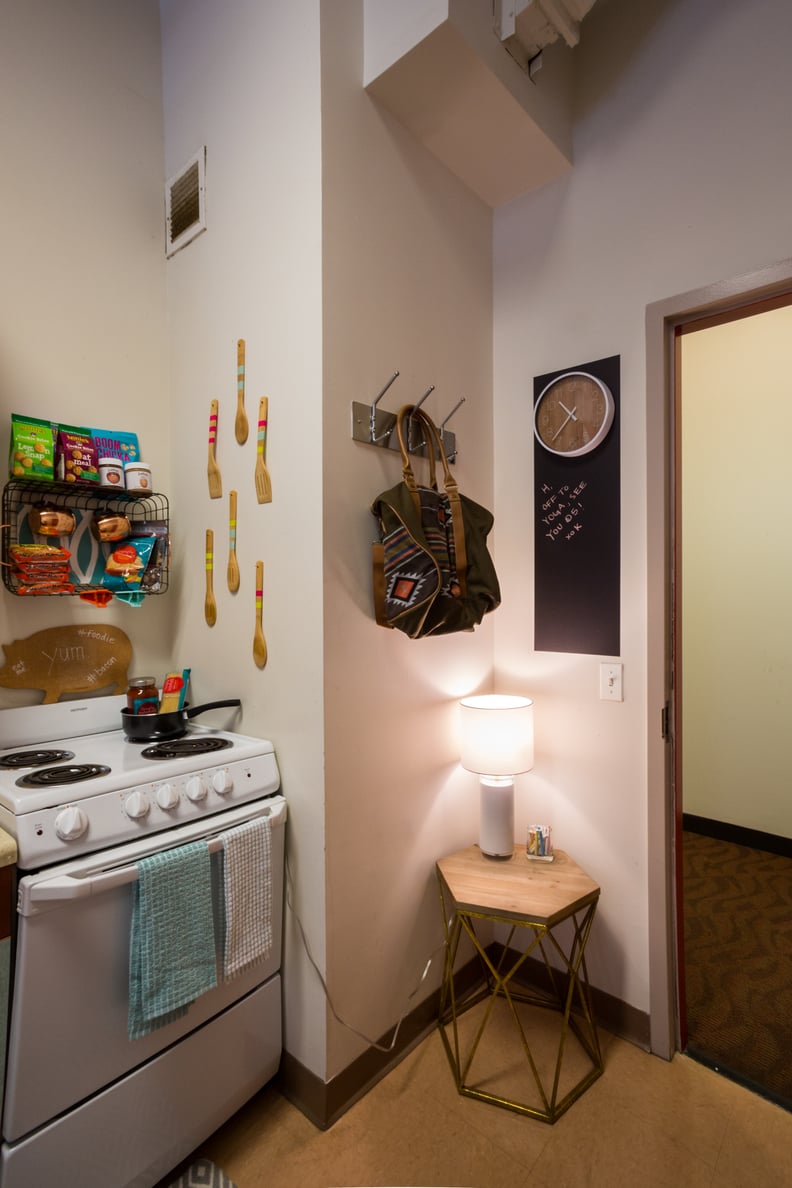 Delineate Spaces
In small rooms, it's especially essential to designate different living spaces. Make a proper entryway by adding a roll of chalkboard contact paper next to the door, and customize the area to make it something special.
07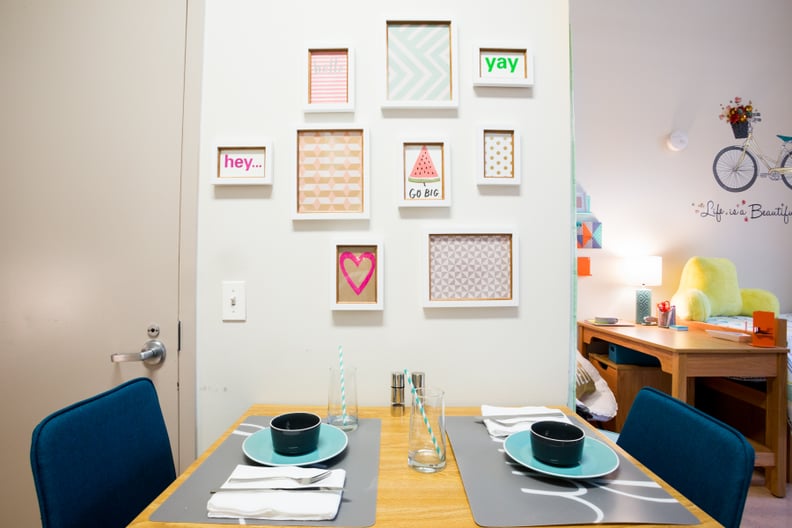 Use Inexpensive Art
Lightweight frames can be temporarily mounted with ease. When it comes to deciding on art, consider heading to the greeting card aisle. Small cards can make adorable, uplifting decor!