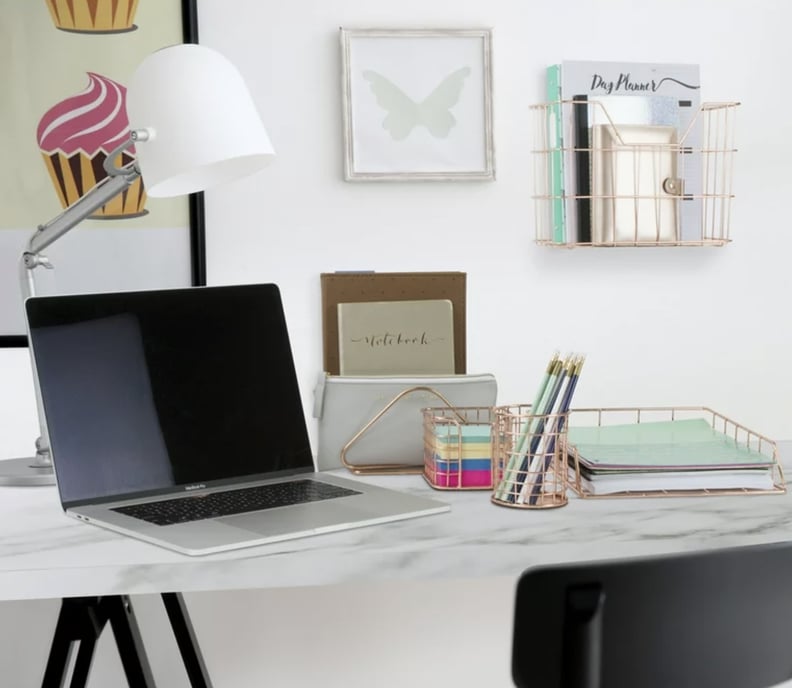 Walmart
Walmart
As POPSUGAR editors, we independently select and write about stuff we love and think you'll like too. If you buy a product we have recommended, we may receive affiliate commission, which in turn supports our work.
Going to college can be pretty stressful — you're away from your family, still figuring out how to fit in (or stand out), and trying to keep up with tons of rigorous school work. But when you add moving into a dorm to the mix, the whole experience can take on a life of its own. The beds are not standard size, and the space is usually tiny. Plus, regardless of whether you have a roommate or plan to live by yourself, you'll also need to make sure you've got enough space for the basics, like kitchen appliances, desk lighting, and cleaning supplies. Dorm living definitely isn't for the faint of heart, and we've found that it can overwhelm even the most organized shopper.
Fortunately, our editors made it through their college years (mostly) unscathed and learned a lot of helpful things along the way — including what we wish we would have bought for our dorm rooms before the semester started. To help make your back-to-school shopping a bit easier this season, we rounded up the best dorm room essentials that you'll need no matter who you are or what you're majoring in. From desk lamps and back pillows to surge protectors and storage bins, you're bound to find something worth buying below. Best of all, these affordable products are available to shop at Walmart — so you can scoop up everything you might need in one easy (and budget-friendly) transaction.
School's officially back in session! Keep reading to shop our picks for the best dorm room essentials at Walmart.
— Additional reporting by India Yaffe
01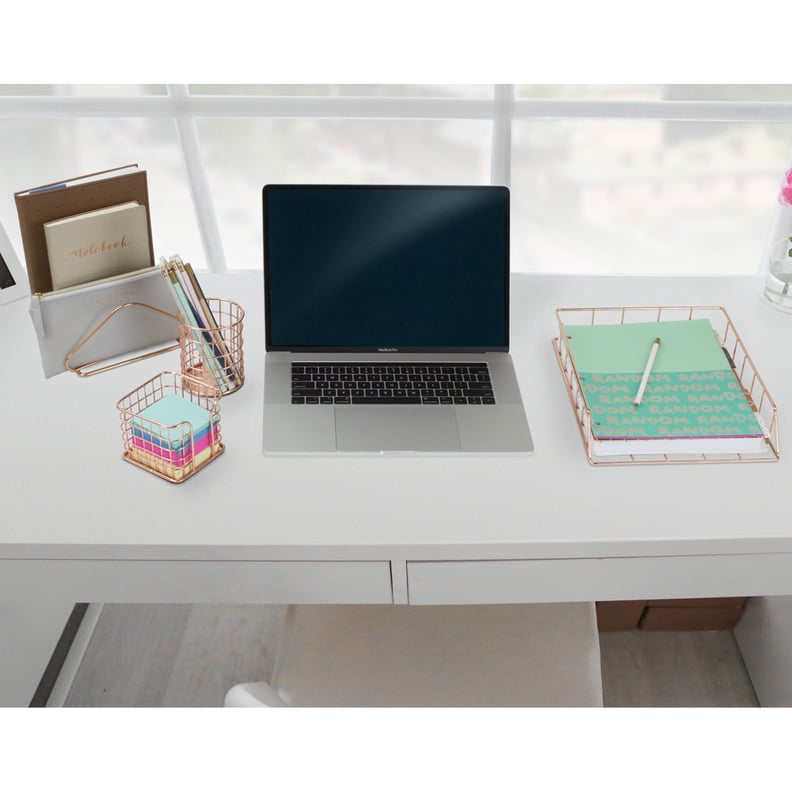 A Desk Organizer
Wire Metal 5 in 1 Desk Organizer Set ($30)
In the midst of keeping up with your schoolwork, your desk is bound to get a little messy from time to time — especially before a big test or final exam. Fortunately, this desk organizer will help to keep your space (mostly) uncluttered, and you'll appreciate having all of your school supplies much more organized.
02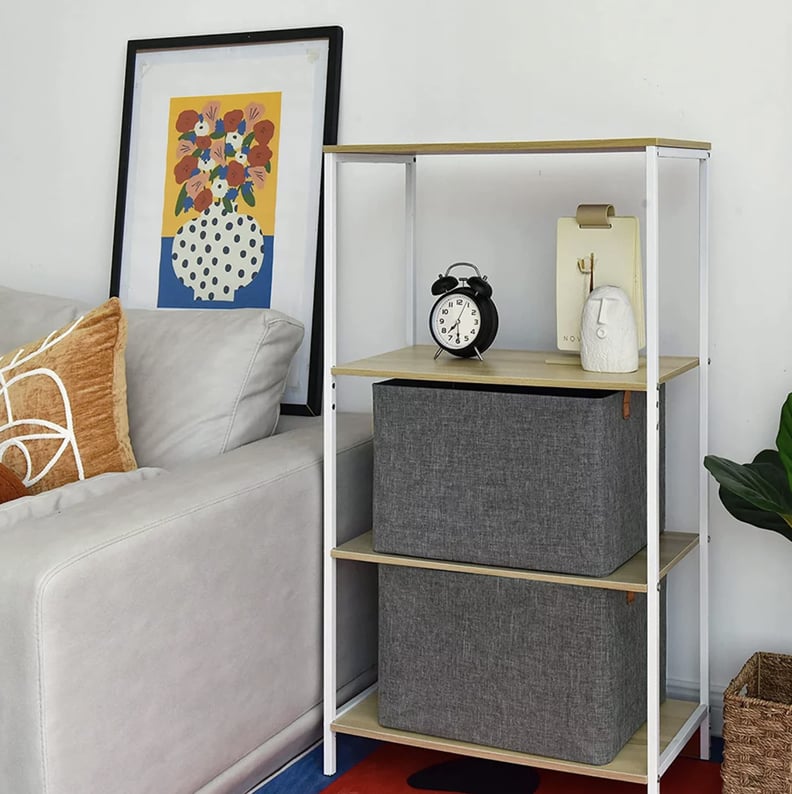 Storage Cubes
Kibhous Fabric Storage Bins ($19)
We love these sneaky storage compartments, because they're equally practical and cute. Not only do they boast plenty of interior space (perfect for concealing items you don't want cluttered around your dorm), but their charcoal gray coloring is so versatile and easy to match to your room's design style.
03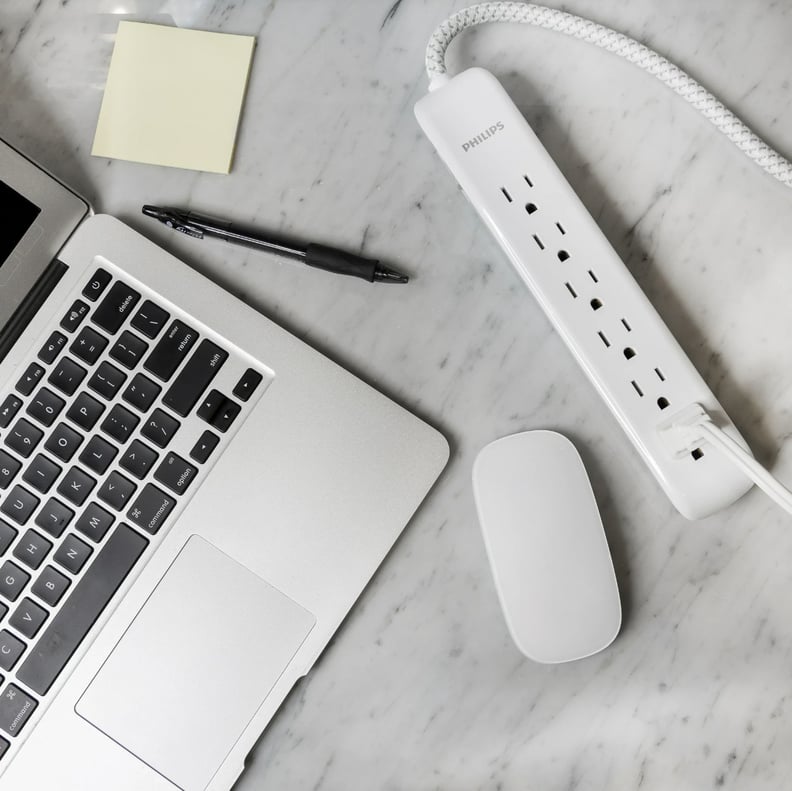 An Outlet Surge Protector
Philips 6-Outlet Surge Protector ($20)
If you get one thing for your dorm room, let it be this surge protector. Between your laptop and monitor cords, phone charger, headphones, and any other tech essential that requires charging on the regular, you'll need as many outlets as you can get — and this simple surge protector is designed to provide them.
04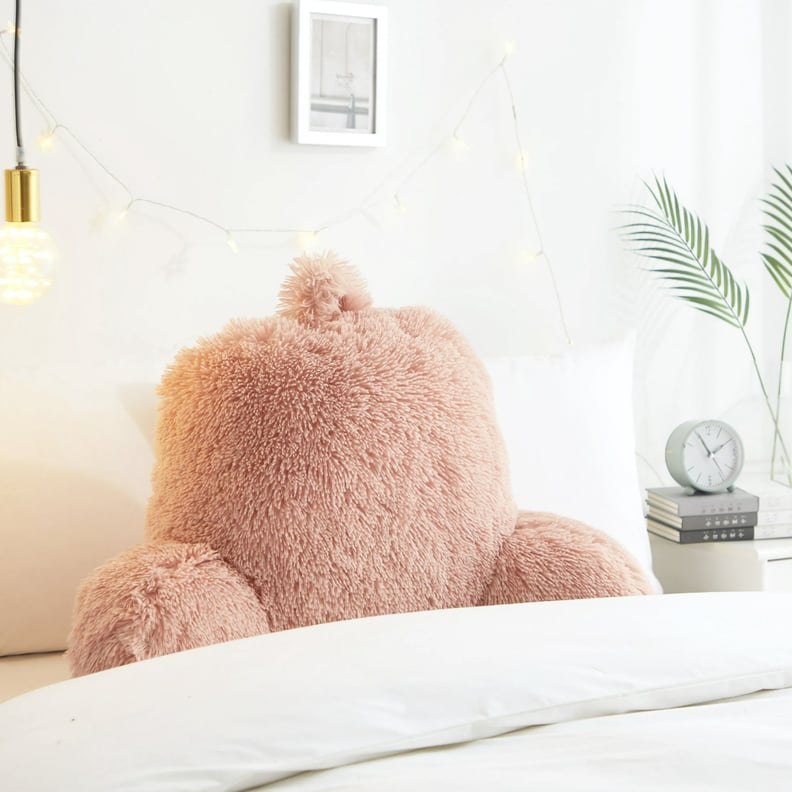 A Backrest Pillow
Mainstays Long Hair Faux Fur Backrest Pillow ($16)
When you get tired of huddling over your desk and sitting in an uncomfortable desk chair, you can still get plenty of work done from your bed with this cozy and fluffy backrest pillow. The accessory also features a cool top handle, so you can transport it around your space as needed.
05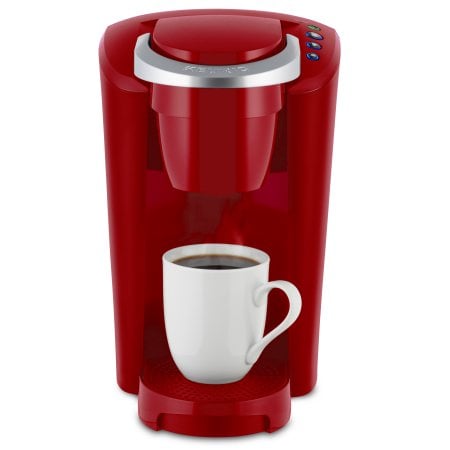 A Compact Coffee Maker
Keurig K-Compact Single-Serve K-Cup Pod Coffee Maker ($99)
College is a lot of late study sessions and sleepless nights — which means that aside from your roommate and computer, coffee will become your best friend. This compact coffee maker will come in handy more often than you can imagine.
06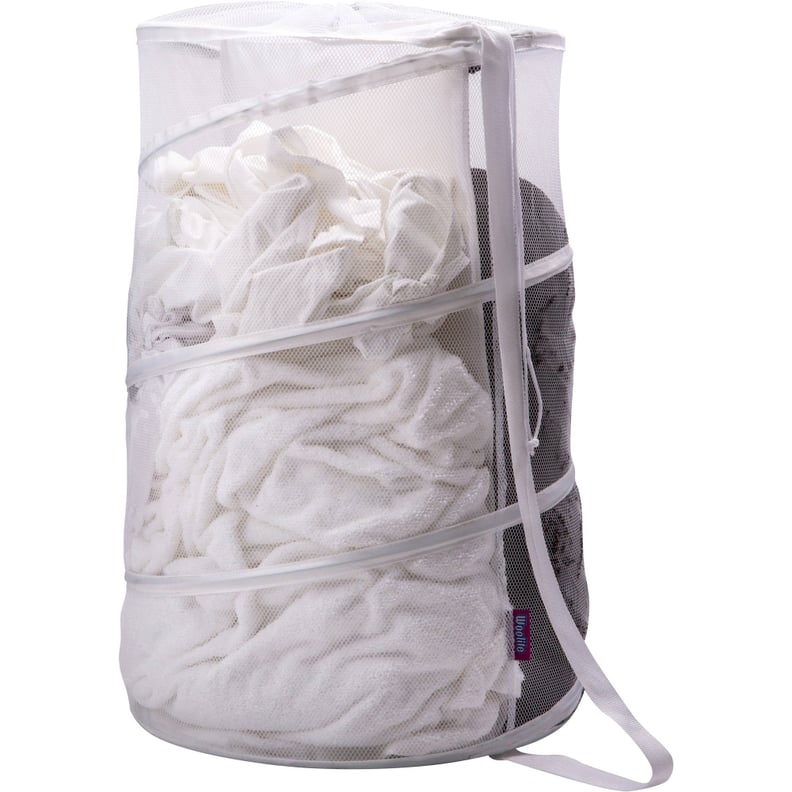 A Laundry Hamper
Woolite Sanitized Large Mesh Pop-Up Hamper With Divider ($19)
One of the many things you'll have to get used to about dorm-life is doing your laundry on the regular — and since most dorm rooms don't come equipped with their own washing machines, that means you'll also have to transport them to and from your college's on-site laundromat. We recommend buying something like this pop-up hamper, because it's easy to carry and even features dividers so you can separate your clothes before their next wash.
07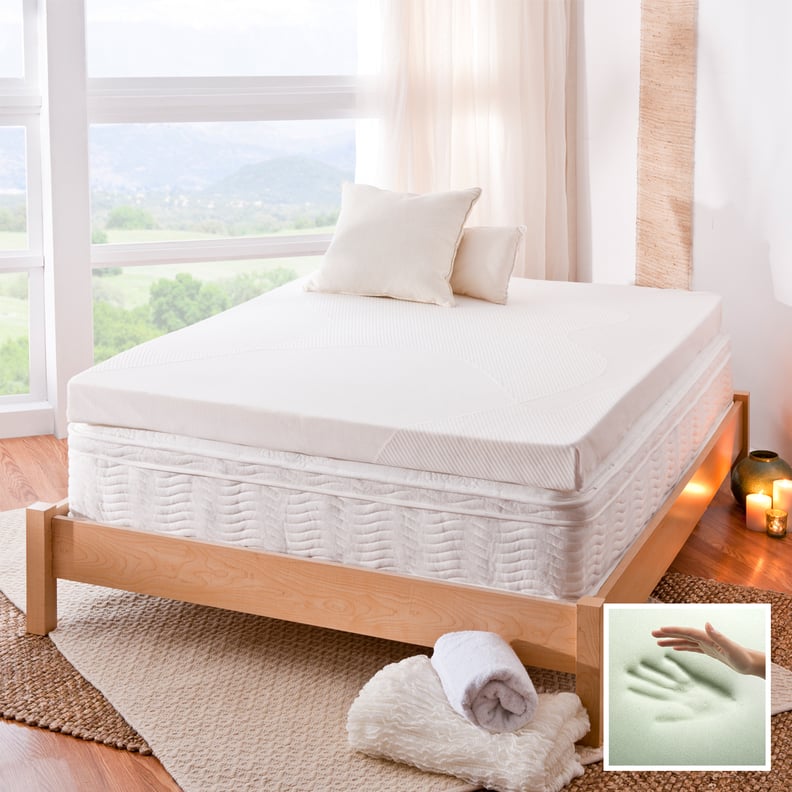 A Memory Foam Mattress Topper
Spa Sensations 4-Inch Memory Foam Mattress Topper With Theratouch ($84)
Dorm room mattresses are notoriously uncomfortable. Since your bed should be a sanctuary — especially with so many late study sessions and sleepless nights — a quality mattress topper might just prove to be your most worthwhile investment for the new semester.
08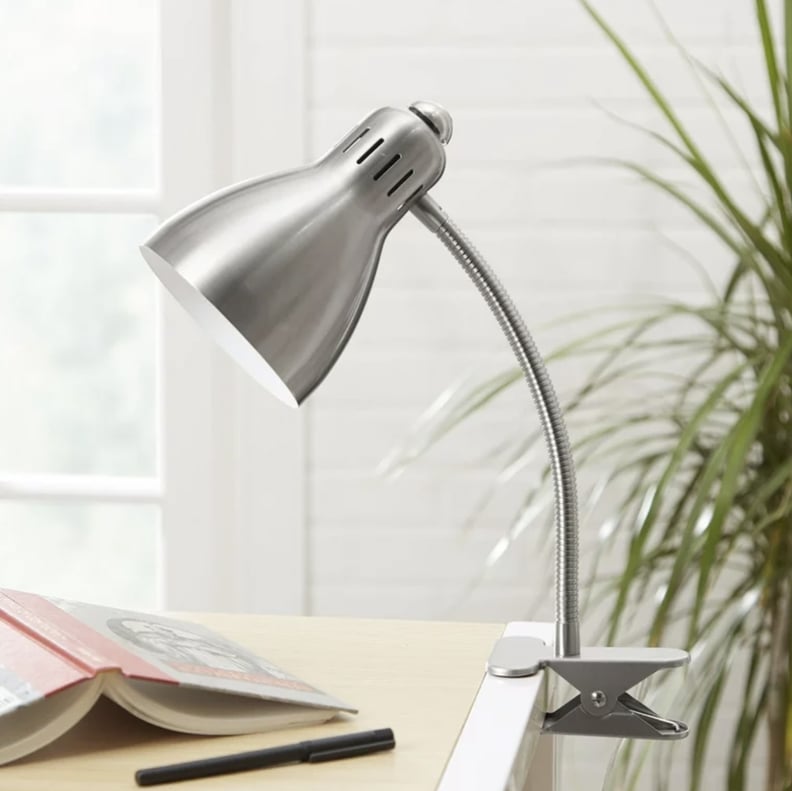 A Desk Lamp
Mainstays Gooseneck Clip Lamp ($12)
Late nights at your desk mean you need a great lamp to shine a light on all of your notes and reading materials. This cool clip lamp easily attaches to the corners of your desk, table, or nightstand, so you can maximize on your available work space.
09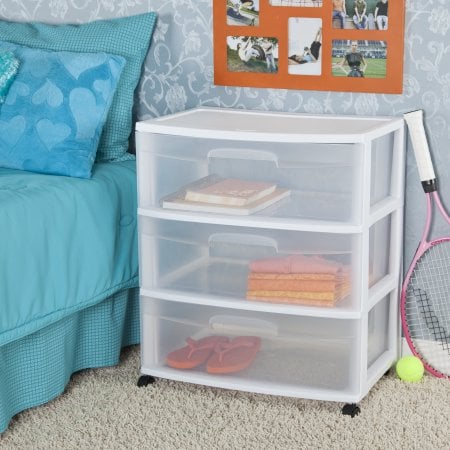 A Storage Cart
Sterilite 3-Drawer Wide Cart ($20, originally $22)
Living in a dorm room often requires more drawers than you thought possible — especially if you're sharing that space with a roommate or two. This practical drawer cart packs a surprising amount of stuff into a relatively small space.
10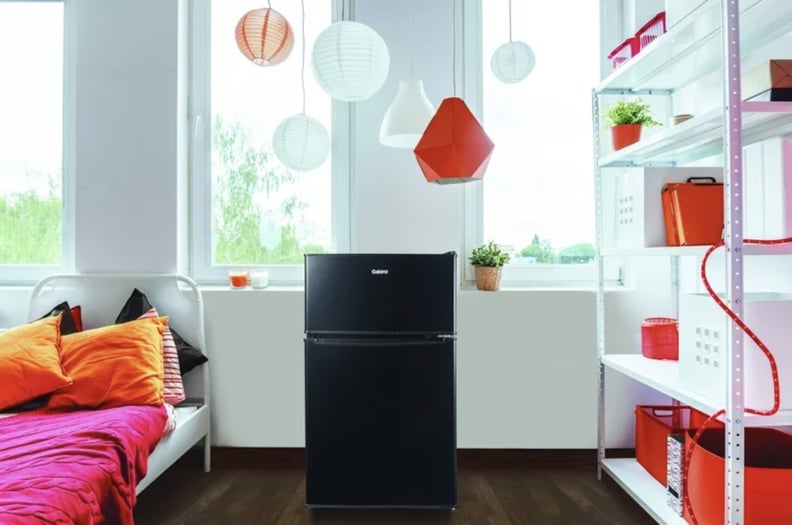 A Mini Fridge
Galanz Compact Two-Door Refrigerator ($157, originally $194)
Now we recognize that not all dorm rooms will come with enough space for anything other than the essentials — but if you can squeeze it in, having a mini fridge with a freezer is a serious luxury in the world of college dorms. This particular model is relatively compact, plus it features a flat top that you can store other items or bins on top of.
11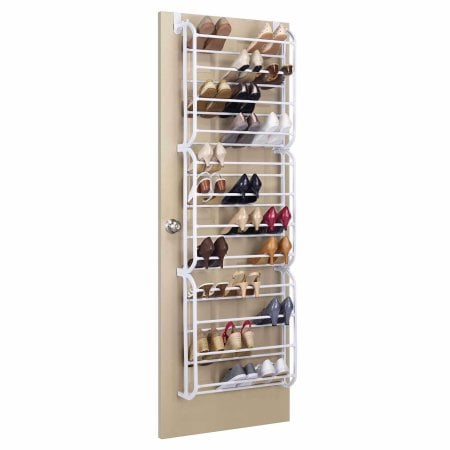 An Over-the-Door Shoe Rack
Whitmor 36-Pair Over-the-Door Shoe Rack ($19, originally $25)
Fashion lovers, rejoice! With this cool over-the-door shoe rack, you won't have to choose which pairs of shoes can come to college with you and which ones you'll have to leave behind. The practical organizer is deep enough to hold a wide variety of styles, from sneakers to heels, flats, and more.