As POPSUGAR editors, we independently select and write about stuff we love and think you'll like too. If you buy a product we have recommended, we may receive affiliate commission, which in turn supports our work.
We all love the look of plants, but some of us have serious green thumbs, while others struggle with keeping a cactus alive. Well, no matter how talented you are when it comes to plant care, you're going to be obsessed with this new line. Plant and interior stylist Hilton Carter has a new line at Target, and it's everything your home needs. From indoor and outdoor planters and plant stands to faux indoor plants, the Hilton Carter for Target collection will add a touch of greenery to any space.
Carter's collection features artificial plants that will make any home look elevated. It's ideal for anyone looking to add greenery that will stay vibrant as ever, even in rooms with barely any sunlight. Plus, there's no watering required, which is ideal for those who prefer low-maintenance (or barely any) upkeep. The collection also includes faux hanging plants that brings the eye up for a dimensional look.
Carter's line also has plenty of outdoor planters that can blend into a variety of aesthetics, including contemporary and modern homes with sharp geometric lines and designs with gray- and black-toned colorways. Looking to add something boho or warmth to your space? There are plenty of options featuring terracotta as well. Keep reading to shop the Hilton Carter for Target collection.
— Additional reporting by India Yaffe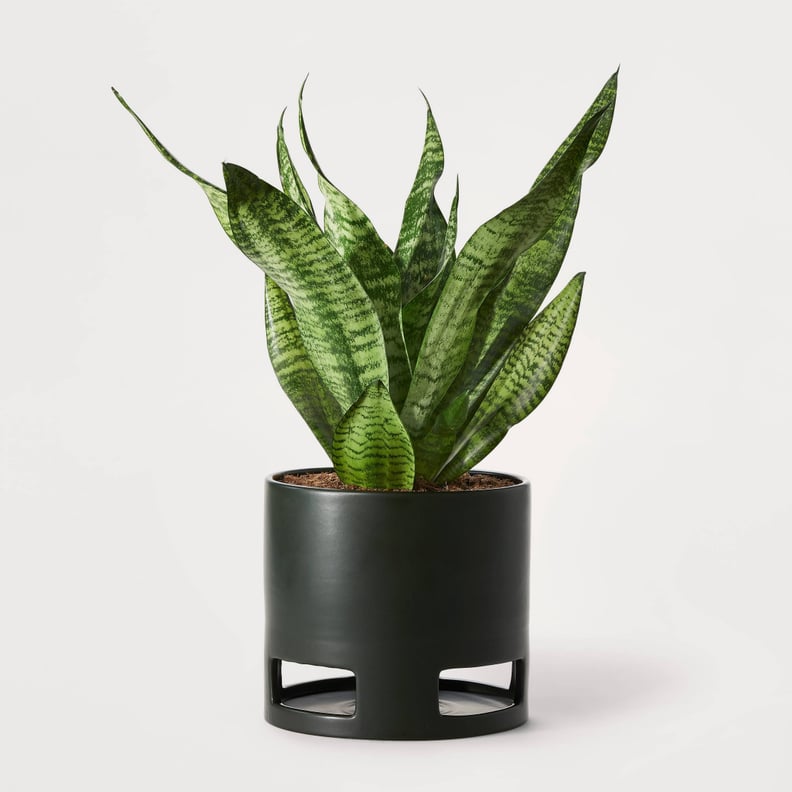 Outdoor Stoneware Planter Pot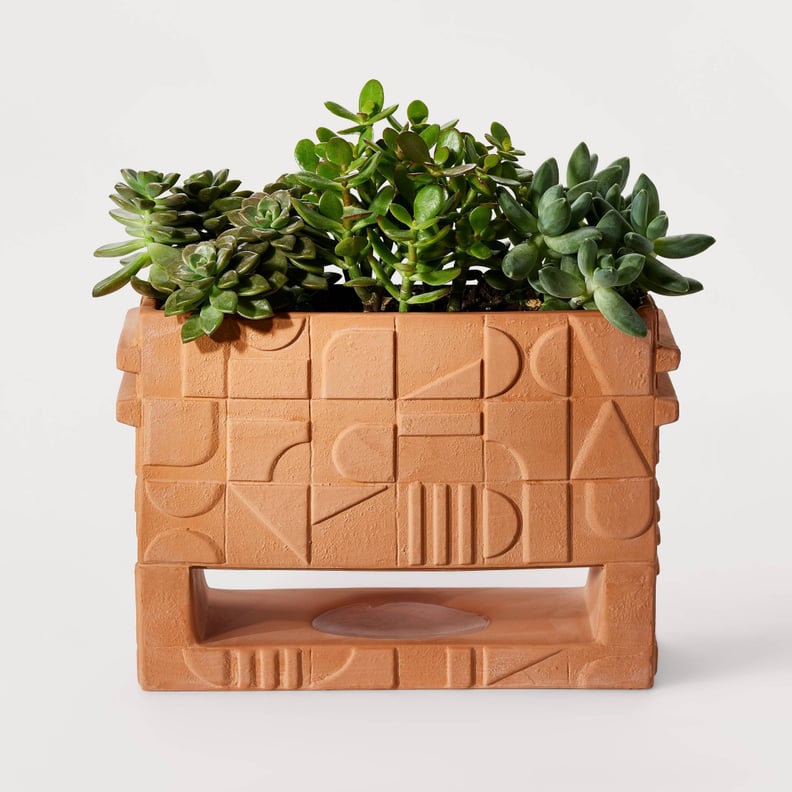 Outdoor Terracotta Planter
Hilton Carter For Target 5" Wide Footed Rectangular Terracotta Outdoor Planter Box ($40)
This terracotta planter features a stylish geometric pattern carved throughout for a modern yet boho took for your space. You can place this outdoor planter on a tabletop or on the ground freestanding. Using a terracotta planter is ideal for plants that prefer dryer soil, like cacti and succulents. That's because terracotta is known to release moisture quickly. If you're looking to give your space a tropical or desert vibe, this would be a fab addition. Plant something that's more upright, so that the geometric pattern isn't hidden.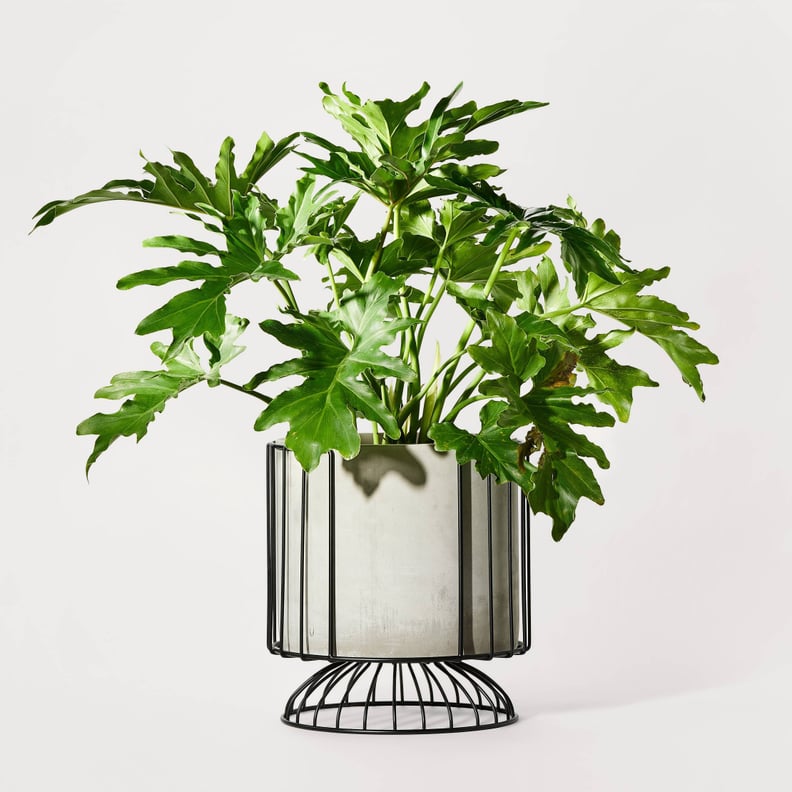 Outdoor Planter Pot with Metal Stand
Hilton Carter For Target Outdoor Planter Pot With Metal Stand ($51-$61)
If you're looking to add greenery to a contemporary space, this one with a metal stand will do the trick. The long-lines of the metal stand provide an elongated look and the pot gives it an earthy flair. It comes in two colors, concrete gray and terracotta, and two sizes, so you can pick the optimal planter for your space. Place this on your outdoor steps, next to a couch or sofa, or on top a side table.
Outdoor Self-Watering Concrete Planter
Hilton Carter For Target 10" Wide Self-Watering Square Concrete Outdoor Planter Pot ($40)
The responsibility of consistently watering our greenery can deter us from even trying to raise a few plant babies of our own. However, this concrete outdoor planter is self-watering with a excess water plate and an internal rope that helps pull moisture through and into the soil. Concrete is also a durable and porous material that provides that insulation needed for warm-season greenery like orchids. This self-watering platner comes in gray and black.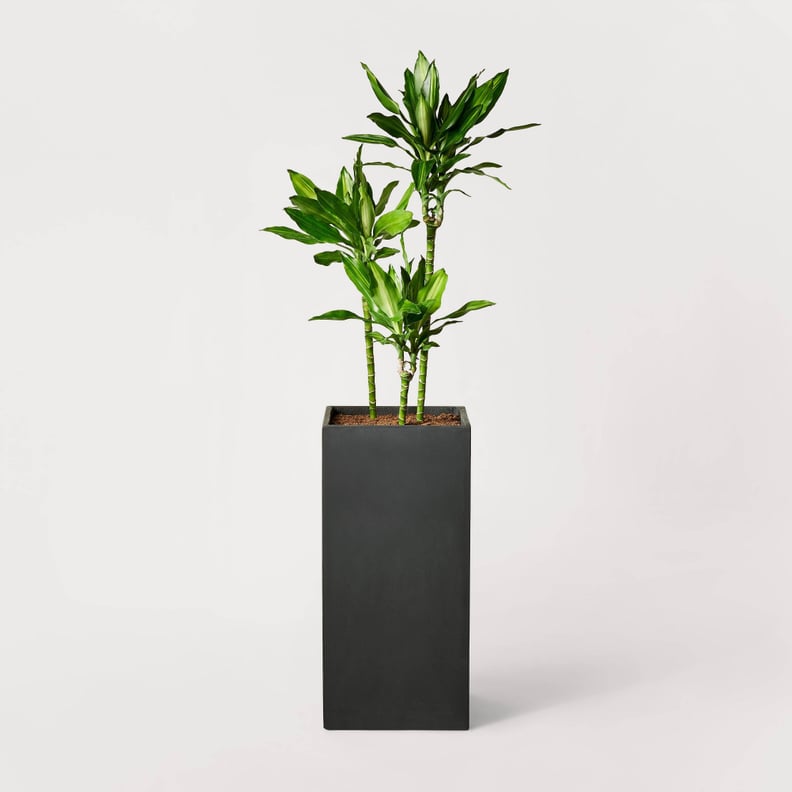 Outdoor Modern Cement Planter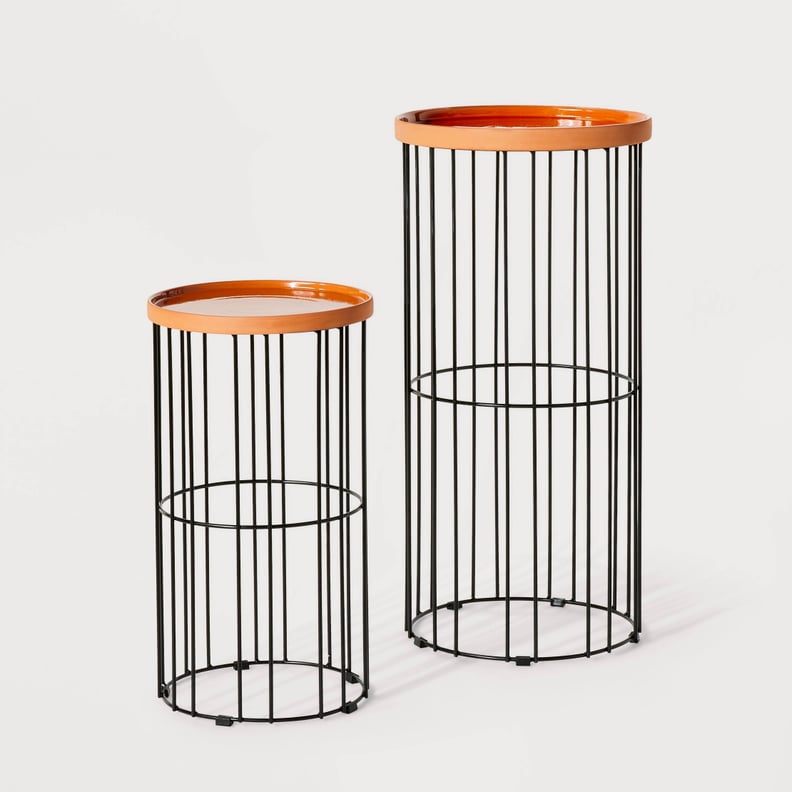 Metal Wire and Terracotta Plant Stand
Hilton Carter For Target Metal Wire Plant Stand Terracotta ($40-$61)
If you've got a sizeable plant collection, you'll want a few plant stands to make your greenery shine. The Metal Wire Plant Stands have a terracotta base that adds the perfect touch of earthiness to a modern or industrial space. It comes in two sizes 18 inches and 25 inches tall.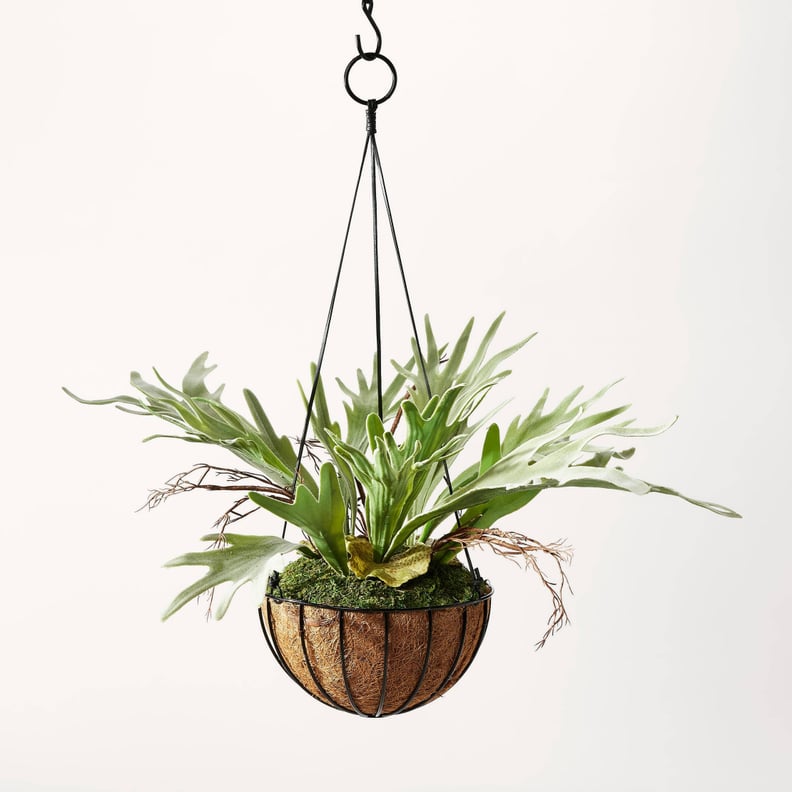 Hanging Planters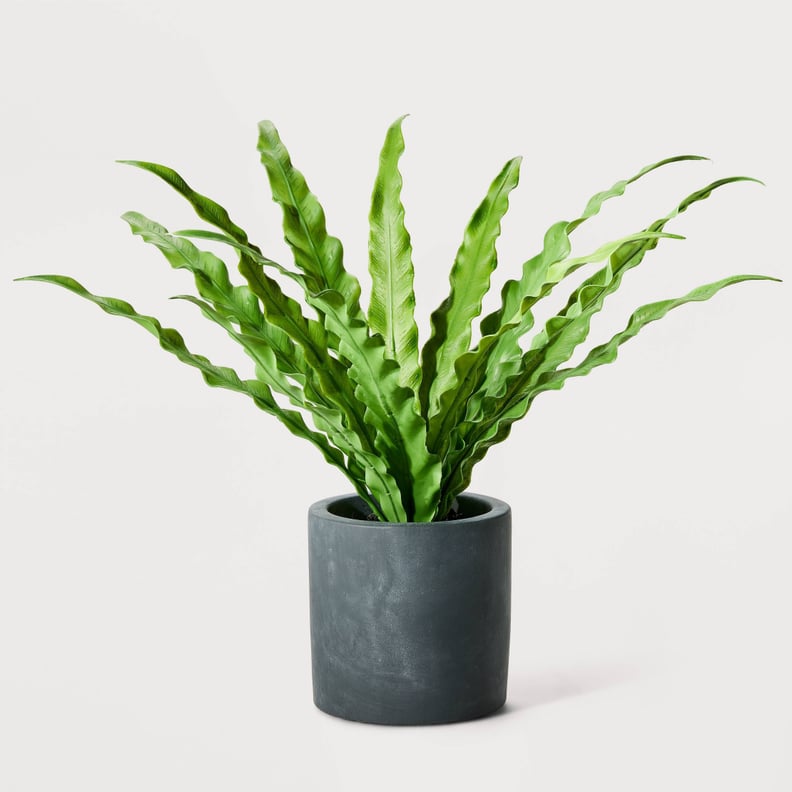 An Artificial Nest Fern Plant
Hilton Carter For Target 9.5" Small Artificial Nest Fern Plant in Ceramic Pot ($12)
This artificial fern plant is perfect for atop your side table or entryway. The gray-toned ceramic pot blends seamlessly into contemporary or modern homes and the bright green color of the fern will add warmth to the space. It's perfect for office spaces, living rooms, or even a bathroom, especially one with no windows.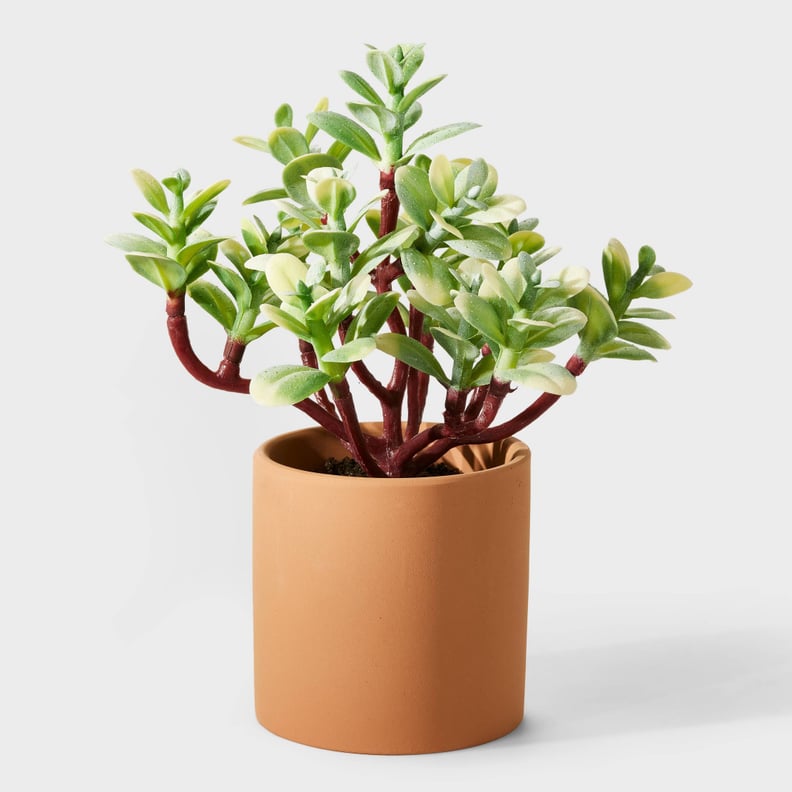 An Artificial Portulacaria Plant
Hilton Carter for Target 7.5" Small Artificial Portulacaria Plant ($12)
If you're looking to add warmth or a boho flair to your space, this cute little artificial portulacaria plant is just what you need. The succulent is perfect for window sills, desks, side tables and shelves as well. The terracotta pot and the light green leaves will make your space feel like Palm Springs.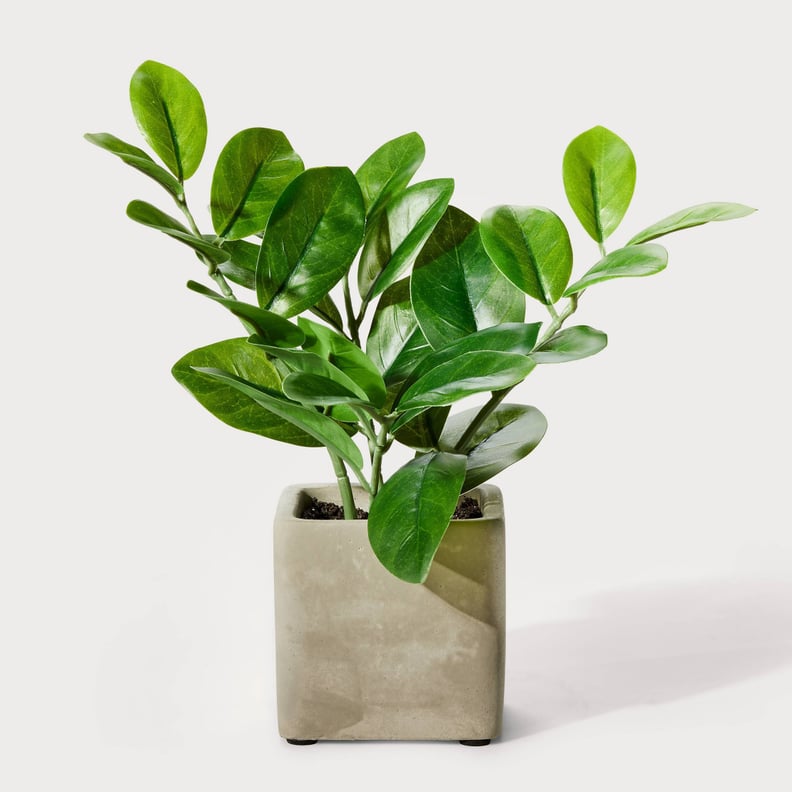 An Artificial ZZ Plant
Hilton Carter For Target 9" Small Artificial ZZ Plant ($12)
This artificial ZZ plant makes for a great addition for a modern home, whether it's a bathroom with sleek countertops and a monochromatic vibe or a living space with leather seating. This small plant is a great decor piece that will fit atop entryway tables, side tables, coffee tables, and bookshelves.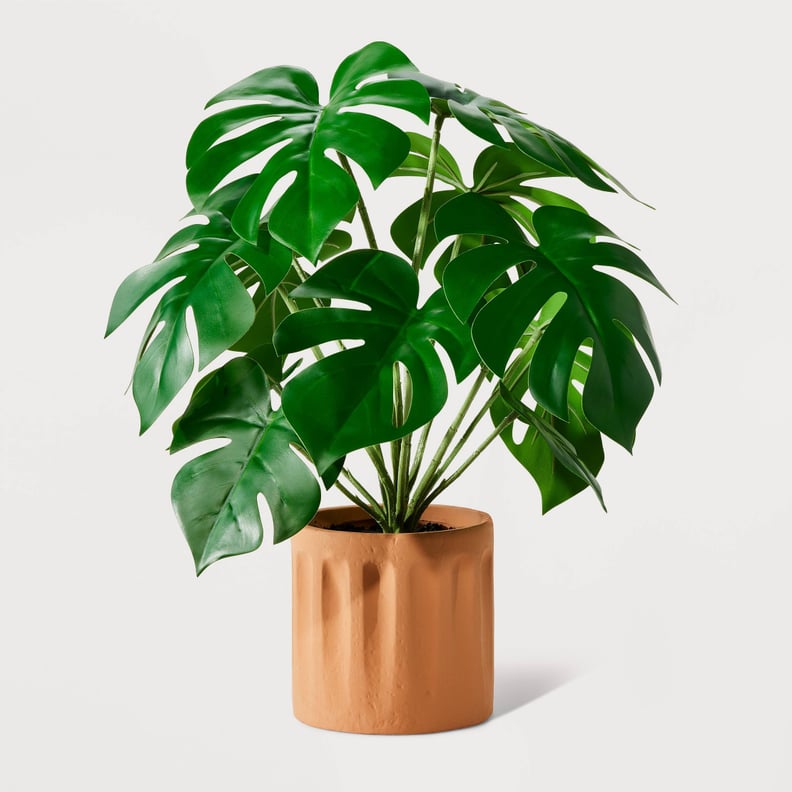 An Artificial Monstera Plant
Hilton Carter For Target 15" Artificial Monstera Plant ($25)
If you've been wanting to grow a Monstera plant, but keep forgetting to water it or live in an apartment with less than stellar sunlight, this faux one is so cute. With its textured terracotta pot and the vibrant green split leaves, the plant will surely warm up your space. Place it on the ground near a couch, in an awkward corner, or on the window sill.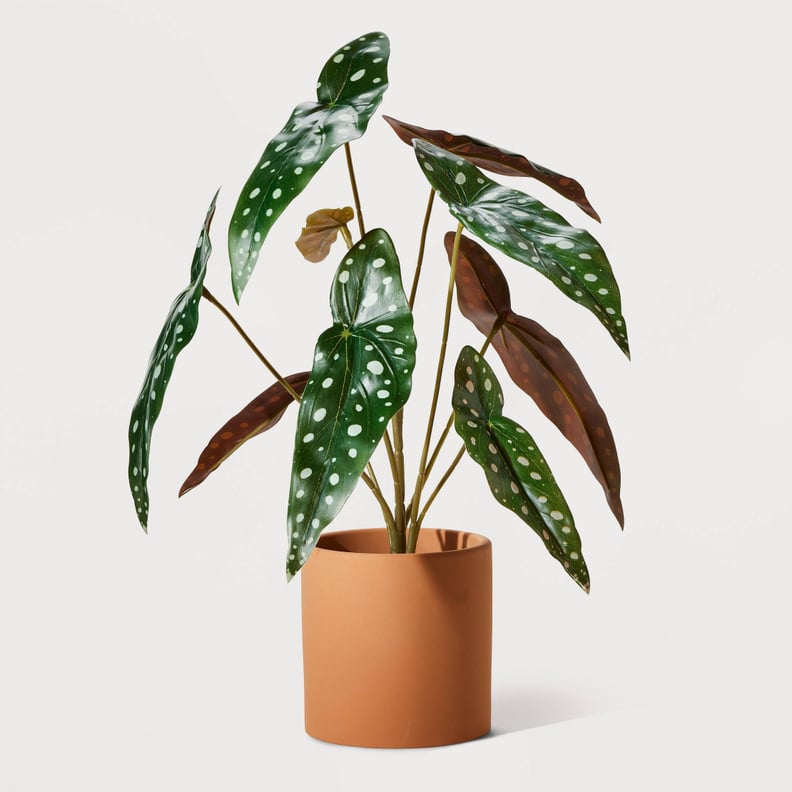 An Artificial Polka Dot Plant
Hilton Carter for Target 16" Artificial Polka Dot Plant ($25)
Add this artificial polka dot plant for a decor piece that will garner all the compliments from your friends and family. With its bright terracotta pot and fun polka dot pattern, this will add texture and a fun tropical flair to your space.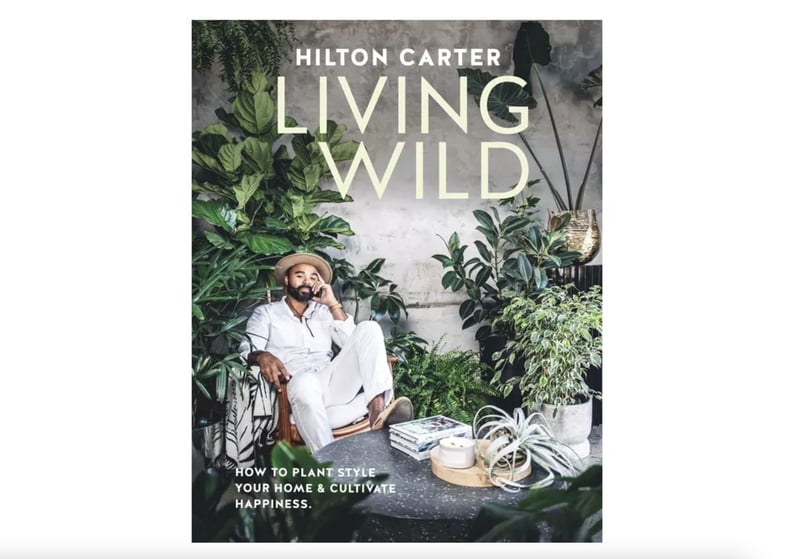 A Coffee Table Book
"Living Wild" by Hilton Carter ($32)
Get Carter's "Living Wild" book, and learn how to strategically decorate your home with plants. The book dives deep into the therapeutic benefits of living with plants as well as how Carter styles plants by choosing the right colors and textures of planters, and other accessories. You'll learn tips and tricks on how to care for plants. It's also such a cute coffee table book.