The 3 Most Important Things to Look For in Flatware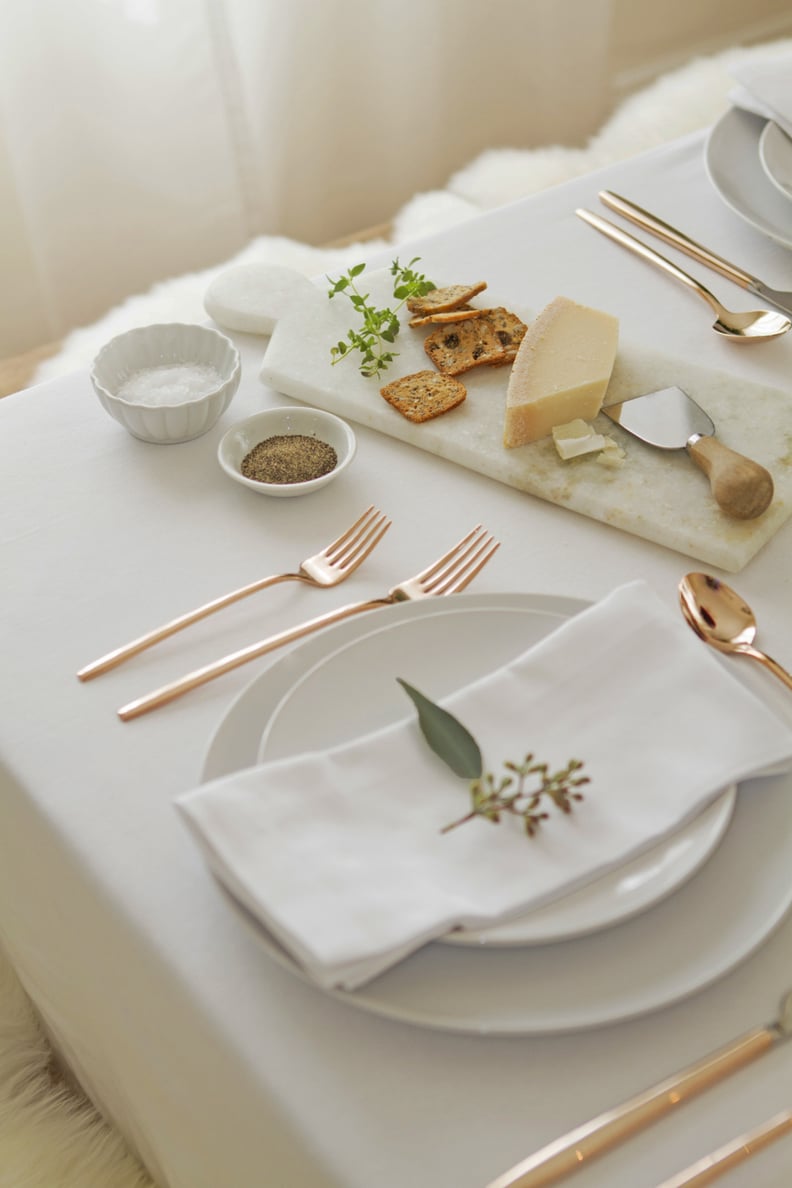 POPSUGAR Photography | Blake Smith
POPSUGAR Photography | Blake Smith
For many new homeowners or recently engaged couples, one of the first major decisions is the selection of a "grown-up" flatware collection. Gone are the days of mismatched spoons and forks collected from your years in the dorm and post-college life. Now it is finally time to invest in a suitable and attractive utensil set that can be used throughout all of your events to come in the next chapter of your life.
But, as you quickly come to realize, there are endless amounts of flatware selections that are available at price points all across the board. To help you understand your options and pick the right flatware collection, we've researched the three major components to keep in mind when shopping for flatware: metal makeup, design aesthetic, and the finish/function. Read on to find out a more on how each affects the final purchasing price.
Metal Makeup
There are several metal options that you can pick from when buying your flatware. The front runners for quality and cost are metals such as sterling silver or silver plate. These are two very elegant options and should be reserved for formal entertaining only. If you are in the market to buy a flatware set with a more daily function, then stainless steel is your best bet. But even with stainless steel, there are different grade levels based on its metal makeup.
Metal makeup refers to the percentages of chromium and nickel found in your stainless steel flatware. According to fine flatware retailer Silver Superstore, chromium levels can affect how rust-resistant your flatware will be and nickel (the big-ticket item) will affect its shine. There is also a specific grading system that you can look for when shopping. A collection marked 18/10 is the highest grade and will cost you the most (these numbers refer to 18 percent chromium and 10 percent nickel). A collection with a grade of 18/0 will be durable but it won't be as expensive, or as shiny.
Design Aesthetic
The second quality to observe when determining how much you want to spend on your flatware is the overall design aesthetic of the pieces. A very standard handle with little to no ornamentation won't be as expensive as a style with very intricate details like embossments. Another very telling sign of a more costly option is when both the front and back side of a utensil are equally as beautiful.
The Etiquette Scholar states on its website that there are also specific design elements to look for in each individual utensil to decipher quality. A higher-quality fork should have tines that are perfectly symmetrical and smoothed, while a spoon should be shaped to hold a sufficient portion of food for each bite. More expensive knife blades, too, should be generous in size and exhibit an ample cutting edge.
Finish/Function
Finish refers to the attributes of the flatware that affect its overall function, and it is one of the biggest influencers when it comes to setting price points. Qualities such as rounded handles (more rounded = better quality) and edges (smoother = more expensive) dictate how the utensils will feel in your hands and how comfortable they will be while in use. The final polish can also make a big difference in how pleasant the utensils feel.
While you want your flatware to be both stylish and sophisticated in design, you also need to remember that they have a function to serve that will affect how enjoyable your meals will be for many years to come. Finish/function especially is an area to consider when selecting where to invest your money.
Summary
If you keep these top three components in mind when you venture out to find a set of flatware that is just right for you, you cannot go wrong. It is definitely a big purchase, and it always helps to educate yourself before taking the plunge. If you're shopping online, Liberty Tabletop recommends you examine the items up close via enlarged, high-res photos. If you notice any type of blemish, roughness, or dull-looking area, you need to make sure the price point matches that.